I was in 4th grade when my writing was first published. This is no "I was a gifted kid!" flex, as I later realized the anthology in question was primarily the work of rich kids whose parents had paid for their darling little Sally's masterpiece about dogs playing in the park put into print. My own piece was a haiku that began, "Such solemn sadness Contained in a single hair," which now sounds to me like something Simon and Garfunkel might write under the influence of colonoscopy-level sedatives. Whatever tired school board official was responsible for assembling the anthology made no effort to organize the poems by subject at all, assuming they even read them in the first place.
As a result, the poem published next to mine was a literary work of art aptly titled "I Love Pokemon."
Its artful lines included, "Pokemon are cool especially the spikey ones" and "Pokemon are my best friends."
Suffice to say, the moment I saw my own writing printed out on the page in neat Times Roman had a profound effect on me, and not just in launching me toward the world of sad girl-dom before it was cool. It was not so much a rational pride in myself for achieving a goal, but a kick of adrenaline. I thought, this is more than a one-time hit; this is a feeling too good to pass up, and no amount of work is too much to get it.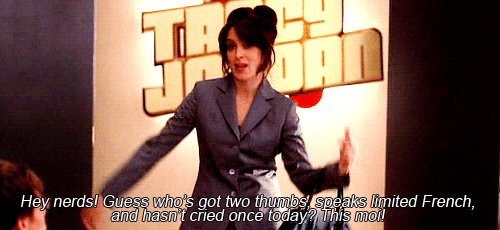 *Record scratch* You might be wondering how I got here, locked into a cycle of coffee in the morning and melatonin at night, my kitchen a war zone of cardboard Amy's frozen mac-n'-cheese packages, unable to lie down owing to the eight different hardcover translations of French critical theory spread mandala-like over my bed, unread emails overflowing past 5K, not even counting Bernie Sanders donation requests (and that is saying something). Or maybe you're not, because it was obvious from the time of my literary debut 12 years ago that my all-or-nothing attitude towards achievement would eventually lead me into academic quicksand and smother me in a hole dug with my own self-abusing work ethic.
It's a common in the student community: the first four classes are required, the fifth would inch you towards graduation just a smidge faster, the sixth is something obscure like "Witchcraft and Religion in 14th Century Romanian Music" that just looked so interesting. Then there's the extracurriculars: the ones you're already committed to from last semester, the ones your friends drag you along to, the ones you take in the hopes of impressing the leering ghost of your hypothetical future employer, and the ones whose newsletters pop up mysteriously in your inbox even though you have no recollection of ever signing up. The first month is fine, and you're keeping track of all your upcoming deadlines with a precise color-coded system of highlighters you derived from flag semaphore signals used by the Japanese military. And then the first round of essays, projects, and tests hit, and before you know what hit you, you're 10 pages short on a foreign policy brief due in 12 hours and you spent the last four clicking through the latest Spiderman memes.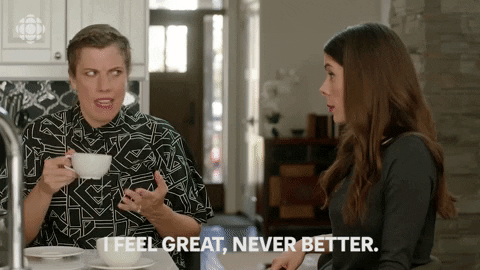 My personal hit-the-wall moment came in the last torturous nights of finishing my thesis. I was stuck on the same paragraph I had spent the past four hours staring at blankly. There was something wrong with it, or so my caffeine-addled brain was convinced–the tone was wrong, the research was faulty, or maybe I was just so damned exhausted that the hallucination had started. I was seated in my preferred room of my university library, the old-fashioned dimly-lit one with spiral staircases, moving ladders, and dusty books bordered with gold lining. I had employed all of my coping mechanisms to their full potential: the desk space around my laptop was sprinkled with crumpled 5 gum wrappers of varying flavors, my book sources stacked on in precarious Jenga-towers, my Chrome browser a harrowing labyrinth of 25 different tabs. Apparently, the effect of multiple coffees had worn off, because at some point that night, my concentration dissipated and I sank down over my pile of books into troubled, lucid sleep.
Through the film of either dream or exhaustion, the memory of my first published poem resurfaced. It seemed so far away, an achievement entirely separate from my academic record, or my fast approaching "future prospects." I remembered the happy thrill of a measure of self-worth that did not originate from a grade, or some other institutional quantification, but from something that came out of me naturally, a self-enjoyed measure of achievement that didn't need to be forced, or poked, prodded to emerge into the sunlight. When I woke up, I had drooled on the library's copy of Madame Bovary. With sudden decisiveness, I closed my laptop, balled the gum wrappers into my fist, and went home. 
The next weekend, I vowed that I would put my impending deadlines as far out of mind as humanly possible. I did things that would have induced a time management heart attack six weeks ago, like painting my nails, starting a new show, and going out for some late-night pizza with a couple of friends. Occasionally, I was besieged with the thought of how much work was piling up like a dead weight I lugged around behind me, but I dismissed it with the repeated assertion that if I didn't rest, I would never be able to do a good job on that anyways.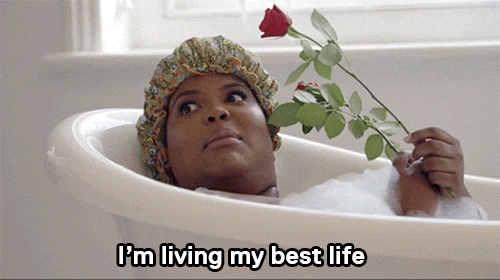 When Monday came and I picked up my dreaded thesis again, I was surprised that the words came off the page with a new texture I hadn't noticed before. It was as though I had been staring at my work through drunk goggles for the last two months, and in just a few days of absolute rest, they had come off, and I could assess what needed to be done with cold clearness of my mind unhindered by overwork.
You may have my tendency to strain myself into productivity, or you may not. Either way, regardless of work style, no one can produce when they haven't given themselves the environment and self-care to do so. The next time your particular process leads to a dead end, instead of forcing it when the impetus doesn't exist, take a shot at investing yourself. After all, what's the worst that could happen? Is too rested even a thing?