Admit it, you found yourself clicking this article for one of three reasons. One, you identify as a die-hard K-pop fan who only came to see if my list matches your own, and if not, you're prepared to do some heavy judging. Two, you don't really know much about K-pop but given the 2020 fiasco in which we all need fresh entertainment, you wouldn't mind inspecting further and giving it a try. Or three, you're my supportive mom. Hi mom! Nonetheless, I'm here to attest that K-pop is a beautiful world of creative freedom, dancing and sometimes abs. Forget the fact that the songs are not in your language or you're not necessarily used to men wearing makeup; music is universal.
Read on to discover these 15 K-pop videos I believe are the best in the game and have the potential to expand your music video horizons.
1. Shine by Pentagon
Starting off with a "pretty tame" music video, Pentagon's 2018 hit "Shine" has everything that defines a successful K-pop video: great choreography, eye-pleasing visuals and a satisfying color palette. Ahem, just another way of saying that the members are easy on the eyes. This song placed the 10-member group (get it? Pentagon?) on the map with this catchy tune in the Spring of 2018, and its video lives up to its hype.
Who doesn't love a fun video to match a fun song? "It's very catchy, energetic and uplifting in which several of the members participated in writing the song! The lyrics are relatable to those who have experienced difficulty with expressing their emotions to someone they've liked. The music video itself is full of colors and its choreography matches the song's energy, and I believe that the success of the video came from the amazing performance of the group," UCLA 2020 graduate Maricela Estrada said. The music video doesn't follow a specific storyline or plot, but it'll keep your eyes glued to the screen as you watch the camera strategically move between individual members as they sing and rap their lines.
More specifically, the choreography's homage to popular American dance moves like the "shoot" will teleport you back to the simpler times of 2018 when you tried to mimic these dance moves with your friends. Cringe-worthy? Maybe. But does that make this video any less worthy of your time and attention? Never.
2. Love Scenario by Ikon
I'm not lying when I say Ikon's "Love Scenario" defined an entire generation with this anthem tune that sings about the bittersweet cycle of stranger, to lover, to stranger all over again. when every kindergartener in Korea knows this song, you know Ikon did something right. The video manipulates film tactics through an opening that seamlessly pans across the screen, showing the 7-member group in different scenarios.
Also incorporating a rotating camera, a circular setup to choreography and rotating members as it shows their stages of love, the video coveys the never-ending and addicting nature of the cycle of love. The video also boasts the group's R&B synchronic choreography and an anthem at the end that makes it impossible not to sing and dance with them. Youthful, fun, catchy; it's all here. If you don't consider yourself a Kpop fan, one view of Ikon's Love Scenario will make you reevaluate your priorities.
3. BbiBbi by IU
If one country has the art of aesthetics down to a T, its Korea. This aesthetically pleasing video has the color palette, vibe and prop-use down – even if the video itself doesn't make sense. I don't know about you, but a room displaying human bodies with animal heads just hits different in a video as aesthetically pleasing as this one. Kpop veteran IU shows off her interesting style, attitude-filled choreography and catchy song with this video that'll make you want to watch again and again.
Just as every background in this video will satisfy your aesthetic soul, IU's various fashion statements like her space buns, leopard printed beret or Victorian-themed dress came to slay. "I personally love how K-pop uses out of the box ideas for music videos and themes for their albums. The colors also attract me to their music. I also have grown to collect Kpop albums because of the aesthetics of them," UC Berkeley 2020 graduate Celeste Elias said. After making and writing her own songs since 2008, IU and her BbiBbi music video offer a breath of fresh air and a unique look into the aesthetic side of K-pop.
4. Call Me Baby by Exo
K-pop confession: in the wake of an uneventful evening, American-washed me stumbled innocently on this music video, expecting nothing more than a quick view. 5 years and one loyal K-pop stan later, I viewed this video the most. With attractive members who know how to dance, interesting camera moves and perfect synchronic dancing, can you blame me? This 2015 classic by the 12-member group Exo was all the rage, mostly at how well executed the video proved.
While it may seem impossible to make a song, let alone video showcasing all 12 members and their parts, the camera seamlessly transitions from member to member, allowing each their time in the spotlight. A journey in itself, the video is living proof that when done right, you can truly make stars out of all 12 members in one group. And a 12-member group only means more options and the chance to fall in love 12 times–right? When all seems lost, use this video as your last hope—it won't disappoint.
5. Zutter by GD & T.O.P
Okay, I'm not even going to sugarcoat the fact that this music video is weird…very weird. But that defines the beauty of K-pop: an experimental world where artists can go from cute to baddies to heartbreakingly bitter all in the same album. Kpop rap veterans G-Dragon and T.O.P topped the charts with this 2015 rap with their platinum blond, orange hair and a question for their sanity. In the video, GD and TOP play a delinquent duo who dress well, break the law and consistently run-in with those who want to take revenge by locking them freezers or using electricity to torture them.
And are we just going to ignore the scene when rapper T.O.P rips out a pig's intestines or when GD and TOP have a peeing war standing 10 feet away from the urinal? The point: this cinematic video might as well be its own movie. Not to mention that it'll make you want to fall in love with and be these baddies all at the same time.
6. Just Right by Got7
Remember those days when the movie Indian in the Cupboard made you use your birthday wish to ask for a little version of yourself who would be your best friend and make you the coolest person ever? No, just me? Okay. The video uses this trope by transforming all f Got7's members into tiny people, living in the drawer of an unassuming preteen girl. The video opens up to show her looking in the mirror crying most likely due to her dissatisfaction with her looks. Suddenly, the group pops out of the drawer, adamant to convince her that she's beautiful just the way she is, and the story starts.
I don't know about you, but that sounds like every K-pop fan's dream come true. "This video was a cultural reset and no one can convince me otherwise! I think of history as divided into two eras: the pre-Just Right era and the post-Just Right era," UCLA 2020 graduate Edrian Ochoa said. As weird as the video sounds, bright colors, cute choreography and heartwarming messages will pull you in. And by the time you know it, you watched the whole video, are already stalking the member's social media and clicking on their next video. Trust me, it happens to the best of us.
7. Not Today by BTS
Among all the BTS videos that all its fans swear by and that sweep in billions (yes, billions) of views, BTS's "Not Today" is a cut above the others. The video has a grandness exemplified by its filming location, impressive choreography and background dancers. While I'm not sure about the plot for this video either, one idea burns through: these 7 guys might just be the coolest people ever. The video showcases their effortless, smooth raps, beautiful singing and ability to dance. And not just the side to side swaying your high school prom date claims as dancing, but like, actual choreography executed to perfection.
BTS currently dominates the K-pop genre and holds arguably the craziest of Twitter stans — a pretty good sign that they're worth listening to. "As much as they are cliché to talk about right now because they're so popular, I think there are legit reasons for their popularity! They captivate their audiences by using reoccurring images throughout all of their music videos that in turn create an intriguing storyline that viewers can follow from video to video. This aspect of their video definitely piques the fan involvement in these videos and if you just Google BTS music video conspiracy theories, you can see all sorts of explanations that fans have come up with," UCLA 2020 graduate Eliana Van Renterghem said. With their worldwide success and recent breakthrough into the American music industry, BTS' "Not Today" is worth watching at least once and will set the standards high from the start.
8. Whistle by BlackPink
While I may get flack from K-pop fans for this opinion, BlackPink's Whistle is an underrated bop that needs more attention. With millions of fans around the world and some of the most viewed K-pop videos, the four-member girl group's Whistle has a special place in the heart of any fan who has been there since the beginning. Using a pink theme, killer individual shots and a cute yet swaggering dance, the video strategically introduces all four members and highlights their strengths and quirks that make everyone love them. From member Rose casually sitting on the Earth in space to member Jennie rapping in a hall of fire to the group rapping while driving in their car, you just can't look away from the cleverly-used aesthetics and scenes that paint a cool picture of the group.
9. TT by Twice
Whoever said holiday-themed music videos are tacky has clearly never seen a Twice music video. This nine-member girl group will restore your faith in music videos when you witness this Halloween-themed video full of iconic dances, Halloween costumes and fantasy-filled scenarios. Using CGI to its advantage, the video starts off with two trick-or-treaters wondering into a creepy house. Ominous at first, these feelings soon disappear when the children are met by Twice, whose video draws you in with its graphics and individual scenes that highlight each member. From its members dressed up as pirates, Pinocchio or an ice queen, this video will draw you in and ask you to stay. And because you're a sucker for cute girls who know how to sing and dance, you just can't resist.
10. Lion Heart by Girls Generation
Choosing the best music video from this 10-member group, active since 2007, was not easy. But on a pure music video basis, Girls Generation's Lionheart's beautiful visuals and dancing take the win. With its 60's housewife and showgirl wardrobe, hairdos and scenarios, the video reminds us that videos don't have to limit themselves to the same old boy meets girl plot you see so often in American music videos. The members find themselves in different scenarios, whether waiting for a date on a train, working at a bakery or stranded on the side of the road with a broken-down car. And to the rescue comes a literal lion-headed man who sweeps each member off their feet, only to result in a surprise ending. As strange as it sounds, this quirky and catchy song with satisfying choreography will make up for it all.
11. Hello B**ches by CL
If you can't already tell by the title, this song came to steal your lunch money and sucker punch you in the chest. CL, leader of the iconic girl-group 2ne1, takes an independent venture in which she shows off her smooth rapping, dancing queen persona. The only thing distinguishing it as a Korean song, may be the fact that the main singer sings in and looks Korean. Other than that, the song and music video screams American mainstream music–and not in a bad way.
These artists also find a way to relate to their audiences despite taking on unique personas on-stage. "Many K-pop members tend to have unique backstories. For instance, CL grew up in different parts of Europe and even in the U.S. Her style of music and the way she dresses was inspired by mainstream western music. To me, this excites me because of her many cultural influences that gave a twist to her style," UC Berkeley 2020 graduate Celeste Elias said. Whether through the gang of girls with individual nicknames that she dances with, the sharp graphics spicing up the video, or the iconic choreography, the music video will squeeze out any ounce of insecurity you thought you had. The video is a girl anthem that celebrates our unity and embraces the bad girl image that everyone secretly pines over.
12. Why So Lonely by Wonder Girls
Remember when the Powerpuff Girls embodied that cute girl superhero hybrid we all loved seeing on the big screen? Well, the Wondergirl's "Why So Lonely" kind of does the same thing to us. We witness each member sport pink makeup and outfits but sing bitterly and unapologetically about their breakups. Not to mention the video's fair share of aesthetically pleasing content as well as the 60's housewife vintage flair each member gives off.
Clearly, the world needs more bad-ss female artists. "I like how it portrays a more retro vibe and band element which, during its time of release, weren't widely popular concepts. There is also a scene at 0:58 where the video edit makes it look as if the girls are going in for a kiss with each other. As South Korea holds a more conservative culture, I respect their boldness in including this scene," UCLA 2020 graduate Ting Zheng said. Watching a video as solid as this one will only make you want to jump inside the screen and make the members your best friend, your lover or both.
13. Gone by Jin
Think about the last time a music video made you sob uncontrollably due to its beautiful and sad storyline. Can't quite think of one? Well, you've lucked out, because as much as Kpop videos strive at amazing visuals and energetic choreography, they also win in the sob-story music video genre. Its music video that tells the story of the love between a boy and a blind girl taking piano lessons only elevates this quaint and heart-wrenching song. And even with as many views of sob-story Korean music videos as I have under my belt, this one definitely struck a chord due to its unexpected climax and bittersweet ending. If you don't shed a tear after one view of Jin's Gone complemented by its amazing acting, I'm sorry, but you may be a sociopath.
14. Sentimental by Winner
When I say the Kpop industry constantly experiments with new methods and aesthetics to make their videos more appealing, it shouldn't be surprising that shooting a whole video from an aerial camera isn't out of the question either. And that's exactly what K-pop group Winner accomplished in their video "Sentimental." With an interesting color palette and its members sporting questionable outfits that still work, the video's aerial perspective that switches rooms and reveals each member takes the whole video one cut above. As the members sing about the uncertain feelings that arise after a breakup, you can practically feel their feelings through the screen—despite the language barrier. If you want a refreshing take on your classic breakup song, "Sentimental" is your guy.
15. Loser by BigBang
"Loser, a coward who pretends to be a loner /you are a useless delinquent in the mirror/ Just a loser I'm a loner, a wounded jerk…" As harsh as these lyrics may be, we've all been there—moments when we just couldn't see the best in ourselves. Bigbang's "Loser" embraces this feeling with the catchy tune and touching video that shows different scenarios in which a person could feel some type of way.
From getting physically bullied and beaten, being an outcast, feeling lonely or having a partner cheat on you, the video exposes these raw scenarios where these feelings truly seep through. Even so, the video draws you in by confronting these feelings realistically. The video contains just enough mystery in the video to get your thinking about what may have happened in each member's individual stories. A cinematic masterpiece, this video by the "kings of K-pop" themselves cannot be ignored.
Still not convinced? Check out why K-pop is so special to people!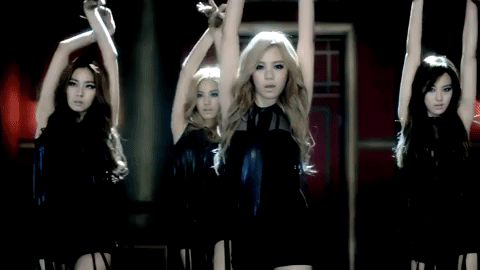 1. K-pop Artists Connect with Their Fans
"I really like K-pop because there are many groups with different song genres and concepts. I like that each K-pop group is unique and their discographies' have a variety of song genres. I also like that each Kpop group interacts with their fans differently compared to western artists through fan-sings, hi-touch events and on social media. Many groups have international fans from all over the world so K-pop idols use social media like IG and Twitter to connect with their fans. Recently due to COVID, many K-pop groups have turned their album fan-sign events into online video call events that allow for both Korean and international fans to participate. This gives the opportunity for fans outside of Korea to be able to enter the contest and if picked, be able to talk to the artists for a few minutes while getting an album signed!" UCLA 2020 graduate Maricela Estrada said.
2. It's a Historical Melting Pot
"K-pop has been inspired by American Music, especially after the Korean War. From there it has risen in popularity on a global scale. The most well-known K-pop generation includes the second-generation with Exo, Shinee, Bigbang, 2ne1, Girls Generation, etc. To me, this generation was important because I was growing up along with the members. What made attracted me to K-pop was the unique sounds of pop and R&B. All K-pop music always includes some form of English which helps me feel something more with the music. Kpop is not just a music genre; it is also a form of creativity, art, and it creates bonds with members and other fans," UC Berkeley 2020 graduate Celeste Elias said.
3. It Beats the Old and the Bland
"At the time of discovering K-pop back in 2015, I was honestly a little musically stumped because my favorite indie bands were on hiatus and mainstream American music just never caught my attention. I had dismissed K-pop so often when my friends suggested it to me, so I was surprised when I came across a video that was nothing like the prejudices I had against it. From outfit and hair color changes, picking a favorite bias, getting excited about new dance choreographies, new videos or fan events, the K-pop world is just exciting and beats out the traditional music industry," UCLA fourth year Monica Perez said.