"Hey, I'm going to the Equestrian Team meeting tonight, do you want to come?"
My ex-roommate, Vanessa (and current best friend), set the stage of what would become my best decision at the University of Florida. This time last August, we'd just met and barely knew each other.
We were both friendly transfer students and ready to make friends.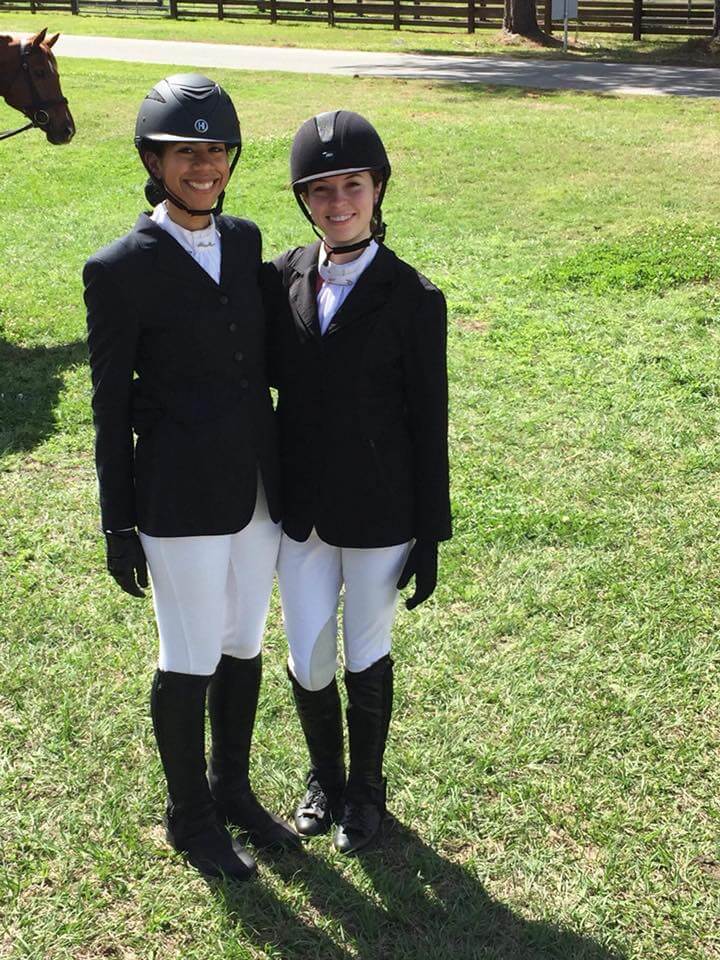 Vanessa took riding lessons for about a year when she surprised me with the invite to this meeting. Luckily, I'd taken lessons too, but when I was eight. And I'd never ridden on the dressage team. Dressage, a form of riding, involves carefully controlled movements directed by the rider. In a competition, judges rate a rider based on their performance of memorized movements and how the horse executes those movements. Dressage, Western, Hunt Seat and Eventing are separate teams that make up the Equestrian Team.
Everyone we met at the meeting was easygoing. We discussed the different teams, all the socials events coming up, and how to be an active member. I joined Dressage because I knew it'd be an easier transition back into riding. Competing is optional, and I liked that I didn't have to be in the show to be on the team.
For my first lesson, I drove 45 minutes to Ocala to my coach's barn. A Great Dane and a bulldog greeted me at my car door as I got out to meet my coach for the first time. Once on the horse, I took a few minutes to recall the basics I'd learned years ago and was surprised at how much I remembered. My coach was extremely helpful and made my first lesson back a blast. Although I felt sore afterward, I already looked forward to my next lesson.
Getting the hang of everything still took a lot of time. I still don't get most horse lingo. I forgot little things, like how to put the bridle and saddle on the horse correctly. Luckily things were pretty easy to pick up. The team always had something planned, so meeting and hanging out with lots of great girls was never a challenge. I didn't participate in our first home show since I was so new and barely knew what I was doing, but I enjoyed watching Vanessa and all my other friends ride.
In the spring semester, I worked harder and took more lessons, then entered in my first show ever, with Vanessa by my side. My mom drove from Tampa and my sister, Hope, came from Jacksonville to see me ride. I listened to "Thunderstruck" by AC/DC at least 10 times to get pumped up and kill the nerves.
I mounted the horse I was showing on; the judges gave 10 minutes to warm up before entering the ring. I rode a sweet Arabian named Hal, though he didn't seem as pumped up as me.
When I entered the ring, the bleachers fell silent. The judge's eyes glued onto me. I did my test, nervously and ridden with mistakes. But I did it. It felt so good to walk out of there, well, ride out of there. Even though I blew it, I loved preparing for that day and felt thrilled actually doing it.
After all the riders show, judges give out the ribbons and prizes. Vanessa and I rode intro level, so they announced ours last. Out of nine riders, she placed fourth. And I placed eighth! Wait, what? I didn't get last place.
I couldn't believe it. I made myself fit into this sport somehow after just a few months of even really knowing what the heck it was. And I got eighth place.
Riders from other schools looked pretty puzzled when they saw me beam with pride. I didn't even get a ribbon. But I didn't need one.
College is the time to try new things. It's a time to go out of your comfort zone and explore. It may take a few tries, but schools have so much to offer—and chances are you'll find something you really like.
I've made so many great friends through this team. Plus I got a cool jacket. I spend my free days riding these majestic animals and getting my ponytail mistaken for hay. Whenever I feel like the worst rider on the team (which is a fact), I remember that no one starts out winning first place. I enjoy riding and improving and growing closer to the team and the horses.
So say "yes" when your roommate invites you to interesting places. You might just win eighth place.