This post is sponsored by The NAMM Foundation.
Ready to take your music career to the next level? The National Association of Music Merchants (NAMM) Foundation elevates the music career journey for exceptional students each year. How so exactly? They offer a $750 scholarship and exclusive access to attend the unique and esteemed NAMM Show through The NAMM President's Innovation Award.
If a once-in-a-lifetime opportunity to meet music experts from over 7,000 brands, producers and artists sounds like music to your ears—then keep on tuning in. The NAMM Show is the ultimate networking playground for music students. You'll meet music industry pros such as top executives from Yamaha and famous recording engineers like Richard Chycki and catch performances by iconic artists such as Sting and Paul Simon in addition to up-and-coming talent.
Students from all backgrounds and levels of music experience can apply for the NAMM President's Innovation Award, a scholarship of $750 given to honor hard-working students who dream of pursuing a career in the music industry.
Applying for the Innovation Award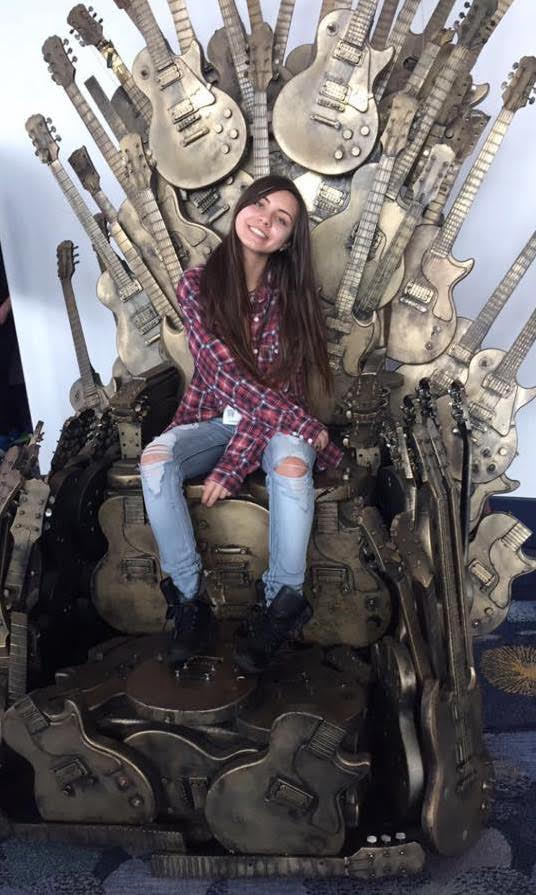 Winning the Innovation Award gives you unique access to the exclusive NAMM Show. It's a scholarship that all music-loving students should take advantage of and it's easy to apply.
Step 1: Go to https://www.nammfoundation.org/innovation and click on "Apply here"
Step 2: Create an account, upload your resume and submit a 500-word essay on your music career goals
Step 3: Ask an employer and a favorite professor for a letter of recommendation
Marli Delaney from Hofstra University learned about Innovation Awards and The NAMM Show through the student organization MEISA (Music and Entertainment Industry Student Association) her freshman year. She finally gained the confidence to apply for the award during her senior year because she felt more qualified and experienced. Although this award is for students who take classes full-time, The NAMM Foundation granted Delaney the award even though she took time off from school to perform at a music festival in Portugal. "If you're unsure about your eligibility, just be transparent and communicative and you will see that The NAMM Foundation is really here to help," Delaney said. NAMM can be a lifelong resource and networking source if you let them.
Ryan Conrad Courtney, an Innovation Award recipient from Eastern Kentucky University, knew that The NAMM Show would allow him to learn the "tools of the trade," and he felt eager to apply for this amazing opportunity. When Courtney's professor explained how easy it was to apply—filling out the form, sharing his passion for music in his short essay and getting a letter of recommendation—he decided to take action.
Tyler Ballengee also knew he wanted to attend the esteemed NAMM Show and applied after some encouragement from his peers. His eagerness to jumpstart his dreams of becoming a sound engineer and sound designer inspired him as well. "The innovation award is easy to apply for and will help so much to give you the ability to go to NAMM. It's free to apply and everything! There's no reason not to!" Ballengee said.
The Once in a Lifetime Experience at the NAMM Show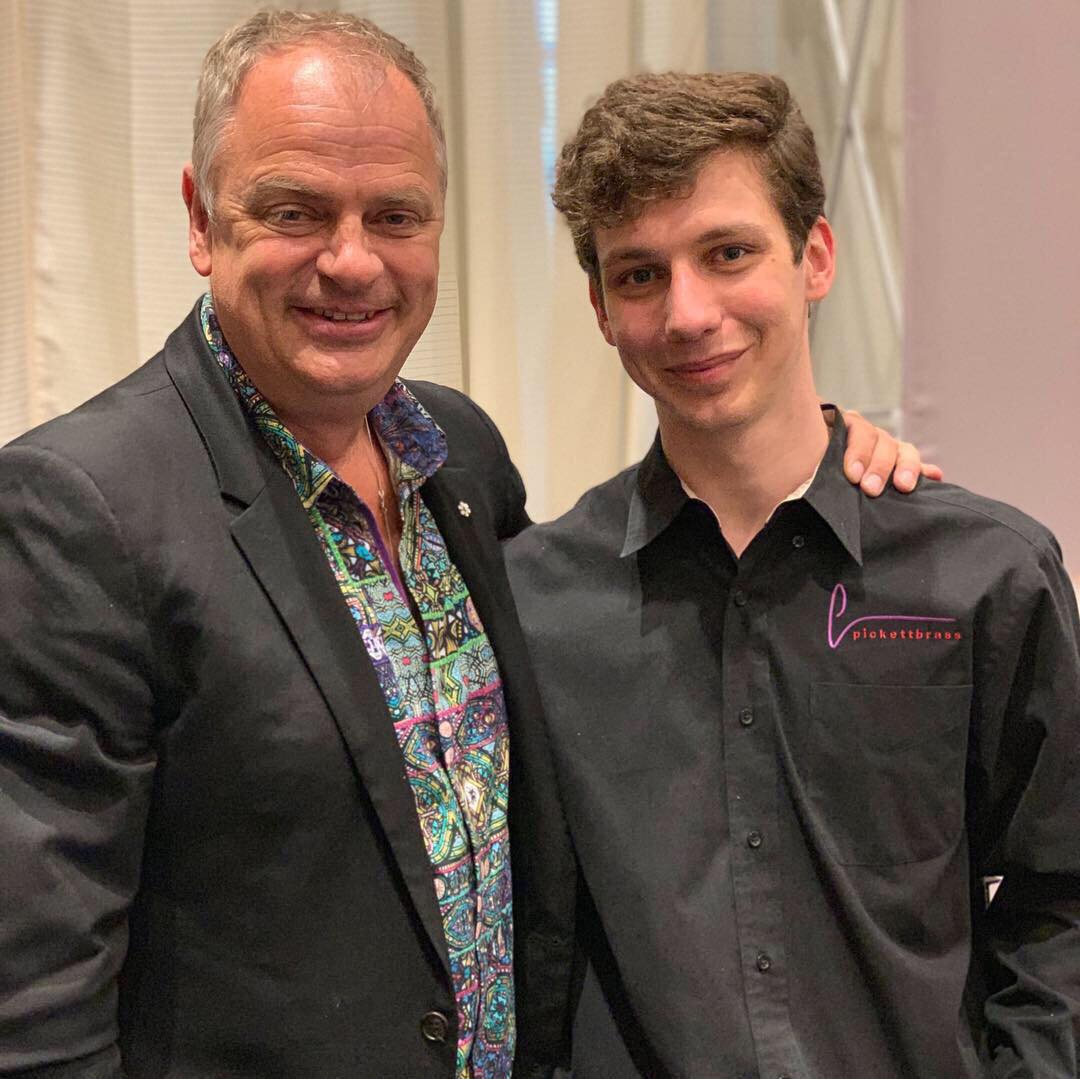 The opportunity to learn about the music industry and network with music professionals defines The NAMM Show experience. "The fact that I casually walked past Stevie Wonder at one point was cool, too," Delaney said. No one can predict the memorable experiences that will come your way at the show, which prepares you for the constant surprises popping up in the music industry.
What's most unbelievable is the sheer size of the show that can only be fully understood once you're actually there. "One thing about NAMM that surprised me the most is the size of the show with the number of vendors, staff and attendees," Delaney said. The massive booths with instruments galore and interactive music displays demonstrate just how much time and energy each company dedicates to The NAMM Show. By walking the trade floor and exploring the booths, Delaney shared that she gained more knowledge about the merchandise side of the music industry.
The power of music comes alive at The NAMM Show and the feeling of being immersed in a culture of people dedicated to their love of music amazed Paul Dougall, an Innovation Award recipient and student at SUNY Potsdam. "It really was unbelievable," he said. Dougall heard about the show from fellow students, but he never realized the enormity of the show until he saw it with his own eyes. The variety of resources at The NAMM Show, ranging from performances to networking to learning about music products (for both producing and making music), shows the necessity of the large scale of the show.
The NAMM Foundation even creates a unique educational experiences through GenNext. Ballengee attended an event with GenNext where he learned the ins and outs of music industry internships presented by presidents of Yamaha and other music companies. This past year attendees also learned about digital marketing from Frank Cowell, CEO of Digitopia, how to launch a podcast from Chris Bates and Tyler Marolf of TeacheZone and Los Rios Rock School and even how to fix a website from Madison Revell, the lead designer for Inbound AV.
The opportunity for new knowledge is endless at The NAMM Show. You will gain insider access to educational opportunities, exposure to the hundreds of vendors and products and even get the chance to connect with high-profile musicians and industry experts.
How NAMM is a Music Career Game-Changer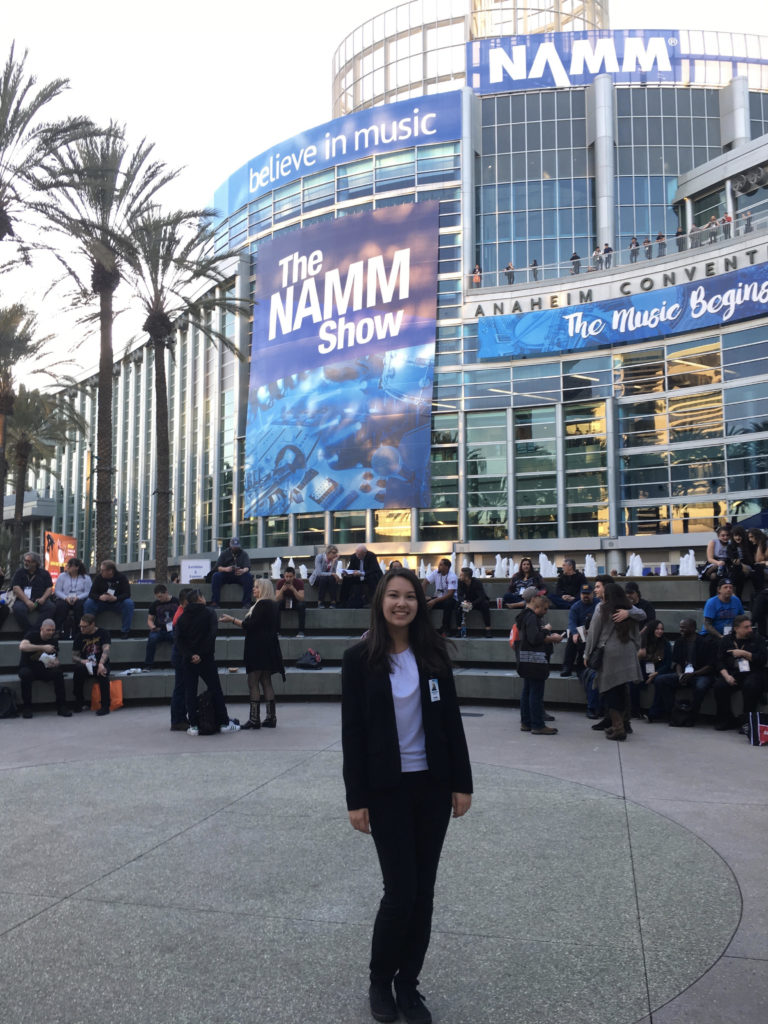 A successful career in the music industry is within reach, and The NAMM Show proves this. "Before attending, I was very in the dark about the music industry and had half a mind to play it safe and go into a different industry," Santa Clara University student and Innovation Award recipient Kristen Berling said. "I can now say with a full heart that I want to work with music when I grow up."
Berling plans to work in artist management or PR for a label or artist. The NAMM show allowed her to make many professional connections to get started on her career journey. Ballengee similarly shared the great opportunity to make connections at the show. "It's a holy grail for networking and it's so easy to take advantage of it," he said.
Attending The NAMM Show helped Dougall find his place in the data analytics faction of the music industry. "It is an eye-opening experience that allows you to get some real-world experience working in the industry," he said. Students often don't understand the ins and outs of the booming industry and the opportunities they can find in the industry until they have access to The NAMM Show.
The NAMM Show helps students understand the opportunities that exist in the music industry that they may have never realized before. "I think it shows that money is out there for music," said Courtney. "Be proactive in what you want and I think the money will come."
With enough effort and dedication, there is no end in sight for the possibilities for passionate, music-loving students. "The NAMM Show gave me direction with increasing awareness of the equipment I will need in order to move forward to reach my goals," Delaney said. Thanks to the Innovation Award, The NAMM Foundation helped give these students the game-changing knowledge and resources to turn their dream music careers into a reality.
This post is sponsored by The NAMM Foundation.