Take: Bulletin board & pushpins Take: Pencils & colored pens Take: Plastic folders & notebooks Don't you miss kindergarten? Scheduled naps, snack time, recess, printed lists of exactly what you need to bring to class. Make school shopping for college a breeze with this definitive, tried-and-true list of college supplies and you'll never be the "Wait, I'm here for school?" packer again.
Leave your worries at home, freshmen. You'll have the trendiest dorm room on your floor with the freshman collection: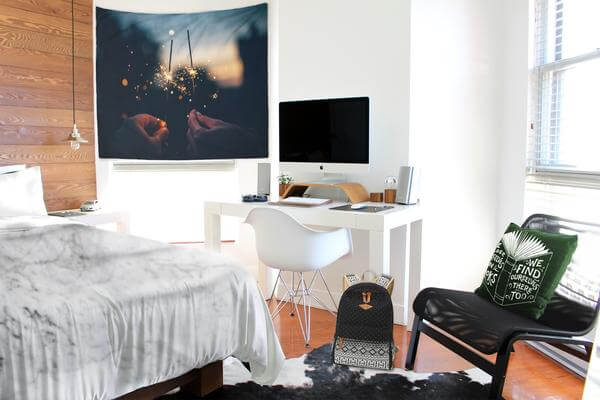 To keep organized, you need nothing more than a bulletin board and some pushpins. My bulletin board tends to display an even mix of important stuff and fun stuff: business cards and post-it reminders next to birthday cards and notes from my mom.
Leave: White board
White boards take the silver medal next to bulletin boards, only because white board markers stink up the whole room and it gets messy having to erase all the time. Writing post-its and sticking them on a bulletin board allows you to just throw out the notes you no longer need.
I came home from class everyday of my freshman year to find my 4x6s in a pile on my bed and my roommate's "Keep Calm and Carry On" poster hanging on by a corner. Putty and Scotch tape don't work; you need something stronger to hang your beloved band posters. Duck tape solves all problems with its super durability, and it comes in different designs to suit everyone. My friend even fixed a defective laundry bag with Spongebob duck tape.
Leave: Poster strips
Poster strips may seem like the best idea to hang posters, but they always seem to fall off halfway through the semester. Or worse, rip off a corner as if I got a little hungry one day and took a bite. Leave the fancy devices behind and stick with duck tape.
For some people, writing in books is a sin. Don't be that person. Highlighting important pieces in your textbooks helps you prepare for class discussions and retain information. In fact, if I bring a book somewhere, I bring a highlighter. They go hand in hand. And highlighters run out quick, so buy in bulk.
Leave: Calendar
Don't bother with one of those giant desk calendars. They end up contributing to desk clutter. If you work better with writing things down, carry around a planner with a calendar included. I work better with the Apple Calendar, which syncs my events to my phone and computer. I like creating different color-coded event folders for assignments so that everything stays together; I can view one class at a time or all of my classes in one, and it doesn't clog up my calendar of events.
Everything you buy for college must be portable; you may go a full day without going back to your dorm. That being said, a laptop sleeve or shell (or both) keeps your laptop protected wherever you go. One of my friends broke his laptop because it was unprotected in his backpack when a bottle of lemonade exploded inside. Bummer.
Leave: Flash drive
Remember floppy disks? Each day, flash drives near that level of extinction. Store your important documents using an app or website instead, such as Google Drive or Dropbox, so that you can reach your documents via Internet connection across all your devices. Flash drives can get lost or break easily, better safe than sorry.
Buy #2 pencils for test forms and your favorite brand to keep in your backpack. You will also probably need a plethora of different colored pens. Even if you find that you don't need them, how can you even resist? They organize and brighten up your notes and prove helpful in that poetry scansion assignment. (True story.)
Leave: Crayons, markers & colored pencils
Unless you make masterpieces in your spare time (good luck finding spare time), leave behind the Crayola products. Every year I bring a small pack of colored pencils just in case and I never use them. Don't bother wasting the room in your suitcase and, eventually, on your desk.
Running across campus to staple your paper at the library five minutes before you have class? Not a good idea. Keep a stapler and a box of staples in your dorm at all times so you don't have to rely on staplers elsewhere. Many other professors prefer paper-clipped papers, but small binder clips will do the trick and include the versatility and durability that paper clips lack.
Leave: Glue
Similar to markers and crayons, glue belongs in a kindergarten classroom, not collecting dust in your dorm. When you really think about it, can you come up with any possible uses for glue in a dorm room? I can't.
Even if you decide to take notes on a laptop or tablet, you should carry a notebook with you everywhere you go. There will be days when you want to work on an assignment but your laptop died and you were in too much of a rush getting out the door to remember your charger. Plastic folders keep track of syllabuses and past assignments and stay sturdy throughout the year.
Leave: Binder
A year ago I would have said that binders keep you organized better than notebooks and folders. Sophomore spring proved me wrong, as my papers fell out of the binder that broke my back as I carried it everywhere. Don't let binders annoy you; keeping track of notebooks is as effective and much neater.
Writing reminders on your hands just isn't cute. Buy post-it notes to stick reminders everywhere: inside your books, on your bulletin board, or even on your walls and desk. I like the small bookmark post-its; they prove effective in collecting research for papers or bookmarking talking points for class.
Leave: Index cards
College exams rarely involve memorizing names and dates over knowing how to apply information. Some classes, like my public speaking course, require specific sizes of index cards. So if anything, wait until after your classes begin to buy them. Like colored pencils, I tend to bring them and never use them.
Don't forget to pack t-shirts for class with your college supplies.