Stepping outside may feel like the apocalypse with the pandemic, corrupt politicians, systemic racism and more. Perhaps the doctor needs to prescribe you a tropical beach, a cold drink and the summer sun to fix those workday blues. However, you'll feel like burning money would be easier than the long flight to Hawaii plus the post-arrival self-quarantine.
So, kick back and relax with this College Magazine guide to a Hawaiian staycation.
What to Prep
Crack open that laptop and let's shop! The first step to a tropical mood is to transform the space around you into a Hawaii beach. This means new house plants, clothes, candles and music. "During difficult and stressful times, such as those we're in now, self-care is a very high priority. It's so easy to forget that while many activities we are used to doing for enjoyment may not be available to us, there are alternative ways to nurture ourselves that can be just as helpful and may even be inspiring because of their novelty. The challenge of having to be resourceful can be invigorating. It's so important to relax, have fun, connect with others in a safe manner, and to play around with new ideas, which is just what a staycation offers," board-certified dance and movement therapist Lisa Selzman said. Allow yourself to chill out every now and then.
Candles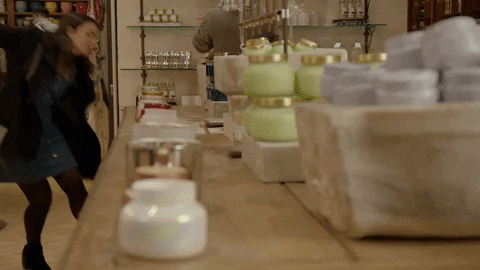 For a luxurious fruity scent, the Homesick Hawaii candle ($30) contains notes of coconut. This Pineapple Sage candle ($6) brings more of a therapeutic herb vibe and won't break the bank while supporting a black-owned business. UNLAX work with One Tree Planted to turn their profits into planting tress meaning you not only buy a great candle but also plant a tree. If open candles go against dorm or apartment policy, then the Bath and Bodyworks Tiki Beach room spray, the Island Margarita room spray and the Mango Mai Tai room spray for their deal of 3 for $20.
Plants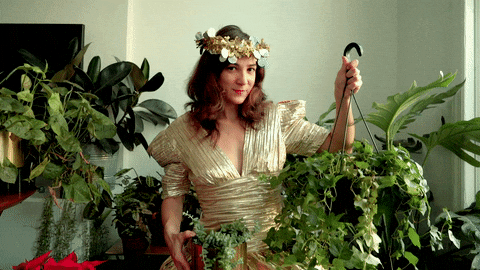 Keeping yourself alive is hard enough, but plastic plants only need occasional dusting. Start by accenting the room with leaves that bring height and drama like this Tropical Palm leaf ($8) or this Split Leaf Philodendron ($12). To brighten up a drab corner, try the classic Bird of Paradise ($7.80), the delicate Plumeria ($19.89) or the bold Hibiscus ($6.70)."I just bought a palm plant from my local garden center and it only needs sunlight and occasional watering," George Washington University senior Mahalia Dean said. If you have a green thumb, go to a local garden center.
Clothes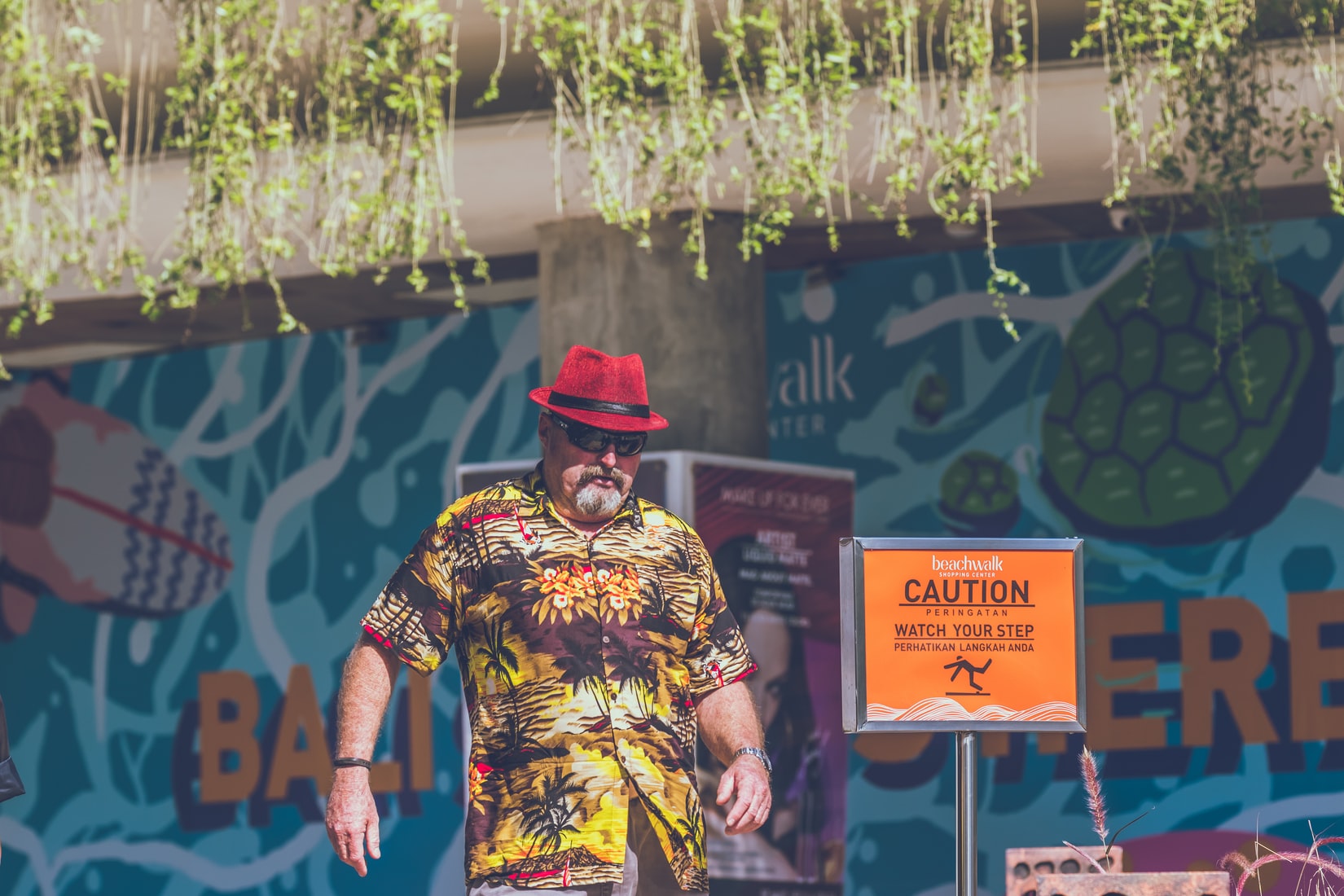 Before you run off to the usual chain stores, these Hawaii based clothing stores ship across America. For accessories, the Hawaiian Lei Company ships real, fresh flower leis or, for a cheap alternative, try Aloha Island Lei. If you struggle with allergies, Hale Lei Hawaii on Etsy makes artificial leis just as beautiful as the real ones. As for clothes, the Aloha Outlet store sells traditional tourist Hawaiian shirts and dresses. You'll live the comfy life with 88 Tees for a cheap, quirky Hawaiian shirt alternative. However, Manaola offers a more expensive and modern Hawaiian style for the inner fashionista and includes sizes for plus size women. "If I can't make a grass skirt what is the point?" Case-Western Reserve University alum Jonathan Griffith said. This travel blogger provides DIY instructions to make your own grass skirt.
Music
Choose from Spotify's range of playlists to get in the mood for a Hawaii staycation. Start with Hawaiian Dreams for nearly two hours of ukulele music to sway your hips. The Feel Good Summer playlist supplies the perfect karaoke list for a good time with friends or family. For Disney fans, the Moana and the Lilo and Stitch soundtrack spark the shiniest of smiles for you and your Ohana. Finally, a relaxing soundtrack of soothing wave noises will transport you to the beach for some well-deserved me-time.
What to Do
While you may not be able to go, you can still enjoy some of Hawaii's main attractions from the comfort of your home. Try these activities on your own, with your family or your friends.
Volcano Tour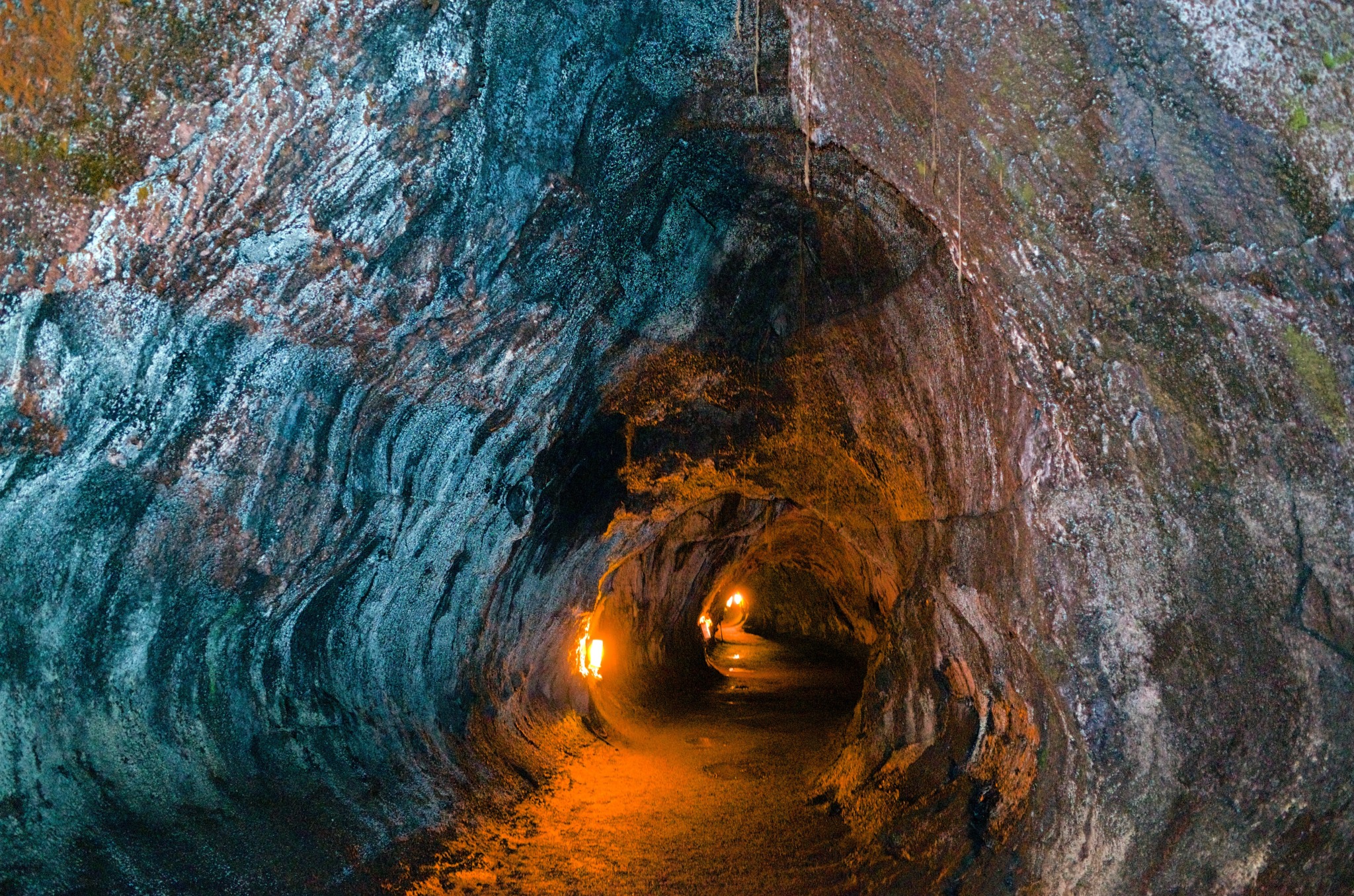 Google Maps offers a 360 view of the national parks in Hawaii guided by a park ranger. Explore volcanos, lush forests and volcanic seaside cliffs. The view includes all the sounds of birds, rushing water, the wind and the rustle of the leaves you'd get in Hawaii. Learn about the rich history of Hawaii from the comfort of home.
Aquarium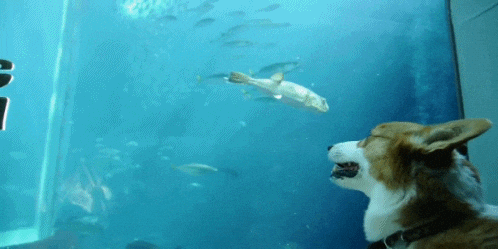 Get an inside peek into the Waikiki Aquarium through the various web series they offer. Watch the live feed of the monk sea habitat or learn about Humpback whales with Dr. Marc Lammers. Catch the Director of the Waikiki Aquarium live every Monday morning answering questions and displaying some of the aquatic life.
Beach in the Bathroom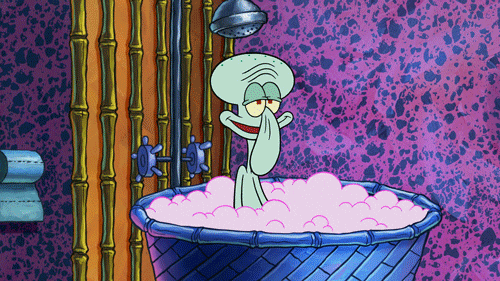 Florescent lightbulbs won't give you a tan, but the beach doesn't have to feel far away. Beige kinetic sand, soothing wave noises, a tropical candle and some shells can replicate that beach feel in your bathroom. Try the Hawaiian Waters Loofah soap ($7) or a Plumeria bath bomb ($8) to transport you to a luxurious Hawaiian hotel spa.
Honolulu Museum of Art
For something more intellectual, the Honolulu Museum of Art provides a YouTube series titled Museum from Home. Each video focuses on a single Hawaii based artist, their creative process and their artwork. The art ranges from beach themed paintings to environment driven embossing.
Iolani Palace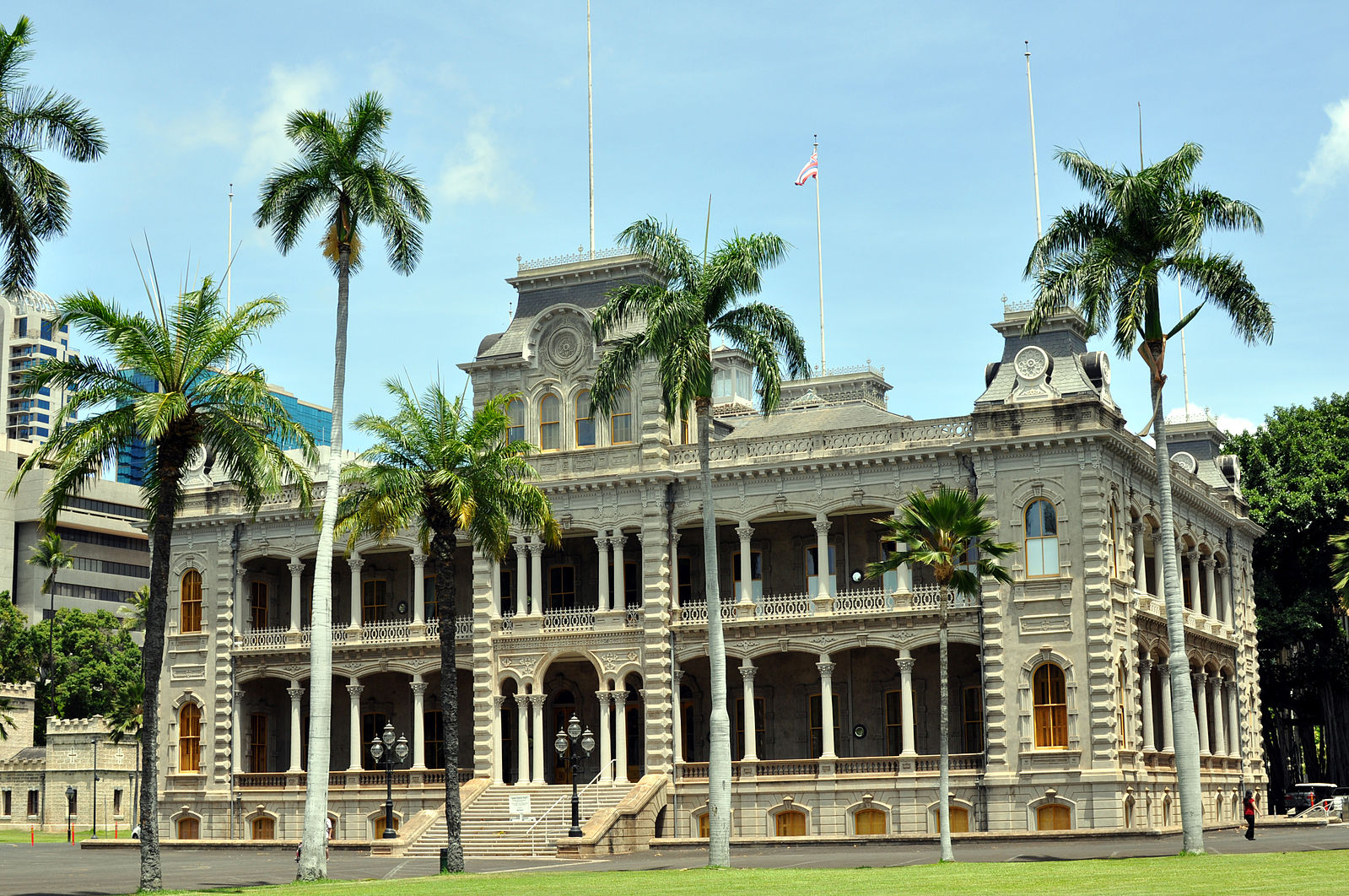 Any history buff will love the Iolani Palace. Every royal Hawaiian ruler resided in this beautiful palace and you can view every square inch of it in this virtual tour. The tour includes a guide who details the rich history of the royal family and their lives. Explore the barracks or the throne room as it transports you back in time.
Zoom Luau
You can't have a Hawaiian vacation without a Luau. You can't always spend time with family and friends in person, but the Polynesian Cultural Center brings the party to you. Share this luau menu recipe with the family to enjoy delicious meals. Play Hawaiian Pictionary, Aloha Bingo, Hula Skirt relay or Banana Chip poker with your friends over Zoom. Learn how to do some traditional Hula dances for beginners to get the blood pumping and get the full luau experience. "Movement is the number one way to take a mood from blah to contented, as it acts on us both physiologically and emotionally," Selzman said.
Take a walk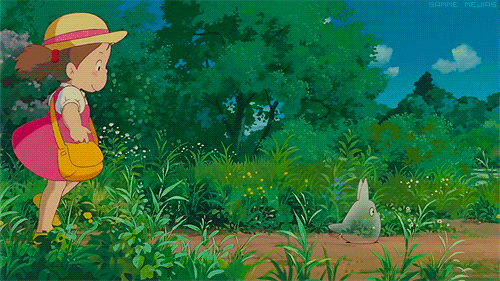 Hawaii won't be outside your door, but getting outside to walk around the park or the woods will immerse you in a natural setting. Plants, animals and fresh air relax the mind and get you out of the house even if Hawaiian flora and fauna don't live in your area. "Going outside and taking in the fresh air and nature is something that has proven to be very calming and a real boost for mental health," Selzman said. Try these Hawaiian themed masks ($15-23) to stay safe and allow the Hawaii staycation feel to carry on.
What to Eat
These recipes will inspire some Hawaiian at home cooking. Try this menu starting with a scrumptious breakfast and ending with tropical desserts for a true Hawaiian Staycation.
Breakfast: Loco Moco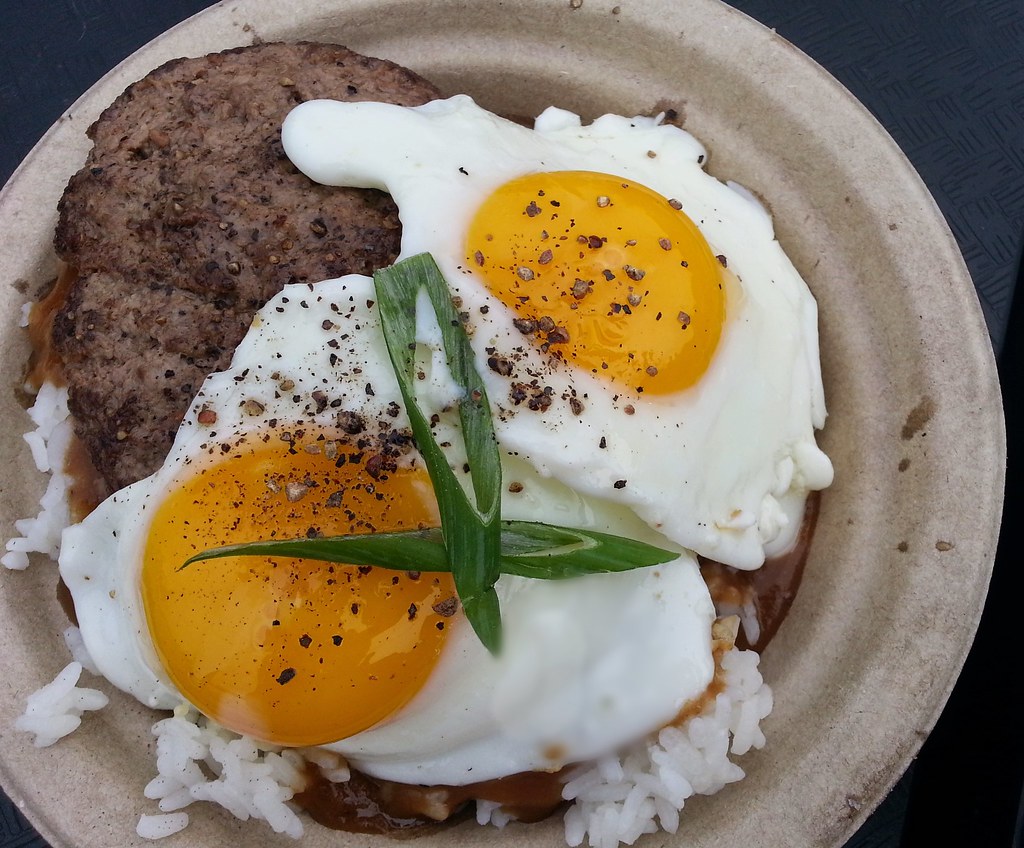 Enjoy this classic Hawaiian local breakfast of a steaming bowl of white rice topped with a juicy burger and a sunny-side-up egg all drizzled with brown gravy. It's a quick and easy morning fix for a lazy weekend. Find the recipe here.
Lunch: Poke (pronounced po-kay)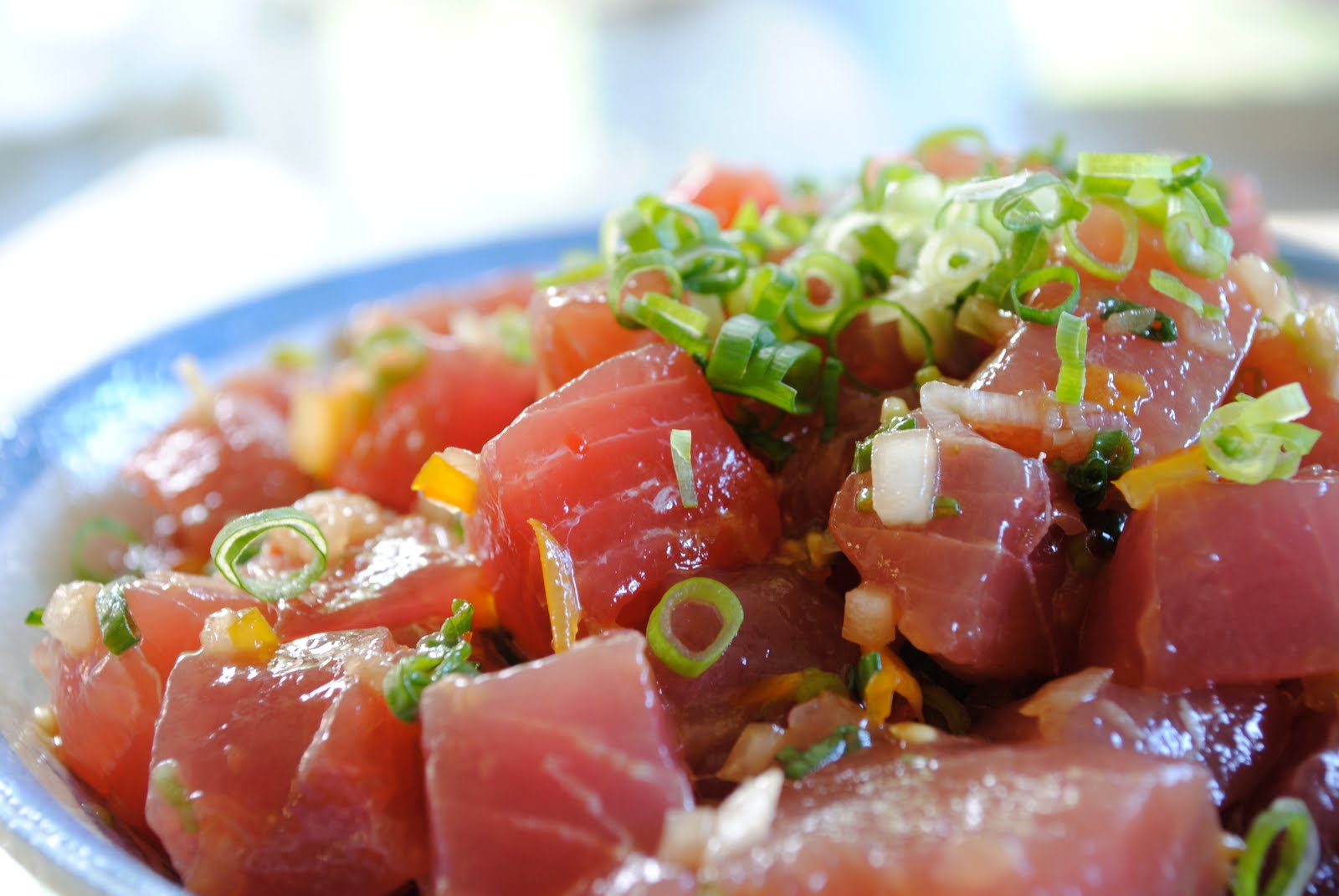 These bowls swim into the must eat category for flavor and freshness. A wide selection of fish and marinates allow customization to spicy, savory or salty. As a side dish or a meal, poke bowls taste refreshing, healthy and delicious. Add chopped macadamia nuts for some crunch and texture.
Dinner: Kalua Pork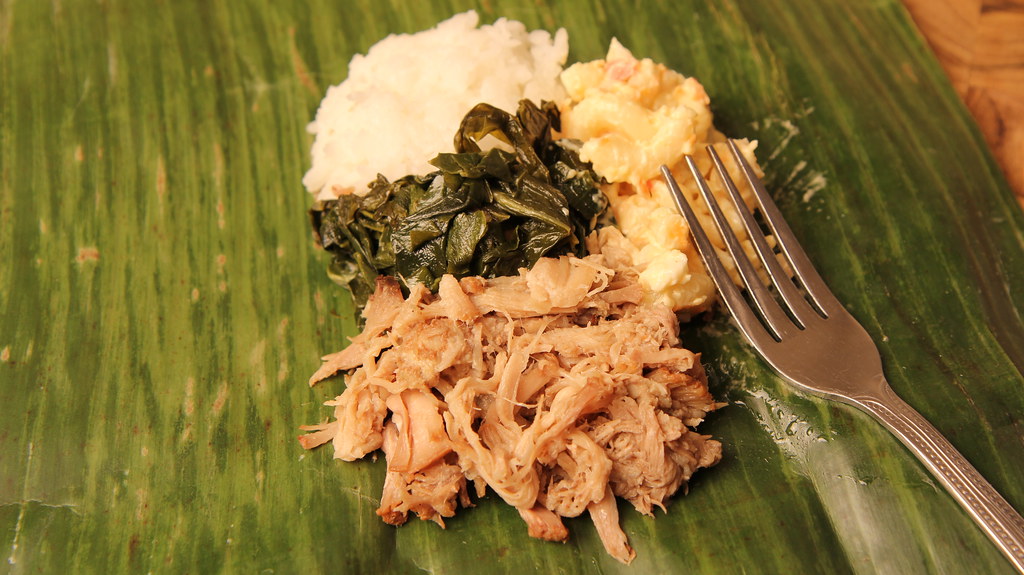 Usually, you would cover a whole pig in banana leaves and steam in a pit underground. However, not everyone can roast a whole pig in a two to four-foot deep pit at home. A pressure cooker and a four to six-pound pork shoulder will replicate the cooking method. You can replace the smoke from eight hours of underground cooking with liquid smoke as well. With only three ingredients, this recipe saves time and effort for apartment or dorm cooking. Serve it on its own, in a sandwich, taco or more.
Snacks
Spam Musubi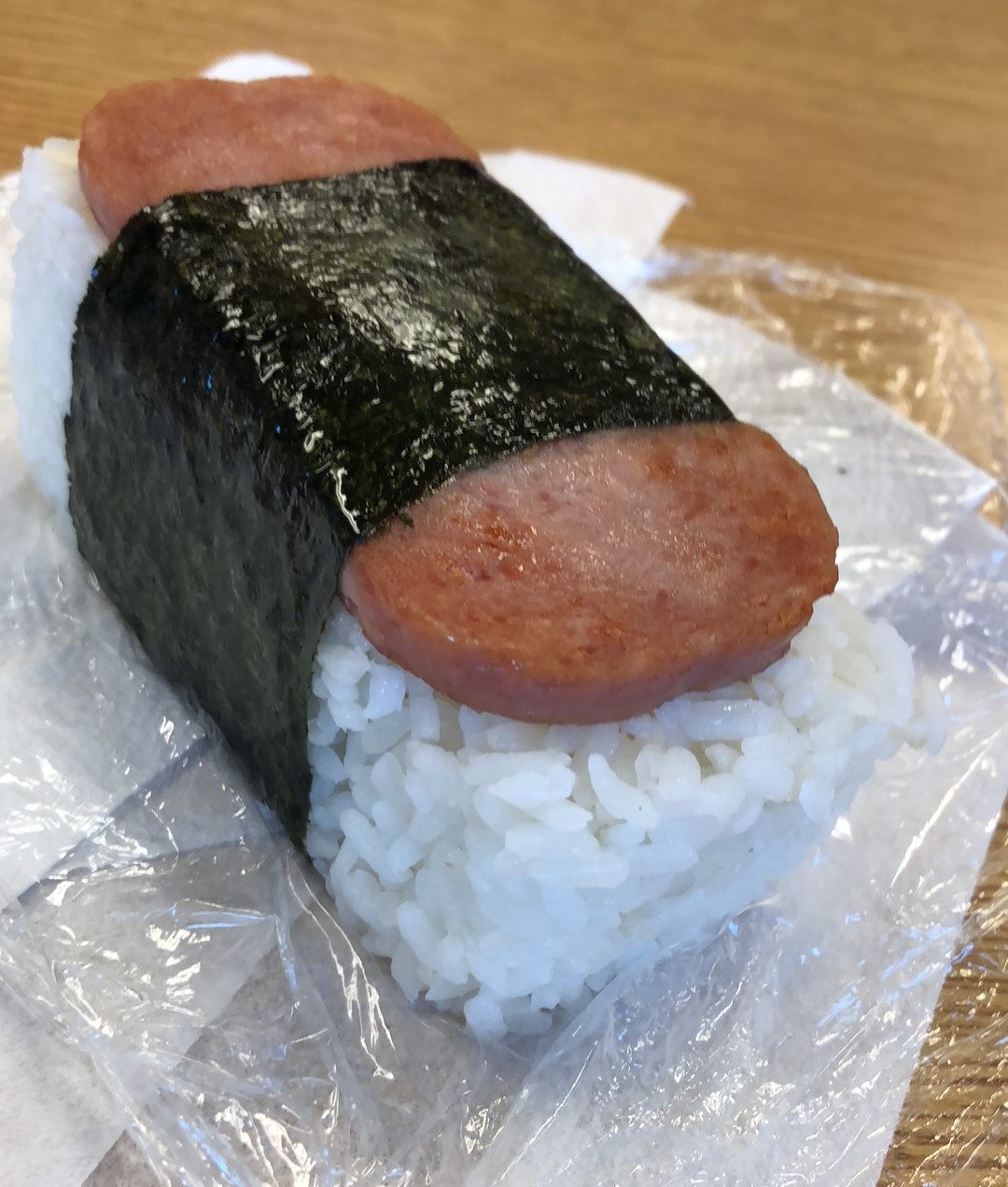 Spam may have a bad rep, but this snack hits the spot.  You can pick this snack up at most 7/11's in Hawaii and it is a favorite of students. Quick, easy and inexpensive, musubi only takes minutes to prepare and fills you up. It might even become your go-to snack during finals with its balance of salt and meat. Hawaii loves this snack so much they dedicate an annual festival to it. It even sprouted wings and a rainbow color to become the icon for Honolulu Pride.
Manapua (pronounced man-a-poo-a)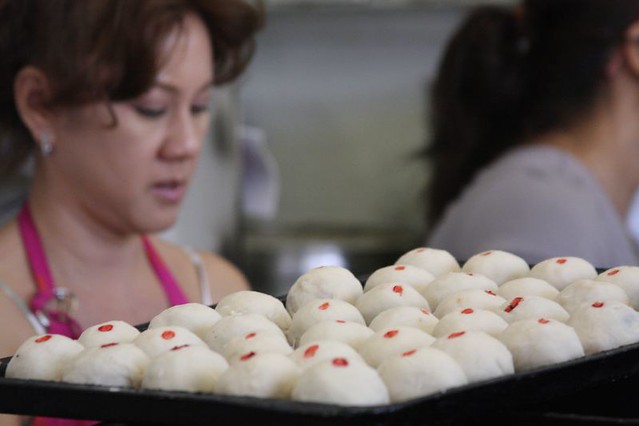 This Hawaiian version of steamed buns makes for a great light snack. Unlike the others, this recipe requires a lot more work in the kitchen. The recipe calls for homemade dough which takes time and effort that not everyone has, but local Asian markets bake them as well. Inside these little pillows, you will find sweet, savory, creamy or tangy fillings.
Squid Luau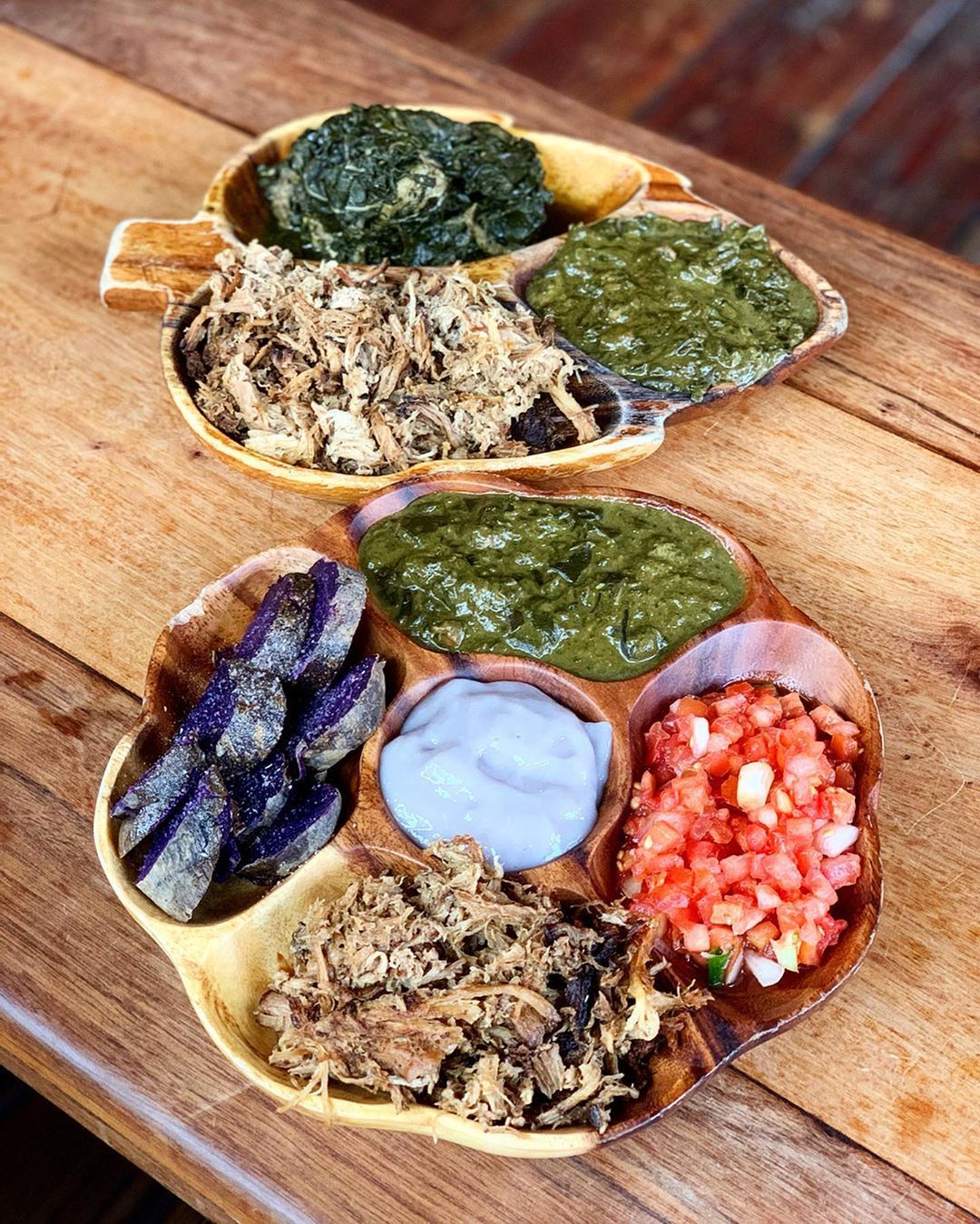 Adventurous eaters will want to give this snack a try. It may not look appealing but tastes rich and creamy. The dip traditionally uses luau leaves, squid, coconut milk and garlic. Although, spinach can substitute the luau leaves. The average tourist won't know about this unique local snack.
Dessert
Honolulu Cookie Company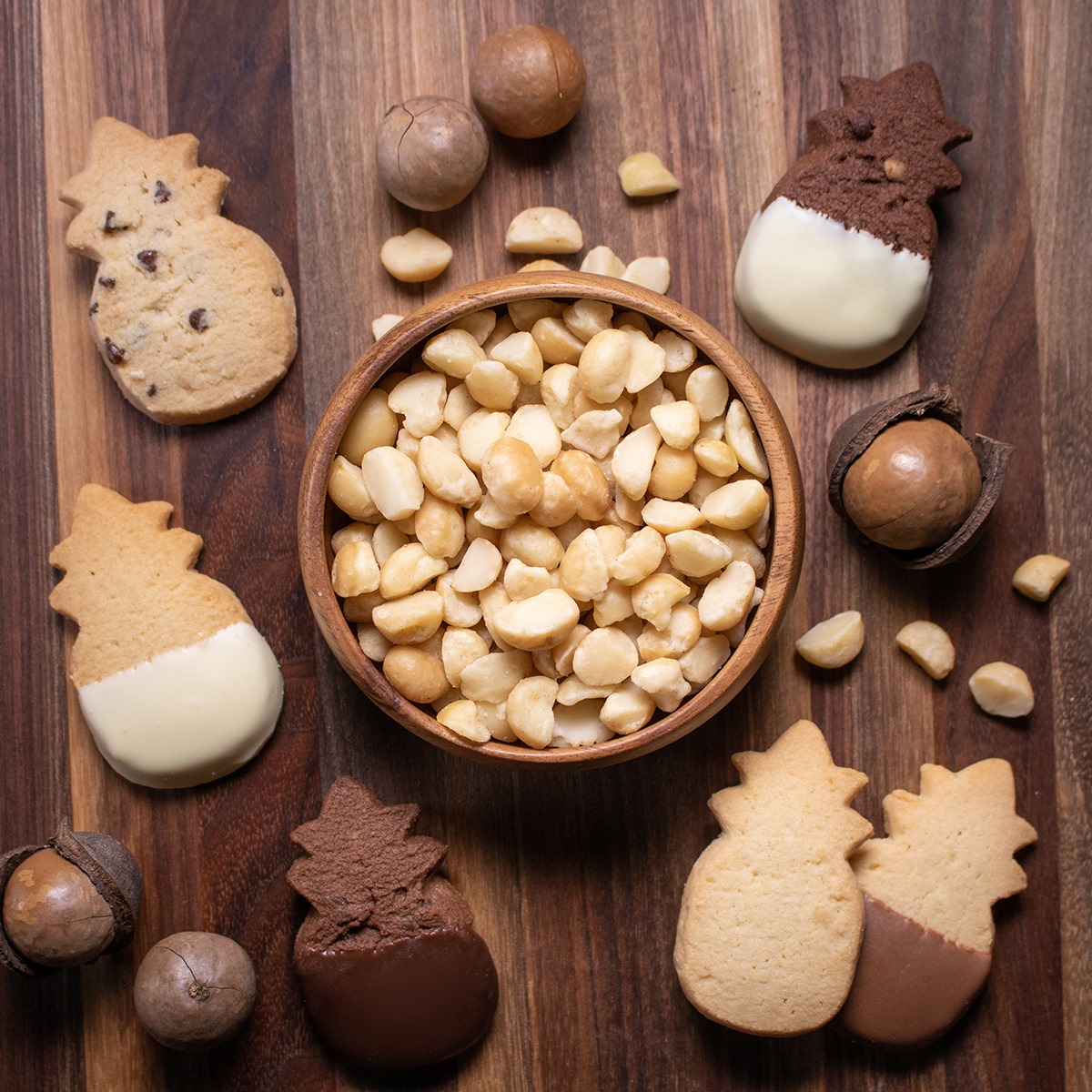 While this is not a recipe, a trip to Hawaii wouldn't feel authentic without stopping at the Honolulu Cookie Company.They produce pineapple shaped shortbread cookies with various toppings. The flavors include Kona coffee, white chocolate coconut, pineapple macadamia and guava. You will want to order a whole case for tea and coffee after dinner.
Shaved Ice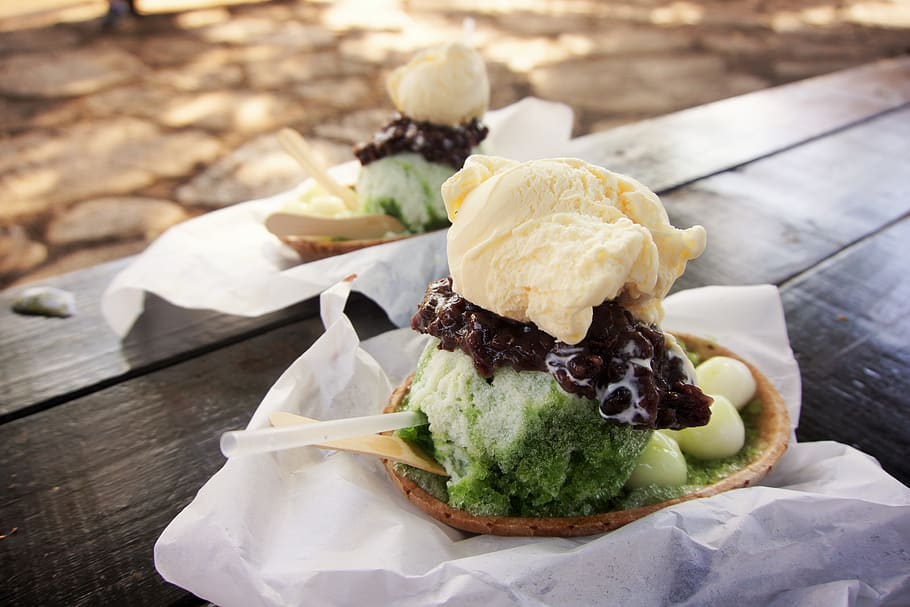 This might seem the obvious choice for the summer but, in Hawaii, toppings include tropical fruits, popping boba, condensed milk and much more. Add island-inspired flavors like lychee, passion fruit, lilikoi, red bean paste, matcha, mochi and more to get the true Hawaiian experience.
Coconut (Haupia) and Chocolate Pie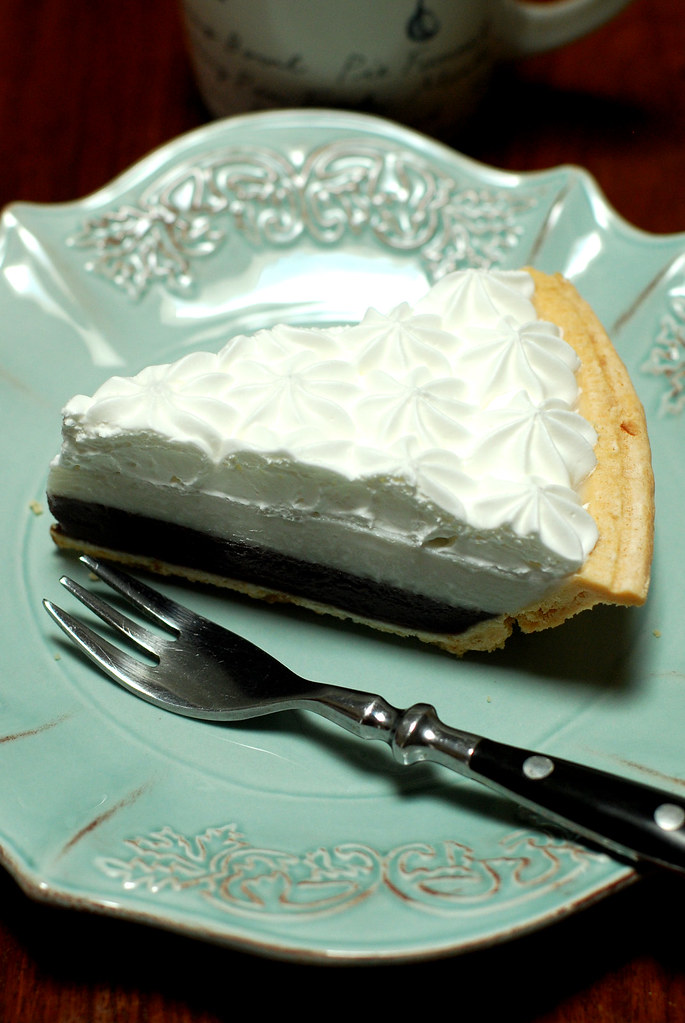 Who wouldn't want to eat chocolate custard with coconut pudding and whipped cream? Often made for special occasions, this pie mixes flavors straight from Hawaii with decadent and creamy chocolate. Making custard may be inconvenient for some, but store-bought custards and whipped cream work in a pinch. However, nothing beats the taste of homemade custard, pudding and whipped cream. Plus, hand whipping cream will build arm muscles.