As baseball began last week, I was interested in an aspect of the game of baseball that makes the experience of attending a baseball game even better: the ballpark. As recent critics have stated, baseball may, at times, be a boring sport to watch. Personally, I can be entertained by the sport at any venue and in any situation.
I ranked each of the 30 Major League ballparks in five different categories: Quality of team, attractiveness, fan interest, location and food. Of these five separate rankings, I calculated the average ranking of each stadium and thus brought me to the top 10 MLB ballpark atmospheres:
1. Fenway Park
The home of the Red Sox was built in 1912, leaving it with an aura and history that simply doesn't exist in other cities. The ballpark itself ranked second in both attractiveness and fan interest, and for good reason. The famous Green Monster is a sight to see in itself at 37 feet tall, and with it a manual scoreboard that is practically extinct in modern-day sports. Oh yeah, the stadium has sold out every game since May 2003. That's pure dedication from the fans.
2. AT&T Park
The fact that the Giants consistently field competitive teams, including World Series winners in 2010, is impressive. But AT&T Park overlooks the San Francisco Bay, where numerous home runs are hit into right field. The California weather and their amazing food that boasts the unique Cha Cha Bowl, a Caribbean mix of shredded pork, rice, beans and pineapple zucchini salsa – well, it speaks for itself.
3. Marlins Park
It's brand new and in one of America's top party cities. Plus the Marlins brought in the star power (Jose Reyes, Ozzie Guillen, Heath Bell and Mark Buehrle) in the offseason to attract even more fans if their stadium didn't already. If that wasn't enough, they put aquariums behind home plate with live fish in it. If that doesn't make you want to come sit through a game baseball, then honestly what does?
4. Citizens Bank Park
Any team that sends out Roy Halladay, Cliff Lee or Cole Hamels to pitch on any three out of five nights at the Bank can expect a full capacity all year long, which they proudly claim. In addition, the ballpark offers the classic Philadelphia cheese steak, headlined by the famous Schmitter, named after Phillies-great Mike Schmidt.
5. Yankee Stadium
Even though the ticket prices were a bit of the expensive side the last couple years, there is no argument as to how nice the stadium in the Bronx actually is. Another reason for Yankee Stadium being this high on the rankings is simple: They provide entertainment in the form of high profile and expensive players like no other team every year. And for fans: It's the Yankees – they have a chance to win every game they play.
6. Angels Stadium
The stadium is located in So Cal where the weather is perfect for baseball night games in the summer. There are a plethora of activities to keep both adults and kids involved as well. And if a fan from the Anaheim-L.A. area had any doubt as to the amount of fun they would have attending a home Angels game, the franchise signed Albert Pujols this offseason. It's kind of a big deal in sports.
7. Comerica Park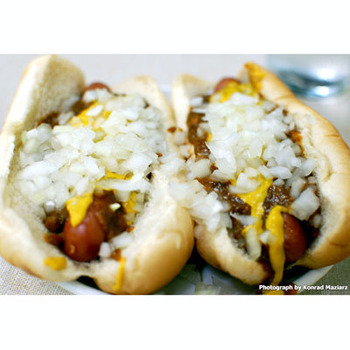 Hot dogs are synonymous with a good time at a ball game, wherever you are. No place does it better than Comerica Park in Detroit, where they have perfected the Coney Dog – loaded with chili, cheese and onions. The Tigers also picked up Prince Fielder in the offseason to join up with a reigning Cy Young winner in Justin Verlander and an MVP-candidate in Miguel Cabrera in order to generate more fans to the ballpark. To put it simply, they are doing it right.
8. Camden Yards
The view from inside the home of the Orioles is unique and original. In the left and center fields, the skyline of the city of Baltimore is clearly visible as the ballpark was built in the heart of the city. Camden Yards also ranked first in my food category. Their crab cakes are comparable to none, as if the famous Boob's Barbeque, which features some of the best sandwiches at any ballpark, wasn't enough.
9. Rangers Ballpark in Arlington
The home of the Rangers will continue to attract fans as long as the Texas team is good and competitive. The fact that the Rangers have been to back-to-back World Series is a big reason for their high rankings in fan interest and quality of team. The stadium also is located in between two major cities in a state where baseball takes second behind football. They also have an owner in Nolan Ryan that attracts fans to the team.
10. PNC Park
The Pirates are consistently one of the worst teams in baseball year in and year out. So why do fans keep supporting them every home game? PNC Park is the nicest and most attractive one out there. From the outfield, one can see bridges and the Pittsburgh city skyline – a gorgeous view for baseball fans in between pitches.