Productivity? In my 2020? Not very likely… or it could be! It's been a rough year, but with the holiday season coming up, it's time to show your friends and family how much you support them. Desks became cluttered, rooms may be disorganized and everyone's workload feels like it's just too much. Yet, small tools can help your loved ones get organized, or bigger gifts will make their life a little easier.
Whether it's office work or college work, these productivity gifts will help keep your loved ones on track and in a positive mood.
Caffeine addiction? I can stop whenever I want! But seriously, a mug is an absolute staple item everyone needs. Useful for bringing your coffee or tea on the go— whether you commute to work or enjoy taking a nice walk on your break, this mug will keep your drink and hands warm. You can choose the style of mug for your giftee, and look at the different designs they have and choose their favorite color!
I don't know about you, but when it comes to keeping papers organized… I do not. But with this decorative cork board, the receiver can finally keep all their papers in order. Depending on what you get, they can come in packs of two or four and in various sizes. These boards even come with their own colorful pins!
It's hard to forget your tasks when they feel like they hang over you 24/7! But seriously, these wall erase board decorations could keep your loved one's room or office lively and bright! They can keep track of all they have to do, while happily doodling on these wall ornaments!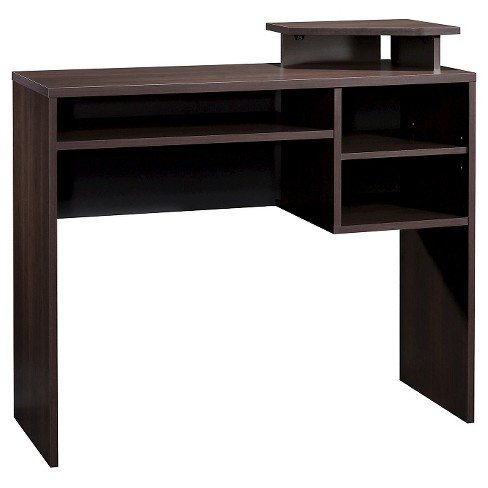 A bigger gift, but only fifty dollars at Target! This setup is a smaller one you can add to an office space, especially during online learning and working. It has three shelves and a stand to hold your laptops, books and papers. The dimensions are available for consideration, standing at around 33.27 inches in height, 36.85 inches in width and 14.49 inches in depth. Easy to assemble, with great reviews from adults new to working at home, this gift will help restructure your friend's space in the most productive way.
Cute office decor AND a mood booster? Sign me up. Whether you buy these in bulk or have just one, a succulent is easy to care for and will brighten up your day.
"Succulents are a great way to add some color and life to my room! In addition to their decorative potential, they feel like friendly presences when you live alone!" said Binghamton junior Patricia Ebrahim.
Plants might require a little more attention, but the time is worth it. It's a great way to start your workday from your home or office when it comes to caring for your plant.
Bring on the New Year! Different planners come with different types of benefits, so make sure to shop for one that would be perfect for your friend! Some come with bookmarks, post-its, pens and more. Not only will the cover be decorated with themes like flowers and space, but planners with sticker attachments will also spice up your friend's to-do lists. Planners complete with monthly, weekly and daily tabs create the perfect book to keep your friend on track in an ornamental and organized way.
Dogs! Cats! Harry Potter! Nuns Having Fun! All of these specialized calendars come with so many more options. If your friend wants to stay on top of their shiz, they'll need a calendar, so why not make it wild? You can find one with images they'll love and find adorable, or something to crack them up.
"Having a calendar for me is a must have! My many dog calendars over the years have not only helped me keep up with the many due dates throughout the semesters, but they have been a cute and easy way to decorate when living in dorms!" said Angela DeVico, a junior at Binghamton.
All options are available when you look for this kind of gift.
Okay, this one is funny… but useful, right? Showering is the best time for thinking, the place where you come up with plenty of good ideas— for writing, for work and for that argument you just couldn't work through. Now with water-proof notepads or dry erase boards, you can save your friend the frustration of forgetting everything they just worked out when they were showering. And… it'd be pretty funny to rip open wrapping paper and see that.
Whether it's for music or your Zoom meetings, headphones are a must. Best for concentrating and blocking out outside disturbances, headphones are also better than earbuds for comfort! There are plenty of options too, like  Beats or even those 2007 skull candy ones for a TBT?
There's nothing quite like a fancy journal, is there? Leather bounds are some of the nicest journals to hold, to touch and to write in. Everyone needs a notebook, but these are special. Aside from its beauty, can we admit that it fulfills the childhood fantasy of being a treasure hunter or pirate— especially with those uneven, deckle edge pages? Any writer, worker, artist or student will appreciate these fantastic journals.
Your friend's been telling you forever about their plans to start exercising, stop smoking, etc. Well, keep them accountable now! A habit tracker will help start them on the behaviors they want to pick up on and let go of. This little gift is a physical book they can hold with different charts that will help them map out their ambitions. Get them into the new year with a hop into their goals that'll keep them productive.
Working from home is a lot more common this year, and that means more makeshift home offices. People spend way more time craning their necks over computer screens so… hello NECK PAIN. With something like a memory foam pillow, you can bring a little comfort to your friend's long work hours.
Blue light glasses just further emphasize the point that we spend way more time staring at computers than usual. It doesn't only bring out the neck pain, but also the eye strain.
"I got my boyfriend blue light glasses since he's always on the computer, both for school (gotta love being a comp sci major) and to game and he loves them! He says they really help reduce the strain in his eyes, and the frequency of headaches from staring at the screen all day," said NYU junior Sarah Hassan.
That's why blue light shield glasses prove necessary— to protect your eyes and prevent headaches!
College years: the special age when people start getting excited to show off their organization. I can't count how many desks, bookshelves and accordion folders my friends show me— and I love seeing them. Well, desk supplies organizers are just another step toward the aesthetic your friend hopes to achieve. They come in multiple colors, materials and styles to fit whatever school and work supplies you may need.
No better time than 2020 for sanitary gifts, right? Your friends will appreciate the variety of lotions, body washes and sprays you can provide for them. You can pick out their favorite scents like lavender, eucalyptus and chamomile. These will keep your friend feeling refreshed and clean while they have to roll out of bed for work.
It gets all too easy to sleep in. So, for that friend who's always late, maybe it's time to make sure they wake up on time. Depending on your price preferences, either of these options will be a nice addition to your friend's room. An alarm clock will be a cute and classic decoration on their nightstand. Or, score a Wake Up Light to turn on soft lights that emulate sunrise and sunset.  Doctors recommend this to help regulate sleeping patterns, and it's easy to program automatically and connect to the radio.
Gifts don't have to be physical. Scrivener is an online program useful for your friends who have a lot of writing to do in their lives. This isn't just meant for your author friends, either. Students, lawyers, nonfiction writers and more use this guide throughout their writing journey. Scrivener's features allow their users to organize their writing into folders, index cards and corkboards, and helps you throughout the writing process. Scrivener recognizes the importance of research and outlining, and offers features to help get you through those long hours. A useful service, they boast that it not only gets you writing, but keeps you writing.
Television personality, Hoda Kotb, wrote this self-help book to share words of encouragement with the world. It started when Kotb posted quotes on her Instagram page. Her fans came back with overwhelming messages of gratitude and love. These comments inspired the title of this book, where Kotb not only scatters the quotes through, but also describes her own life experiences. A novel of overcoming personal challenges and outside boundaries, this book would be an inspiring text to read.
Light some candles, get in the mood… for work, of course. Specific scents prove useful for getting you to concentrate on the tasks at hand and just get you ready to work. Studies show that candles with rosemary and bergamot essential oils help people concentrate and help memory.
Sitting in an office chair all day— not comfy. Getting a cushion for the seat will help your back and make you thankful later for protecting your, uh… lower back. We all started doing new exercises during quarantine, so maybe those five minutes of squats will make up for the five hours of sitting down in your chair. And hey, you deserve the rest and comfort.
A little expensive, but hear me out… With distractions arriving so easily these days, sometimes you just need to sit down and get. It. DONE. With this tool, your writer friends will be distraction-free. The Freewrite Traveler is a small machine that allows you to write for hours on end without charging, and is Internet-free! It's even portable, in case your friend commutes or wants to bring it to a park.
Staying hydrated has endless benefits for your skin, energy and health, and sometimes you just don't drink eight glasses a day, or can't take a lot of trips to the fridge! Hey, it even helps refrain from drinking soda….or wine. Before five, at least.
Is it just me, or does your room go from 11 a.m. morning time to 9 p.m. darkness in like… five hours? It could be a real pain on the eyes while working or reading, and—being honest—Seasonal Depression is REAL. We! Need! Light! That's why you can brighten your friend's day with a fun new desk lamp. You can find ones that fit your friend's aesthetic with sleek, slim stands, or thick and wild decorative ones (psst…  you can also find a Baby Yoda lamp).
Comfort is key, remember? Well, what better way to improve comfort than a tablet pillow? It rests softly in your lap, and gives easy access to a tablet while you get to sit comfortably. When we work from home, we do it in leisure. That means it's not always at your desk—that means our couches and beds! We need comfort and ease, both while working and on our breaks. Find the right colors, designs and models that'll be perfect for your friend.
Who better to write a self-help book than a prominent expert on habit formation? James Clear offers a guide to mastery over your own behaviors. He encourages breaking harmful habits and adapting the good ones to make the best you. Clear uses his knowledge of psychology, neuroscience and biology to compile this self-help book, and discusses the system of habits individuals form. Some of the areas he covers include improving motivation, willpower, reshaping your environment to better fit you and getting back on track when you mess up. An inspiring and uplifting read, this gift is guaranteed to improve the mindset of its reader.