Being away from home during the holidays sucks. While your family sets up a Christmas tree, you set out all of your notes from the semester, hoping to pass your classes. It can be hard to get into the holiday spirit when you live in a cramped dorm with two other people rather than a big, nicely decorated house.
Here are 10 easy ways to put some holiday spirit in your dorm.
1. Christmas Lights
Christmas lights never go out of style. They always add a nice ambiance to any dorm and extra lighting, which you definitely need in that cramped, dark space. For Christmas, break out the red and green twinkly lights and fill every possible space with them, literally igniting your holiday spirit as the holidays grow nearer.
2. Air Fresheners
Most dorms do not allow candles for obvious safety reasons, but the same effect comes with a plug-in or sprayable air freshener. From fresh pine to winter wonderland, you can turn your dorm in Central Florida to a snowy mountain in the North Pole with just the spray of a nozzle.
3. Baking
Take things a step further than cupcake scented air sprays by actually baking. If you have a kitchen in your dorm or apartment, grab cake mix or cookie dough and let the smell emanate. Otherwise, store-bought treats give the same effect. Or be on the lookout for bake sales and cute bakeries. Being away from family during this time can be difficult, so organize a pot-luck with all of your friends to each bring their own holiday treat and feast with your new chosen family.
4. Candy
Christmas candy has lined the aisle of supermarkets and drugstores since October. Place these treats out for you and your guests gives your dorm a homey and inviting vibe. Placing candy cane Hersey Kisses or Reese's shaped like Christmas trees in a festive candy dish or bowl never fails to remind you of the festivity of the season.
5. Holiday Pajamas
Going to college in a warm place may take away the magic of the holiday. Cute holiday pajamas, even if they are just shorts and a tank top, ensure that you never forget the reason for the season despite your climate. From onesies to pajama sets, turning up your air conditioning and settling in under blankets to watch holiday movies never fails to set the holiday mood.
6. Holiday Movies/ Television Specials
Whether you have a flat screen tv or just the screen of an iPad, gracing that screen with the likes of Frosty the Snowman or Buddy the Elf can help everyone around you get into a holiday mood. Invite your friends over for a viewing party to watch Merry Christmas, Charlie Brown or binge every Christmas episode of The Office. It'll feel like you never left home.
7. Holiday Crafts
Adorn your dorm with Christmas cheer without breaking the bank, by DIY'ing your decor. You can cut paper snowflakes and hang them across your window or paint your own holiday saying on a canvas and put them outside your door to attract visitors. The Pinterest possibilities are endless.
8. Visit a Holiday Market or Skating Rink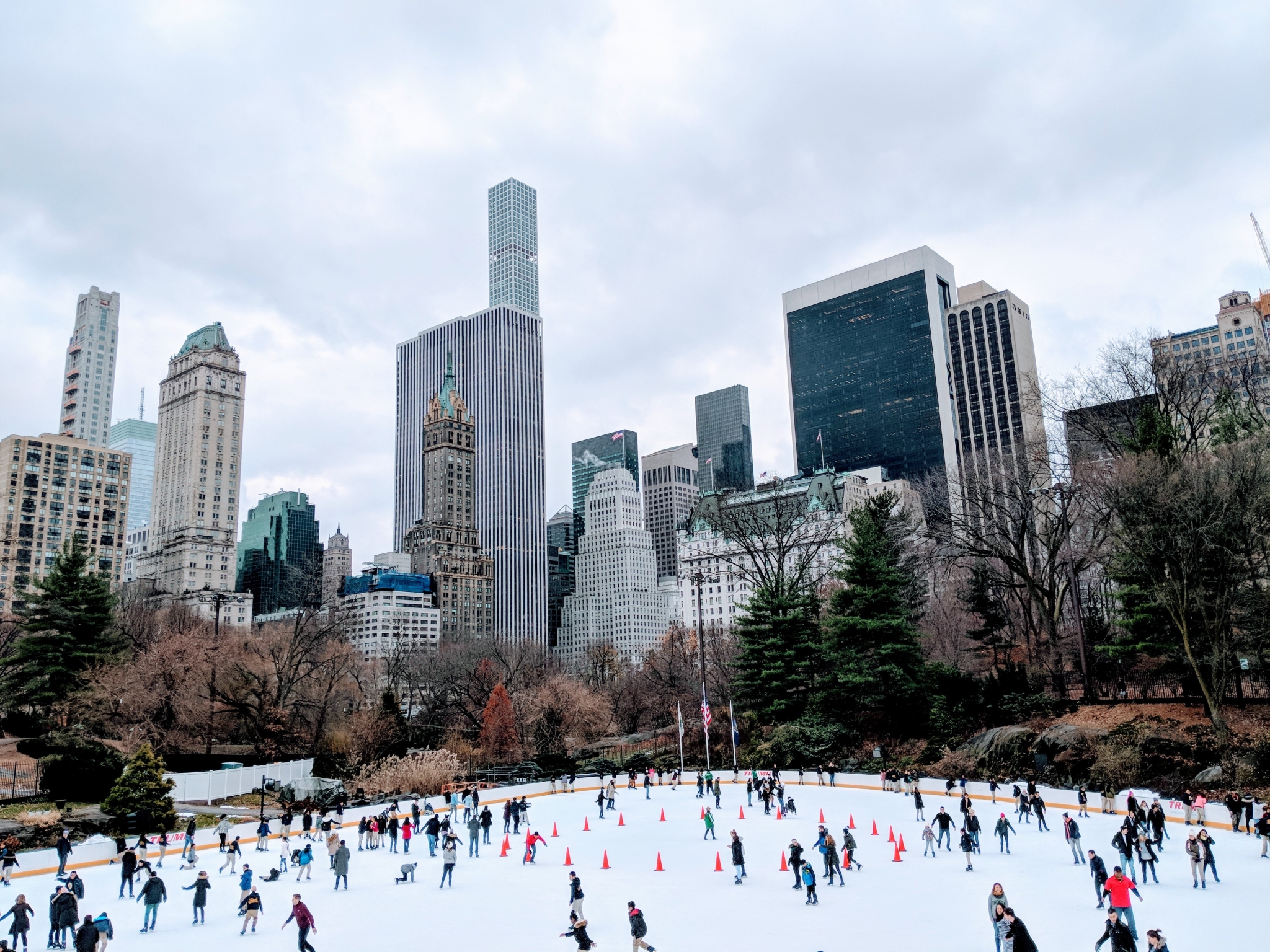 Living in New York, holiday cheer is all around. Holiday markets and pop-up ice skating rinks litter every park and square. If you live elsewhere, seek out the holiday events your town puts on and take every opportunity possible to engage in a holiday activity that you may not even access in your hometown. You will learn the celebrate the holidays in new and exciting ways and create new traditions.
9. Mini Christmas Tree
With no space and no place to buy a life-size Christmas tree, you may miss the presence and smell of evergreen in your new living space. Luckily, holiday shops are brimming with mini Christmas trees to adorn your windowsill or the top of your dresser. With a spritz of pine scented air freshener, you will forget about final exams for a minute and soak in the delicious scent of the holiday season with the comforting presence of a tree right beside you.
10. Dorm/ College Events
During this time, every college student starts to feel the same way. The homesickness and exhaustion begin to set in as we await returning to wherever we came from for some much-needed rest and holiday celebrations. Colleges realize that and do everything in their power to shake this restless feeling so that you can endure the last few weeks of classes. Reach out to a Resident Assistant and Student Life centers to learn about what is happening at your school and how you can help to bring some cheer to your campus.