Creative writing workshops: places of happiness where aspiring and talented young writers come together to help each other develop their writing through kind comments and constructive criticism. Just kidding, they're brutal. Freakin' brutal, man. More brutalities happen in workshops than in Mortal Kombat X. Sometimes, though, through all the comments of "I didn't care about your characters" and "So what?" you'll come across comments that are so unhelpful you can't help but laugh.
1. "Meh"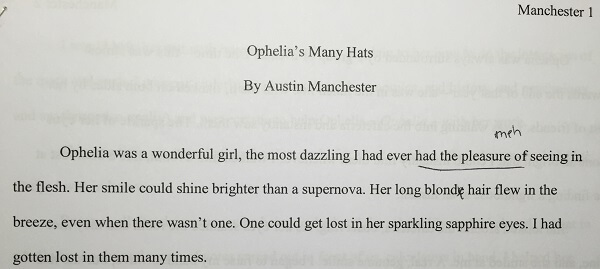 Gaze upon the only comment this person left on the entire 11-page document. Thank you, commentator, your three little letters were so helpful in my development as a writer. Penguin will hire you with this sample alone.
2. What's the point?

For those who can't read chicken scratch, one comment says, "I'm having trouble discerning a point." The other reads, "I don't quite understand the point of this story." Basically, this superb editor nicely told me there is no point to my fiction. There is no hope. Instead of moving to New York City with hopes of becoming a published author, I will open a hot-dog stand in the center of Times Square. I will become a hot-dog vendor, gleefully selling overpriced and undercooked hot dogs to ungrateful children and even more ungrateful corporate suits. While there is no point in my writing, there is a point in hot dogs.
3. Get that Figurative Language Outta Here

During workshop, a classmate raised her hand and commented that the sentence, "She put on her pouty face and glared through me," made no sense. She imagined a little girl putting on a pouty-face mask. I looked straight at my genius peer editor and said, "Wait, what?" Even my professor laughed that she forbid my figurative language.
4. Typos Literally Make or Break You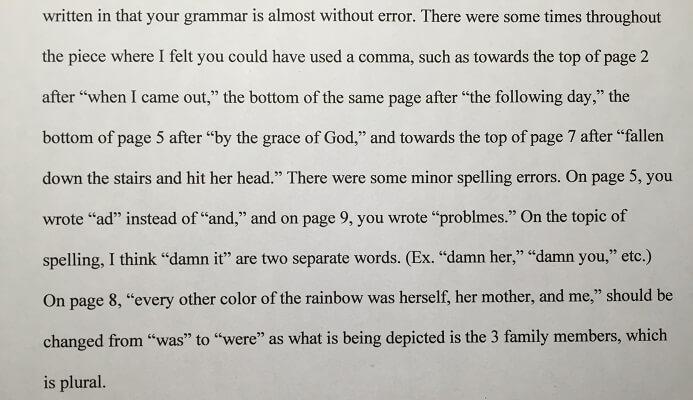 When writing a letter to an author, usually we want to give constructive criticism—you know, pointing out weaknesses in the work, offering up suggestions on how to make the piece stronger, identifying what was and wasn't working, etc. Listing typographical errors isn't constructive criticism. I can handle comma placement, thank you.
5. #Awkward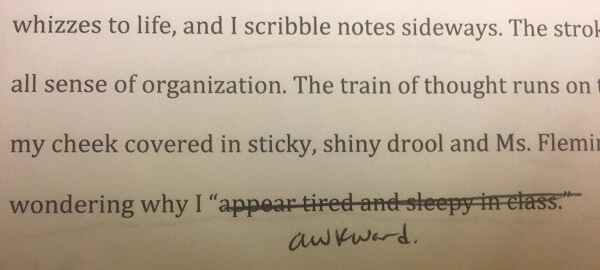 Okay, buddy, let's believe for a sec that this phrase is awkward. We'll delete it. Does leaving the sentence as, "Ms. Fleming is looking down at me and wondering why I," make it any less awkward? You're right, ending the sentence with "wondering why I" fits perfectly.
6. Why describe when you can channel your inner Hemingway?


Apparently stories should include plot and only plot. Any sort of descriptive phrases or attempts at character development prove unnecessary. Writers should only focus on advancing the plot. Better yet, just work on plot outlines for stories and try to get those published. Good luck!
7. Get Some Perspective, Man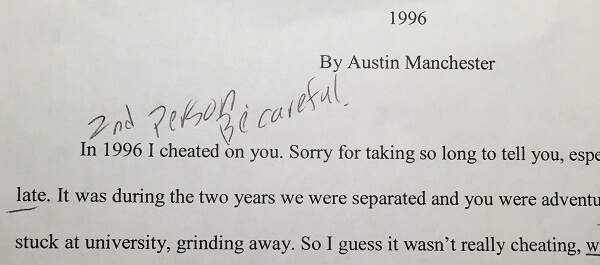 I understand where this person came from, I really do. Let me drop some knowledge on y'all—there's a difference between second-person POV and direct address. Boom, you're welcome.
8. Imaginary Tense Change

I'm sorry, did I not get the memo that outlined how "stood" ceased being the simple past tense of "stand"?
9. Tell Me how You Really Feel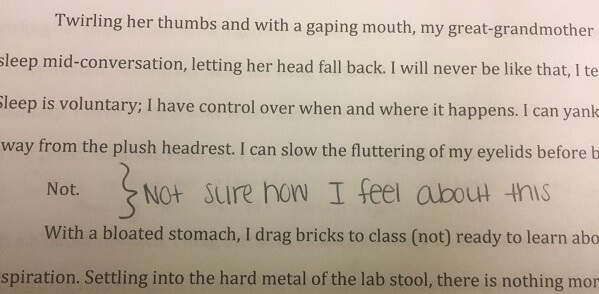 You've spent hours working on your draft, meticulously reading over every word, asking the question every great writer asks: "Is this essential?" Finally you decide that yes, all your words are essential. You bossed this story. It's emotional, provocative, original, surprising. Other workshop buzzwords. Be proud. You submit it to workshop and get copies back littered with glowing praise. And then that one classmate…oh, that one classmate ruins your Nobel-sized dreams. "Not sure how I feel about this," she wrote. You proceed to give up on fiction.
It's okay. I'm looking for a partner to join me in New York so I can expand my hot-dog-stand empire anyway.
10. Thanks for the definition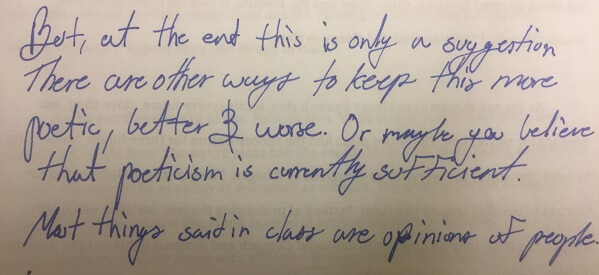 "Most things said in class are opinions of people." Thanks for clearing that up for us. Wow, I never would have known! Props to you.