On registration day of my freshman orientation, I arrived knowing every class I wanted. In addition to my first-choice schedule, I had prepared three backups just in case. They didn't help much. When the dust cleared in the registration room, I was still developing a schedule of classes that I – and every other freshmen – didn't want. My final schedule included Painting and Elementary French, two classes that hadn't been on any of my preparatory lists. Although I was disappointed at first, I later realized that I had accidentally struck gold; I loved these classes and I ended up taking on a French minor.
Welcome to the confusing world of course registration, little freshman. You've entered a mysterious place where preparation does not guarantee success and disappointment rarely ends in disaster. Still, there's reason behind the randomness, and we're here to help with 10 tips for scheduling like a pro.
Tip #1: Avoid the dreaded 8am class

When you're paging through hundreds of courses in your school's catalogue, it's easy to forget that you have complete control over when they happen. This is important because college brings most people into later sleep schedules. One of my friends forgot this when he scheduled classes at 9 a.m. every day, reasoning that his high school classes had started earlier. Understandably, he stayed up until 2 a.m. every night and regretted his registration. 8 a.m. classes are even worse, so avoid them wherever possible.
Tip #2: Select complementary class styles

Via Flickr user CollegeDegrees360
This spring, three-fifths of my course load was reading-intensive. Although I love reading, powering through 150 pages of the Nicomachean Ethics and Emma in the same week was a stretch. During registration, try to balance classes from different subjects, and don't overload yourself with labs, writing-intensive or reading-intensive classes. Also, if you know your major, start checking off its requirements ASAP because everyone appreciates having flexibility as an upperclassman, not to mention that flexibility can be essential for studying abroad. Don't be afraid to delay your core requirements. They'll always be there for you, but other classes might not.
Tip #3: Sketch your life plan (and by life we mean the next 4 years)

Via Flickr user Chris[tmas] K
Planning classes for your entire college career can be daunting, especially if you're unsure of your major. Still, I found it useful for seeing how many classes I'd devote to major requirements, core requirements and electives. A four-year plan becomes especially useful if you're eyeing a minor or double major, since you'll see the plausibility of certain combinations. Just play around a bit and don't take any plan too seriously; you don't want to restrict your options. Whatever you come up with, the practice in big-picture thinking will help you map out how to accomplish all your required classes.
Tip #4: Make that checklist actually checkoffable

You researched your school's offerings and every class looks incredible, so you're planning a triple-major with 22 credits every semester. Can it be done? Probably. Is it a smart idea? Probably not. You'll want to take electives at some point, so overcommitting yourself can feel limiting. You won't want to overwork, either; social activities are important and classes are usually harder than you think. A nervous breakdown certainly won't help your degree. But here's the kicker: a triple major won't help you in the long run anyway. My faculty contacts unanimously agree that employers value your transcript and experiences far more than what shows up on your degree. Focus on educating yourself, not putting more words on a diploma.
Tip #5: Catch all the faculty mentors
Via Flickr user Tulane Public Relations
"Don't take classes, take professors." This is one of the most common maxims I've heard about registration, and it's absolutely true. Your professors will make or break any class experience, and getting to know them personally is how you'll find out whether they're a good teacher for you. The simplest strategy for fostering faculty connections is to visit professors' office hours, introduce yourself and chat about your interests and goals. Once you're acquainted with a few professors, meeting more is easy because they'll help you form connections among their colleagues. For example, I met my amazing literature professor/mentor through the recommendation of my equally amazing poetry professor/mentor. My faculty mentors' advice and insider departmental knowledge have been spot-on; I've chosen all of my English and French classes based on faculty input, and they have all been excellent.
Tip #6: Coordinate with friends
Via Flickr user Alexandre Dulaunoy
Friends have something professors don't: a student perspective. My friends have been a particularly great resource for me in choosing professors. One of my friends recommended a professor who met me for weekly office hours, enabling me to test out of second-year French. Talking with friends is also essential for coordinating classes and commiserating to preserve each other's sanity. Still, a warning: your friends are not you, so their advice won't always be relevant. Students often overreact when they receive bad grades or don't connect with a professor's personality – just look at any student-run professor review site – so do your homework before accepting one student's thoughts as law.
Tip #7: Sign up for that human sexuality class

You've been told that college is a place to discover new interests. Take this advice seriously. For years, I had been jealous of my sister's singing and French lessons, but I convinced myself that I had neither time nor opportunity to try either subject. College eliminates those excuses. After I tried both, French took off for me but singing didn't. Although not all "hidden interests" pan out, it feels way better to try something and dislike it than to wonder forever whether you should have taken a chance. And if you do find a new passion, you'll have the rest of your life to enjoy it.
Tip #8: Don't take no for an answer
Via Flickr user David Amsler
No matter how well you plan, you might not immediately get into every class you want. Although a course may be full, this does NOT mean you won't be able to take it. If you speak with the professor, apply for an override and attend the class during add/drop to leave a good impression while you search for a seat, you'll probably get in. I learned this the hard way when a creative writing class filled up before I could register. Although I gave up on it because freshmen usually don't take it anyway, a freshman friend of mine had multiple conversations with the professor and got into the class. Clearly this kid knew what was up.
Tip #9: Registration is not the end of the world
It's incredibly easy to blow registration out of proportion, but no matter how horribly you might screw up a given schedule, it's only a small fraction of your education. There's always a way to recover from planning mistakes such as add/drop periods, and if you're taking a class you hate, it won't last forever. You'll do yourself a huge favor by not worrying too much.
Tip #10: Pass it on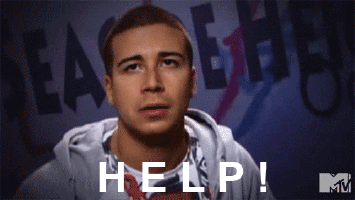 Look for chances to advise other people. Everything you have to say is valuable, especially when you listen closely to what the other person wants. You might advise others because you feel obligated, because it feels good or because you'll strengthen friendships, but whatever your reason, do it. At some point, an older peer will help you with registration, just as a few seniors connected me with creative writing professors and helped me find a high-level writing class for the fall. Don't you want to be that helper for someone else? This kind of reciprocal service can shift the registration experience from hair-pulling disaster to not so bad.
For more help on succeeding in freshman year, check out our top 10 YouTube videos every freshman should watch.