When asked where you go to college, you proudly respond the "University of San Diego." Yet, most times your welcomed with the same enthused reaction being one of two options: "Oh, very nice. I know someone who goes to State too" or "That's the one in La Jolla right, UCSD?" Our white, navy and Columbia-blue colors, are confused with State's scarlet and black colors more frequently than we'd like to think. As Toreros, we admit we're lacking in the school spirit department due to our busy schedules and involvement in so many other activities, along with our constant ventures off campus, exploring the charming city of San Diego which we so proudly call home. I'm pretty positive many of us questioned what a "Torero" even is at some point during our freshman year. But we didn't attend the University of San Diego to tailgate and run around a Frat Row. Being a Torero means walking around a campus filled with palm trees, vibrant blooming flowers and hammocks, all accompanied by an immaculate staff and faculty. After all, the Princeton Review did rank us the Most Beautiful Campus. But by all means, the luxury of roaming around our castle on a hill of a campus didn't come without paying the price.
Attending this top-notch university goes hand in hand with an outrageously expensive price tag, the cost of tuition, $67,211. This hefty expense sets us apart from your average public state school. We're not alarmed by people dressing to the nines for class or having a friend or two who owns a private jet. While every school has their individual trademarks, I'm here to talk strictly Torero business.
Check out this list of ten things all University of San Diego students know to be true.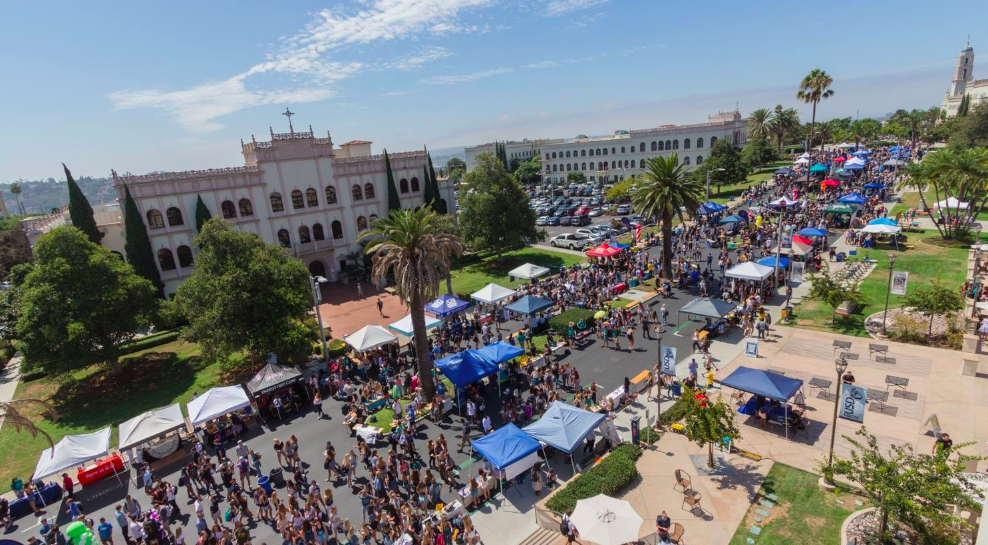 1. Olé Weekend Scarred You
Freshman orientation, better known as Olé Weekend for us Toreros made many of us question if we were entering preschool or starting college. Terrified already since USD doesn't allow us to choose our freshman roommates, making random roommates not an option, but a pre-determined decision, we all longed to meet our people, the people we share common ground and click with. Basing our roommates off a compatibility survey, asking us questions including, "What time do you go to sleep?" and "How clean or messy are you?" definitely didn't work out in many student's favors. The horror stories are known, and the compatibility surveys didn't seem to add up. Freshmen in Missions switched rooms so often some might think they were playing musical chairs. Some even conspire there was a major malfunction when USD collected the surveys and paired off roommates. But what many of us did learn from these dreadful experiences was that opposites certainly don't attract.
This brings us back to Olé Weekend, where hanging out with your parents and skipping out on these jam-packed days filled with ice–breaker games and forced conversations was probably the safer bet. While we watched our other friends party it up during Sylly Week, we got to run around Manchester Field, placing our backs up against a prospective classmate who has said to have something in common with you. Not many of us were in the Olé spirit following this freshman orientation, but we sure managed to find a way to bond over our relief that the notorious Olé Weekend was finally over.
2. Sweatpants to class? I'll pass.
The closest article of clothing us USD students get to dressing down are Lululemon leggings, aside from the student athletes of course. "I really don't like the pressure I feel to dress up for class, even for 8 a.m.'s" said University of San Diego sophomore Joanna Humbert. "Everyone dresses up for class here. Meanwhile, I'm one to roll out of bed, get ready as quickly as I can and make it to class on time. I don't feel the need to wake up an hour early to straighten my hair, put on a full face of makeup and wear a nice outfit. It's nice to just be able to wear leggings and a sweatshirt and not feel out of place on campus." If you're seen wearing sweatpants or running shorts to class, you're sure to stand out in the sea of girls sporting sundresses and sandals or jeans and a cute top. The students in Olin can be even more intimidating, decked in their suits and business professional attire. The days you are feeling comfy clothes, do yourself a favor and avoid Olin at all costs. Camino, Founders and Maher are sure to welcome you with your hair tied in a bun, sporting sweatpants and all.
 3. Putting your trust in the tram….and being late to class
Although not the most reliable mode of transportation, many students bank on the tram as the best way to get around campus. You'd think the tram would be a reliable and convenient way to get from the Vistas and Manchester to main campus or from the West Parking Structure and Barcelona to the IPJ. Wrong. The MySDMobile App may have a tram tracker, telling us the approximate time it will pick us up, but five minutes to arrival in Tram time could mean fifteen minutes or never showing up at all. However, our all-time favorite is when the tram does show up on time, only for the sign to flash the infamous "Going On Break." Students faith in the tram ultimately leads to being frustrated, late to class or even caught in the rain the few times sunny San Diego fails to be so sunny. The smart ones walk to class and have done away with the tram altogether. The even smarter ones hide Birds around campus and scooter their way around. The one with cars drive down to campus, hoping to not only find a parking spot, but also not get ticketed by the team of Parking Services on the prowl. And the optimistic ones continue to wait for the tram in high hopes, certain that one day the tram will be there when they need it most.
4. The Study Abroad Mass Exodus
Campus during the Fall Semester just feels empty. Packed with herds of naïve freshman since many of the upperclassmen are studying abroad, campus may seem mundane in comparison to the usual bustle during the Spring. Considering 77 percent of USD's undergraduates study abroad, deciding to stick around for the Fall semester of your junior year means seeing fewer friendly faces on campus. "Staying in San Diego as a first-semester junior seems like a rarity, but you'll soon realize that it's actually a nice break from having to say hi to everyone on campus all the time," said University of San Diego junior Kaia Hubbard. "As it becomes a ghost town, you become appreciative of the silence, enabling you to focus more on extracurriculars and building your successes as a student without all of the distractions." Staying on campus sure has it's perks and definitely costs a lot less than traveling all around the world, but USD takes the cake for its student's participation in the many programs the International Center offers.
5. You've Brawled Parking Services
Parking Services—they're out to get us all. When it comes to on-campus parking at our school, you could never be too sure. USD doesn't feel they collect enough money from us with the outrageously expensive price tag which goes hand in hand with getting to call yourself a Torero, so they employ Parking Services to wipe our wallets clean. Students here have become all too familiar with the process of appealing parking tickets due to the overwhelmingly absurd amount of citations Parking Services hands out. As it is, commuters are already faced with the challenge of finding a spot and with Parking Services constantly on the hunt, student's lives become that much more difficult. Between students and faculty, there are very limited spaces to park on campus, but USD's Parking Services certainly aren't going to cut you any slack. For those of you who've yet to find USD's warm welcome gift to campus, a $50 fine smacked onto your front windshield, consider yourself warned. I don't want to have to say I told you so.
6. You Crossed the Comber Challenge off your Bucket List
Beachcomber, the local South Mission Beach bar of choice for many newly 21-year-olds at USD. The pub is widely known and all the rage among USD students for its legendary 30–day Comber Challenge. "I love Comber," said University of San Diego senior Maggie Philen. "It's a popular place to go to on Thursday night because of their cheap drinks and small, yet welcoming atmosphere, making it a place for everyone to just hangout, talk and catch-up with each other. I enjoy going because I get to see all of my friends and people who I don't have the chance to see at school during the week." The Comber Challenge consists of going to the beach bar every day for an entire month. "I haven't done the Comber Challenge, but I had a ton of friends do it last year," Philen said. "I've heard that it's definitely hard to do, especially as the weeks go by, but people take it very seriously." Alongside the prize of extreme satisfaction, comes recognition of course. Upon successfully completing the challenge, your picture is hung up on the walls of Comber as a token and reminder of your success. Our parents must be so proud of all our great accomplishments throughout our years at USD. What's a diploma without your picture on the walls of one of USD's favorite beach bars? If the Comber Challenge sounds too rigorous, still make sure to stop by Comber for their Karaoke Mondays and Trivia Tuesdays.
7. Carmel–A Campus Extension
The Pacific Ridge Apartments, better known to us as Carmel, is practically an extension of our campus considering how many students choose to live there. Whether it's sophomores longing to bypass the two year on-campus housing requirement or juniors and seniors wanting a painless, short commute to class, Carmel might as well be considered USD housing. Aside from the families who are fed up with the noisy pre-games and fellow Toreros drunkenly roaming the premises in ludicrous and sometimes scandalous themed outfits, USD students have undoubtedly taken over the apartment buildings. Carmel is like Narnia. What seems like an average apartment complex directly across the street from a college campus actually transports you to a magical world of newly–renovated luxurious apartments. Carmel—a place to escape the RA's, old worn-down rooms with twin beds placed so close together you and your roommate could practically hold hands, and communal bathrooms. Though the upperclassmen at USD and residents of Carmel are familiar with navigating themselves around the buildings, freshman get lost in the surprisingly immense apartment complex as they aimlessly search for the correct address. It's no shock so many Toreros live lavishly in these designer apartments residences equipped with private balconies of panoramic ocean views, lushly landscaped paseos and tranquil pools.
8. J & T's Thai Food…Enough Said
Who knew Thai Food was all the rave? I most definitely did not until I came to USD. Constantly swamped with USD students craving an afternoon taste of Thai, this off-campus restaurant welcomes any and all Toreros. It's too bad they don't accept dining dollars. But is it J&T's tasty menu, late-night hours or proximity to campus that keeps us wanting more? "I have been a huge fan of J&T's since my freshman year," said University of San Diego junior Kylie Transki. "I think what has kept me coming back is ultimately how close it is to campus. I had never even been a big fan of Thai food before coming here, but for the past three years I've found myself having J&T's at least once a week, if not more. My go-to order is their Pad See Eu with chicken." While most college students satisfy their late-night hunger with a trip to McDonald's or a delivery from Domino's, us Toreros head down the street to J&T's, craving Thai Tea and a savory rice or noodle dish as we dine in their casual mod-industrial setting.
9. Wearing Jackets When It's Below 70 Degrees
We can't handle the cold anymore. Even if you're originally from somewhere cold and whether you like to admit it or not, you've acclimated to the warm beating rays of sunshine and blue skies. San Diego's treated you all too well. As students of USD we're used to 70's and sunny. Anything less and we feel the need to throw on the layers and bundle up. When the temperature drops to the 60's, we reach for our jackets to brace the "cold." Forget about when it rains, or drizzles. A raindrop falls from the sky and the tram driver starts to hand out ponchos as we walk off into what USD believes is a rainstorm. Our iPhones welcome us with an e-mail from USD Residential Life, with the subject line reading "Rain Advisory." The e-mail that follows is a step-by-step guideline on how to prepare for the expected rain forecast, giving us advice on how to bundle up and stay healthy in the weather conditions. Our school is known for being a bit dramatic but considering all of San Diego's draining is not existent, including our campus' we don't question the overstated notification.
10. Instas Flooded With Sunset Cliffs Photoshoots
Guilty as charged. If you haven't posted a photo of the sunset from the fourth floor of Maher Hall, chances are you've posted one from Sunset Cliffs. "Sunset Cliffs is definitely one of my favorite spots in San Diego," said University of San Diego sophomore Jamie Schneider. "My friends and I go to take cute pictures before a birthday dinner or we take-out dinner from Liberty Station and watch the sunset. If I'm not in Copley studying, you could definitely find me at Sunset Cliffs." Everyday USD students flock to Point Loma to watch the sunset and take photos to complement their Instagram aesthetic. It's especially the hot spot for freshman. They can't get enough of golden hour lighting and photoshoots with their new besties. But who could blame them? We've all been there. We're equally at fault for the spamming of everyone at USD's Instagram feeds, but does that make seeing the same sunset fifteen different times in one night any less annoying? Just some words of advice—at the very least do all of us Toreros a favor and give your caption some creativity from time to time because we all go here, and we all saw the same "beautiful sunset tonight" and "feel blessed to go to school here" too.