Berkeley's ensemble cast of truly bizarre characters never fails to amaze me. Whether it's the guy walking around campus with three llamas who can apparently "read minds" or the mammoth squirrels who snatch sandwiches out of unsuspecting students' hands, Berzerkeley's inhabitants will never leave you bored. Talk to a Berkeley Bear and you'll always find at least one thing very memorable about them.
1. EECS People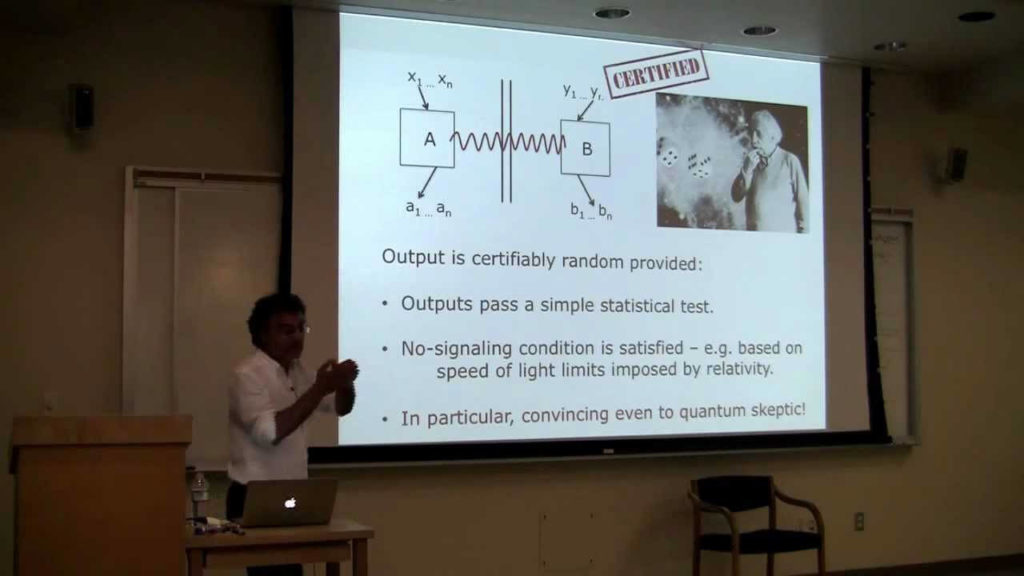 EECS stands for electrical engineering and computer science, an incredibly tough major, suited only for super geniuses. Conversing with an EECS person feels like playing a game of chess with a highly advanced computer. If you're thinking anti-social bookworm nerd straight out of a John Hughes movie, you've got it all wrong. These people are cultured, well rounded and overall great people to hang out with. EECS people work on designing hyperloop pods for Elon Musk at day and party at night. "If you're EECS at Cal, you are the cream of the crop—'cream' referring to the wide eyes and translucent skin that comes from growing up under the flourescent light of the library and never seeing the light of day. Jokes aside, they represent one of the three most competitive majors in the college of engineering—which only has a 9.7 percent acceptance rate. Now, after living on a floor with them, I can 100 percent attest to the fact that they're also some of the craziest partiers I've encountered in college, said media studies sophomore Natalie Silver.
2. Coopers
The Berkeley Student Cooperative, the largest cooperative living system in North America, consists of homes to all walks of life including the vegetarian themed Lothlorien (named after the elf haven in Lord of the Rings) and the queer themed Oscar Wilde (named after the 19th century author). Coops attract a lot of politically active people and those with alternative lifestyles. Also they throw great parties, such as room to rooms, where people go all out and decorate their rooms with some wild and hilarious theme. "'Co-op people' cover an extremely wide range of students, from those strictly concentrated on academics, to social butterflies, and those keen on the co-operative lifestyle. They tend to chose their words carefully and shun violence of any kind. A lot of their principles are rooted in the counterculture movement (free speech, antiwar, etc) but have changed quite a bit from that generation. Usually free in spirit and welcoming to new-comers," said engineering sophomore Kean Amidi-Abraham.
3. Funny People
Not too long ago, I went to a Jericho! an improv show involving a four-headed Shaquille O'Neal which turned into a meta-improv show about members of the team arguing whether four-headed Shaq should fight a sex octopus. This might sound like pretty weird stuff to the layperson, but a seasoned Berkeley improv-goer comes to expect nothing less. Along with the craziest improv groups around, we have the most sardonic satire magazine ever, the Heuristic Squelch and hilarious a cappella groups, one of which does a side splitting rendition of "Bitches Ain't Shit" by Dr. Dre.
4. Hippies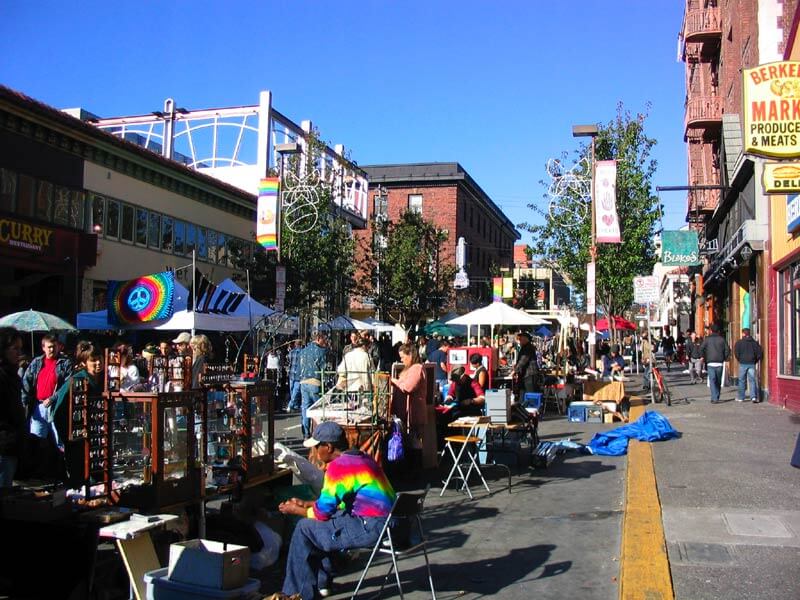 Berkeley, the holy land for free-spirited weed smoking folks back in the 1960s, hasn't changed too much over the years, but now the hippies are much older. Every Sunday on Telegraph Avenue, hippies come out to sell psychedelic t-shirts and other trinkets. Although the days of the hippies have long passed, young students definitely adopt the lifestyle. The many smoke shops on Telegraph Avenue leave a trail of evidence for the prolific marijuana use and the non stop advocacy for social justice causes shows how Berkeley Bears aren't down with the system. "A small percentage that represents a lot of Cal's image, but many people have 'hippie' practices, especially in the coops," said biology sophomore Charlotte Jamar.
5. Eccentric Sproul People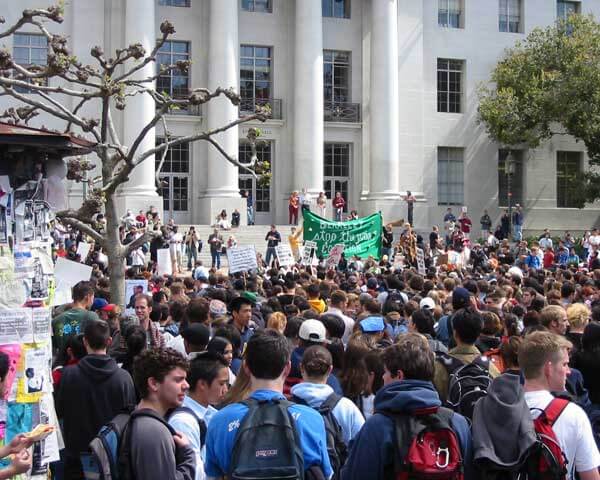 Sproul Plaza incubated the campus free speech movement in the 60s. The photo of Mario Savio standing atop a cop car on Sproul remains one of the most iconic images in American history. Nowadays, eccentric Sproulers include the "Fishing Pole Guy," who stands at the busiest place on campus with a fishing pole, and "The Yashua Guy," who warns of the rapture inhabit the famous plaza. Weirdness on Sproul is so commonplace that students tend to ignore our flamboyant friends, but if you stop and listen you might get some good nuggets of wisdom. "It's a beautiful thing, watching an old man do an interpretative dance number in sky blue pajamas," said engineering freshman Adam Swayze.
6. Protestors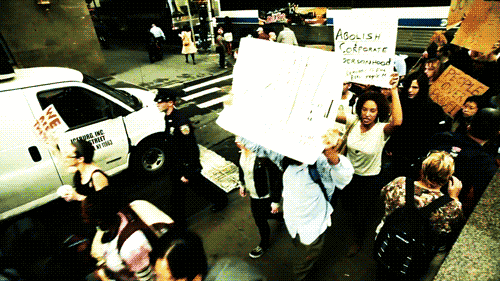 Berkeley made primetime news last year for the huge Ferguson demonstrations, where all of Telegraph Avenue turned into a giant cloud of tear gas. Right before, students slept over at Wheeler Hall demanding an end to tuition hikes. A day does not go by without protests at Cal. We were world famous for our protests when we were at the forefront of anti-Vietnam war protests and we stay strong today as one of the most protesting colleges in the country.
7. Artsy People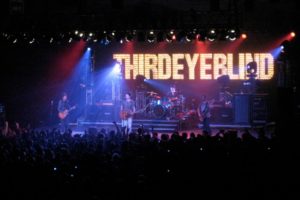 Cal's open atmosphere cultivates great artists, from the contributors to the many literary magazines, to muralists at the coops. The lead singer of Third Eye Blind and Counting Crows graduated in the 90s, and just recently the SWMRS frontman attended Cal. Artsy people often attend shows at Zellerbach Hall, which range from classical music to Ira Glass. Every single person here seems to have some artistic talent.
8. Do-Gooders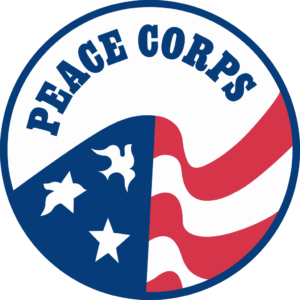 Berkeley boasts sending more student to the peace corps after graduation than any other school in the nation. A lot of people see college education as a means to boost themselves in the professional world, but at Cal, students view it as a way to learn how to change society for the better. Most people here contribute to some community service organization. When talking to Golden Bear in any given conversation, you'll most likely hear some mention of helping others or social justice. Doing good runs through the veins of any Berkeley Bear.
9. Partiers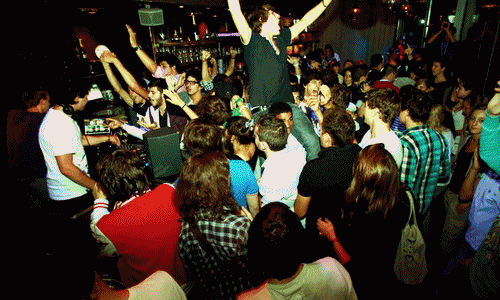 At Cal, nerding out and turning up are not mutually exclusive. It boggles the mind how much some people party, specifically in Greek life and coops, yet still manage to pull off good grades. The balance between social life and academics is completely harmonious. "People here go on week long benders, then the night before the midterm down a bunch of Adderral and still pass with flying colors," said chemical engineer sophomore Ramiro Rojas.
10. Politicians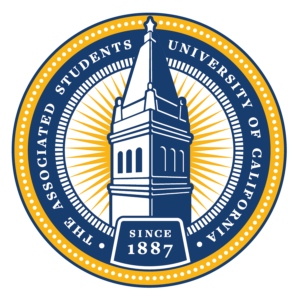 Berkeley students kick ass when it comes to political debate. Not only can they wax political theory, but they also make effective change on campus. During election season the student government, known as the ASUC, owns campus. Campaigners flyer like crazy and hundreds of students change their profile pictures to their candidate of choice. There's even a satirical party, which has nominated both a dog and hermit crab in the past, but still keeps it real and stands for actual issues.