Instagram gives you the opportunity to see incredible things, with every profile from makeup gurus to fitness inspiration to even that random niche of people who like crunchy slime. Within this portal, too, you have a wonderful array of comic artists. Viewing and supporting their work allows them to build a name (and bank account) for themselves. Not only can they express themselves, but they can also link to their own websites and shops, developing a truly creative career.
Check out these 10 talented comic artists you can find on Instagram.
1. Hannah Hillam (@hannahhillam)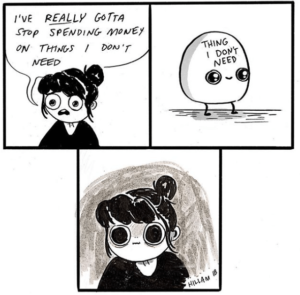 Get ready to get on the Relatable Train with this comic artist. She depicts the everyday struggles, from dealing with a cat's excessive antics to the panicked laughter-inducing comics regarding the life of an artist. The comics can have the slightest bit of an edge with references to stress and wild situations (finding radioactive brains by accident comes up somewhere), but a good laugh never disappoints.
2. Holly Chisholm (@justpeachycomic)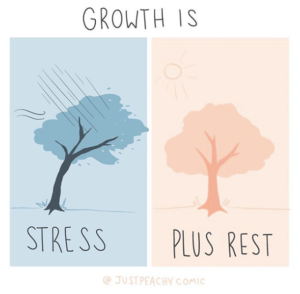 Honestly, this page might as well come with a scratch-and-sniff peach sticker because of both the feel-good qualities of the comics as well as the consistent color scheme of pastel peach. The comics depict an open and honest way of her discussing her ADHD and anxiety as well as her mental journey. She neglects nothing with her drawings stemming from all the high's and low's to acknowledging that you never have to feel alone in your own mental health journey. Plus, she has a dog named Bubbles that frequently features himself in the comics—always a necessary detail.
3. Meg Mahoney (@faberillustrated)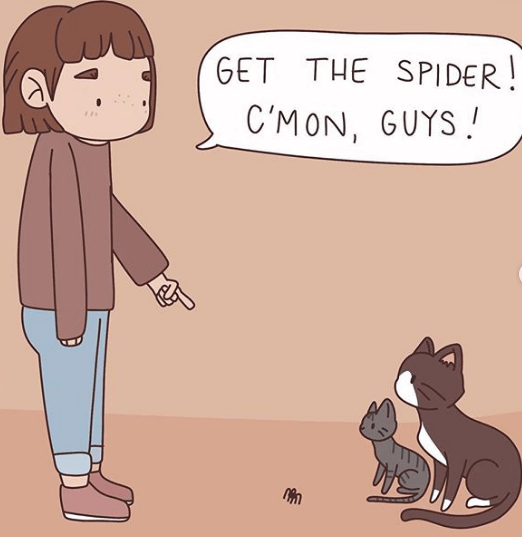 With the happy faces and pastel color schemes each of her comics taken on, you'll have wholesome feelings any time you check this comic out. While the content addresses serious issues such as mental health, the comics always seem to have a positive ending. Plus, the cat comics range into wonderful series such as "If Faber Were a Disney Princess." Truly amazing.
4. Bee (@lollibeepop)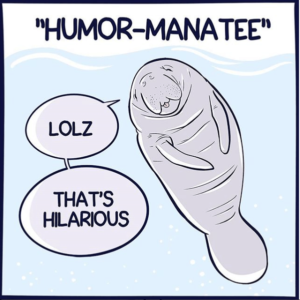 I feel the best way to describe this lovely comic involves a combination of classic 50s newspapers and a modern sense of humor. Bee's comics often have unexpected little twists that result in a surprised laugh, with everything from defying today's beauty standard to dealing with any particular pests. Explore onwards to see her everyday ventures into the world, including the unapologetic love of pumpkin spice lattes.
5. Noor Rasoul (@noorrasoull)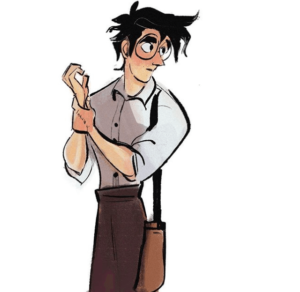 This comic's art style feels like you're viewing a watercolor painting, with individual strokes of color in each panel. As well as that, her content stems from beautiful fan-art of shows (including Harry Potter, hell yes) to characters of her own creation. Recently as well, she creates comics addressing vulnerability and sort of life checkpoints. Regardless, scrolling through her feed will bring you a smile.
6. Sarah Andersen (@sarahandersencomics)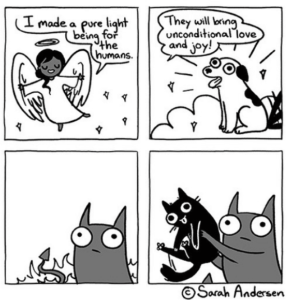 This particular artist holds a soft spot in my heart because I followed her comics back in the high school Tumblr days. Thankfully, her comics have not gotten any less entertaining or relatable over the years, and she even has tours and a book ready for publishing. Check out her comics for laughs at her extravagant love of Halloween and the wide-eyed stress situations you come across in life as both an artist and a person making their way through the modern world.
7. Meg (@artbymoga)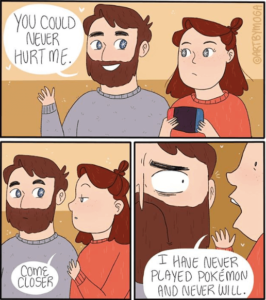 Try giving this comic artist a look for endless positivity. While she covers every topic from the stress of today's political climate to funny moments with her boyfriend, you never want to stop scrolling through her photos. She even has a #FeatureFriday where she dedicates a post on her page to another comic artist to show her appreciation. Plus, we must never forget her incredibly adorable dog Boedy.
8. Tiny Snek Comics (@tinysnekcomics)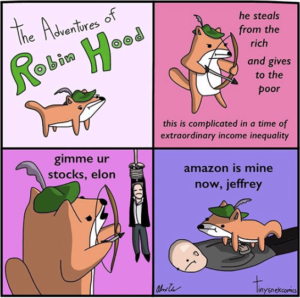 If you want to see a combo of funny cartoon animals and kooky humor, give this page a good peruse. Tiny Snek Comics looks exactly how it sounds, and I don't think I can explain it any better than that. You'll just have to see for yourself and get a good laugh from the unexpected one-liners. Let's not forget the neat game the account supports called HECK: A Tiny Card Game. Check out their Patreon to make a donation and get this game, and artist, some support.
9. Liz Climo (@lizclimo)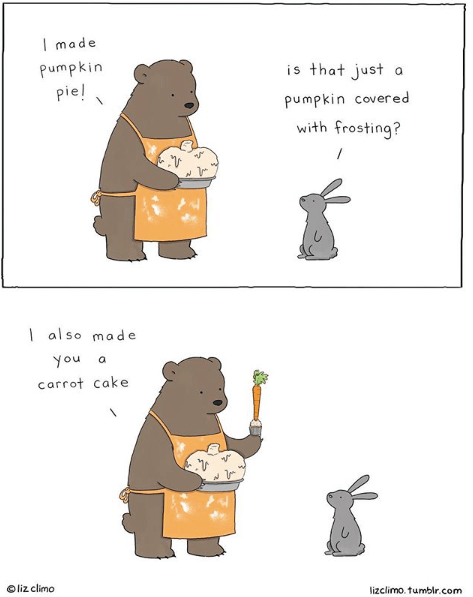 I'm not sure if anyone can relate, but do you ever think something is so god damn cute you laugh a little? Well, that's what this comic artist does to me because her comics include cute animals and great puns both, so you can't ever go wrong. She's also released a book of her comics called "Best Year Bear Ever" that includes all the best animal puns and wholesome situations, and it's amazing.
10. Tom Neufeld (@tomacomics)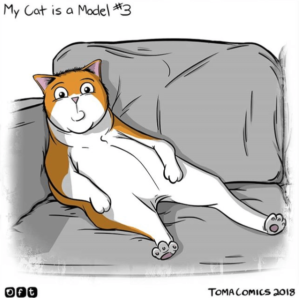 If you love cats and/or cute relationships, consider this comic artist your perfect (purr-fect, ha) match. The majority of this artist's comics feature his beautiful orange cat Pumpkin and his mysterious black kitty Loki, referred to in turn as "Pumpkin Yompy Yompkin" and "Loki the Bird Cat." Amidst the mysterious thoughts of these furry creatures, you can also see the cute moments this artist shares with his girlfriend. Give this artist a look for all your furry friend and fuzzy feeling moments.