Most of us know Penn State to have an enormous campus, so finding the perfect study spot can prove challenging. Most of the time, students will just go to the library. I mean, after all, it is a library. But don't just settle for the library. While I do recommend the library as a great study spot, and I do feature it in this article, I wouldn't call it the creme de le creme of study spots. Around campus, and even off campus, you can find so many hidden gems for studying. Some even come with little perks. In this article, you'll find some new areas for when you have to cram for a test or if you just want to do some homework with friends.
Read on to learn about some great study spots at Penn State:
10. Webster's Bookstore
You'll love this study spot if you're a big reader or love the bookstore aesthetic. Webster's, a small bookstore located downtown, has a variation of vintage/older books at discounted prices. The low prices allow you to go outside your comfort zone when buying books which is nice. You'll also see tables scattered around the bookstores, some surrounded by bookshelves. That way, you get to study next to beautiful bookshelves.
"It's always so quiet there, and their coffee is so good. Also, it's a really inclusive space," Penn State senior Alejandro Toro said.
Webster's prides itself on being an inclusive space. The bookstore is primarily popular amongst the LGBTQ+ community. Around the bookstore, you can find some pride flags and little tokens of the LGBTQ+ community. Similar to some of the other spots I mentioned, Webster's has a cafe inside the bookstore. So, if you feel hungry, head on over to the café to fill up on some mid-study session coffee or snacks.
9. The Business Building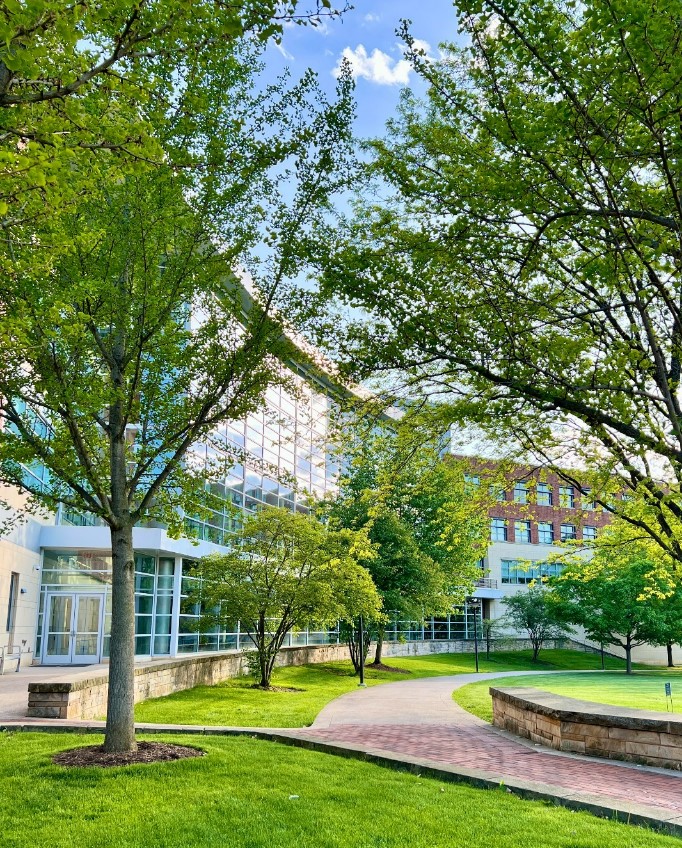 After having some classes in the business building, I can attest to the fact that this building has some nice study spots. Located at the end of East campus, the business building has multiple floors and, yet again, floor-to-ceiling glass windows. Actually, not only do they have floor-to-ceiling windows, but half of the building is glass exterior. You can find a balcony on the third floor if you want a good view.
"The third floor is extra nice because it overlooks the library, and you can people watch," Penn State sophomore Sultan Hassan said.
Surrounding the business building, you'll stumble upon a lot of trees, which look super cool in the winter when snow falls onto them. And on nice days, there are a lot of tables outside to do your work. If you ever get hungry or thirsty for a mid-study pick-me-up, a coffee shop sits on the ground floor with some great coffee and snack selections. The business building is huge; if you go on the weekend or late in the day, you could walk into any room and use it to study.
8. Information Sciences and Technology Building (IST)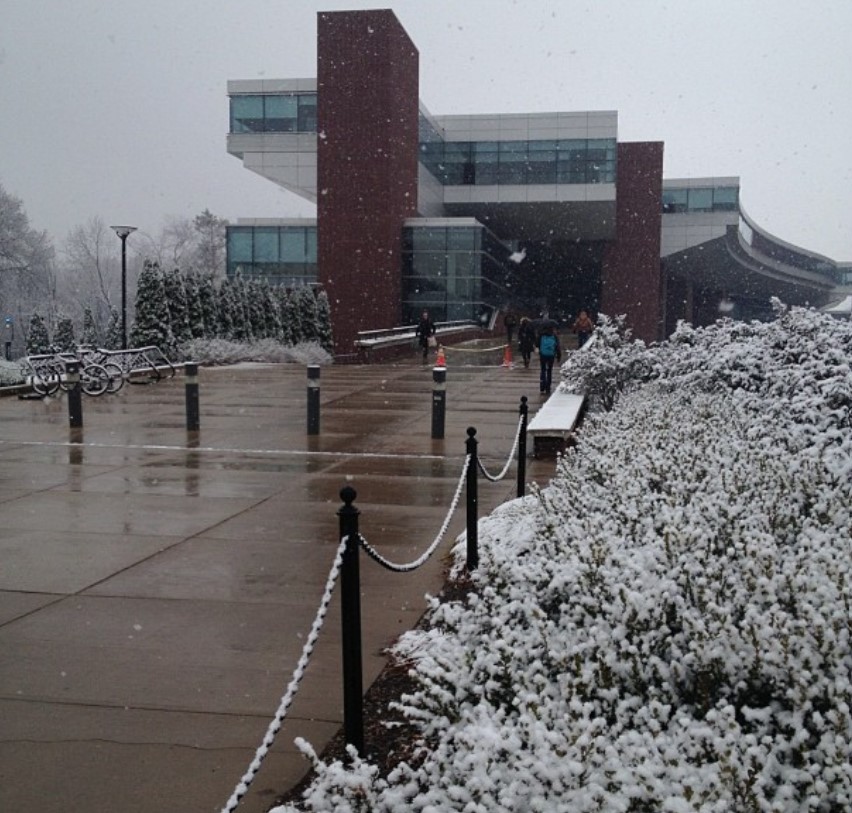 You've probably seen the famous Westgate building on campus at least once. I mean, how can you miss it? But, across the glass overhead bridge lies the Information Sciences and Technology building, home to the college of IST. Although located right at the edge of the west campus, you'll find the hike there worth it. Like the BBH building, the IST building has beautiful glass windows. It even has study tables on the overhead bridge.
"I love the benches outside of the IST building, especially when it's sunny outside because I'm soaking up the smarts from the people inside," Penn State junior Ariel Ratsap said.
The inside of the building is very modern and very gorgeous, but the outside is just as nice. Scattered around the building lay small tables and study nooks. During the early fall or spring, it's the perfect study spot. And during the winter, since the building is so massive, you will find so many study desks and nooks for a great study sesh. The beautiful weather and cute tables make the IST building the perfect place.
7. The Ryan Family Student Center
Located on the ground floor of the Dieke Building, the Ryan Family Student Center offers the College of Earth and Mineral Sciences students many resources. Some of the resources include academic advising, printing stations and career counseling. It's similar to the MAC but for EMS students. Along with great resources, you can possibly connect with others.
"It's nice to have a space with similar-minded people who are in my major. I made a lot of friends there," Toro said.
Any EMS students should visit the Ryan Family Student Center at least once. The ability to discuss future career options with advisors specific to your major is something all EMS students should take advantage of. Also, it's a major specific collaborative space for studying, which you can't find elsewhere on campus. Considering how challenging the EMS coursework is, studying with others might be beneficial. The free tutoring option is also very handy, especially when tutoring at Penn State can be so expensive.
6. Kern Building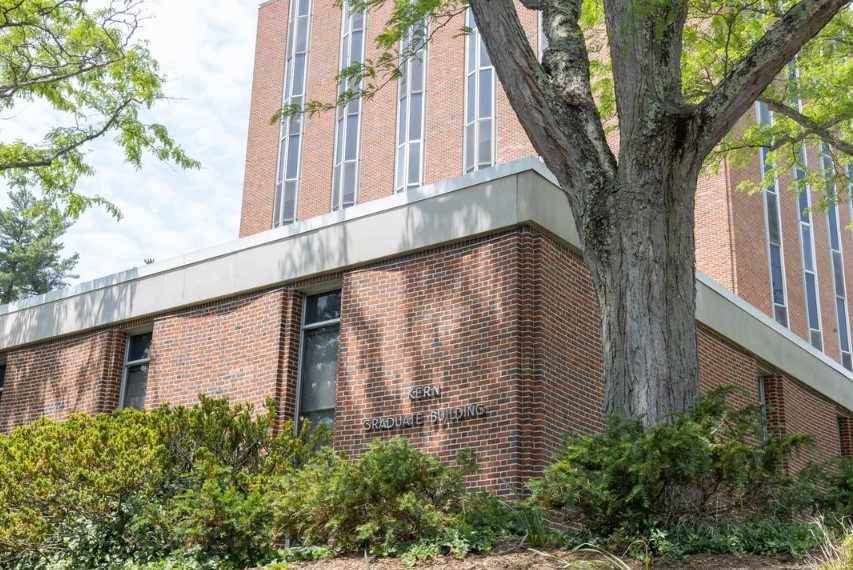 If you find yourself far into the west campus and don't feel like going to the library, you'll discover the Kern building just a block down. While the inside might not look super glorious or modern, the building still offers a lot of study opportunities. You can find a couple of big tables sitting in the center of the first floor, with smaller tables scattered around. The only thing to keep in mind is how crowded it can get. You'll likely have people sitting right next to you.
"I love Kern, but there's a lot of people inside. But it's still really quiet when I'm there," Ratsap said.
The Kern building is home to the Penn State graduate school. Many undergraduate students use the space as well. On top of the great study spaces, they have a Panera Bread located right inside. So, if you ever get hungry while studying, you have some great food options just a couple of feet away. But a heads up: make sure to go to Panera at the right time of day. It can get very crowded.
5. The Morgan Academic Center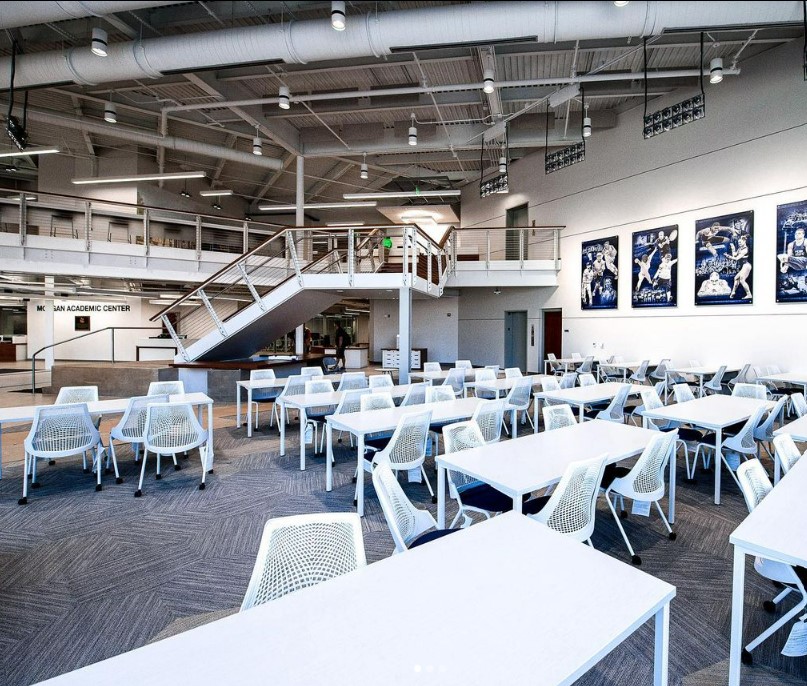 Now this option isn't for everyone. You must be a student-athlete to enter the Morgan Academic Center. But there is a loophole for non-student-athletes. If you are friends with a student-athlete at Penn State, they can get you into the MAC (Morgan Academic Center) as their guest. That way you can see the beauty of the MAC for yourself.
"I use the tutoring there all the time. And the private study rooms are really cool," Penn State junior Donavyn Martinez said.
The resources are one of the great things the MAC offers. At the MAC, you have access to private tutors on demand. They also have academic advisors. You will also find flatscreen TVs equipped in every room, free printers and media rooms. For any student-athlete, I highly recommend the MAC. It's quite literally built to enhance productivity. And for those of you who are not student-athletes, I recommend making some student-athlete friends.
4. The Paterno/Pattee Library
Don't let the Penn State library fool you. There are actually two sections of the library: Pattee and Paterno. When you get to campus, if you haven't already, I recommend roaming around the library and getting familiar with it. It took me three years at Penn State to find some of the coolest study spots the library has to offer. One of my favorite parts is the Starbucks in the lobby. You can get a quick drink or snack while studying.
"Out of the whole library, the 'Harry Potter' room is my favorite. It has such study vibes," Toro said.
Over my years at Penn State, the "Harry Potter room" came up a couple of times, but I never went until my last week on campus, and boy, was I impressed. They call it the Harry Potter room due to the medieval aesthetic. It resembles the Harry Potter dining hall because of the type of lights on the wooden tables. After seeing it for myself, I can definitely say it gets you in the mood for a study session. But be warned, I have found getting seats during the school year nearly impossible. You just have to go at the right time of day. Personally, I wouldn't recommend going for just an hour or two, but if you need a spot to cram, the library is the perfect place.
3. Willard Building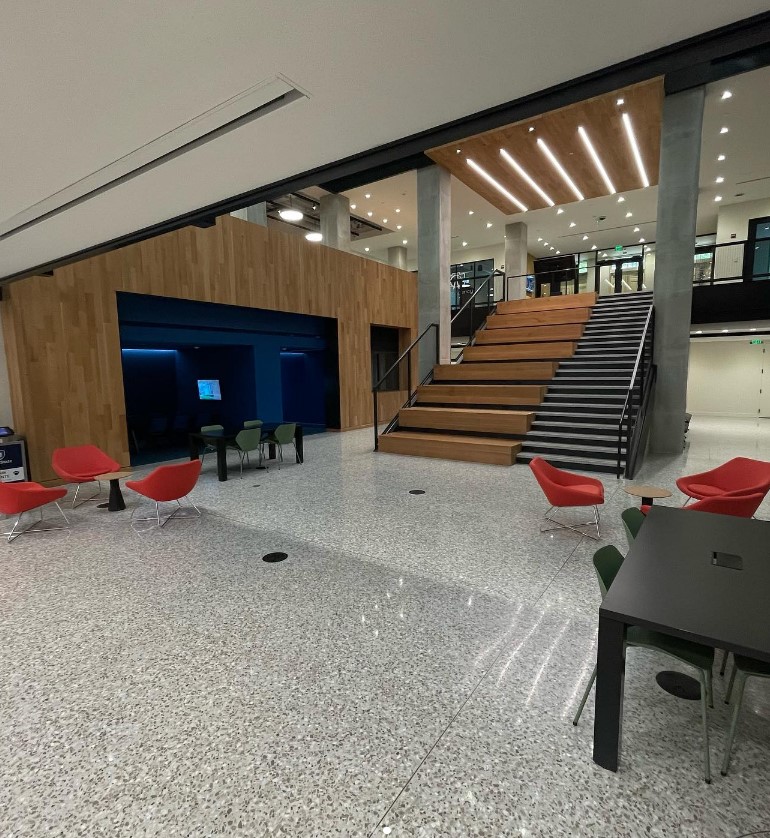 If you attended Penn State before 2021, having Willard on the list may come as a shock. Before 2021, Willard remained a super old, crowded building that everyone hated having classes in. Although that has not changed much, in 2021, Willard added a new side to the building after a multi-million-dollar renovation. Here you can find the new home of the Communications department. And to call the building beautiful is an understatement.
"I love [Willard] because of how modern it is. It kind of looks like the home base to a futuristic spy organization," Hassan said.
Located far into West campus, the two-floored building provides an open space for collaboration and creativity. Many of Penn State's COMM clubs work at Willard, such as Commradio, The Daily Collegian and Commagency. Unlike the BBH building, the renovated Willard building has a lot of study spots. I discovered Willard during my sophomore year, right after they built it. Although I don't use this space that often, it's definitely a popular choice amongst Penn State students.
2. The Biobehavioral Health Building (BBH)
Walking around campus, you've probably seen this building before. The modern four-floor building sits right across from the HUB. Students know the BBH building for its floor-to-ceiling windows. Who wouldn't love that view while they study? You can see the beauty of the building by the way it overlooks the HUB and some of the campus. And, if you end up studying there around 5 p.m., you might even catch the sunset.
"I love the BBH building. It's super convenient because it's in the middle of campus, and it's way quieter than the HUB," Ratsap said.
Along with the beauty and relaxation the building holds, the location is also a great perk. As Ratsap said, it sits right in the middle of campus, so you never have to walk too far. But because of the great location of this study spot, finding open seats may be challenging. The building only has six to seven seats per floor next to the floor-to-ceiling windows. And because of its popularity, the seats usually get filled up pretty fast depending on the time of day you are there. But if you can score a seat at the BBH building, you won't regret it.
1. Abba Java Coffee House
I honestly find it criminal that I only learned about this place at the end of my junior year. I consider Abba Java the hidden gem of Penn State when it comes to studying spots. The coffee house, located downtown, right across the street from the Nursing Sciences Building, provides free food, drinks and Wi-Fi for students. Yup, you heard that right. Abba Java hands out all sorts of small bites to eat, along with coffee and tea, from 10 a.m. to 5 p.m. I've had corndogs, donuts, bagels, croissants, and many more little types of pastries from here.
---
"The small rooms around the cafe room are good for doing homework. I go there a lot for the quiet and constant refills of food," Penn State junior Claire Haas said.
I consider Abba Java the best study spot at Penn State because it has everything you need for a great study session. Some buildings on campus might be super aesthetic and nice for studying, but after a couple of hours, you may get hungry and tired. At Abba Java, that never happens. You could spend the whole day studying at Abba Java because if you ever get tired or hungry, you have the option of never-ending free snacks. Also, you can always have some tea or coffee right by your side. Nothing beats that.
---
---