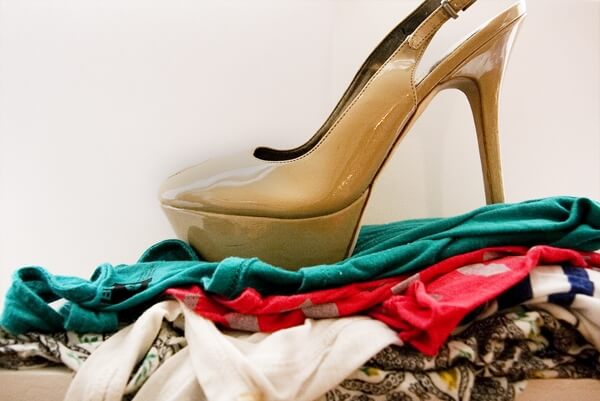 65 Things to Pack for College
|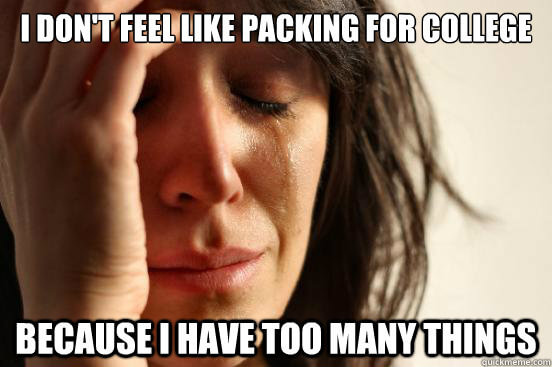 Packing for college doesn't have to be stressful. With the right move-in list, you'll be living like a king on campus.
To ensure your dorm room's equipped with the essentials, forget everything you've learned about packing up till now, like the time you stuffed your suitcase only 24 hours before spring break in Barbados. That's because packing for college also means shopping for college. And by shopping we mean stockpiling (effectively of course). For most incoming freshman without a car, you can kiss those quick trips to Bed Bath & Beyond goodbye. Before you shop, you need a tried-and-true, solid list. That's the hard part. Since you already have enough on your mind from coordinating with your roommate to planning your class schedule, we took care it for you.
Your parents can only guess what you'll need and they won't be there to hand you a pack of earplugs when your roommate pumps up his EDM at 1am after chugging a couple Red Bulls. Check out our move-in packing list created by students who know what you really need.
Oh and since it's 2014, we got a little more healthful and organic sensitive.
Tried & True College Packing List
On the Go
Breakfast Bars
For the on-the-go, shit-I-have-class-in-5-minutes mornings.
KIND Bars
For the more healthful, nut-filled version of the breakfast bar.
Disposable or Travel Toothbrush
For those all-nighters at the library and sleepovers with…hmm, what was that guy's name again?
Sun & Earth's Organic On The Spot Stain Remover
You or someone else will spill beer on your favorite shirt. This is the Holy Grail for all clothing mishaps.
Pocket Hand Sanitizer Spray (Dr. Bronner's organic 2oz)
People are dirty. Don't risk getting a cold during finals.
Coffee Travel Mug
If you're going to be on the go, so should your coffee.
CamelBak Water Bottle
Hydration is a must.
Clothes
10 T-shirts
Your miniscule closet will fit less than you think.
Two Pairs of Jeans
Nice, comfy, skinny or ripped—pick two and you'll be set. You don't really like the third pair anyway.
30 Pairs of Underwear
Because you won't want to do laundry more than once a month.
Summer Gear
It'll still be hot when you get to school—your body will appreciate tank tops.
Winter Gear
Think flannel. The temp will drop before you know it, and layers will come in handy.
Business Casual Attire
You never know when you'll need to dress to impress: panel speakers, class presentation, career fair.
Sweatpants
Because after a long day of classes, they're like heaven on earth.
Running Shoes
You might want to keep in shape…or make a fast getaway.
Bedroom


Alarm Clock
Even if you use the alarm on your phone, it never hurts to have back up around finals.
Egg Crate Mattress Pad
Those XL twin mattresses are murder on your back.
You should always be prepared and you don't want to buy the 50-cent ones from the bathroom dispenser.
Pillows
For comfort at night and during study hours.
Blankets
You'll constantly disagree with your roommate about the temperature.
Twin XL Sheets
Yes, your new bed is tiny.
SleepingBag
For expected and unexpected visitors. No more sacrificing your own blankets so people don't have to pass out on concrete.
Photos
At some point, you'll miss your family and friends from home (it's a great way to cover up the white cinder block walls, too).
Dry Erase Board
It's always fun to come back to your room and read silly notes from your new friends.
Earplugs
You never know when your roommate will be having a loud phone conversation while you study (…or when your neighbor will be having a loud "conversation" on the other side of the wall).
Lamps/light bulbs
The dorm's hospital-esque fluorescent lighting just won't do.
Wall Art/Decorations
If you don't like the way your room looks, you won't feel at home.
Tape/Sticky Putty
No matter how many decorations and photos you have, you'll need a means of hanging them up.
3M Removable Hooks
The posts on your bed can only hold so much. These provide extra hanging space for coats and bags.
Bedrest Pillow
For when you want to do work on your bed but don't want to lean up against the miserable, cold, hard wall.
Hangers
Because your business casual outfits look less than casual wrinkled.
Kitchen
Dishware
You don't want to have to eat out of your Frisbee.
Your Own Set of Utensils
Because the sink will fill up, and you won't want to dig around for a fork.
BRITA Filter
The tap water isn't wonderful everywhere.
Popcorn (Newman's Own Organic)

Because "girls night in" with a Disney movie will be one of your fondest college memories.
Bulk Stock-Up
Stockpile granola, mac 'n cheese and ramen from a bulk store like Costco—because you won't want to go food shopping during midterms.
Bottle Opener
The best beers aren't twist-offs.
Bathroom
Toothpaste
Because the morning after is less romantic when you have morning breath.
Towels
You'll want to dry off after scrubbing the Sharpie marker off your skin.
Shower Shoes
Because you don't really know what your roommate is doing in there for over an hour.
Shower Caddy
Pack it with your shampoo, body wash, razor and loofah.
Parties
Paper Towels
Your friends will make a mess and will not help you clean.
Plastic (Washable) Cups
Because red Solo cups are too cliché.
Costumes
Appliances/Electronics
Laptop

For updating your blog and drafting party playlists. Oh yeah, and writing papers, researching and getting school stuff done.
Magic Bullet Blender
For your Paleo-friendly, kale-packed morning smoothie.
Coffee Maker/Tea Strainer
You'll need some help perking up in the morning (and recovering from last night).
Mini Fridge
To house all those "beverages" and Thanksgiving leftovers.
Surge Protector/Strip Plug
You might get only one outlet in your room…and you brought over 5 appliances.
Extension cord
The solution to when the only outlet is next to your roommate's desk.
iPhone/iPod Speakers
It isn't a party unless you're blasting Iggy.
First Aid
Band-Aids
You will drunkenly bust open your knee at least twice.
Aspirin/Pain Relievers
After a while, you'll realize that having a hangover isn't a good excuse to skip class.
Unlimited video access to a doctor 24/7. For when you're sick and need that script and doctors note for missing class. Get 50% OFF with promocode: collmag99.
Cleaning
Method All Purpose Natural Surface Cleanser
For all the dust that accumulates on your desk and dresser.
Small Vacuum Cleaner/Swiffer
For carpet crumbs, spilled beer and everything in between.
Things You Never Would Have Thought Of
Medical Insurance Card
You'll most likely need a doctor at least once this semester.
Umbrella/Rain Jacket
Because it will rain harder in your college town than you expected.
Step Ladder
Because something is always hard to reach.
Small Tool Kit
For putting together that Ikea desk.
Batteries
You'll need them more often than you think.
Hamper/Detergent/Quarters
Because your mom isn't doing your laundry anymore.
Super Glue
For when you break your roommate's lamp playing drunk speedball in your room.
Nail Polish Remover
For when you super glue your fingers together after you fix the lamp.
Storage Bins
Extra storage under your bed for those bulky winter clothes.
MORE ON PACKING FOR COLLEGE
How will you pack for college?
We covered it all on this list but there are still a couple quirky things you may want to bring. Hence why you probably never thought of them.
Your phone is going back to school too. Make sure it's loaded with these helpful apps.
Once you've packed and moved in; here's what to do with all that stuff you just bought to create the mancave of your dreams.
If you want to turn this list from 65 to 75 things to pack, here's what to add.
You're moving back to school in a week and desperately trying to hold on to those last bits of summer, which has resulted in getting absolutely nothing done for school. Don't worry, here's a list of things you NEED to get done before you move in!
Dorm rooms aren't that big! Overpacking is a very common mistake that usually comes from being stressed out and nervous about moving. Here's a list of some things you can leave behind to lighten the load.
WHAT TO BUY FOR BACK-TO-SCHOOL
Updated June 15, 2014: We've updated our move-in list to meet the needs of students in 2014. We've retooled to focus on more organic and healthful items for the modern health-obsessed student. We also added some things we forgot… look, we're not perfect…but we're pretty darn close. Happy packing!
Updated August 1, 2014: We've added an intro image and additional related links for top back to school products to buy in 2014.