I'm with her… and her, and her. From Rosie the Riveter to Gloria Steinem to Hillary Clinton and Greta Thunberg, women in the public eye inspire change and get things done —while multitasking hundreds of other things, thank you very much. Instead of staring at a bucket load of old white men overtaking your television this Election Day, let's look towards the strong women we see waiting in our Netflix queue for some much-needed girl power.
Check out 10 girls who run the (fictional) world who want you to vote this year.
1. Cece Parekh, New Girl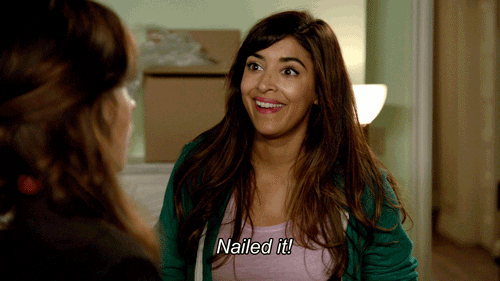 10/10 would fight for women's rights while wearing stilettos. A fierce member of Loft 4D, Cece named her daughter Ruth after the Honorable RBG, transformed her modeling career into a business degree and successfully enticed an entire sorority house to register to vote while drunk. I mean, how else can you play True American with Cece and the gang if you don't exercise those USA voting rights?
2. C.J. Cregg, The West Wing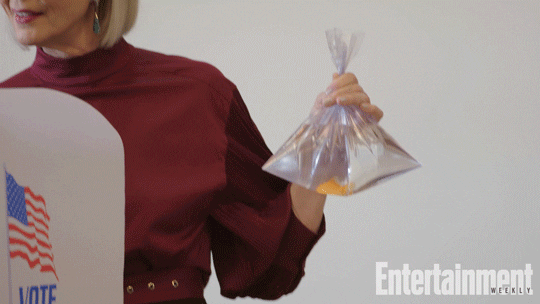 Everybody's favorite White House Press Secretary and overall icon Allison Janney came back to TV screens this year to encourage American youth to rock the vote! Her role in the acclaimed political drama opened hundreds of doors for women in Washington, shedding light on important movements of foreign policy and gender and race issues, a significant feat for its 1998 premiere. A powerful voice with an ear to both the president and the American people, C.J. represented just exactly how women can do it all—while rocking some amazing early 2000s ball gowns.
3. Samantha Jones, Sex and the City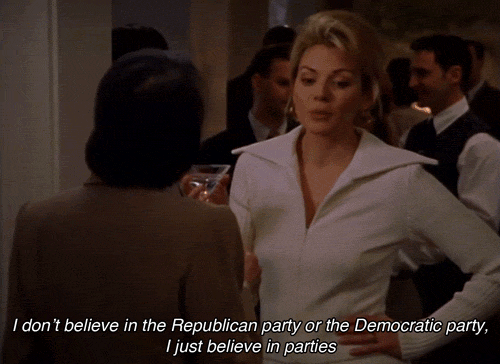 NYC's staple PR professional and feminine icon Samantha Jones would never hear of a New Yorker choosing not to vote, how cliché! Known for trying anything once, Samantha would arrive at her polling site like a red-carpet club opening, with three besties and maybe a couple of suitors in tow. Actress Kim Cattrall even guessed that Samantha would assuredly campaign for Hillary Clinton back in 2016, and would never let an ambivalent voter invalidate her political movement. Vocal about absolutely everything from men to politics to fashion, channel your inner Samantha and let your voice be heard this upcoming Election Day.
4. Donna Meagle, Parks and Rec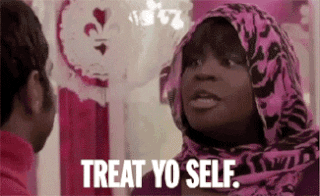 Practically the spokesperson for "treating yourself," Donna one hundred percent wants you to vote this Election Day to ensure you're living your best life. A self-proclaimed super fan of the show Scandal, Donna would also live-tweet her debate reactions and comment on Kamala Harris's fabulous power suits. After pulling up to the polling station in her beloved Mercedes Benz, Donna would snap her "I Voted" selfie with pride before treating herself to a night at the Snakehole Lounge.
5. Christina Yang, Grey's Anatomy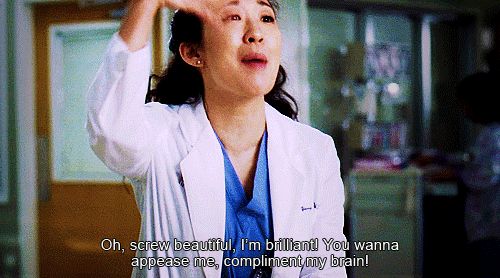 An absolute queen in going for what she wants and not taking no for an answer, Christina Yang would bring real HBIC energy to the table with this political environment. With an infinite number of motivational quotes up her sleeve and a strong, empowered attitude, Christina would lay down her scrubs if it meant women took charge of their future. Pro tip: if you feel a little emotional filling out your ballot, tune in to the Grey's Anatomy series soundtrack and let the tears flow freely.
6. The 13th Doctor, Doctor Who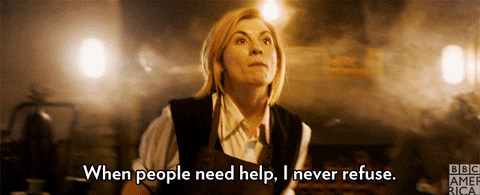 Although 2020 feels like a missed "save us from this year" time-travel opportunity for the Doctor, we still forgive her. While she's off exploring the galaxy in her Tardis, bringing hope and safety to the farthest-reaching species, let's take a page out of the Doctor's notebook this Nov. 3. "The Doctor would want us to vote not only because it's our right, but because she always wanted the 'little guy' to have a voice. She saved the world countless times and would want us to do the same by getting out there and making our voices heard," said St. John's University junior Sam Haynia. With a Rosa Parks special episode and the most diverse cast of companions yet, the Doctor is no stranger to making history—are you?
7. Tahani Al-Jamil, The Good Place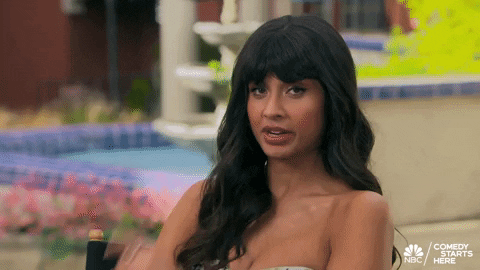 Powerful, philanthropic and confident, Tahani would encourage you to not only vote because you should, but to unabashedly exercise your rights as a citizen and then throw the most fabulous party Election Day ever produced. Played by the politically active, body-rights enthusiast and altogether empowering actress Jameela Jamil, Tahani would use all of the qualities that got her into the "Good Place" to encourage voters to be strong and active. "Tahani would definitely be an advocate for voting in this election since she has been in both the bad place AND the good place and would definitely want everyone to know what it feels like to leave the bad place! She would also probably tell people that it is okay if they changed their minds about how they used to view things since it is never too late to be compassionate towards others," said St. John's University senior Stephanie Keane. And you know she would head to the polling place name-dropping Michelle Obama (as she should).
8. Veronica Mars, Veronica Mars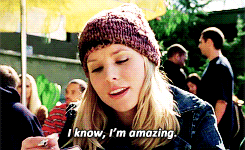 Sleuthing teenagers, Kristen Bell and iconic 2004 fashion: how peak-American TV can this show be? Veronica Mars serves as every underdog's best friend, always uncovering the rich father's dirty secret or the sleazy professor's hidden crimes in his briefcase. Veronica provided a voice for the consistently-silenced, helping abused women her age or POC classmates constantly facing racism. You just know that Veronica would proudly rock her "I Voted" sticker while sitting in a holding cell for pissing off yet another suspicious man in power. If only they got her on the case of hidden tax reports or a paid-off rendezvous, hmm.
9. Princess Margaret, The Crown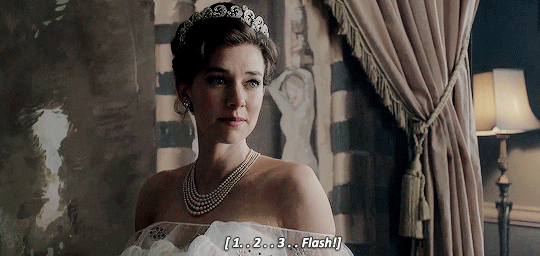 Yes, Princess Margaret represents a member of the British Royal Family, but Her Royal Highness totally ruffled some feathers in her day—and would SO bring the heat today. A strong advocate of questioning the "norms" of politics and societal expectations, Margaret would encourage young Americans to vote if it meant enacting a jolly ol' sense of control over one's life. "If Princess Margaret (both an icon and a legend) were alive today, I'm sure she would have A LOT to say about the 2020 election. She would retort, with cigarette in hand and an attitude you couldn't help but fall in love with, 'I have always had a dread of becoming a passenger in life.' I keep this quote by Princess Margaret with me every single day, and you should too. Don't be the passenger, be the driver. Get out there and vote vote vote!" said St. John's University senior Jacqueline Lepore. If her disobedience is joy, let's start an HRH-level revolution this Election Day.
10. Zoey Johnson, Grown-ish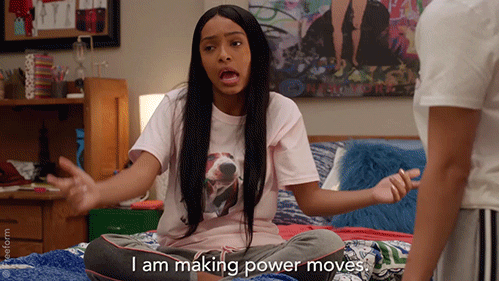 Great minds think alike, and both Yara Shahidi and her Grown-ish character Zoey Johnson think and act in terms of spreading inspiration, activism and inclusion throughout their lives. After practically growing up on television from Black-ish to Grown-ish, fans watch as Zoey evolves as a person and finds her authentic self, especially in politics. Never shying away from hot button issues or political arguments, Zoey's character encourages safe spaces for all in an era of anxiety for most college-aged young adults. Just about 18, Zoey's first voting-experience would not only explode on social media but encompass a new coming of age for young fans alike— so, don't only vote for your future, vote for your life!