Despite decades of research, loads of failed relationships, friends with benefits and the occasional successful relationship, love remains a poorly understood behavior. Specific neurotransmitters and neural circuits allow us to feel infatuation, love and attachment and may provide us with some useful information about how to navigate all of the (literal) sticky situations attraction can cause. In the past decade, with the help of neuroscience, some of the neural mechanisms that influence our feelings of love have been explained. In other words, some of your messy past hook-ups can be blamed on your brain and not you.
Current research explains the science of love: how we get a little crazy when we find ourselves in the thick of a romantic relationship.
The (neuro)chemistry of love
In 2005, biological anthropologist Helen Fisher led a research team that conducted groundbreaking research about the neurobiology of love. They examined functional MRI images of the brains of college students who identified as feeling in love. Basically, they took a little peek in some college kid's brains. Honestly, I'm surprised they saw any activity. The fMRI showed a snapshot of brain activity at a singular moment. They analyzed 2,500 brain scans of college students who saw a picture of an acquaintance or a person they romantically loved. When the participants looked at these pictures, their brains became active in the regions abundant in dopamine. Their brain activity increased and their scans literally lit up in response to seeing someone they loved and flooded with happy feelings (aka dopamine). Picture thousands of tiny light bulbs, or neurons, turning on at the same time whenever you look at the person you love.
Two of the brain regions that showed activity in the fMRI scans included the caudate nucleus, a region associated with reward detection, and the ventral tegmental area, which allows for pleasure and the motivation to pursue rewards. The ventral tegumental area partially makes up the brain's reward circuit. These regions make sex, eating and even drug use feel good (so now we know why we all like frat parties so much).
However, equally riveting is what the brain does not activate.
When looking at someone we love, key areas of our brains decrease activation. These areas include the amygdala, frontal cortex, parietal cortex and middle temporal cortex. The amygdala plays a role in fear and anger, so the decreased activation actually causes a reduction of fear. This means spending time with people that you love can literally reduce fear and anger. If you feel stressed about an exam or your friend who is going through a problematic phase, hanging out with someone you love can make you feel better about the situation—even if nothing is really resolved. This mechanism could facilitate pair bonding itself because vulnerability and trust lay the foundation for forming a loving relationship. Just a fun little FYI—a decrease in amygdala activity is also present during orgasm, so that's another way to reduce fear and anger.
The neurotransmitters of love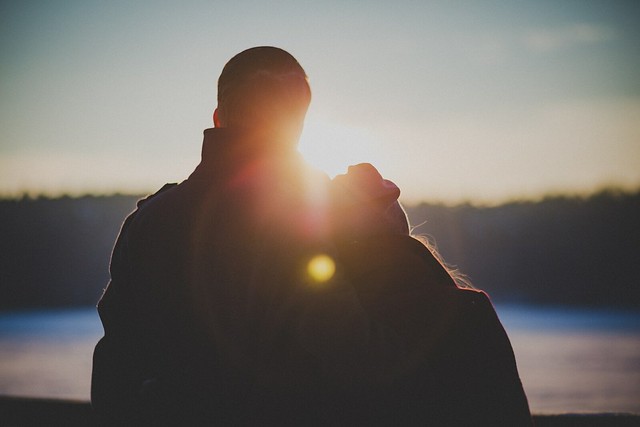 Oxytocin, vasopressin and dopamine stand as the main neurotransmitters that modulate lust and happy feelings associated with love. Neurotransmitters are basically substances that help relay nerve impulses to other nerves and allow for communication of signals. Dopamine, the neurotransmitter most responsible for pleasure, plays a role in arousal and our feelings. You can thank dopamine for all the great feelings released during sex and eating.
Oxytocin, a neuropeptide and 'cuddle neurotransmitter,' plays a larger role in attachment and bonding. Interestingly, oxytocin can surge in any kind of social bonding or snuggling, and even playing with your dog can cause an increase. Oxytocin basically causes all bonding that doesn't involve any sexual attraction. You release oxytocin during childbirth, breastfeeding and, perhaps most importantly, during orgasms.
Vasopressin is the neurotransmitter that allows (some of) us to have successful monogamous relationships. Next time you take a moment to appreciate love, lust or sex, appreciate the neurotransmitters that make it all possible.
Love is blind
Love deactivates the neural pathway responsible for negative emotions, such as fear and social judgment. The frontal cortex, the center of executive functioning, judgment and logic, falls apart when you feel in love because of decreased activation in this brain area. This results in a decreased ability to judge people and situations. This explains why getting back together with your ex might seem like a reasonable—even good—idea. When we engage in romantic love, the neural machinery responsible for making critical assessments of other people, including assessments of those with whom we romantically involve ourselves with, shuts down. Thus, the phrase, 'love is blind,' has a neural basis.
Finally, infatuation causes a decrease in the brain areas associated with "mentalizing" and "theory of mind," namely the prefrontal cortex, parieto-temporal junction and the temporal poles. These structures allow us to identify other people's emotions and ascribe reasons for them. This allows you to convince yourself that someone does or does not like you. It also allows you justify that gross frat boy's questionable decisions. Researchers explained this finding by highlighting that these areas influence the conceptual distinction between the self and the other, therefore their deactivation is necessary for reaching the merging and unity lovers seek with each other.
What does love mean to us?
Love has a different meanings to different people, and every person expresses their love differently. Here's what college students have to say:
"I feel like true love (whether that be friendship, family, relationship) is with those that you would literally not hesitate to do anything for. If my family needed anything, I would be there in an instant and I think that's how you can differentiate love from just a normal friendship or relationship. When it doesn't feel like an obligation or something forced and you just naturally want to do all that it takes to make the other person happy," University of Florida sophomore Skyler Haber said.
"Love is the one thing you will never grow tired of," University of South Florida freshman Kelli Elliott said.
"Putting someone else's needs before your own and wanting the best for them whether or not they are with you," College of William & Mary sophomore Katie Gibson said.
"Love is sacrifice and strength. Love is resilient. Love should fuel and be the core of everything you do because if you aren't doing it for love, what is the point?" College of William & Mary junior Maddie Talnagi said.