Spring time syllabus week is approaching. College students know that means throwing down until it's time to hit the books. But if your first essay due is almost due and find yourself not ready to stop yelling "Despacito" on a dance floor at the top of your lungs, check out these 10 party schools to see where to take your next weekend away. Or just keep singing on an empty dance floor, that's fine too. With tons of fraternities and sororities, countless bars near campus, epic annual events and more, these schools know what it takes to get your Bachelor's in Partying.
Ready to get #turnt? These 10 schools take throwing down very seriously.
10. Arizona State University
https://www.youtube.com/watch?v=TIjTiFNaqjo
"President Crow is rumored to have paid Playboy to keep us off the top 10 party schools list," said junior Philip*. That's right—the party culture is that strong at ASU, partly thanks to the bars and clubs on Mill Avenue. With low cover charges and student discounts, Mill Avenue practically begs students to get lit. Greek life feels fairly popular here with 57 total organizations on campus alone. Still, this sports school remains a destination for those looking to get lush. We'll leave you with this—ASU has been known to throw killer pool parties. A lot of their pool parties literally feature DJs in the pool.
9. Miami University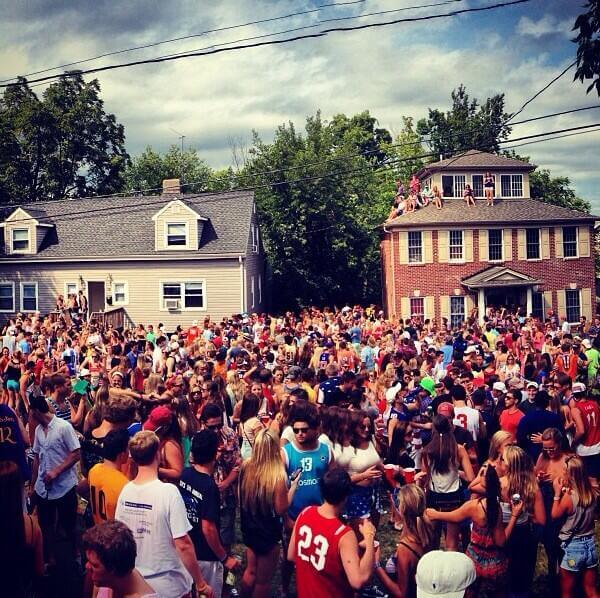 Don't try having your own fireworks battle at home. Two fraternity houses literally started a fireworks battle, AKA shooting fireworks at each other's houses, in the wee hours of the morning back in 2012. Greek life attracts some wild students at this university, and the bar scene attracts an 18+ crowd (but you must be 21+ to drink). Rumor has it that "Green Beer Day," the day before Spring Break starts, hits its peak at 5 a.m., where you'll still find over 1,500 people out partying.
8. University of Illinois at Urbana-Champaign
If you think Greek life feels big at your school, think again. The University of Illinois has 78 different Greek organizations. Campus calls 12 bars home. The music scene kicks with concerts and live performances at local bars constantly. Keeping in the tradition of Irish Midwesterners, U of I throws down every St. Paddy's Day in what they call "Unofficial." This huge campus-wide party forces the dorms and other residences to ban visitors to keep the sheer hordes of people form taking over the town. "In an effort to maintain our rep as a party school, we have to take advantage of every holiday. Since our academic calendar rarely includes St. Patrick's Day, we came up with 'unofficial' St. Patrick's Day, a day to spend on campus drinking like it's the end of the world," junior Bobby Morales said.
7. University of Georgia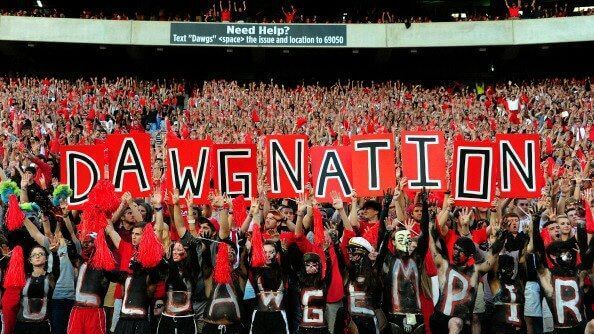 Don't pass up Athens, Georgia on your next road trip. The music scene here feels second to none; students love going to concerts downtown all year long. Students say that UGA had to cut back on nighttime sports games. Why? Students show up too lit after tailgating from early in the morning up until game time. The bar and club scene downtown is also second to none; there are too many bars to count. Fraternities host epic tailgates, as well as mountain weekends, beach weekends and infamous Braves date parties (i.e. amazing parties centered around the Braves game). Fraternity guys regard sorority Bid Day as the best day on campus and pregame the event in trucks heavily, which sounds almost too stereotypical Georgia to be true.
6. Louisiana State University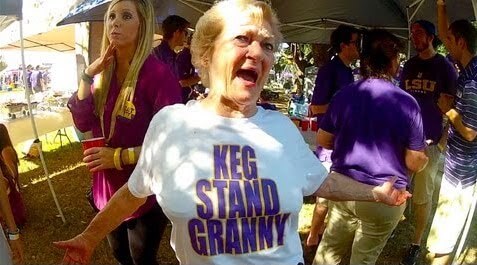 Going to LSU feels a lot like living in the middle of the dance floor at the most poppin' shindig. LSU's campus literally has bars and nightclubs surrounding it on all sides. With that kind of convenience, you won't want to hide out under your duvet. LSU feels unique in that students tailgate for more sporting events than just football, including gymnastics, soccer, softball, baseball and women's basketball. Students also go all out for Mardi Gras, being Louisiana State University and all. "The common saying is, 'it's a marathon not a sprint,' because you have to be prepared to drink for six days straight morning and night for Mardi Gras around here. Learn how to be aggressive beforehand so you can catch more beads! Go with the flow, with this holiday never goes as planned but it is a lot of fun," said Tess Thompson, former Louisiana Mardi Gras college student patron. Greek students flock to the bars in Tigerland, while non-Greeks seek out Baton Rouge.
5. Texas A&M University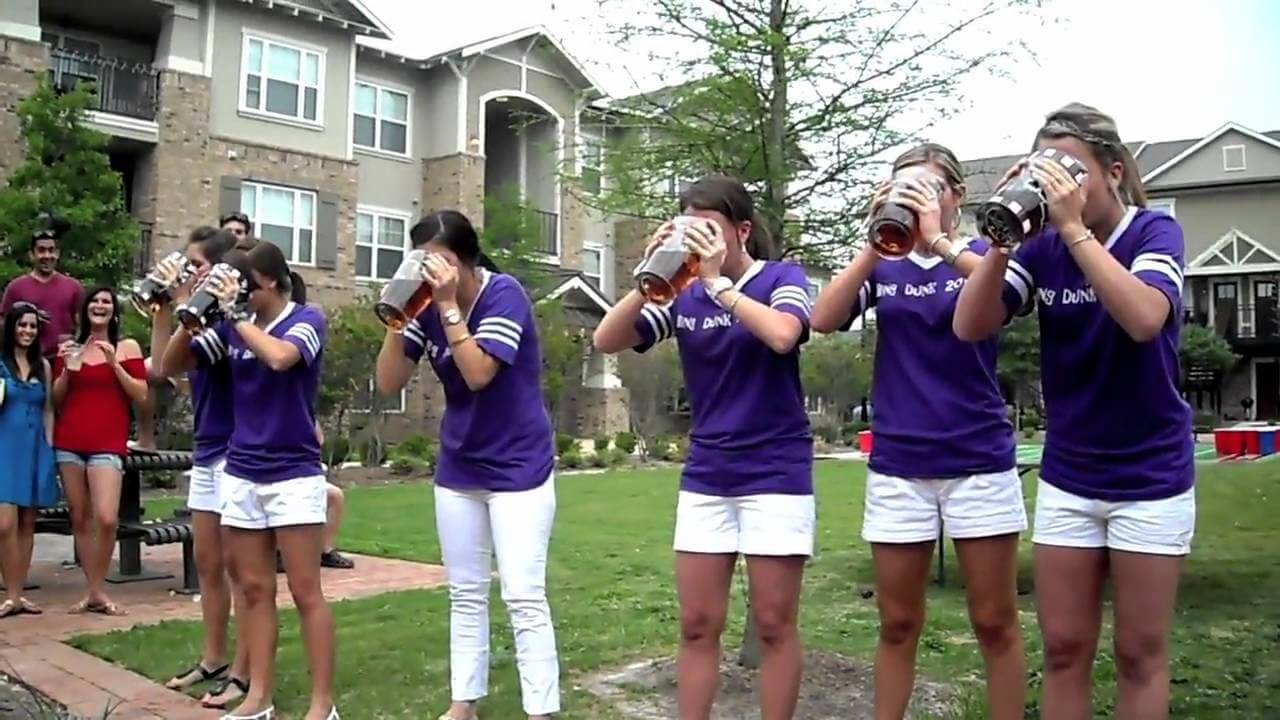 Aggies do more than look good in maroon. Northgate offers a great strip of bars and killer dance clubs, giving a little something for every type of party-goer. Greek life sounds pretty lit—one North Texas grandmother even decided to do a keg stand at a fraternity party. Students from other Texas colleges flock to A&M for a taste of the nightlife. "It's definitely known for parties," said Texas Tech junior Caleb Allen. "The school is huge and the town is kinda boring so partying is a very common thing." And have you heard of ring dunks? According to junior Taran Stupka, they're a pretty big deal. "It's a party students hold once they get their Aggie rings, basically they drop their ring into the bottom of a pitcher of their choice alcohol and drink it as quickly as possible until they get to the ring. It's usually a night of people moving from house to house to watch multiple people dunk." Hot take: Beyonce grew up in Texas so put a ring on it has nothing to do with engagement and everything to do with Ring Dunks, right?
4. University of Colorado Boulder
These Buffs throw down on and off the slopes. The biggest party of the year also happens to be the biggest sporting event. No social student misses the annual CSU game because #rivalry. According to sophomore Allie White, you'll always find something going on, ranging from fraternity parties to house parties. "The snowboard team had a huge reputation for great parties and so did the hockey team who had the 'hockey house,'" White said. "While yes I am more biased about the snowboard team parties because I was on the team, you are guaranteed to find a plethora of cute boys at the hockey house." Boulder offers more than just sports parties, however. "There are always groups going to music festivals, weekend getaways and snowboard trips," said junior Lee Muse. Looking for that Animal House vibe? You'll find it at UC Boulder. "'The Hill' in Boulder resembles a stereotypical college movie every night night of the week," said junior Mackenzie Lally.
3. University of Wisconsin, Madison

Wisconsin cities have the most bars per capita in the entire country. No wonder UW-Madison Badgers get #turnt. With 52 Greek organizations on campus, parties definitely do not seem tough to find, but the fun does not stop there. What kind of fun are students getting up to here, you might ask? Bars like Jordan's and Lucky's open up early for 11 a.m. kickoffs just to watch the Badgers play. And the biggest party of the year here, the Mifflin Block Party, has its own Wikipedia page. It started back in the 1960s, despite backlash from "the man" (or, you know, the city police). To sum it all up, in one police report, when the police asked a drunk student what time it was, he responded by simply stating, "A.M."
2. Indiana University Bloomington
Rumor has it Pi Kapps host the best ragers. "People wake up in strange places all the time here, a bush, under a pong table, on a roof, wherever," sophomore Ryan Wittier said. Students can find bars only a block from where most sophomores through seniors live on campus. These bars also offer incredibly well priced drinks (and close later than most, around three, sometimes even four), making late night litness accessible AF. Check out Kilroy's Bar and their funky Long Island Iced Tea flavors. In the world of IU sports, the basketball team has a much better reputation than the football team, but students still go hard for tailgates. Who cares who's winning when you start chugging beers at 8 a.m.? When moving from balling to balling out on the party scene, the Little 500 honestly sounds like the best annual party in American college history. It lasts longer a whole weekend, including Friday, and centers around a series of bike races.
1. West Virginia University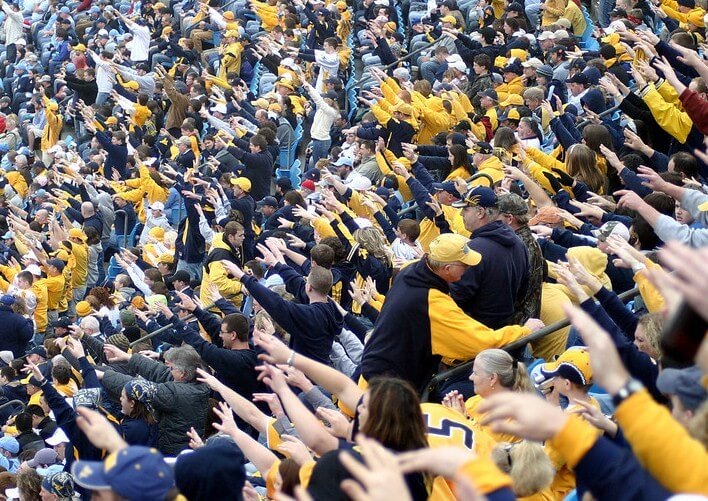 WVU students head to High Street for a good time. High Street, the school's main drag lined with bars and nightclubs, welcomes so many students per year that some bars like Joe Mamas and Whisper can actually afford to give out free liquor to students on Thursdays. I reached out to over 10 sorority women who all told me that if they spoke about how they party to an outsider, even anonymously, their respective sororities would give them the boot. Let that speak for itself. Regardless, TKE's legendary annual welcome back party brings multiple live DJs, contests, giveaways and lasts from afternoon until the next morning. "It used to be crazy here with block parties everywhere," said junior Ross Acampora. Apparently as the town cracked down on block parties, the Greeks filled in the gaps. But of course don't forget about those tailgates. "There's a lot of school spirit that creates an exciting atmosphere at WVU," said sophomore transfer student Stevie Weber. WVU loves their sports and knows how to celebrate a good win.
College Magazine does not promote underage drinking. Please drink responsibly.
*Name withheld to protect privacy.