I remember saying goodbye to my dog Dennis the day I moved into my campus apartment at Purdue. He even came to campus with us to say goodbye. I still have the picture of him giving me kisses before my parents took him back home. Clearly, I am sentimental. If only a college existed that allowed Dennis to stay with me… oh wait! There is.
If you don't want to say goodbye to your best friend when you leave for college, check out this list of schools that allow you to bring them with you.
10. Pennsylvania West University Clarion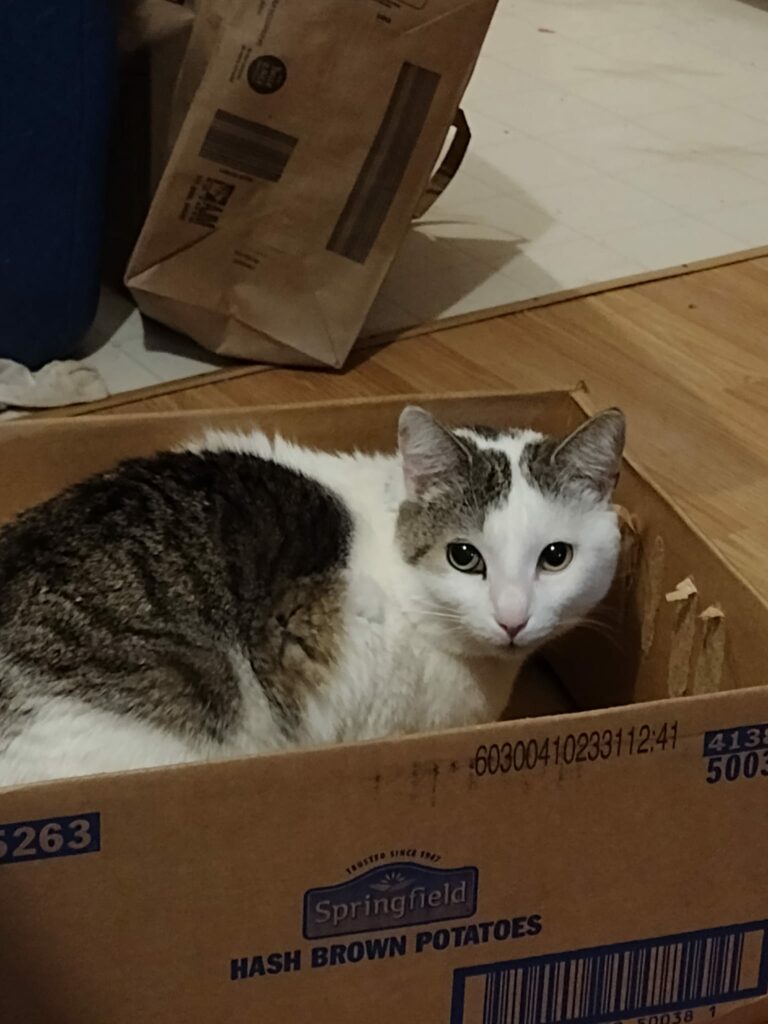 Clarion University, located in Clarion, Pennsylvania, allows cats, dogs, large birds, ferrets, chinchillas, small birds, rats, hamsters, gerbils, guinea pigs, amphibians and small reptiles. Clarion only recently added itself to the growing list of pet-friendly universities, as only one village on campus allows pets as of the 2019-2020 school year. Although Clarion is only close to one veterinarian, the Clarion Animal Hospital is within walking distance and offers all your usual veterinary services as well as some extra benefits, including pet physical therapy and emergencies during business hours. Also, you can find the Clarion River Brewing Co., a pet-friendly restaurant that makes homemade brews in-house all year. Clarion just recently started to allow pets, but outside amenities' convenience gives them a spot on this top 10 list.
9. Johnson and Wales University Providence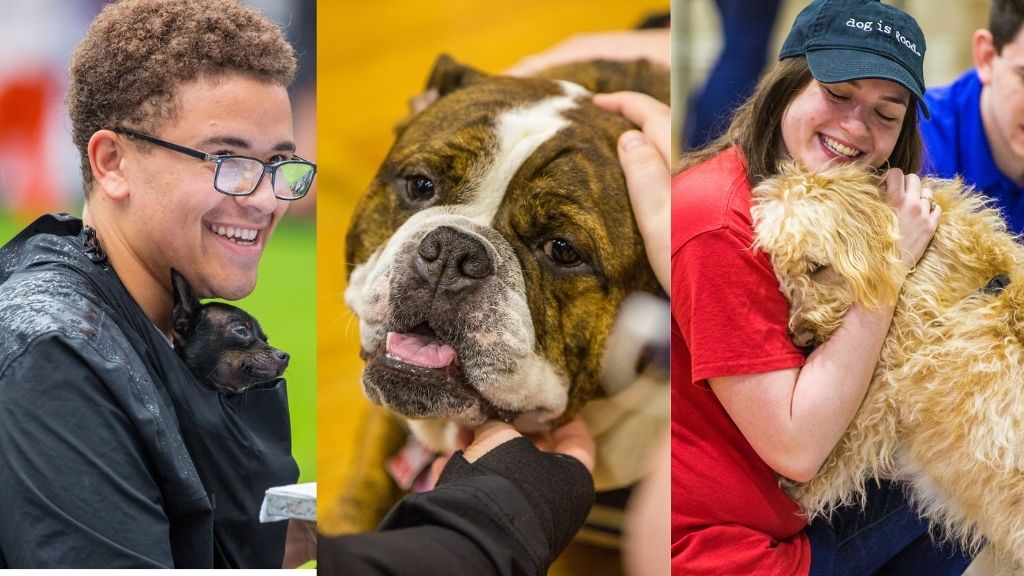 For those of you who like to socialize your pups at dog parks, you might want to consider Johnson and Wales University. Located in Providence, Rhode Island, Johnson and Wales allows dogs, cats, small, caged mammals, lizards and turtles in four of its dorms. On their website, you can find a guide explaining all the ins and outs of keeping pets at Johnson and Wales. They also list local resources on the last page, including nearby veterinarians, pet supply stores, local parks and walking trails, complete with phone numbers and addresses. You can find 14 off-leash dog parks and two off-leash beaches for even more fun. Another pet-friendly activity to consider involves visiting Books on the Square, where you can bring your best friend to cozy up with when you get a break from schoolwork and can finally read a book for fun.
8. University of New Mexico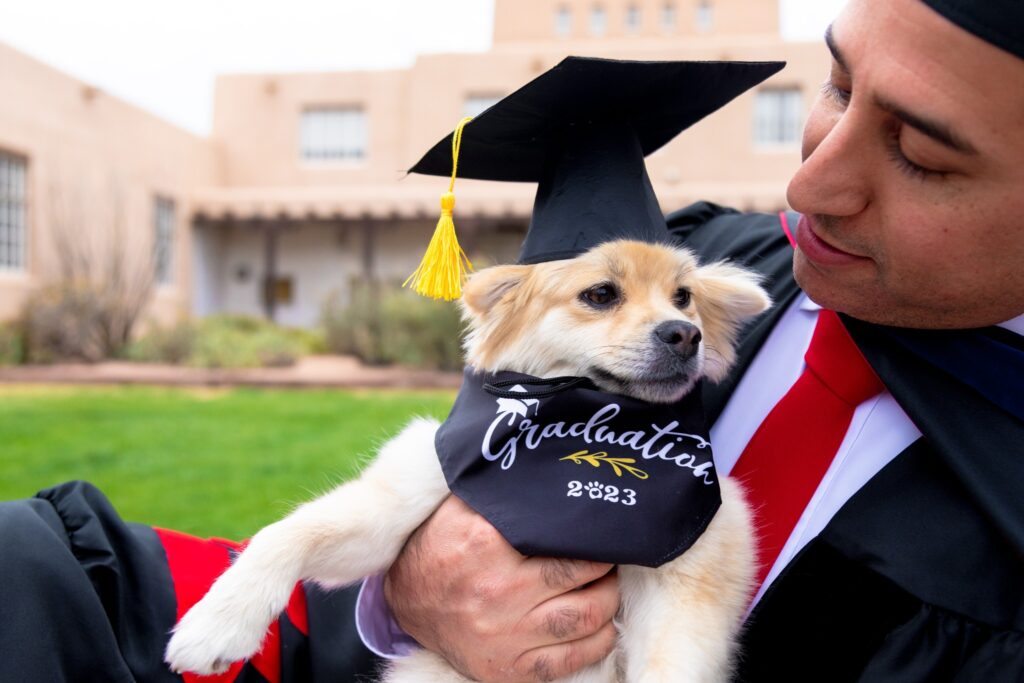 Who wouldn't love to go sightseeing and then get lunch and relax with their best friend before returning to campus? The University of New Mexico provides one pet-friendly residence hall and an apartment building allowing dogs, cats, small, caged animals, reptiles and amphibians. The best part of owning a dog at this university is because of the beauty of the nearby hiking trails. Within 20 miles of campus, you can find two national monuments, three canyon-type trails and two nature parks. One of these national monuments, El Morro National Monument, is famous for its 200 feet sandstone bluff with human inscriptions written at the bottom. Care for even more fun? Over 300 restaurants (yes, 300) near campus welcome your furry friend too.
7. Washington and Jefferson College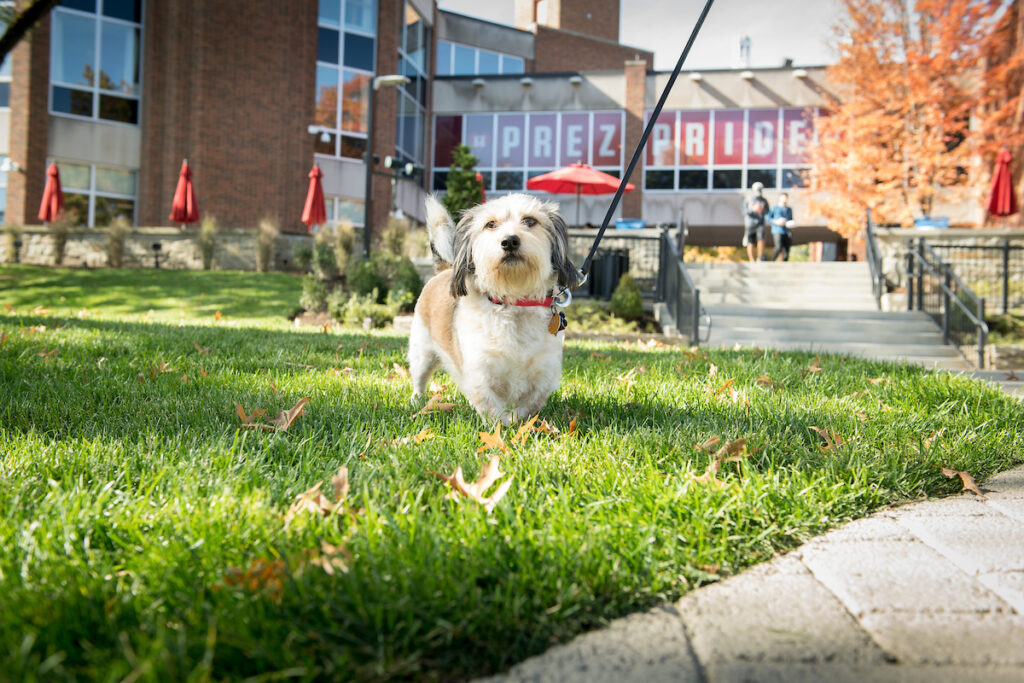 If you are looking for a whole community of pet lovers just like yourself, you might want to look into Washington and Jefferson College in Washington, Pennsylvania. Here, you and your pet can join a "Theme Community" in your residence hall. These themes range from the wellness house to the substance-free house and, of course, the pet house.
"I enjoy having a pet on campus because even if I had a long day, I know that I can go back to my residence hall and see my cat and just relax with her. It is very comforting for me to be away from home but able to always have a part of home with me by having my cat with me," Washington and Jefferson College junior Mia Simpson said.
Because you will probably make so many friends in your new "pet house" community, you can find a lot to do off-campus with your pets. You can go hiking at one of the 31 nearby hiking trails or let your furry friends roam free and maybe meet some new friends at one of the 11 dog parks. If you want to buy your new neighbor a bag of their catnip, stop at one of the 13 pet-friendly stores near campus.
6. Linfield University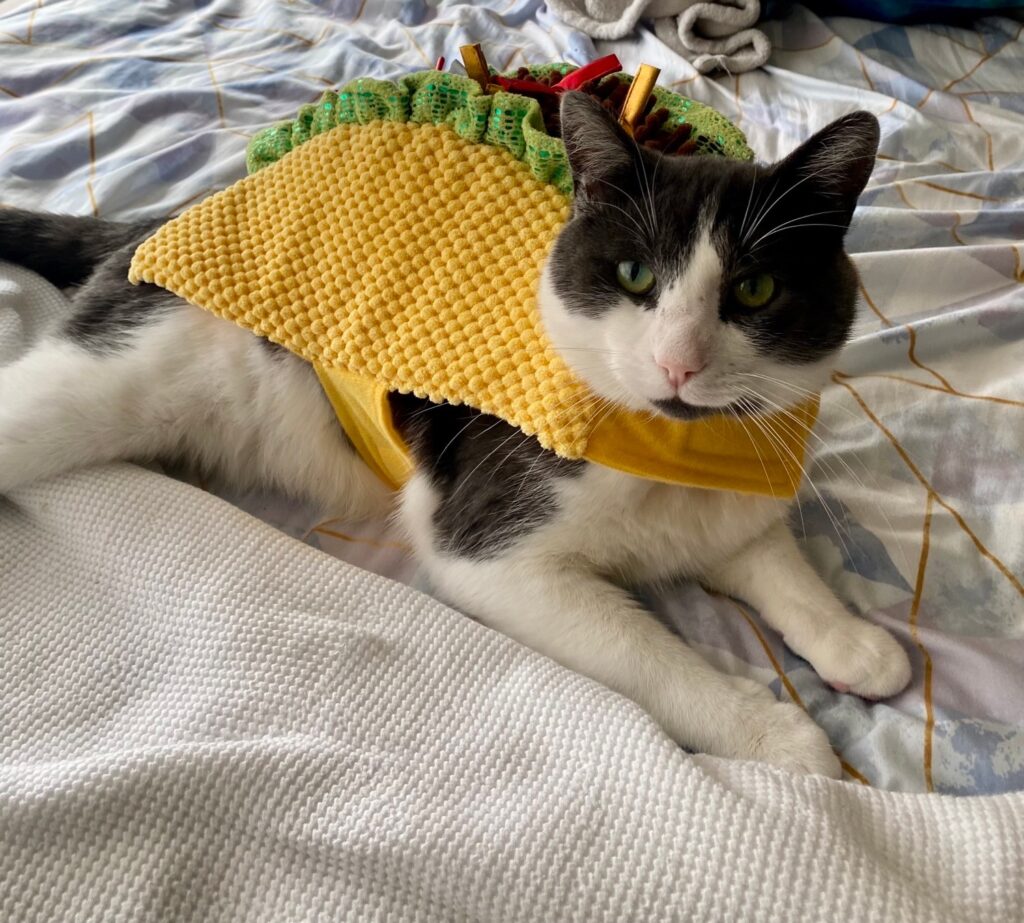 Linfield University is a small private university in McMinnville, Oregon, just outside Portland, known as one of the most pet-friendly cities in the United States, so it only makes sense that they would make a top 10 list of colleges allowing pets. As of the 2019 fall semester, Linfield implemented a program allowing furry companions in one residence hall and one of the on-campus apartments for only fourth-year students.
"I spent the first semester extremely lonely and after talking to my RA, I communicated with the director of pet-friendly housing at the time. This is when I was approved to adopt a dog, bringing my chihuahua mix, Olive, to campus in January of my freshman year. Having a dog on campus has tremendously changed the way that I exist on campus; when planning my schedule, I always take into consideration times that I will need to return to my dorm to let her outside as well as limiting my time outside of my space. Her presence has also provided me with a whole community of other pet owners on campus as well as students who stop us on walks just to say hi to Olive," Linfield University senior Shayla Wacker said.
Not only does having Olive help Wacker feel less lonely, she also helps her make friends. The campus is within 10 minutes of three veterinary offices, one doubling as an emergency veterinarian (just in case). And for those of us struggling college students, you can find Homeward Bound Pets, which offers low-cost vaccines, spay and neuter. Among the eight off-leash dog parks within driving distance of the campus, you can find Keizer Rapids Park, which offers different play areas for big and small dogs.
5. Shenandoah University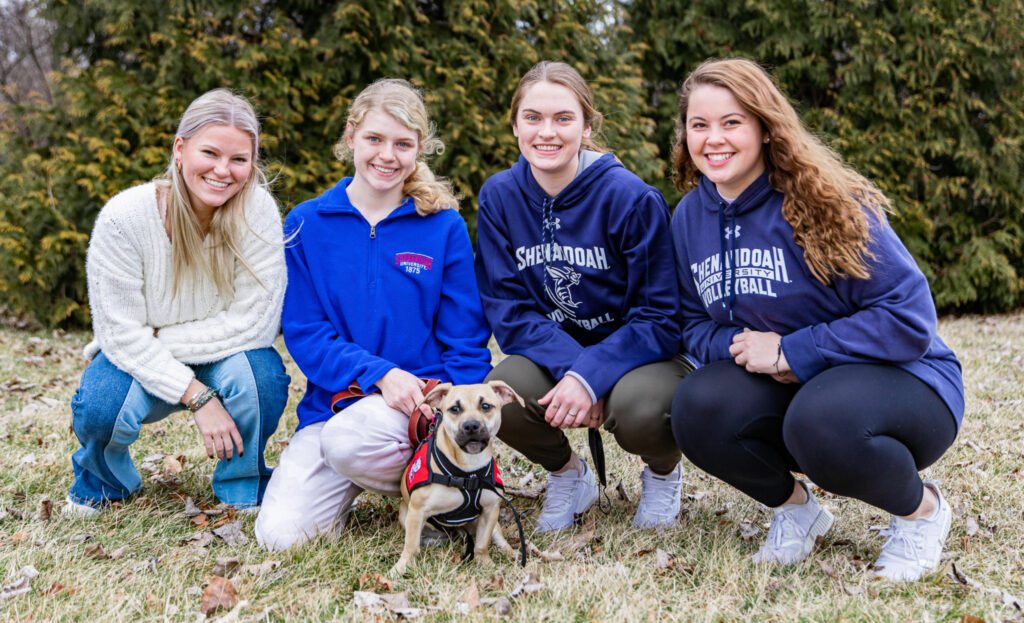 If you love hiking with your four-legged friend, you might want to look at Shenandoah University in Winchester, Virginia. This school, as of 2021, allows all kinds of pets to live in two of its residence halls. And by all kinds, I mean more than the occasional chinchilla. Shenandoah has room for many of our beloved pets, from birds, snakes, rats or hedgehogs; all are welcome (with a few exceptions). Students at Shenandoah say they love that they can keep pets with them at school, and their presence greatly reduces the anxieties that come with the academic environment.
"Having [my dog] Penelope with me on and off campus has been my favorite part of college. She provides happiness to other students and faculty, as well as myself. On campus, Penelope has also provided me with comfort during anxiety-provoking moments like a test, presentations, etc. Overall, I am so thankful SU provided students with the opportunity to have animals on campus because it has transformed my entire academic career," Shenandoah University graduate student Delainey Stickley said.
In your free time, you can take your furry friend to visit one of the three pet-friendly stores within 10 miles of campus. My personal favorite? Posh Pets Boutique. Not only do you get the chance to organize a professional photo session with your parrot, but you can throw your sugar glider a birthday party. Also, about 30 minutes from campus, you'll encounter one of the most amazing hiking trails, the Appalachian Trail (AT). Running 2,198.4 miles long with the highest elevation at 464,500 feet, the AT is the longest hiking trail in the world. So, if you want your kitty to feel like a queen for her birthday or get some exercise and a great view with your pup, consider attending Shenandoah University.
4. Ohio University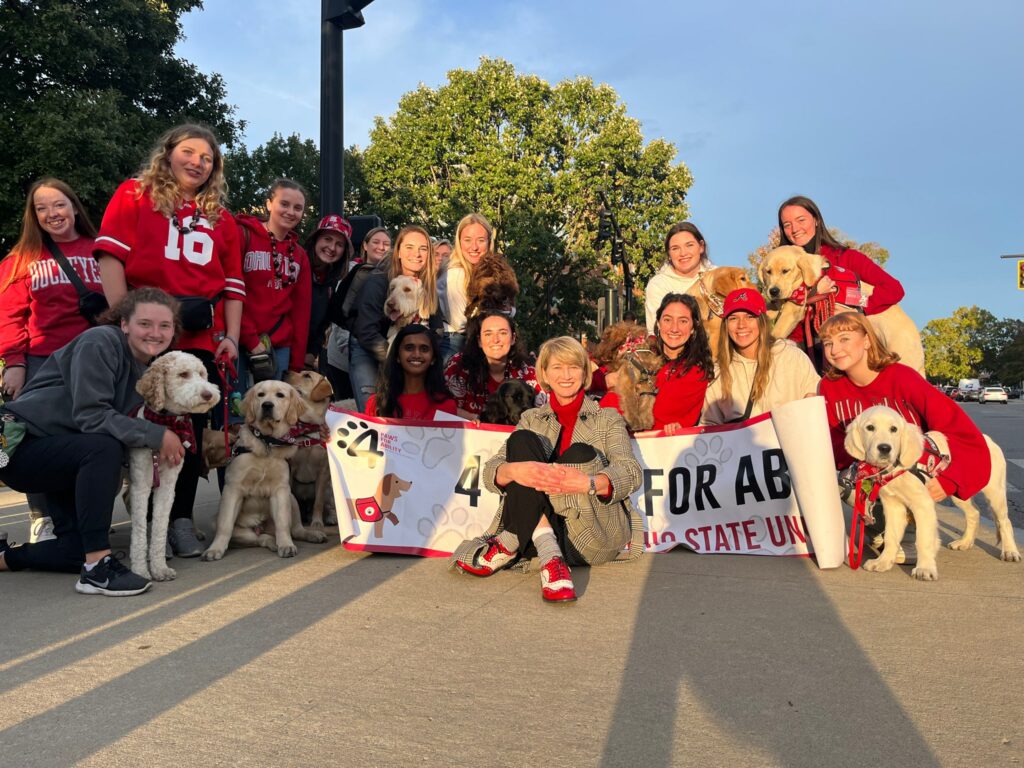 Who doesn't love puppies?! Okay, so Ohio University in Athens, Ohio, (not to be confused with Ohio State University) doesn't allow you to bring your pet to campus. However, similar to Stetson University, they have an awesome student organization called "4 Paws For Ability" that allows students to volunteer to foster future service dogs. The organization promotes socializing and training these pint-size companions who will eventually go to help veterans with missing limbs or loss of hearing and to aid in animal rescue situations.
"Having a dog on campus is a built-in support system, the dog always has your back but so do all the other people in the club. I have loved every second of having my dog on campus to help get me through college. You are learning, the dog is learning and you're both learning from each other. My dog is my stress relief, I have to take a break to go for a walk or a play date, but I didn't know how much I needed that. I am so grateful to have this opportunity," Ohio State University sophomore Faith Bergeron said.
Speaking of learning together, it's actually required that you take your pup to class with you. How does anyone get work done in a class full of puppies? To help socialize the little guy even more, you can take him to either of the two off-leash dog parks near campus. Plus, the organization takes care of all their vaccines and veterinary procedures, so you don't need to worry about finding the perfect vet. If you want all the fun of owning a pet but maybe can't afford to, then come to Ohio University. Why not volunteer to foster puppies that you can take to class?
3. Stetson University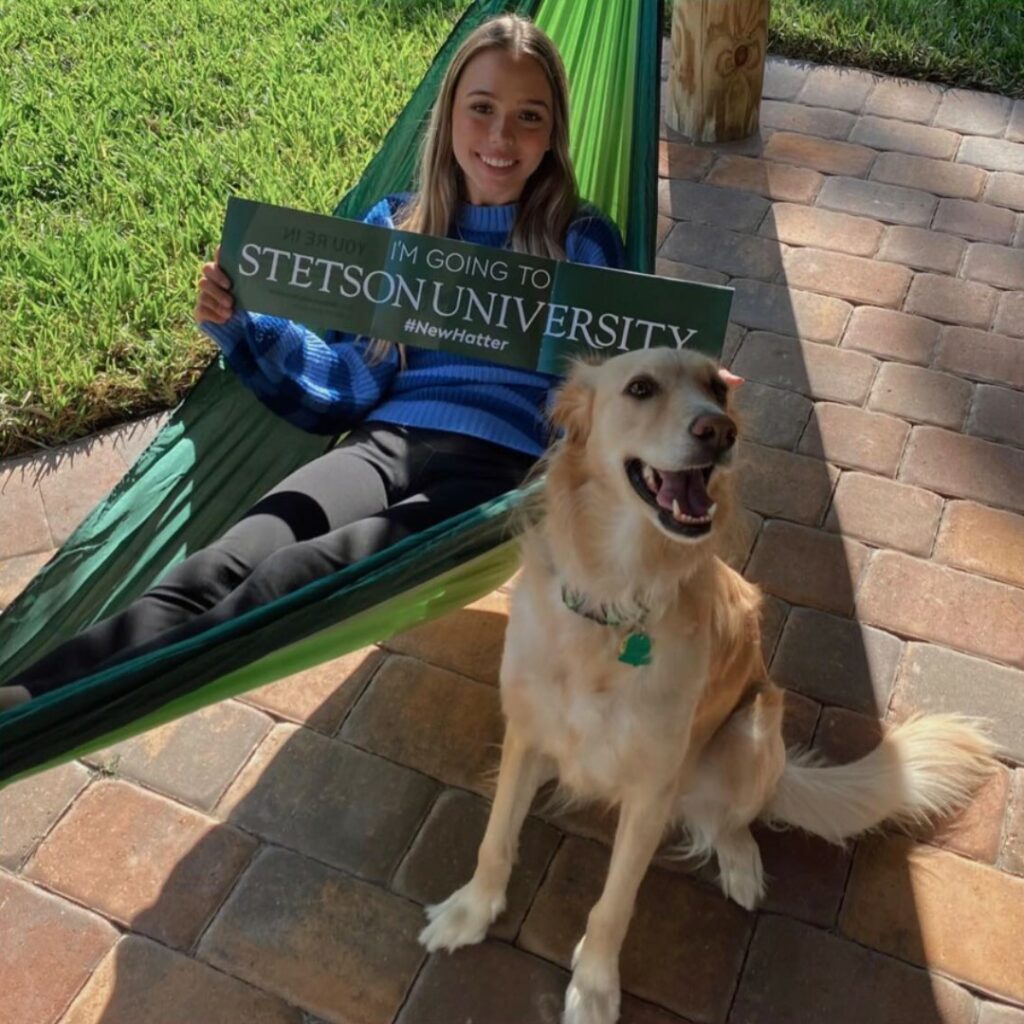 Our third most animal-friendly university on this list might interest anyone who wants to take a more holistic approach to their pet's wellness. Down in Deland, Florida, Stetson offers three pet-friendly residence halls accepting dogs, cats, rabbits, hamsters, gerbils, rats, guinea pigs, chinchillas, mice, hedgehogs, sugar gliders and dry aquarium animals. If you want the companionship of a pet but can't bring your pooch, Stetson works with four different organizations that allow students to foster, train and help socialize future service dogs.
"Living with [my dog] Brutus on campus has been the best thing to happen to me as a college student. Brutus makes every day so much better and is always there for you when you're in need or having a hard day. There is nothing like coming home from class and seeing your dog, which to me is just like family . The joy and happiness they bring makes being here going to school just so much better," Stetson University senior Emily Largent said.
Plus, Stetson is within 20 minutes of over 20 veterinarians. One veterinarian, Integrative Animal Hospital of Florida, has some quite unique practices. Have you ever considered taking Fluffy in for acupuncture? Maybe a psychological exam? Or would you rather go the all-natural route and try Chinese Herbal Medicine rather than prescription drugs? Integrative Animal Hospital offers all of that and more. Speaking of using the holistic approach, one of the nine nearby pet-friendly stores, Loise's Pet Connection, believes in using the all-natural approach to your pet's nutrition. They even offer pet-friendly CBD.
2. Eckerd College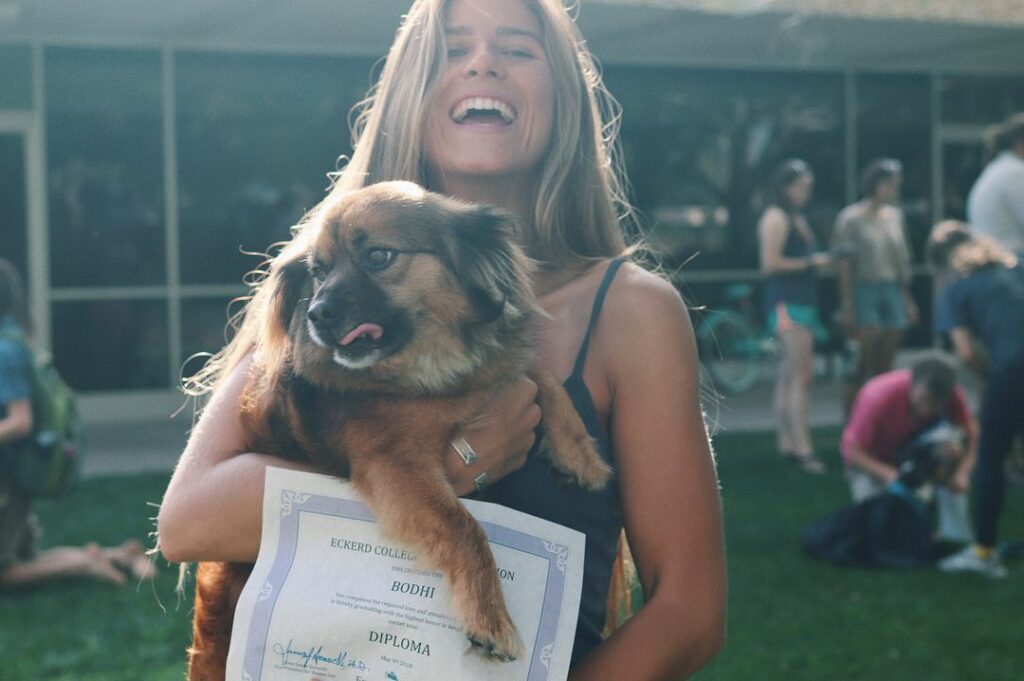 If you and your best friend love the beach, Eckerd College might interest you. Conveniently located on Florida's Gulf Coast, Eckard has allowed pets to live on campus since 1973. Currently, 16 of their residence halls permit pets. Small pets in cages are allowed in all residence halls and may come with you as early as your first semester. All other large animals, which the school considers as dogs, cats, ferrets, chinchillas and rabbits, can only stay in large animal housing and may live with you as soon as your second semester. They even hold a graduation ceremony for your furry friends several days before commencement, where they get their very own certificate of completion. Eckerd College also holds a "Pet Blessing" ceremony yearly in honor of St. Francis of Assisi and have even celebrated a "bark mitzvah!"
"I never personally had a pet on campus, but I did have many friends on campus that did. Any pet, whether it was snakes, turtles, cats and dogs, everyone treated them like their own. There are so many memories that I have where dogs would be running freely on Kappa field and making friends. The amount of love that every student had for all kinds of pets was phenomenal," Eckerd College graduate Zachary Pfeil said.
On top of running freely on campus, there are eight off-leash dog parks and two off-leash dog beaches for extra socialization. On top of that, you can go sightseeing at one of the 15 pet-friendly walking and hiking trails near Eckerd, many near beaches. And for those of us who like to combine our dogs and dining (who doesn't?) there are 134 dog-friendly restaurants around St. Petersburg. For those of you who like to socialize with your furry best friend, check out Eckerd College.
1. Stephen's College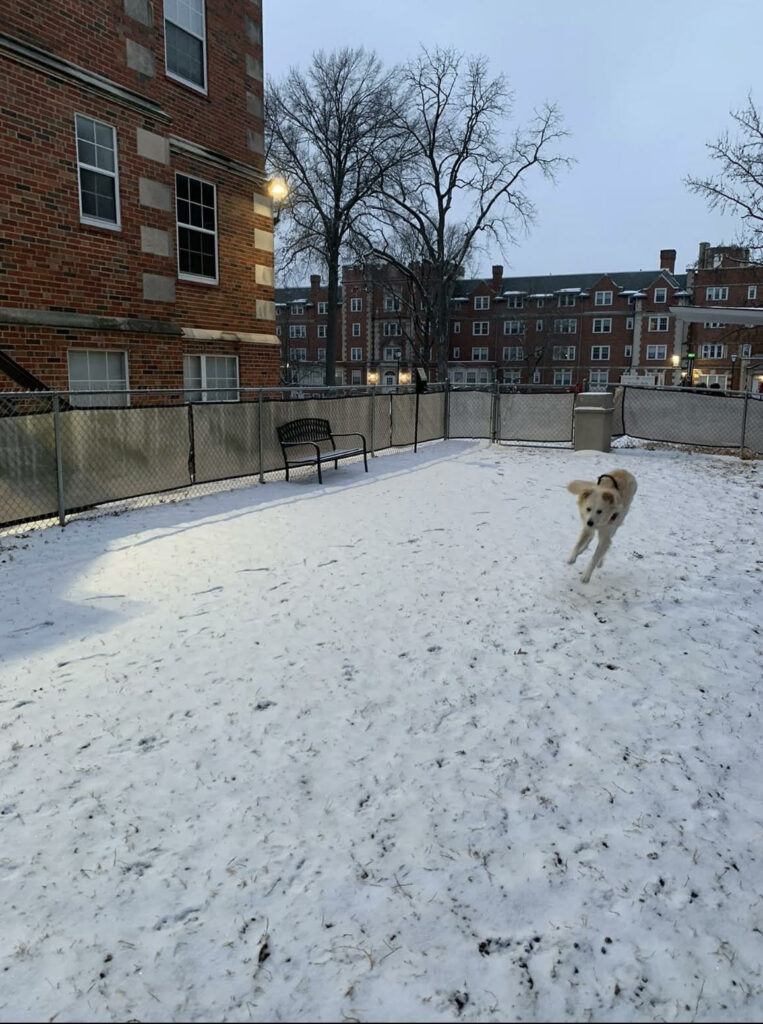 Calling themselves "The pet-friendliest campus on the planet," Stephen's College, located in Columbia, Missouri, accepts all types of pets, including cats and dogs that are at least six months old, rabbits, hamsters, rats, mice, gerbils, sugar gliders, guinea pigs, lizards, birds and fish. For those of you who love Halloween, Stephen's holds a yearly costume contest just for your pets (birds included). You can even compete in matching costumes.
"My first semester was my first time ever being on my own and living as an adult. My mental health took a huge decline, and with my family being a few states away and the inability to properly acclimate to my new lifestyle, my ability to perform in classes and general everyday life became extremely hard. I brought [my dog] Faye my second semester and immediately, I noticed a change. And although I still struggle and have dark days, I can always look to her as a beacon of hope and light," Stephen College's Conservatory of Performing Arts freshman Arden Ogilvie said.
You don't need to have your own pet at Stephen's to experience the joy these animals bring to campus, but if you want to partake in this pet-loving community, Stephen's has teamed up with a nearby no-kill shelter to implement a foster care program where students can foster a dog or a cat and take care of them until they are adopted into their "furever" home. For convenient veterinary care, you can go to the Veterinary School at the University of Missouri, located only about 10 minutes from campus. Here you can find a small animal clinic, an equine clinic and a food clinic, all staffed 24/7 for emergencies and specialty care. If a pet-friendly college is what you're looking for, Stephen's offers everything you need to make you and your pet happy at your home-away-from-home.
**In Section 4, while the quote is from an Ohio State University student and the section is referring to Ohio University being in the Top 10, both schools offer the "4 Paws for Ability" program**