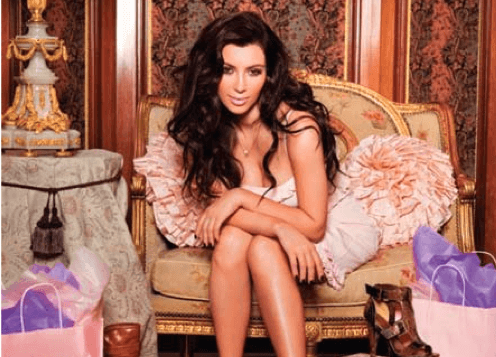 Keeping up with Kim Kardashian
|
It's 12:56 p.m. and I'm running home from class through Florida's scorching heat holding onto my iPhone for dear life. At exactly 1 p.m., my phone begins to buzz. The screen reads: Greater Los Angeles Area, and just like that I'm on the phone with sexy socialite, Kim Kardashian.

It felt like I had entered the set of her reality show, Keeping up with the Kardashians, considering five minutes into the conversation Kim told me to "Hold on one second," and then proceeded to scream at her mom for being too loud in the same room as her during her interview. Besides the usual family arguments over sharing clothes or being on time, Kardashian isn't looking to stir up any more personal trouble for the fourth season of the family's hit show. Instead, she seems to be making her name less synonymous with sex symbol by becoming quite entrepreneurial.
Her newest project is a fragrance—named after the celebrity herself—with a sultry, black bottle design that launches in February.
"It smells like me! No, I'm just kidding," she said. "It smells like pink jasmine and gardenia."
Aside from gracing her fans with her signature scent, Kardashian's also using her iconic fashion role seen on red carpets everywhere to spread style. She is the founder and chief stylist for shoedazzle.com. The site is a shoe of the month club where fashion experts and stylists pick out shoes for members based on a personal style survey. The shoes are only $39 and Kardashian plans to use her Hollywood style expertise to design her own line of shoes for it.

Although it may seem that Kardashian only has her self-taught style smarts, many don't know that she attended college for four years in Santa Monica at Pierce College when she was 19. After studying communication, she is finally putting her skills on the glossy pages by working as a contributing beauty editor for OK Magazine. "This is the best outlet for me to really express myself to share all my beauty tips," she said.

Now supporting an expanded fan base—she has more than 500,000 fans on Facebook—she finds it hard to believe it all started with her family's reality show in 2007, an idea from friends who witnessed the Kardashian's hectic, 12-person household. When her mom pitched the idea to long-time-family-friend Ryan Seacrest, he loved it and jumped on it right away.

"In like a week we were filming, and we had no idea what we were getting ourselves into," Kardashian said.
What seemed like a glamorous life on television turned into a very private look into Kardashian's life, giving the world any chance it could get to exploit her personal life. Everything from dating, body issues and family feuds were revealed, which gave bloggers and tabloids plenty of fresh bait to make rumor of.
The family's stardom blossomed quickly making her and sisters, Khloe and Kourtney, household names. For the most part, fans send letters, cards and pictures to Kardashian. But this isn't always the case. In fact, one group of people told Kardashian if they ever saw her wearing fur again they would kill and skin her.
Despite the challenges of being in the limelight, Kardashian has come a long way since the earlier years of Keeping up with the Kardashians. In addition to her perfume line, her online business and her con- tributions to OK Magazine, Kardashian is breaking into the fitness industry. While in earlier seasons of the show viewers could catch her chowing down on burgers, fries and even frosting directly from the can, she's now a newfound fitness guru. Having been scruti- nized for her curvy figure and even called plus-sized in celebrity gossip magazines, she slimmed down from a size 6 to a size 2 through a strict diet and workout program. Her workout DVD, "Fit Into Your Jeans by Friday," has been a huge success, and she's working on developing an all-natural weight-loss system with GNC.

"I am a really big fan of eating healthy and staying in shape and I think everyone needs to get it together and stay commit- ted," she said.
One way she does this is by avoiding alcohol. Well, that is she did stay away from alcohol until she made an appearance on her sisters' show, Kourtney and Khloe Take Miami, and didn't know her limits. To sum it up, Kardashian spent her night sipping a few too many drinks and ended up stum- bling around and vomiting.
But aside from a minor slip up, Kardashian is all business. She is always look- ing to promote her image in positive ways. You shouldn't be surprised if you see her Twittering up a storm about her next entre- preneurial venture; because unlike some celebrities, Kardashian tweets all by herself. "That would be so awkward if someone else were writing them for me," she said.
"That would be so weird if someone was like 'I'm eating right now' and it wasn't me, of course I do it all myself."