"She's in my lap!" I mentally screech as the fluffiest kitten wiggles into a ball on my legs. My quick half-hour cup of coffee has turned into a two-and-a-half hour, heart-bursting love affair. Why have I never been to a cat café before today? Since my relocation to Italy this summer, my main hobbies include setting my main feline Tony as my iPhone lock screen and asking my mom to send pictures because I miss him. But two hours at a cat café soothed the pain.
Take your cat obsession a step further than a cat café, like with this racerback tank: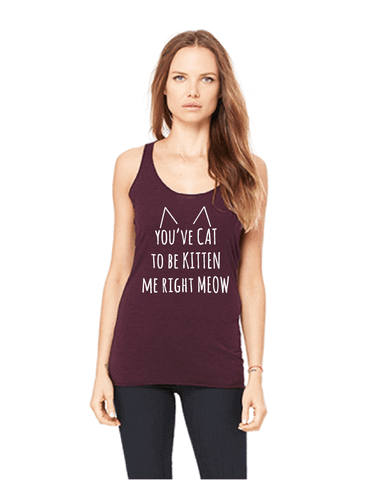 As it turns out, this phenomenon has actual science to back it up. Spending time with animals has proven to help reduce stress, making cat cafés a furrier and more entertaining alternative to a therapist's office. Plus, cat cafés prove just as beneficial for the cats. They take cats waiting for their forever home and give them interaction with people, and often, a great way to find a new home.
The concept of putting a bunch of attitude filled, slightly abrasive felines into a room with food and drink may seem weird to some. But Anne Levin, the president of the rescue group Brooklyn Bridge Animal Welfare Coalition, explained, "There is a long and turbulent relationship between humans and cats. Because cats are often quieter and less obvious than dogs they have often been demonized or viewed as cold and aloof. But the Internet and cat cafes have allowed people to realize the variety of personalities and the fun and engaging characteristics they have."
My experience proved that true. While I sat at the café, a few Italian teenagers came in to catch Pokémon on their phones. The cats couldn't care less. A big fluffy older black cat sunned in the window with his back towards them. On the other side of the café, the two younger girls with ice cream convinced the smallest cat that he was the star of the shop. They take exactly what you give them. Want to veg out and ignore them? They will (very blatantly and with equal vigor) ignore you back. Otherwise, ditch the technology and give the living breathing creatures next to you some love.
A cat café is the perfect place to witness cats' brilliance. From turning my shoelaces into their newest toy to finding that my lap had become a cat pillow, I got intimately involved in the kitty drama. Always thought dogs were more up your alley? Watching a cat convince the person at the table down from you to share their milk—or watching a cat energetically put its paw in one of the girls ice creams—warms your heart and helps you appreciate their sneaky cunning. "Cats are much more like humans than dogs. They are smart, savvy creatures who have learned to manipulate their caretakers just like humans do in their families (children vs parents, siblings, etc)," Levin said.
Cats may seem too aloof to those who don't appreciate their own special intellect, but those who give cats a chance know just how beneficial these whiskered friends can be for your mood and health. "Many of us intuitively grasp the joy that animals bring to our lives," said Natalie Pond, a Volunteer Engagement & Support Specialist with Pet Partners. Pet Partners specializes in therapy pets. "In recent years, more and more researchers are capturing the data that recognizes the impact of the human-animal bond on both community and individual health," said Pond.
While this bond can be crucial for mental health, some people simply do not have the time or resources for a furry friend of their own—take it from the cactus that dies on our first year hall come finals week. Yes. Twenty "mature" college girls couldn't even keep a CACTUS alive. For them, a cat café offers the perfect place to get your dose of pet therapy without the hospital bills or the responsibility of a pet of your own.
That said, my cat therapy is sadly far away. Whether I'm in Italy or back at school, I can never seem to get my fill of calming animal time. At school, two of my housemates at college suffer from severe allergies to cats. Even though our off-campus housing allows animals, their allergies mean my Tony must remain trapped at home nine hours away, leaving an ever-growing cat-shaped hole in my heart.
Just when I felt like I was going to die from homesickness, the cat café in Italy saved me. Why don't we have this at school back home? "College is often stressful and lonely. What better place to come and get some love and attention from cats who enjoy cuddling and playing," Levin said. "And during our quiet hours it's a great place to study and get work done. And the whole time you are helping to support and entertain rescue cats who are having a great time while waiting for their forever home."
What would I give to go back to freshman year—when I was adjusting to the crazy class schedule, the whole new social circles and the lack of a furry alarm clock—and reward myself with a few hours at a cat café. Hell, even now as a senior, when I have 10 more unedited pages of an essay on the History of Media and 50+ images to memorize for my art history quiz, the thing I need most of all is to take a minute for myself with someone I know will listen to me, be there for me and allow me to stroke them. No, not a boyfriend… I need a cat café.
Missing your kitty? Check out these shop items to make the distance seem shorter.