Scooters work like cars—except that they can squeeze into tiny parking spots. And they cost only a few dollars a week on gas. Not to mention, they look incredibly slick. But with a great ride comes great responsibility. Take the necessary precautions before you start your engine. Ready to let the wind whip through your hair (or helmet)? First, answer the important question in the back of your mind: Do you need a license to drive a scooter?
Do you need a license to drive a scooter?
Getting the proper license, insurance and paperwork seems like a hassle. But it keeps you safe while you ride your motor scooter around campus. And if you get pulled over by a police officer, he won't take "I didn't know" as an excuse. Let your license, registration and insurance do the talking for you.
License:
Licensing laws vary from state to state but all come down to three basic scooter requirements: minimum age, driver's licenses or permit, or a motorcycle license. "The best advice is to just follow local laws and freshen up on them before buying a scooter," said John Churchman, co-owner of College Scooters. "I don't think that a safety course is completely necessary if you buy from a good dealer who teaches you how to operate the unit safely."
Check out our scooter license guide for top motor scooter states for college students:
Ready to ride? In Michigan, motor scooter riders must be over the age of 15 to apply for a moped license. Or a valid operator or chauffeur license will work. There's a licensing fee of $7.50 and riders need to renew the license every four years or when they turn 21. Bring a helmet along for the ride, too—Michigan requires a helmet that meets U.S. Department of Safety Standards until the rider turns 19.
But don't stress about spending much money on a license plate for your scooter in Michigan. You only need to spend $15 on a three-year registration decal. "Owning a scooter on my campus has been one of my greatest decisions at college," said Michigan University senior Shane Gorcyca. "The process for the most part was pretty stress-free. I went to a scooter store and had to fill out some paperwork. Later that week someone delivered the moped to me. I then went to the Secretary of State to get it registered and that was it."
Some states, like Iowa, let younger motor scooter drivers on the road. The minimum age to ride a scooter is 14 if the rider takes safety courses and applies for a moped license. But starting at 16, the moped education course is only recommended, not required. Those over 18 only need a valid Iowa license. If you don't have a driver's license and fall under the age of 18, you need to apply for a moped license. Pro tip: Make sure you keep your license up to date. Moped licenses in Iowa only last two years.
In Florida, anyone can ride a scooter over the age of 16 as long as they have a valid, Class E driver's license or a "motorcycle only" license. You must register and title your scooter.
To drive a scooter in Connecticut, all drivers need a basic driver's license. Registration isn't required for scooters with engines under 50cc. Scooter drivers have limited access to highways or turnpikes while in Connecticut. And if your scooter can't drive as fast as the speed limit, then you must scooter on the right side of the road.
The Nittany Lions got the memo on campus: Riding scooters to get from class to class = the move. But before hitting the road they must apply for moped registration plates. The required fee to register a motor-driven cycle in Pennsylvania is only $9 per year. You'll need a valid Class C, Non Commercial Driver's License.
You only have to be 16 in Virginia to operate a moped. But don't forget to carry a government-issued photo ID (this doesn't need to be your license though). This gives the students at George Mason University plenty of time to perfect their motor scooter skills before college. When in Virginia you need to register and title your hot ride with the Virginia Department of Motor Vehicles. You'll also need to grab your helmet for you and bae on the way out—drivers and passengers must wear helmets. Safety goggles are also required if the scooter doesn't already have a windshield.
Kentuckians need to turn sweet 16 before driving a scooter. If you already have a valid motor vehicle operator's license or permit, then you can scoot around town with ease. If not, then you must apply for a moped license with the County Clerk's Office. To find out how much you will owe call the circuit clerk's office ahead of time. Be prepared to pass a vision and general knowledge test. And if under 18, make sure mom, dad or a legal guardian feel willing to assume responsibility by signing the application for your license.
Looking to ride a scooter in the Lone Star State? Apply for a Class M license. That means you'll need to take a basic driver's license knowledge test (unless you already have a learner or driver license) and the motorcycle knowledge test. But you can skip the motorcycle skills test to get a moped license. Out-of-state scooter drivers with a motorcycle license from another state can relax; Texas will waive the motorcycle safety course requirement.
Insurance:
To answer this simply: Yes, you should buy insurance for your motor scooter. Not all states require it but in the case of an accident, your #brokecollegestudent budget probably can't pay for damages out of pocket.
Luckily, scooter insurance costs way less than car insurance (so you can actually afford it). A scooter is smaller than a car and costs less. It only makes sense that its insurance costs less, too. Progressive insures almost any type of scooter for rates starting at $75 per year. That's only $6.25/month. Not bad! State Farm starts at $100 per year. No matter where you insure, your final rate depends how much coverage you want. AllState rates start at about $90 a year for a rider.
Your insurance pricing depends on your age and, of course, your driving record. With most insurance agencies, scooters classify under motorcycle insurance, which insures bodily injuries, full replacement costs, no depreciation for parts and even replacement for personal belongings.
If you realize someone stole your helmet or other scooter gear when you head to drive home from campus, your insurance will cover that loss. But remember, the more coverage you want, the more you pay.
Pro tip: If you own a motor scooter and a car, you might qualify for a multi-car discount. At Progressive, they automatically apply discounts to your cost when it comes to motorcycle insurance. Or with State Farm, ask the representative what discounts apply for your situation.
Why should you consider a scooter for college?
College town commuting gets old real fast. Half the time your laziness will convince you to spend the day Netflix bingeing instead of sitting through lectures that don't require attendance.
A scooter cuts your commute (and parking search) significantly.
"Michigan State has so many students that own scooters," said Michigan State University junior Sienna Mohl. "It's quick, easy and there's never a need to worry about finding or paying for parking spots… Driving around on nice sunny days with my roommate… is one of my favorite things ever."
Not sure what to look for in your scooter? Companies like Wolf Brand Scooters specialize in 49cc and 150cc four-stroke scooters. Don't scratch your head reading those numbers—"cc" refers to the size of the engine (cc stands for cubic centimeter).
A 49cc scooter drives between 35 and 40 mph. A 150cc will go anywhere between 60 and 65 mph. Wolf scooters also come with Gates™ Belts, Duro™ Tires, NGK™ Spark Plugs, TET™ Batteries and UV sun-resistant paint.
Students can spend more money on spring break and less money on gas with 80+ miles per gallon, which averages to three-to-five cents a mile. Scooters help you go green for the environment and save green for your wallet (pun intended).
What should you wear to drive a motor scooter?
Ditch the sweatshirt and break out your leather jacket. No matter what, you should invest in basic safety gear. "We recommend customers purchase a helmet, lock and scooter cover at a minimum," said Churchman.
Accidents happen. Wear the right gear and wardrobe on your motor scooter to prevent major road injuries like road rash.
"You're on two wheels and you don't have the safety of a frame like a car, so you're going to want to make sure you're wearing proper clothing," said Justin Marmolejo, General Manager for Wolf Scooters. Don't forget security gear as well. "You're going to want to get a scooter lock, something you can lock the front tire with to prevent it from being stolen. We offer rear luggage boxes for extra storage," added Marmolejo.
What road laws do you need to follow while driving my scooter?
Familiarize yourself with the rules of the road. Driving a scooter is not like driving a car. "We advise customers to be very careful when riding, especially in the rain and advise them to always keep their tire pressure at the right level along with other regular maintenance," said Churchman said.
Scooters, smaller than most cars, trucks and SUVS on the road, can only go so fast. Remember, a 150 cc scooter drives up to 60 to 65 mph and a 49 cc scooter only runs 35 to 50 mph on flat ground. Although this appears fast when driving, you can't keep up with other cars on main roads or highways with that speed.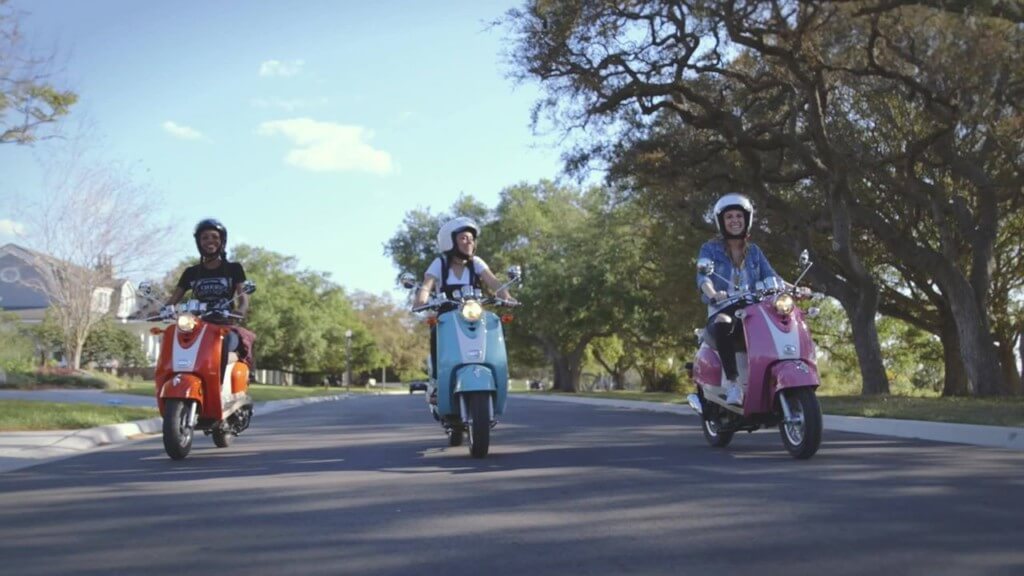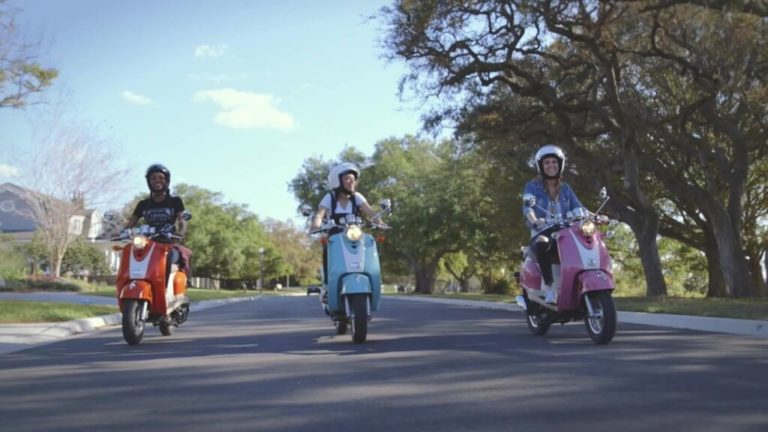 When the wind blows in your hair, you may feel invincible on your scooter. But in reality, you need to stay alert and watch for the unknown on the road.
Make sure drivers around you can see your scooter by avoiding blind spots. If you can't see their window, they can't see you. Stand out on the road and remain visible (i.e. Don't try to skip traffic by driving in between lanes).
Your new ride will help you find parking faster, but it won't let you skip out on the rules of the road. Traffic signals, signs and laws also pertain to you as a scooter-owner. Resist the temptation to speed through traffic between lanes, in the bike lanes or on the curb. (You will get a ticket and it won't be fun.)
Always use your turning signal and abide by traffic signs. Remember not to blow a red light or swerve between cars, both of which motorcyclists do by habit. Avoiding these will ensure your safety on the road. Since you get less protection on a motor scooter than the other cars on the road, you need to take care of your scooter and, of course, yourself.