I pulled back the candy cane wrapping paper to reveal a red camping lantern. I smirked at my boyfriend. He got me a lantern for Christmas.
Rewind to fall. Wait, no, rewind to my first summer with my boyfriend. No, rewind to my house as a child. My free hours were spent exploring every inch of the woods surrounding my house and daydreaming about building a home surrounded by mossy trees and a mosaic of sunlight. So, of course, when I realized my boyfriend was going to be a serious thing, I proposed we do what I love most: Go on an adventure. Little did I know, college really gets in the way of things.
When you look at a semester, it's so easy to think you can devote a weekend or two to camping or hiking, but life has this bad habit of getting in the way. Suddenly, only a handful of weekends are left—all touched by plans, obligations and of course, work. It's so easy for ideas like adventuring to fall by the wayside and end up being ignored. But, please, don't let that happen. If you want to do something, make it happen. That's what I did. I have the scars to prove it.
After my boyfriend and I tried for three semesters to find time for a camping trip together, we finally made it happen last fall during a long weekend. We borrowed a tent, rented a stove, bought ramen and filled my old car for a four-hour drive into the southwestern Virginia wilderness. We heard about a cool trail with beautiful views and some small pools for swimming if the temperature permitted.
With every hour of driving that passed, I grew more and more excited at the idea that I was finally doing what I wanted to with my time: exploring the natural beauties of earth with my favorite person. Unfortunately, we didn't account for the setting sun.
The sunlight and fellow campers had vanished when we arrived to the trail that led to our campsite, leaving no one to guide us. Walking down the trail, we looked for a flat area to set up our tent. We set off towards the woods since research explicitly told us not to set up on the trail. Luckily, we found a surprisingly flat area to erect our tent. Only then did we realize that the flashlights on our phones were sub-par. After that, we boiled water for ramen soup and found we didn't have any flatware. Eating ramen noodles with your fingers while sitting on the ground gets a lot dirtier than you'd expect.
The next morning, before getting up, we heard some strange animal noises passing us. After finally gathering the courage, we faced the outside world. Peeking out, we discovered we accidentally set our tent up right in the middle of the trail.
We returned the equipment to my car and started out on our hike. We passed a couple smaller pools, marveling at the beautiful blue-green color. The main event of the camping trip, "Devil's Bathtub," was almost upon us. Incredibly tall trees with dancing light in between dotted our walk. Growing more and more excited, we finally came upon a huge, bathtub-shaped pool. Except it seemed half-filled and brown.
Instagram filters and Facebook hype skewed our expectations, leaving us disappointed. We sat and devoured our peanut butter and jelly sandwiches while listening to the sound of the water gently fill the sad pool.
After a couple minutes, we noticed a family walk by with towels and completely ignore the pool. That definitely wasn't Devil's Bathtub. I stood to follow them and watched as my eager iPhone jumped out of my pocket, slid down the slippery rocks and plopped into the pool. Luckily, my boyfriend is a hero and chased it down. In the process, though, his shoes got soaking wet.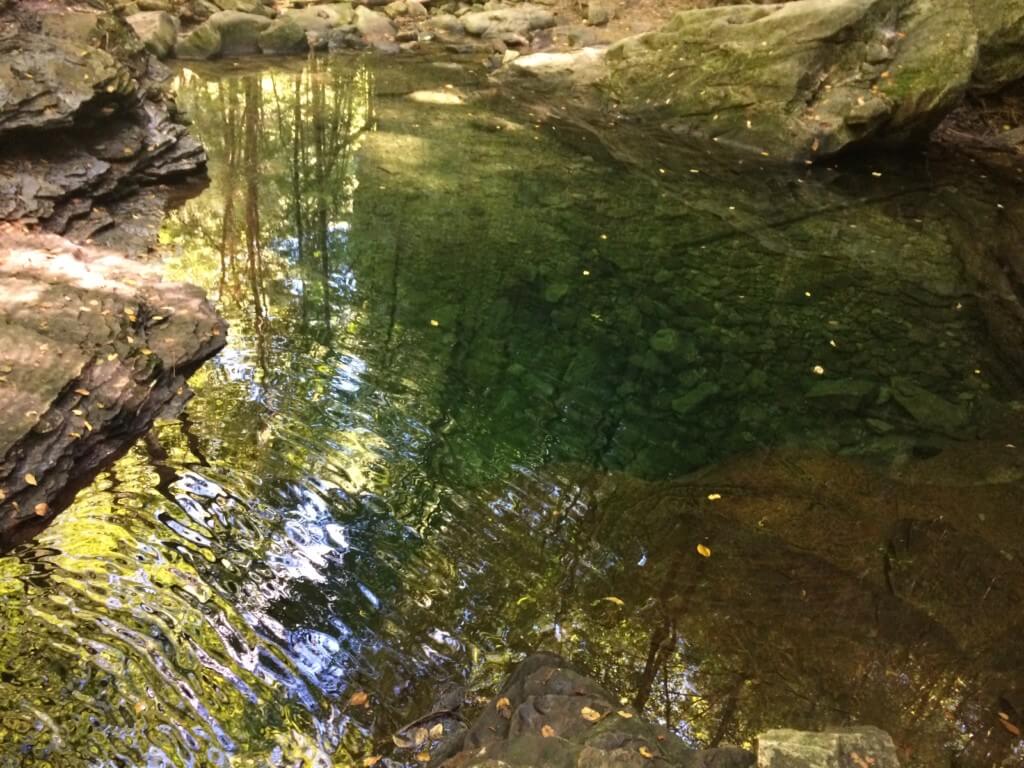 Despite our setback, we raced down the trail hoping to discover the actual bathtub. We walked for three minutes and there it was: a huge, gorgeous pool with an almost natural waterslide feeding the pool its water. In my excitement, I fell down a rock face, scraped my leg open and got my shoes soaking wet. But we didn't let that get us down. Keith, my boyfriend, striped to his bathing suit, jumped in and yelled in reaction to the cold water.
I prepared to follow him in when I spotted the family with the towels leave and continue down the path. Keith went to investigate and found that this pool wasn't Devil's Bathtub either. We walked for a few more minutes and discovered it. Shaped just like a bathtub, it was carved deep into dark stone, almost straight down. The color was gorgeous; I couldn't believe it was natural. I jumped in and felt it just how cold the water felt. I now understand why Rose took the door. Though sunny, the trees blocked most of the light and we shivered quickly.
We made the wrong decision.
Two miles later, we sat and ate lunch at one of the most beautiful spots I have ever seen. Low hanging branches directed my eyes up and down an open and shallow slow-running stream. Sun peaked through the openings in the leaves and highlighted the natural greens and auburns that decorated the forest floor. Travelers had built stone stacks that just made it seem unreal. Everything felt in sync, like an artist placed this scene together. It might have made our trip worth it.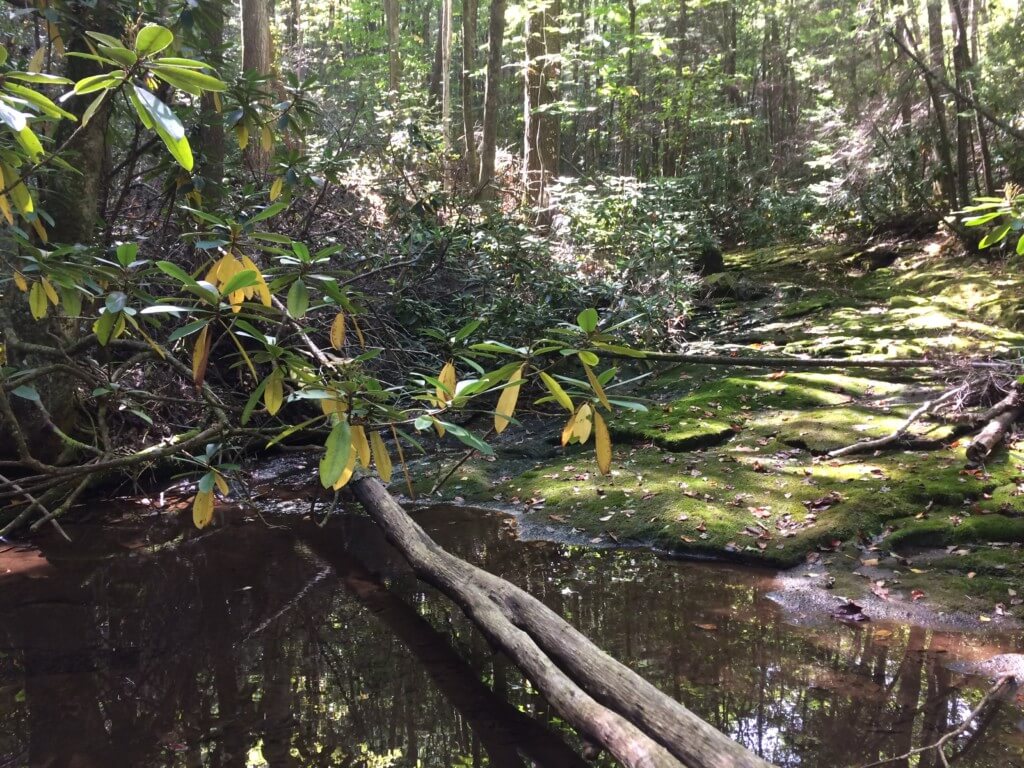 A mile later, we found ourselves temporarily lost and the blisters from our wet shoes began to sting. Not too long later, bees attacked us. Soon after, we met a strange couple warning us about a bear they heard on the trail. I felt woefully unprepared to encounter anything larger than a chipmunk.
After hiking for another hungry and painful two hours, Keith and I encountered next to no one on the trail. Yet the moment we both stopped for a bathroom break, people saw us. Things just were not going our way. We were tired and dirty and so hungry for something besides ramen and peanut butter. We joked that it was a curse from the devil for bathing in his bathtub. When we finally made it back to the trail entrance, we hopped in the car and began to drive the four hours home.
Though exhausted and hurting, I can't ever remember laughing so much. I wouldn't trade that trip for anything. I'm well aware that in five years' time, I may not be dating my boyfriend anymore. But that doesn't take away from our beautiful memories together. I know how fleeting certain parts of life become with age, like exploring your backyard.
Don't forget these simple pleasures. Don't give up on treating life like the miracle it is. Don't waste your time with things that don't make you happy. Chase what you desire and even if you come up with a misadventure, you still made a memory that you will never forget. The best part? It'll lead to more. That simple lantern wasn't just a way to improve our future adventure, but a promise for more.