University of Arizona – Tucson, Arizona
The Vibe
A mixing pot with a whole lot of Greek Life
What it Feels Like to Go Here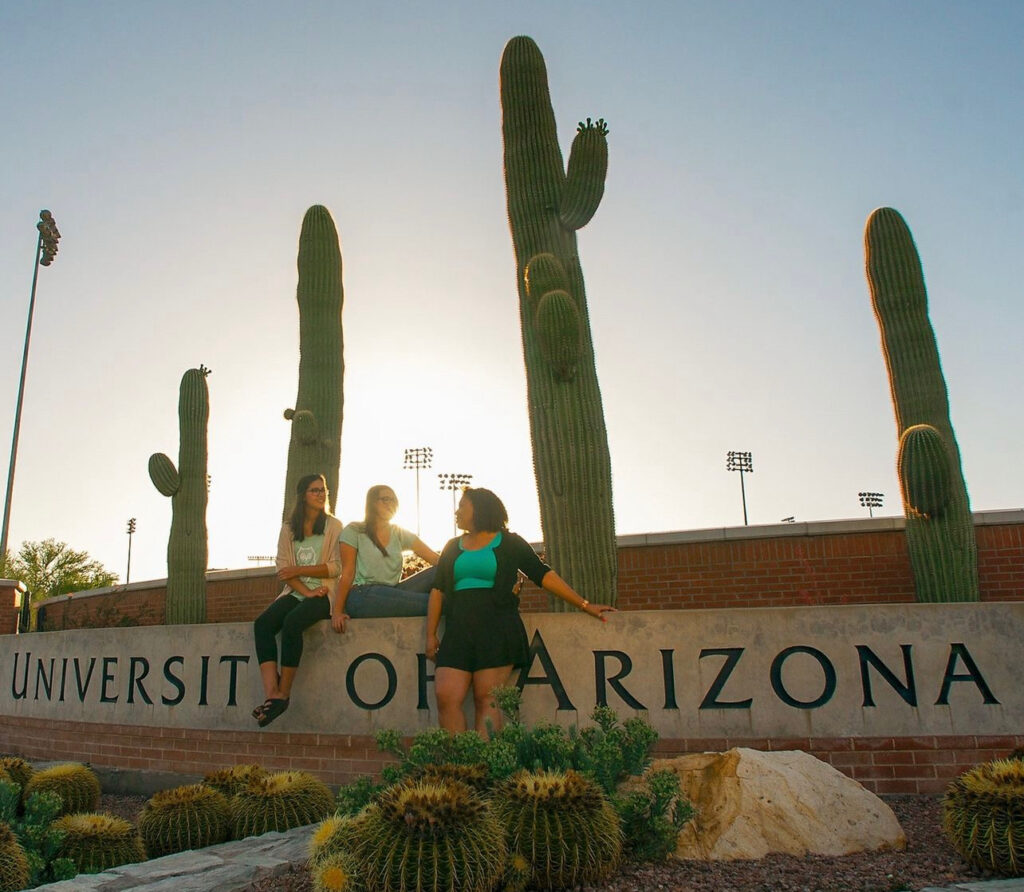 The University of Arizona, settled in central Tucson, offers an amazing view of several different mountain ranges, desert wildlife, and of course, the infamous cactus. Known as one of the "Big Three" universities in Arizona (the other two being its sister schools, Arizona State University and Northern Arizona University), UofA remains famous for its sports teams, Greek life, and academia. The campus, students, and faculty are very friendly and will make sure you feel right at home with their happy attitudes and effort to include everyone! The university strives to maintain diversity and inclusivity, which includes its wide variety of undergraduate and graduate degrees and constant events. If you're looking for a great school with diversity, strong Greek life, and insane parties, then you've come to the right place.
Awesome Alumni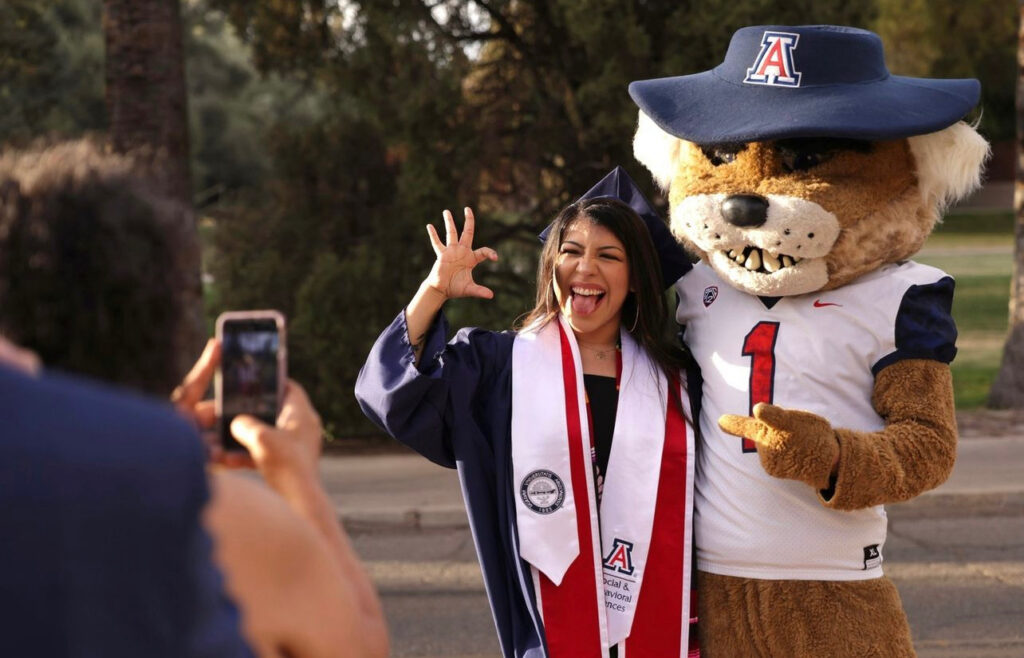 Of the University of Arizona's most famous alumni, Kourtney Kardashian is among the top five. The reality T.V. star graduated from UofA with a degree in Theatre Arts and a minor in Spanish. Steve Kerr, a retired professional basketball player and a 5-time NBA champion, also graduated from UofA. Film director and producer John Hughes, known for his movies National Lampoon's Vacation, Sixteen Candles, Ferris Bueller's Day Off, The Breakfast Club, and Pretty in Pink, actually dropped out of the UofA to pursue his career. Derrick Williams, a basketball player who played for several NBA teams, was recruited to play for UofA's Wildcats. Peter Murrieta, another UofA alumnus, went on to be the head writer for Disney's sitcom Wizards of Waverly Place, starring Selena Gomez.
Where We Hang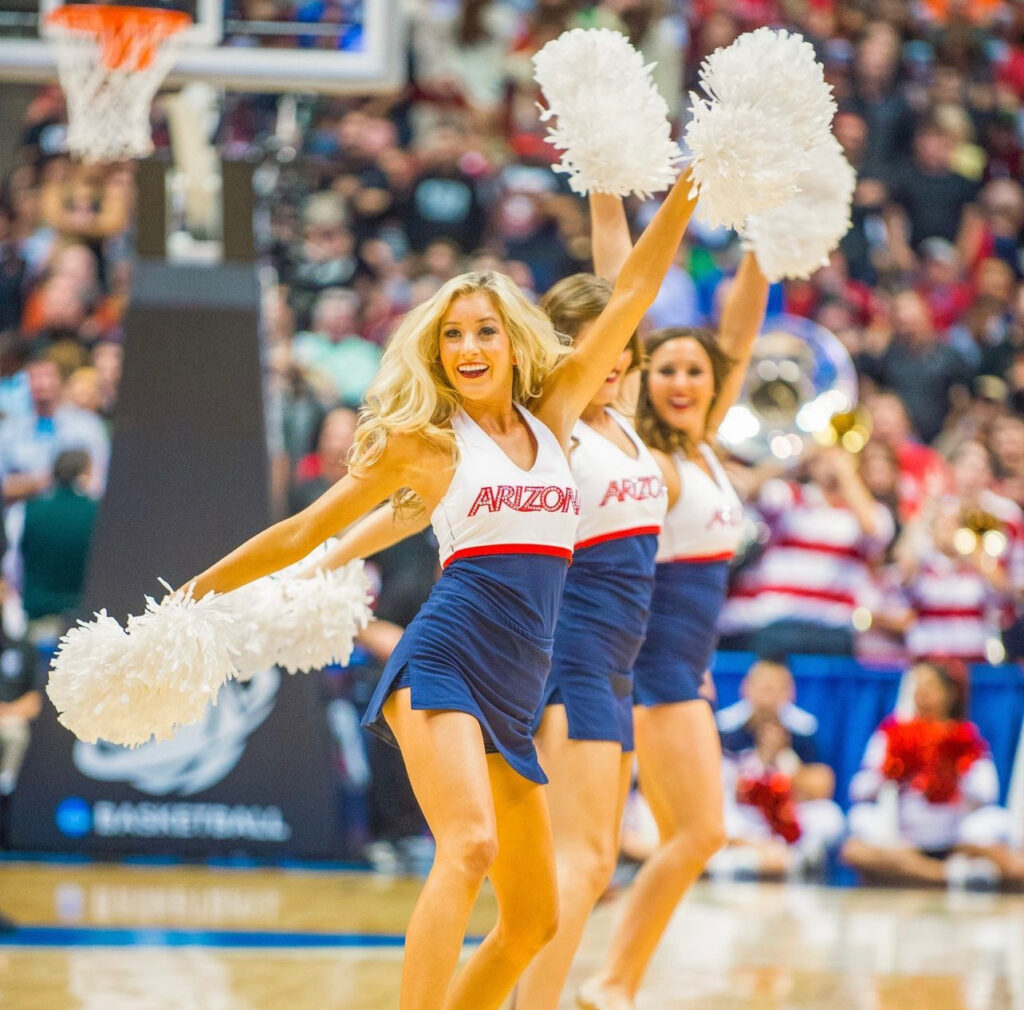 Because of UofA's affinity for Greek life, a lot of students' after-school hours revolve around the university's Greek-sponsored events (which include parties). Sporting events remain super popular, especially basketball, and in more recent times, football, due to the increasing number in wins. Of course, most students visit the bars, of which Gentle Ben's Brewing (known for its award-winning beers), O'Malley's Bar and Grill (DJs and billiard),No Anchovies (pizzeria with a bar!), Frog & Firkin (billiard and darts), and Illegal Pete's (great rooftop bar) are the most popular. The concert venue in downtown Tucson is a ten-minute walk from campus, and University Boulevard, a strip with restaurants, shops, and bars, is also a popular hangout place.
Q&A
1. How much are students partying?
"Students party a heck of a lot here. Frat events are always on Tuesday and Thursdays, and you'll always find something happening on the weekends in apartments," Nursing junior Makenna Summers said.
2. What will you get in trouble for at UofA?
"At this school, anyone can get in trouble for the normal things students get in trouble for: academic integrity violations, underage drinking, acts of violence, etc. I haven't myself seen anyone get in trouble for such acts, but it happens more often than not. With recent shooting events happening at this school, security has been more involved with possible dangers and acts of violence," Physiology junior Bryce Williams said.
3. How much sex are students having? How is safe sex encouraged on campus?
"I feel like for a college campus, students are having a normal amount of sex. I think that it's not unusual for kids in college, surrounded by so many people their age to want to engage in sexual activity. Safe sex is encouraged on campus at the health centers by spreading safety information with events like "Free Condom Friday"," Physiology and Medical Sciences junior Lauren Kuechler said.
4. What would you tell incoming freshman about UofA?
"College is what you make it, and UofA has a lot of great opportunities to make great memories," Biomedical sciences sophomore Marcus Johnson said.
5. What is a famous UofA tradition?
"A famous UofA traditional is Bear Down Fridays. On University, they block off the road and have the band and cheer team come and perform. This happens during the football season every Friday," Physiology junior Arabella Bolis said.
Student Reviews
"My time at the UofA has been a rollercoaster, but I can say since I arrived here my freshman year, my experience has increasingly gotten better. I feel like college is a huge learning experience, and I'm so grateful to how mine has turned out so far," Lauren Kuechler, Physiology and Medical Sciences, Class of 2025.
"My experience at UofA has been better than I could expect. I have learned a lot such as dealing with time management and learning how to be alone. I have always been surrounded by family and living by myself at college was a huge change. I think the biggest lesson I have learned at UofA, especially as a young woman, is that looks are not necessarily everything. Looks are something I feel is a little overly focused on at UofA and at the end of the day what really matters is who you are as a person. I think this is something I have come to terms with, and I have not been focusing on developing myself as an individual rather than how I look, and I have been able to open up so many more doors for myself," Makenna Summers, Nursing, Class of 2025.
"My time here has been good as I am really grateful for the many opportunities UA has to offer. There is no other college I would want to go to," Marcus Johnson, Biomedical sciences, Class of 2026.
"My experience at UofA has been so great! I've made so many new friends and different experiences that I will remember forever," Arabella Bolis, Physiology, Class of 2025.
"The past three years at UofA have been nothing short of amazing. There are plenty of opportunities for every student with various clubs and jobs. Personally, I enjoy the athletic side of the university with the basketball and football environments being out of this world. I am proud to say I am a Wildcat. Bear down," Bryce Williams, Physiology, Class of 2025.
Top 3 Majors
1. Business, Economics & Entrepreneurship
2. Biological and Biomedical Sciences
3. Health, Nutrition, & Fitness
---
Top 3 Most Popular Student Organizations
1. Physiology Club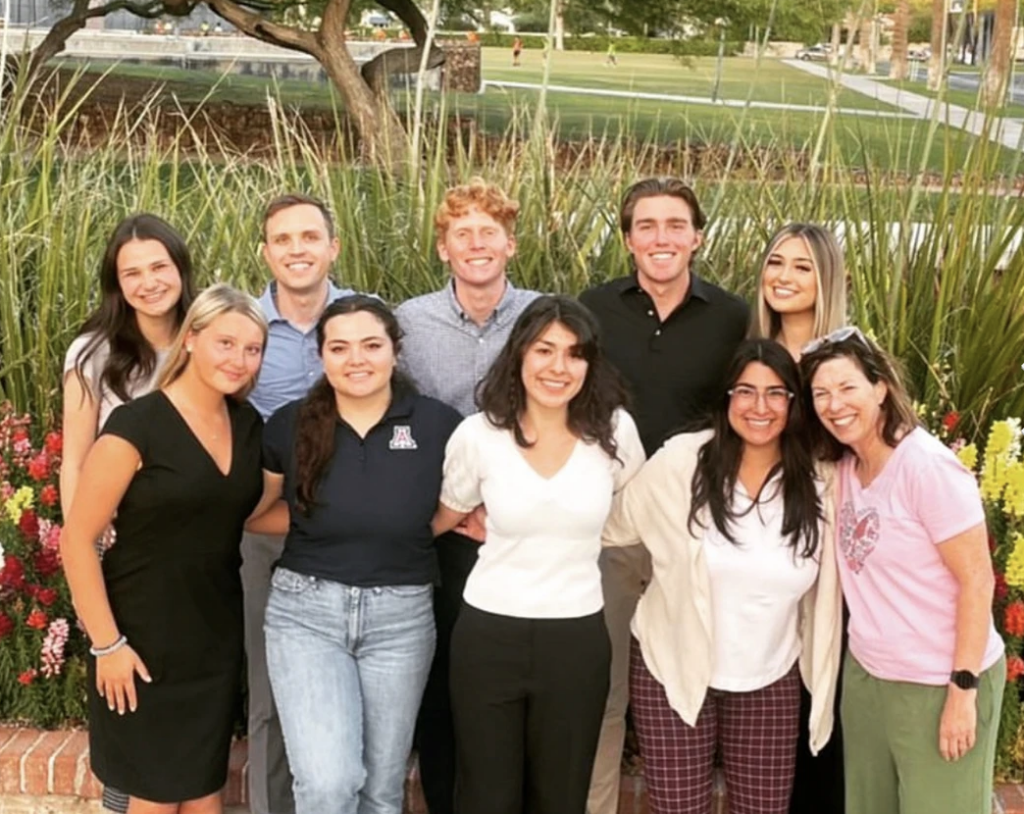 UofA's Physiology Club provides an opportunity for students to explore careers, academics, and different health fields while connecting with professionals. "It's a club that provides a tremendous number of opportunities for any pre-med student. There are tours for different clinics and facilities in different fields in medicine," Williams said. It's open to not just physiology majors, but all pre-health majors.
---
2. The Daily Wildcat
The Daily Wildcat is UofA's student-led news organization, available to students in print, online, and on apps. The paper, which serves not just UofA but Tucson as well, publishes daily. It's been running since 1899.
3. DECA
DECA, or Distributive Education Clubs of America, is a professional organization for students to develop business, networking, community, and professional skills.
Getting In
The University of Arizona requires the typical admission requirements that is determined by the Arizona Board of Regents (think four years of English and math, three years of science, two years of language, etc.) or SAT and/or ACT scores of various scores (depending on the subject). Admission to the university is assured if you rank in the top 25% of your graduating class or have a 3.0 unweighted in your sixth semester in core requirements.
"When I applied to UofA, I had a 3.9 high school GPA, even though all I needed was a 2.5 as an Arizona resident. I also participated in athletics while in high school, which counted as an extracurricular to bolster my application," Junior Physiology Major Bryce Williams said.
Stats
Location: Tucson, Arizona
Tuition & Fees: $13600 for AZ resident / $39600 non-resident
Total Cost on Campus: $33200 AZ resident / $60600 non-resident
Undergrads Enrolled: 36503
Grads Enrolled: 10429
Total Enrolled: 46932
Acceptance percentage: 86.7%
Percent Admitted who Enroll: n/a (86.7%)
Enrollment: 9091 students
Percentage of Male Students: 44%
Percentage of Female Students: 56%
Percentage Receiving Financial Aid: 83%
Percentage Receiving Federal Grants: 75%
Percentage Receiving Federal Loans: 36%
---