No matter how many times you listen to the same song, you always come back for more of those catchy beats, relatable lyrics and all the memories attached. Classic artists launched themselves back into the scene better than ever with new music, fresh lyrics and different genres. Meanwhile some new artists have entered the scene, taking the industry by storm. These mashups have made this summer playlist one for the books. These top 2019 songs prove fit for a summer full of love, heartache or just spending time with friends.
With the weather heating up and great new music, the time to get your summer playlists started has come.
1. Cross Me (feat. Chance the Rapper & PnB Rock) by Ed Sheeran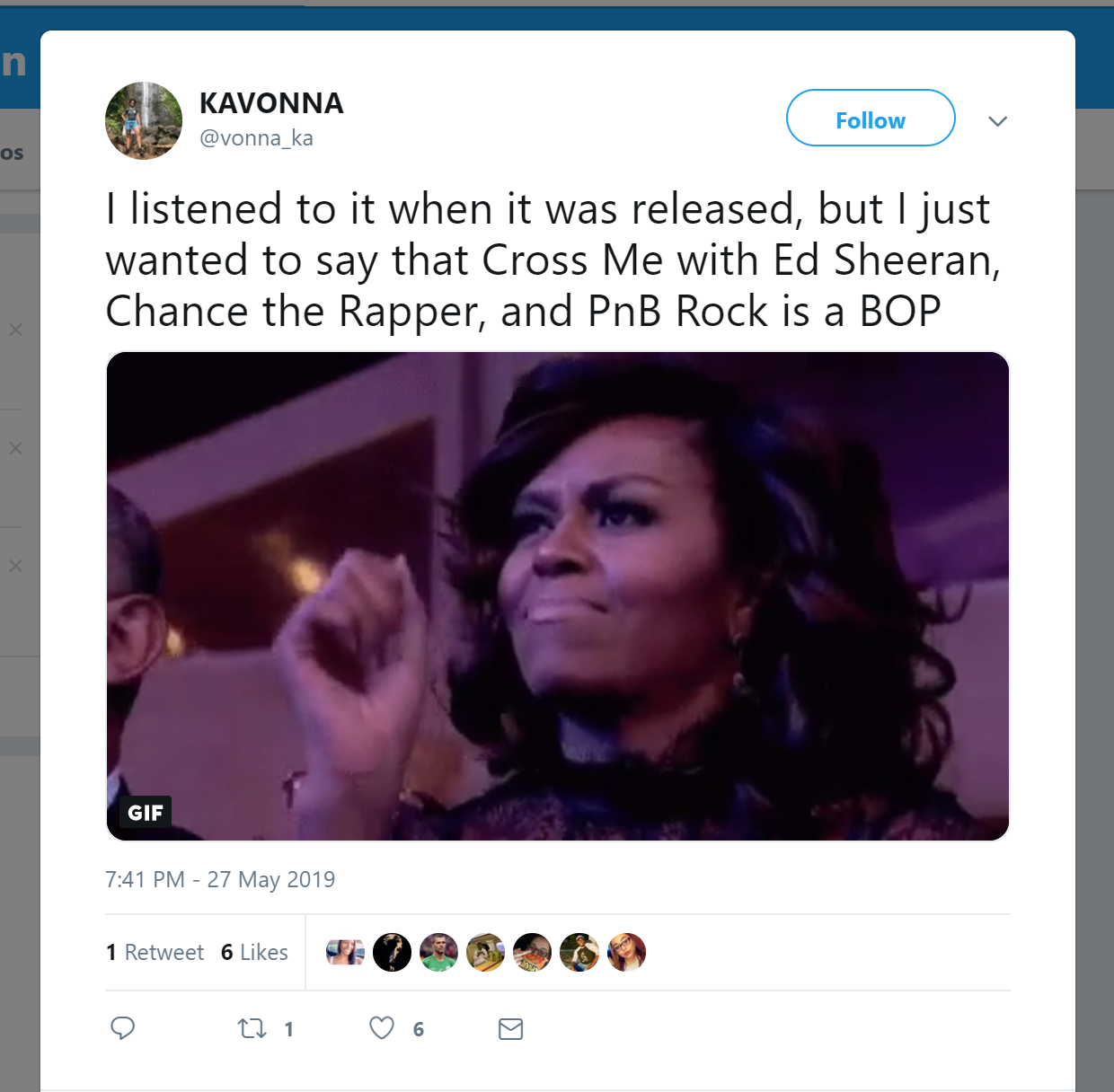 A collaboration that we did not expect, Ed Sheeran, Chance the Rapper and PnB Rock released "Cross Me", flattering girls all around the world. "Cross Me" comes across as a playful warning, telling everyone "if you cross her, then you cross me." They express their protectiveness with a hint of jealousy throughout the song, but who wouldn't want protection from these three? This song joins "I Don't Care" as the two early releases from Sheeran's newest Collaboration Project. Guys, if you want to make your girl feel special this summer, add this to her playlist.
2. Mother's Daughter by Miley Cyrus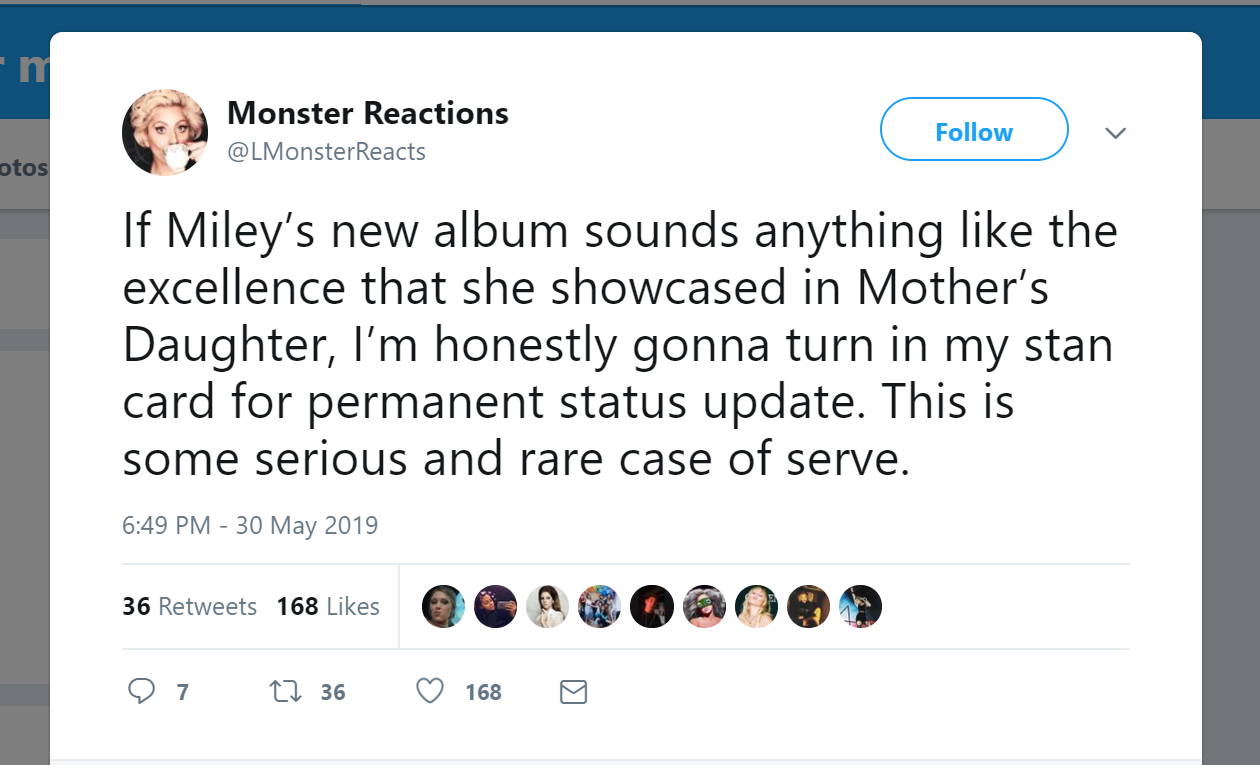 After many hints from Miley Cyrus, we have all patiently awaited the Hannah Montana comeback. However, Cyrus decided to wait and release "Mother's Daughter" on the extended play titled "SHE IS COMING." This song screams bad b—- vibes from the first second to the last. From the lines "she got the power" to "don't f–k with my freedom," Cyrus came to make a statement this summer. Through this song Cyrus inspires women to express their freedom and to show their "freak" side shamelessly. Looking for a song this summer to make you feel empowered? Stream "Mother's Daughter."
3. Call You Mine (with Bebe Rexha) by The Chainsmokers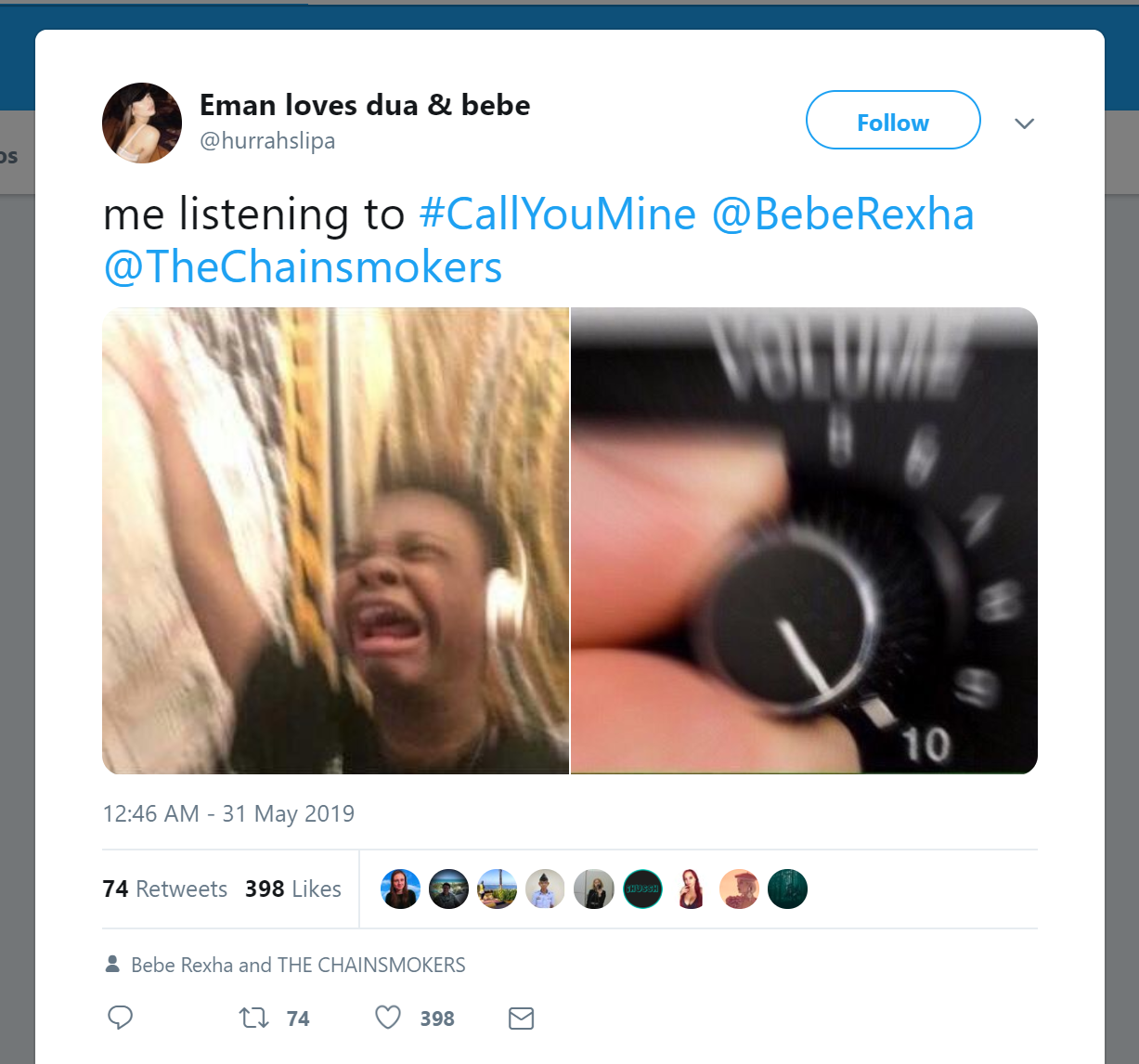 From "Closer" back in 2016 to "Call You Mine" in 2019, The Chainsmokers have a way of creating the perfect summer hit—with the help of a few others of course. Bebe Rexha steals the show with her sharp vocals and the change of pace throughout the song keeps you wanting more. The relatable lyrics on relationships make this song ideal for those cute summer flings. Turn your car concert into a full on rave with this hit on full blast. No matter what people say, keep attempting those high notes and let your summer love begin.
4. Never Really Over by Katy Perry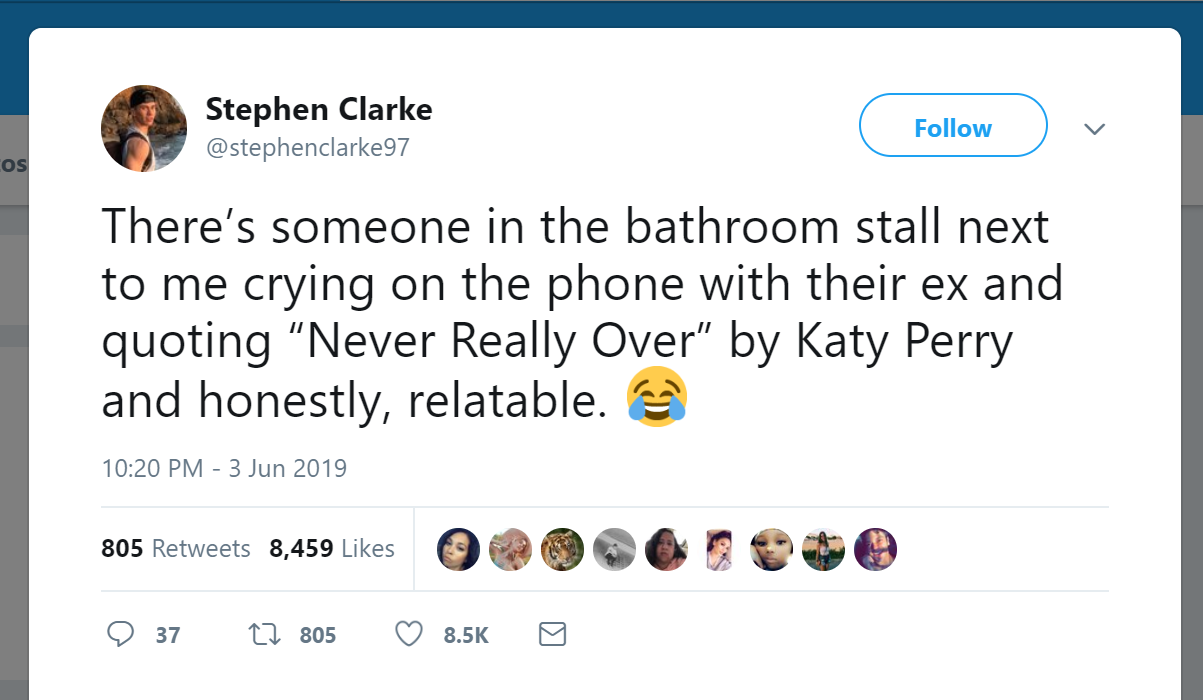 Only Katy Perry can make reminiscing on past relationships enjoyable. In "Never Really Over," Perry comes to terms with the fact that memories of exes don't seem to fade. But the beat of the snare and the killer chorus has this song in our heads instead of our exes. She released this at the perfect time for summer after almost two years without a single. What a way to get back into the game. Everyone gets hung up over an ex sooner or later and Perry wants to help you out.
5. Nightmare by Halsey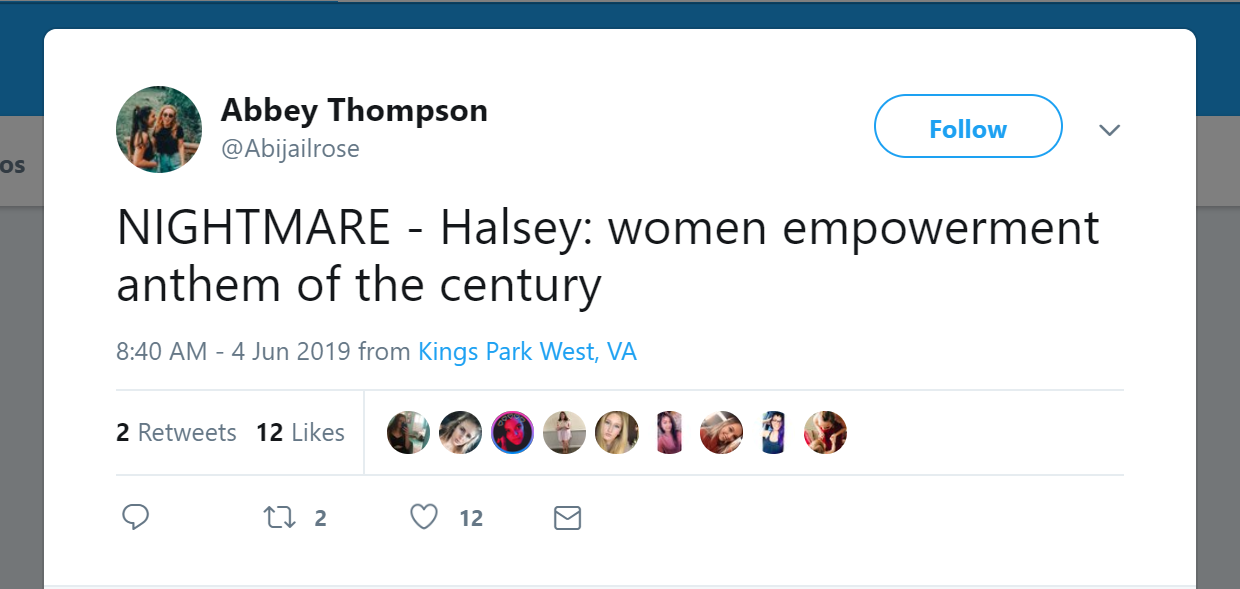 Halsey tops the charts once again this summer with her latest release "Nightmare." Starting the song off with an old children's bedtime prayer automatically gives off an eerie yet intriguing feeling. The subject matter in "Nightmare" differs greatly from her other hits, diving into struggles with body image and loneliness. Halsey shows honesty and realism throughout this song, making it much more relatable to wider audiences. This song strays away from the pop sound we have grown accustomed to from Halsey and adds a more grunge vibe to her normal alternative rock. Your playlist has creepy yet catchy covered.
6. Sucker by Jonas Brothers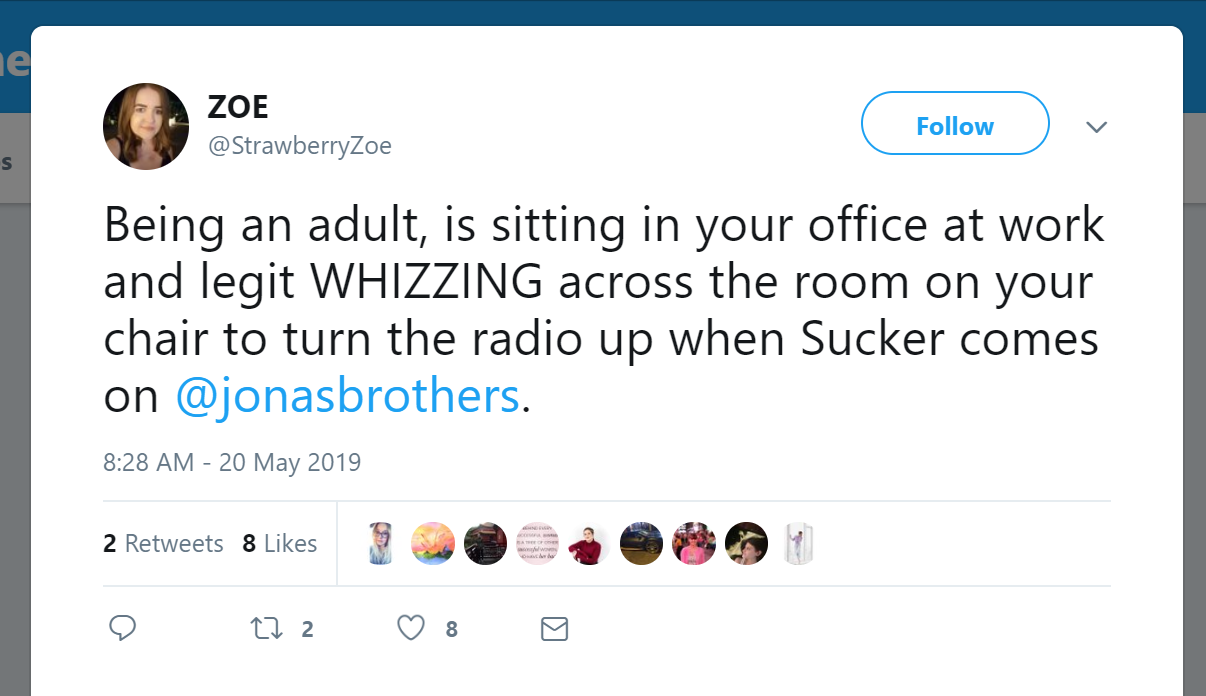 The greatest comeback of 2019 fails to disappoint. The Jonas Brothers dropped "Sucker," their first song back together as a band and fans have not stopped crying since This song gives us a glimpse into their newest release after ten years, "Happiness Begins. Nick shows off his signature high notes while Kevin puts on a show with his guitar. Just like in the music video, this song has you dying to lounge outside a castle in a bathtub with a lollipop. A backyard and kiddie pool must suffice, right? "Sucker" contains the Jonas Brothers' new, mature voices, a fast paced tune and a catchy whistle in between choruses. This leaves us wiping our tears of joy and dying to listen to the album.
7. Dancing with a Stranger by Sam Smith and Normani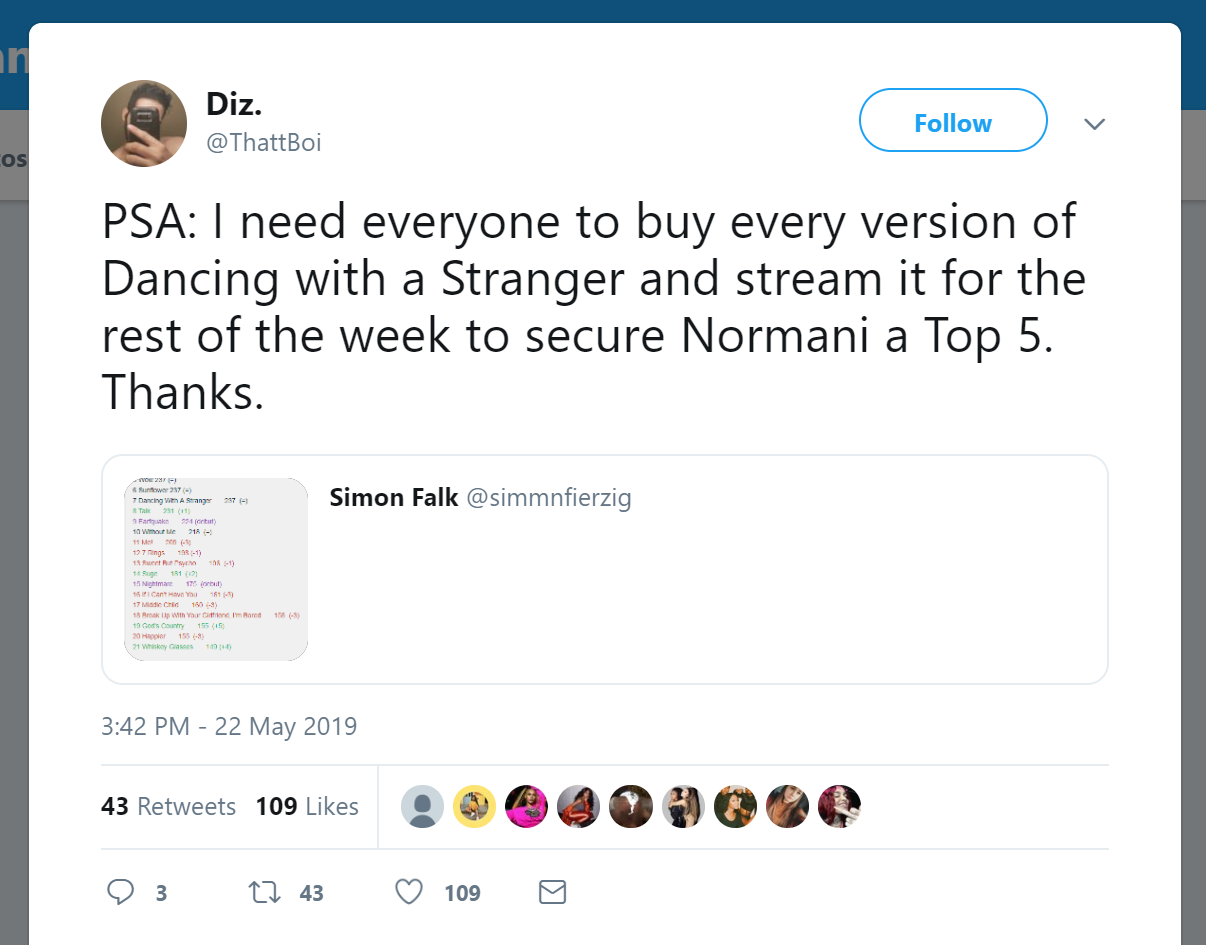 Dancing with a stranger—sounds like a summer plan to me. Sam Smith and Normani have not only given us great ideas, but have put it into words in their newest hit. Smith and Normani released their single, and it has not left heads ever since. While Smith hits every high note effortlessly, Normani takes our breath away by coming in as the female counterpart. This song can have you getting ready to hit the club after crying on your way to ice cream. As summer vacation begins to look a little lonely, "Dancing with a Stranger"can get you through any heartache and back out on the dance floor.
8. I Don't Care (with Justin Bieber) by Ed Sheeran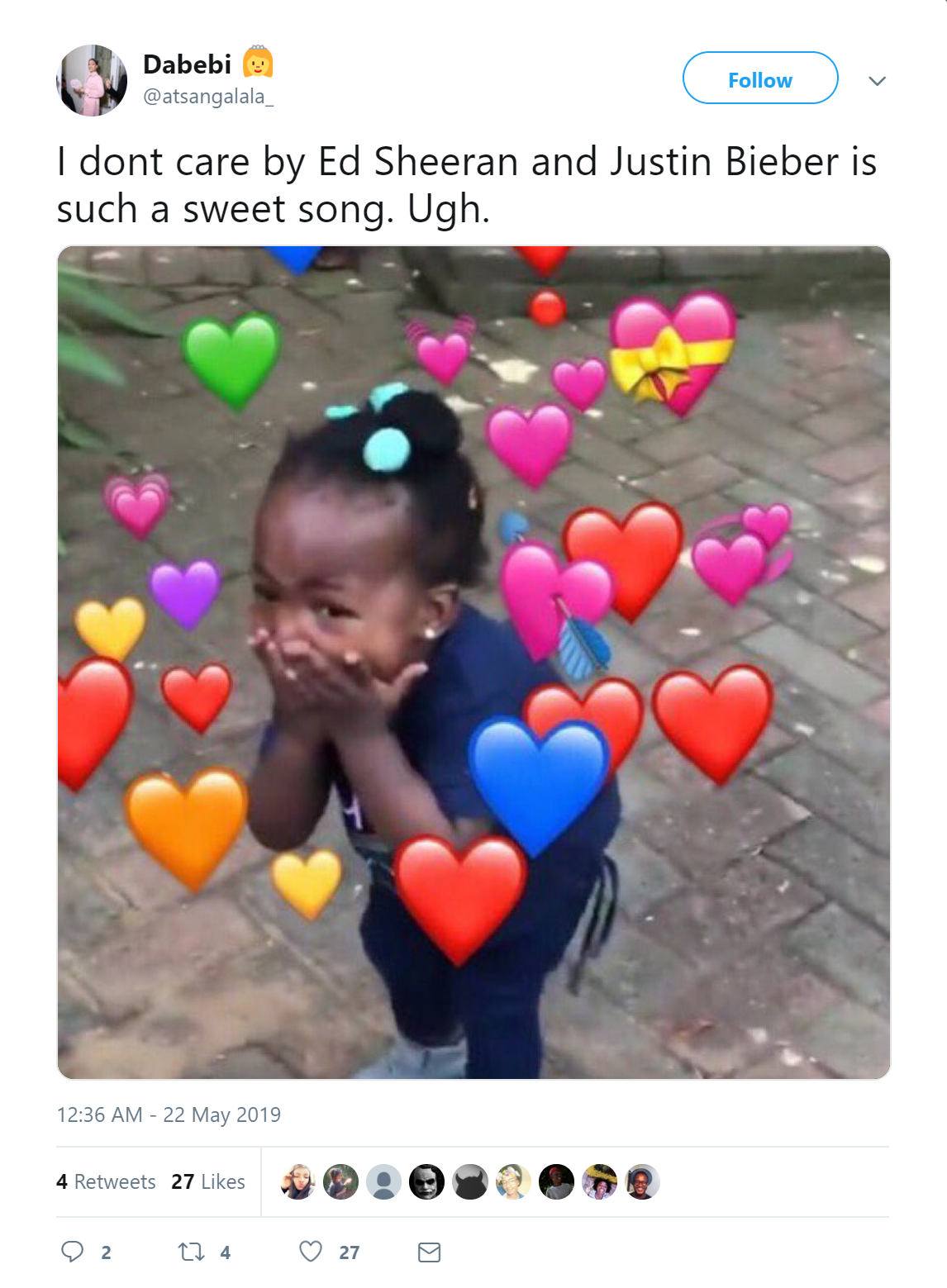 The highly anticipated collaboration between Ed Sheeran and Justin Bieber has finally arrived and has led the charts from the start. Wanting to know what their voices would sound like together, everyone jumped at the chance to stream this song. "I Don't Care" perfectly blends sweet words to a loved one and a beat that you can't resist. This song not only has the beat, but also shows vulnerability from Sheeran and Bieber as they share their struggles with anxiety and not fitting into the crowds. These issues impact many people daily, making this song incredibly relatable to the youth today. When this song comes on, your body starts dancing before even you know it. Lucky for us, Sheeran's 6th Collaborations Project set to premiere early July giving you just enough time to perfect those dance moves.
9. If I Can't Have You by Shawn Mendes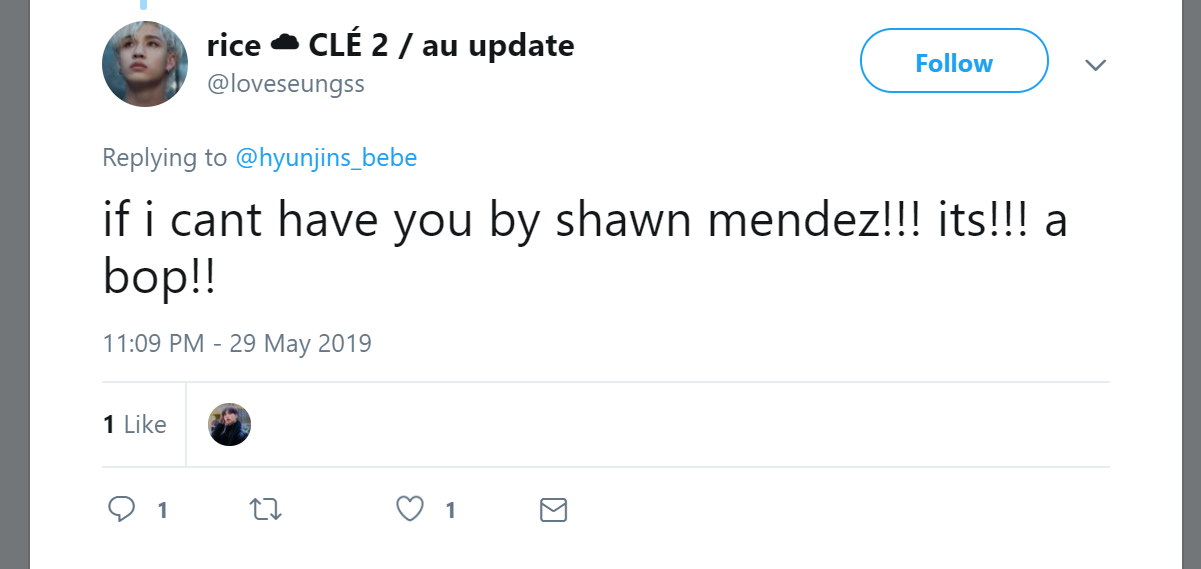 Shawn Mendes has, yet again, set a new standard for men around the world. "If I Can't Have You" not only has lyrics that would make anyone blush, but also includes a chorus that can make someone break the repeat button. Mendes released this single just in time for the summer, making it completely appropriate to grab your sunscreen bottle and start belting out along to it. The song begins with static noise until the chorus breaks three seconds in. This introduction catches you immediately and keeps you hooked throughout the song. Between the intense guitar pieces throughout and the softer melody towards the end, this song has it all. Men take notes.
10. Look What God Gave Her by Thomas Rhett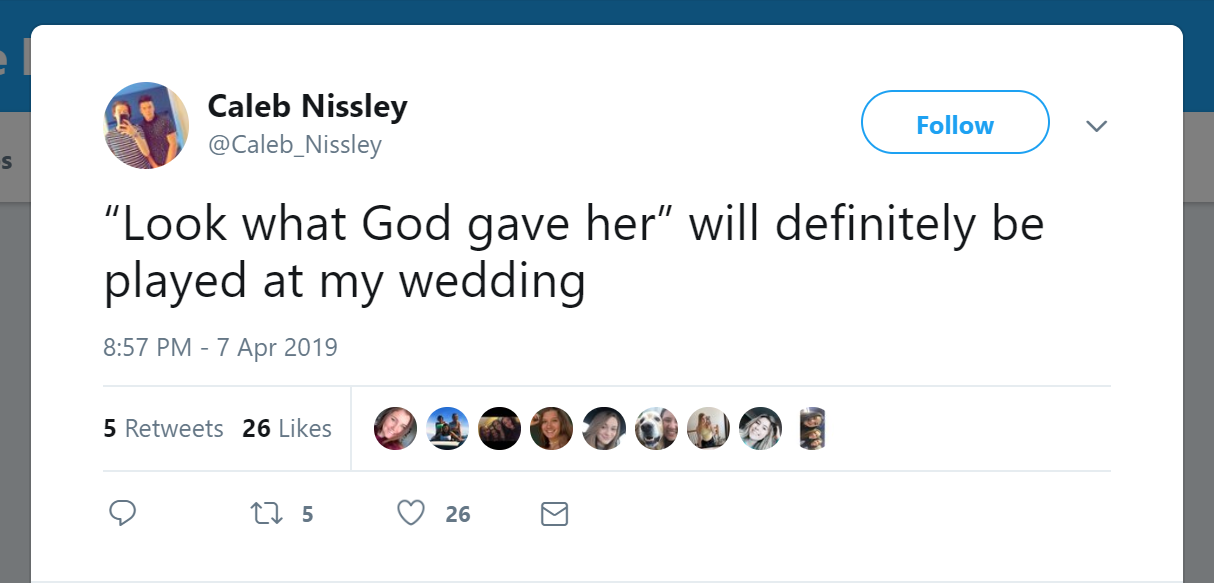 Lauren Atkins, Thomas Rhett's wife, gets the luxury of waking up every morning knowing that Rhett wrote these words for her. In Rhett's latest album, Center Point Road, "Look What God Gave Her" has soared to the top of the charts, making every woman jealous. To no surprise, Rhett released this song to go alongside "Die a Happy Man" and "Marry Me." However, he comes at this one with a much more upbeat style. Country rarely makes the top of the charts but with summer soon approaching, this song mixed with love, fun and desire has made its way to becoming a summer anthem.
11. Talk by Khalid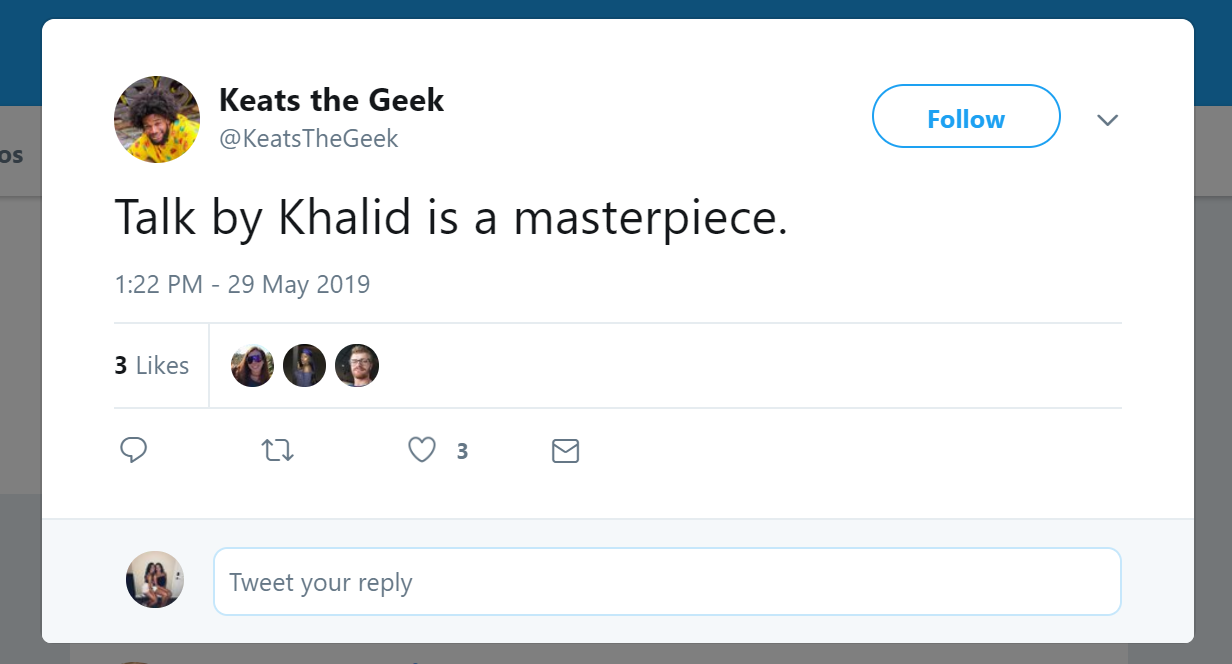 Just four words sparks an anxiety attack in you: "can we just talk?" Khalid's relaxed vibe and smooth falsetto notes, however, make this conversation bearable. This all began back in February when Khalid released his album Free Spirit, featuring songs "Saturday Nights", "Better" and more. "Talk" possesses a slower, mellow beat, making it ideal for those late summer drives. Rolling down the windows and opening the sunroof has never felt more right than during those summer nights with Khalid.
12. Beer Never Broke my Heart by Luke Combs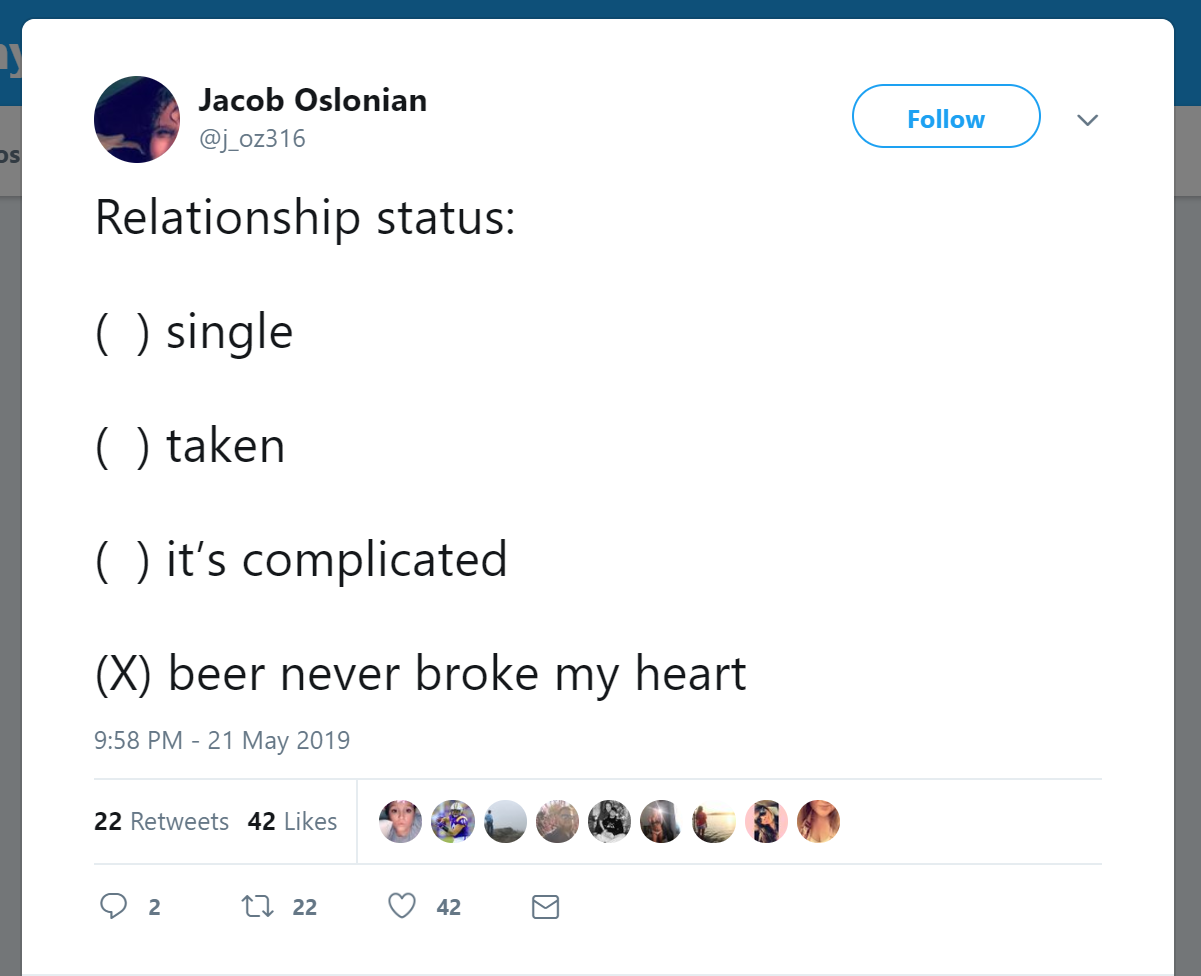 Another country song makes its way to the top of the charts this summer with a story line most of us can, unfortunately, relate to. After a while in the making, Luke Combs has finally given the people what they wanted. The introduction breaks with an electric guitar run and drum solo. You'll instantly get pumped up and ready to get revenge on your ex and embody the independent person inside of you. Combs encourages you to focus on what you can rely on and to keep those things close. Looking for a summer song to get you out of your feelings? "Beer Never Broke My Heart" supplies the rock we want with the lyrics we need.
13. Old Town Road (Remix Billy Ray) by Lil Nas X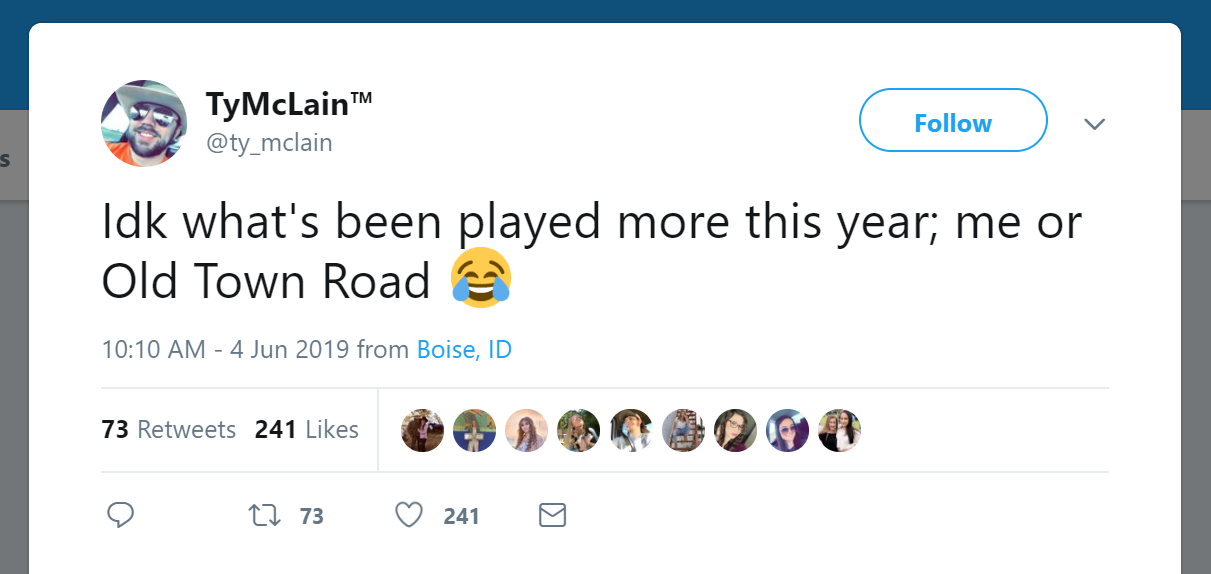 A single that has taken the world by the reigns. "The Old Town Road" remix has topped the charts since April and shows no plans of stopping. Taking two genres that most people wouldn't dare mix, this song combines country and rap into a surprisingly booming rock song. No more butterfly kisses for Billy Ray as he nails his solos wearing his "cowboy hat from Gucci." With this song having an incredibly catchy beat, even people in cities dream of taking their horses out. But if you don't have a horse, just roll down all the windows and blast that "Old Town Road" to your heart's content.
14. Bad Guy by Billie Eilish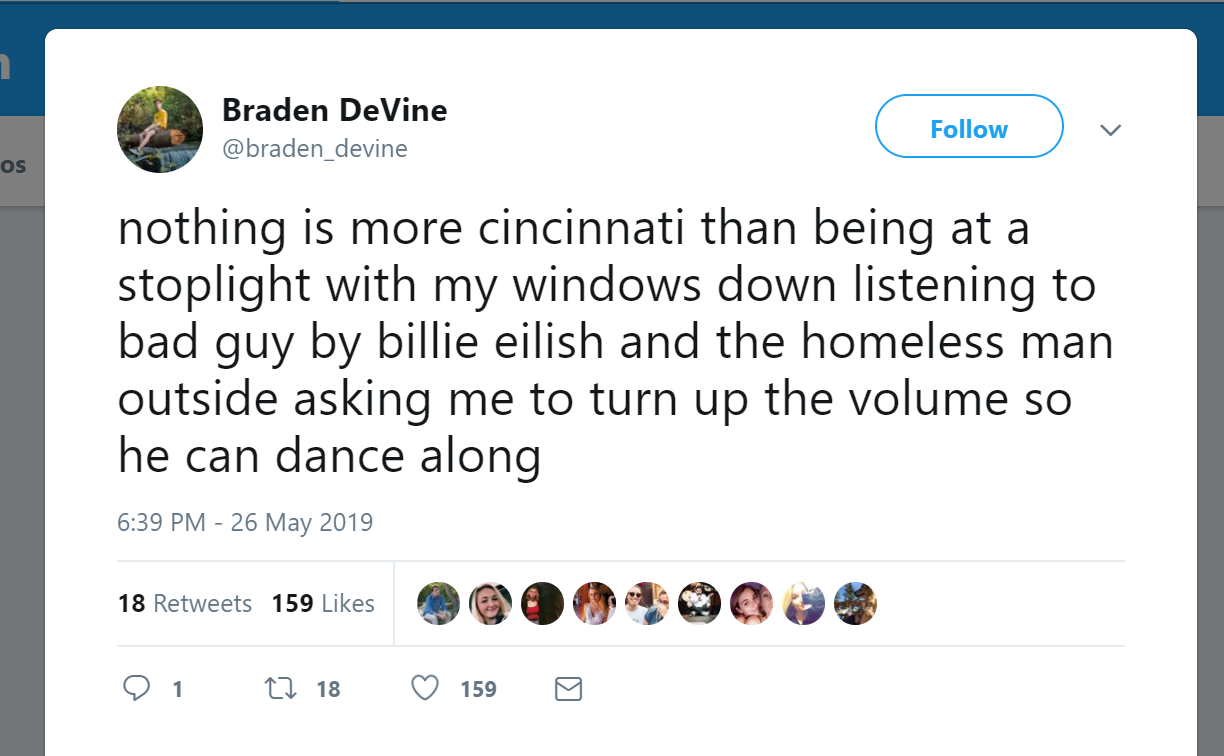 Billie Eilish has brought something unlike anything we've heard on the charts. "Bad Guy" has become one of the hottest songs of 2019 despite its dark subject matter. Listeners have fallen for the varying beat, the crazy sound effects and the dark humor in the lyrics. The song switches up at the end with a surprising beat drop that slows the tempo and brings out a much grittier side of Eilish. People spend lifetimes searching for the door to their inner dark side, and Eilish just gave them the key. This summer, don't date the bad guy; become the bad guy.
15. ME! (feat. Brendon Urie of Panic! at the Disco) by Taylor Swift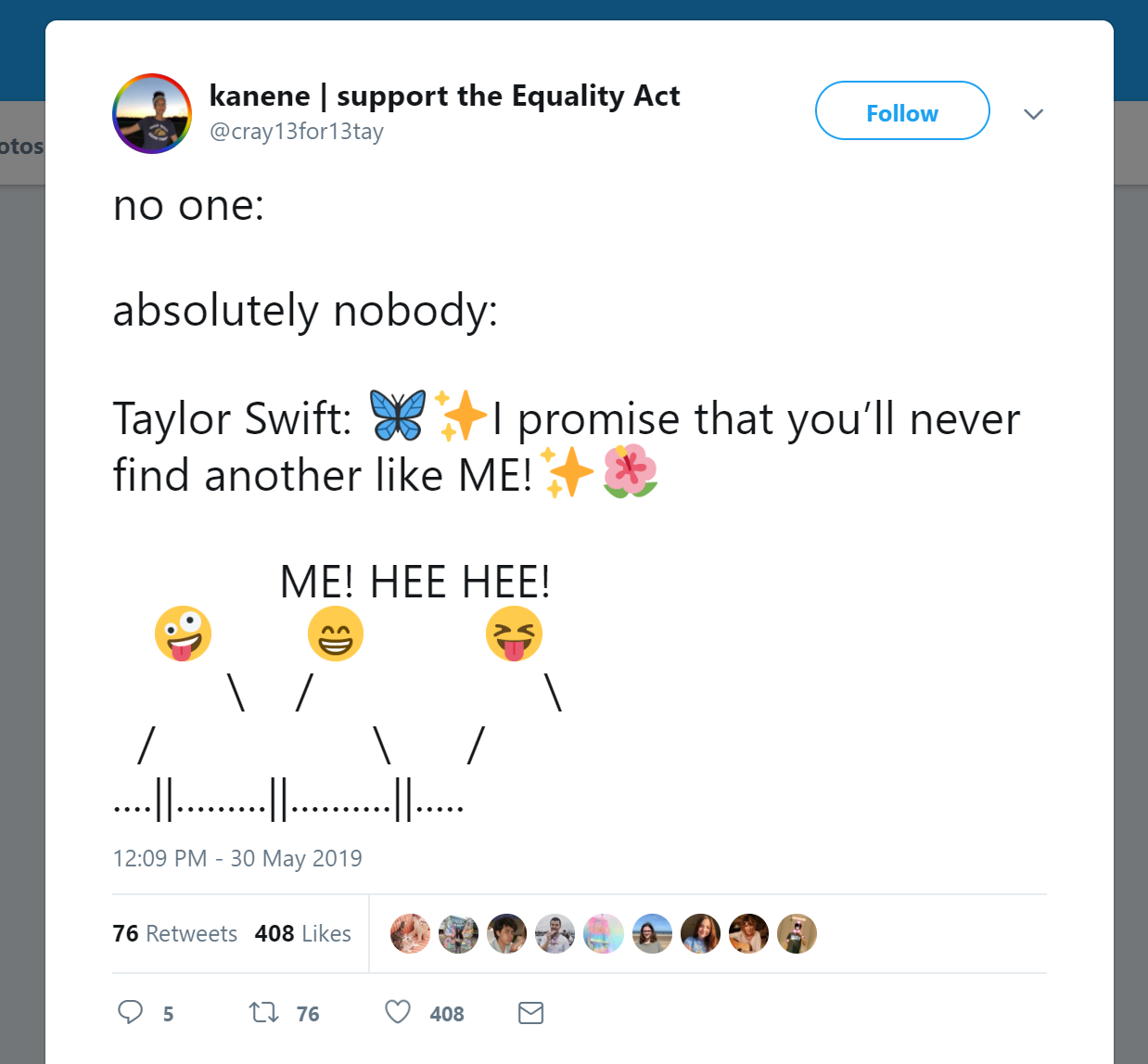 Brendon Urie and Taylor Swift do not immediately come across as a natural pair but after ME!s' release, it seems the two have more in common than once thought. Urie's higher octave compliments Swift quite well as they harmonize throughout the song. "ME!," consisting of repetitive notes, spelling and confidence-boosting lyrics, helps remind you who you are. Whether you can rock a pastel suit like Swift or not, this song can make any ex rethink their decision. Don't shy away from cranking this song up and expressing your uniqueness, your singleness and your creativity.