Imagine my panic when UCLA finally sent me my roommates' email addresses a month before move-in day. Believe me, I was determined not to be the first one to make contact. But then a few days went by and I heard nothing from them. That made me more than a bit anxious.
I wouldn't say I'm shy. I just dread introductions to new people, particularly if I have to share the same space with them for an entire school year. My determination to forge a good relationship with my roommates probably led to my panic and ultimately, my downfall.
What better way can you win over two strangers you're fated to live with than with some fearless dry humor? I assure you, any other way is better. Learn from my mistakes. If you were considering it, don't. The subject line of my email read: "Dear UCLA Roommates." The body of the message read, "I call top bunk." That was it.
I did sense an inkling that this might be a bad idea. But I didn't let that stop me from pressing "send." I figured, worst case scenario, I would get some amusement out of it and my roommates will think I'm crazy. That's exactly what ended up happening.
My first roommate did courageously respond with a polite request to take the loft bed. The second chose silence. As I should've anticipated, either the joke went over their heads, or they didn't particularly appreciate it. Go figure.
Three weeks of silence followed. Surprisingly though, it wasn't the stress filled silence one would expect. Those three weeks were the most wonderfully tranquil I experienced in the months leading up to the big move to Los Angeles.
I didn't take any pleasure in freaking out my roommates-to-be. Instead, I took comfort in the fact that I couldn't possibly have made their first impression of me any worse. It would've taken immense skill to escalate the situation further. I was hopeful it was not skill even I could possibly posses.
I set the bar extremely low for myself. For some reason it seems easier to convince people you're not a crazy bitch if you've already shown yourself to be one.
I probably should've messaged them again sooner but three weeks allowed me to gather the strength to reintroduce myself properly. More importantly it gave me time to gather the intel I needed to prove I wasn't insane by thoroughly Facebook stalking my roommates.
I gotta say—I'm very glad I did because somebody (presumably a friend) posted a totally unrelated article on one of their walls. This very amusing piece described a girl who'd sent a list of obnoxious demands to her roommates via email, one of which claimed top bunk. This sounded a little too familiar. While I may have read too much into it, I couldn't ignore the suspicion that the article might've been a reference. I realized it was probably a tad cruel to let someone worry about possibly living with a hellish brat for so long.
To assure them of my sanity, I sent a long heartfelt message. I also made sure to apologize in case I caused any unnecessary concern. Aware that I was slightly pressing my luck, I couldn't help but add that while my email was intended humorously, I'd still appreciate getting the top bunk.
They were very sweet about it. What a huge relief. When I finally met my roommates, despite confessing their initial intimidation, they showed no sign of any negative preconceptions. By some heavenly miracle, we actually hit it off really well.
We've gotten quite close over the months that we've lived together. Though vastly different people, those very differences actually make us an awesome team. When the holidays rolled along, and decorations started popping up on our neighbors' doors, ours definitely stood out as less conventional. We each celebrate a different holiday, so my roommate crafted a menorah-wielding paper dragon wearing a Santa hat. We still haven't taken him down. Oh, and his name is Stanley.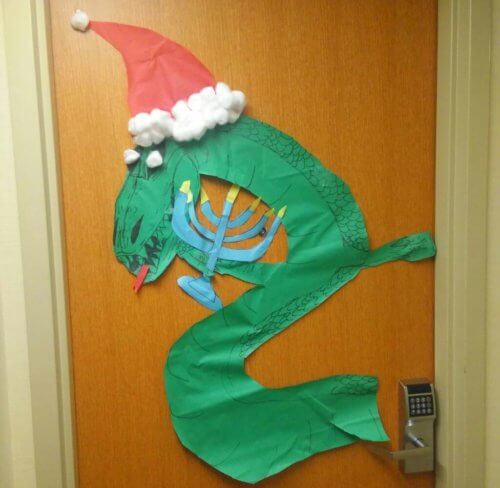 I feel very blessed to have them. They are two of the kindest, and funniest people I'd ever met. UCLA wouldn't be nearly as awesome without them. With that said, knowing they might be reading this, I sure wouldn't mind if they left the AC at reasonable temperatures. Or is it still too early for text-based online dry humor?
Honestly, I admit I don't regret it. I certainly wouldn't recommend this method to the faint of heart, or to anyone for that matter. Not every stranger is quite as gracious as my roommates. But for me, that email served as a wake up call. Your future roommates likely fear you just as much as you do them.
Besides, it worked out fine. I even got top bunk.