Have you ever seen the movie Princess Bride? Remember that one scene with the sword fighting? Yeah? That's fencing. Many people may not know about fencing as a sport. Some people probably haven't even heard of it. But it's actually an Olympic sport. Many, many countries participate in fencing, and they even hold a yearly World Championship. Fencing takes just as much hard work and skill as other popular sports like football and tennis. It takes sacrifice and dedication, but lucky for you, I have a guide. I interviewed some of the best fencers in the country and the world, and they gave their best tips for becoming a world-class fencer. Reading this article, you might find yourself becoming interested in the sport, and maybe you can become a world-class fencer.
Read on to learn some tips on how you might become a world-class fencer yourself:
1. You have to truly love it
Many fencers exist in this world. Some of the American competitions have thousands of fencers. Yet you'll find very few at the top. Why? What separates them? One of those things is passion. In order to become a world-class, top-of-the-top fencer, you must truly love the sport. Becoming a world-class fencer takes sacrifices.
"You will develop faster if you're passionate about fencing and love the sport," Member of the Kuwait National Fencing Team Sultan Hassan said. "There's a difference between being interested in fencing and liking fencing and truly loving it."
When it comes to fencing, you should expect to spend at least four days a week training. The more serious you get about the sport, the more you will need to train. If you don't really love the sport and don't feel the passion, you will burn out very quickly. Burnout is very common amongst athletes, but if you love fencing, you can get through the burn-out faster.
2. Discipline
Becoming a top-level athlete proves difficult for many reasons. One of the hardest parts is discipline. You'll find it easy to take a day off because of tiredness or laziness. Not everyone can show up every single day, even when they don't want to. And when it comes to fencing practices, the practices tend to run extremely long, you get very hot under the uniform and you'll experience many different parts to the practices.
"I had to work out on top of my practice schedule," Three-time member of the USA World Team Skyler Liverant said. "I've been training at least four times a week since I was nine years old. There were many times I didn't want to go, or I wanted to do more fun things, but I just did it because I knew I had to."
---
Fencing is the kind of sport where you have to work extra in order to truly succeed. In the competition, the bouts you fence are stressful. Sometimes victory can come down to a final touch, where the score is 14-14 tied and it feels very intense. Not only do you have to work out consistently, but you have to do footwork, mental training and countless fencing bouts during practice. You name it! In order to do all of these things, you have to stay disciplined. You may get tired, but you need to find a way to push yourself every day. That's how you make it to the top.
3. Flexibility, cardio, endurance
The best fencers are the ones who are all-around flexible. The fastest ones can remain super active for long periods of time. From the outside, it may seem confusing. Why do you have to be flexible and good at cardio to become a world-class fencer? For many reasons.
"My coach made me do splits every practice to make me flexible. The more flexible, the better the lunges are," Puerto Rico World Team member Alejandro Toro said. "And cardio is really important because the more you move, the better you will be."
In a fencing bout, you will find yourself moving for three minutes straight. No breaks. And the more you move in the bout, the more you can fake your opponent out. The more you can fake your opponent out, the more chance you have at winning. Having good stamina and endurance remains crucial in order to succeed as a fencer. To get better stamina, cardio exercises like running or jumping rope are your best friend.
4. Create a goal to work towards
When you just go through the motions with no goal in mind, the motions you do become useless. It's one thing to show up, but it's another thing to actually work. Sometimes when we get tired or burnt out, we might still show up to practice, but that doesn't mean we're giving it our all. A way to prevent this and keep your practice productive? Have active goals.
"Some of my goals were improving my rating and ranking and then qualifying for the national team," USA National Team member Donavyn Martinez said. "They might seem like dreams, but you can turn those dreams into reality."
Dreams are good because dreams push us to improve. They make us keep going when times get rough. In order to be a top-performing athlete, you have to keep goals for yourself. If you're training just to train, you will get nowhere. Always know what your next step is. And work for it.
---
5. Always listen to your coach
As an athlete, you might not always agree with everything your coach says. I remember when I first started fencing, I disagreed with a lot of what my coach said. Like when my coach would tell me to practice instead of hanging out with friends. Or when he made me stay hours after practice to continue working. In the moment, things like that may get under your skin. But you have to remember your coach knows best.
"Open your ears and close your mouth. Listen to what the coach has to say, and don't complain about it. They're doing you a favor," USA National Team member Ariel Ratsap said.
At the end of the day, your fencing coach wants you to do your best. If they're hard on you, that means they think you can do great things. It means they respect you. You don't have to listen to everything they say, but the more you listen and do the training they give you, the better you will get. No one will push you harder than your coach.
6. Learn to be mentally strong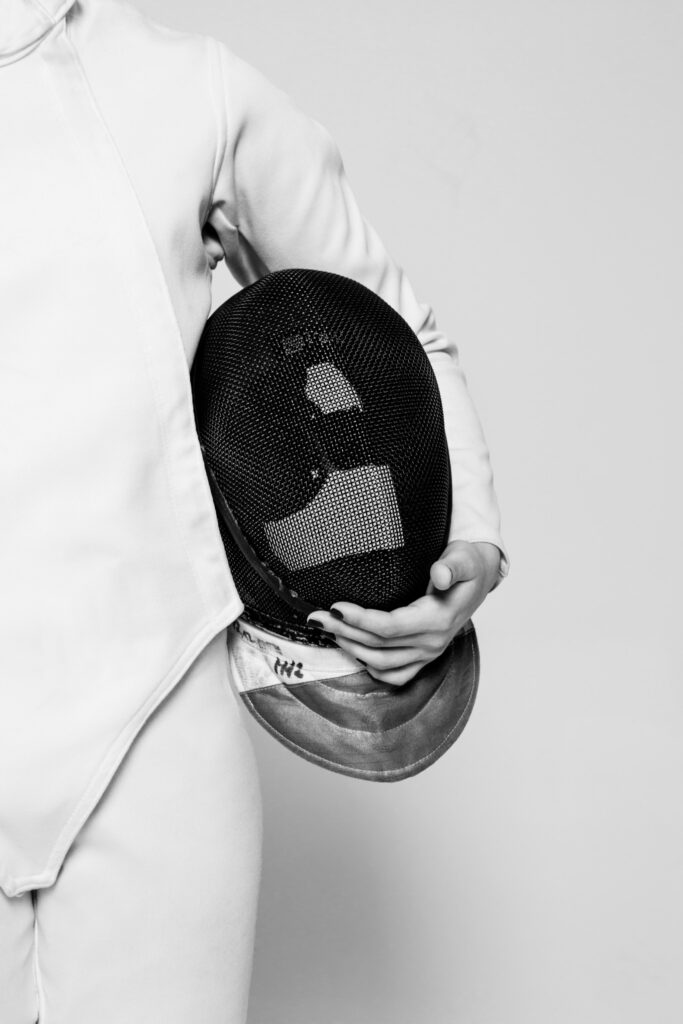 Any top-performing athlete can tell you how mentally excruciating it can be. Fencing is a very mentally draining sport. Fencing can take a turn for the worst very quickly. Each competition is the luck of the draw, and there are times you could do really well against your opponent in the preliminary rounds and get stuck with someone more difficult in elimination. It's a sport that is very unpredictable, where there's a new person winning every single time. To become the top and reach the international level, you can't let one bad day get you down. Obviously, you'll have bad days, but if you let them change your mentality and control your drive, you won't make it to the top level. You'll notice similarities in all the top fencers. They all work immensely hard, they're all driven and fit. So, what separates them? Their mentality. The mentality separates a good fencer from a great fencer.