Within the heart of Texas, the sibling cities of College Station and Bryan play home to the main campus of Texas A&M University. The pair offers up small-town charm with southern hospitality and plenty of places for students under the age of 21 to hike and play, soak up culture, take in sporting events, spend time with friends and unwind. Although Texas A&M plays a dominant role in the area, students find plenty of things to do both on and off campus.
Check out the list below for 21 things to do in College Station and Bryan, Texas if you're under the age of 21:
1. Mount Aggie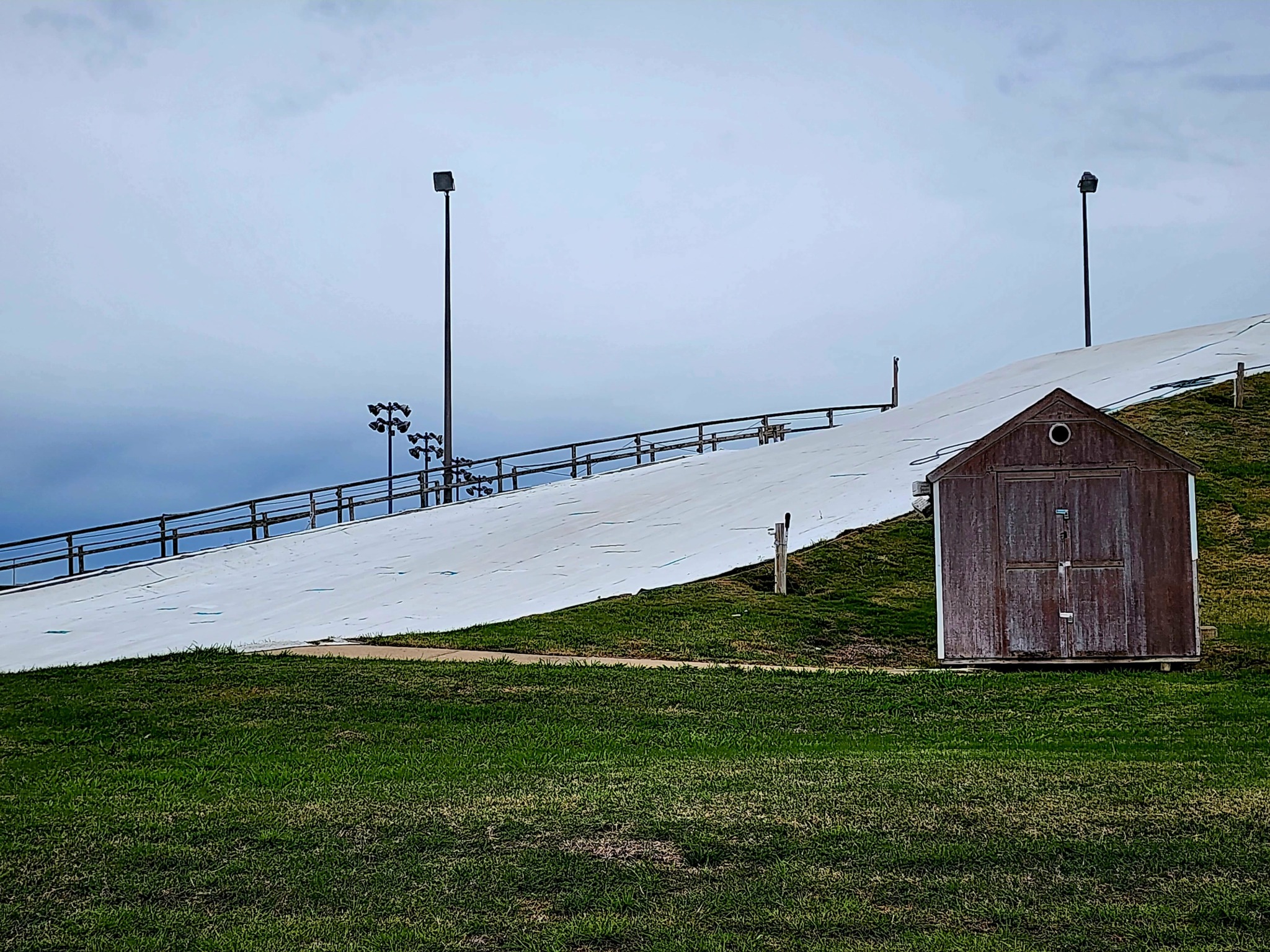 Need a chill? With a subtropical climate, College Station is an unlikely place to find much in the way of winter sports. Lows for the winter months dip down to the 40s. Rarely does College Station see snow and ice. Summers are hot and humid, with highs reaching mid-to upper-90s. That said, it holds a truly unique attraction.
"It may sound strange, but there's a ski slope in College Station called Mount Aggie," Texas A&M graduate Matthew Requa said.
Requa refers a 130-foot artificial ski slope located on the Texas A&M campus. The A&M Department of Health and Kinesiology uses the slope to teach skiing basics. No, there's no snow on the slope. Instead, the slope uses a material called SnowSport Extreme, which is kind of a cousin to astroturf. With the SnowSport Extreme watered down, students ski and snowboard down Mount Aggie and earn street cred for doing one of the coolest things in College Station.
2. Whataburger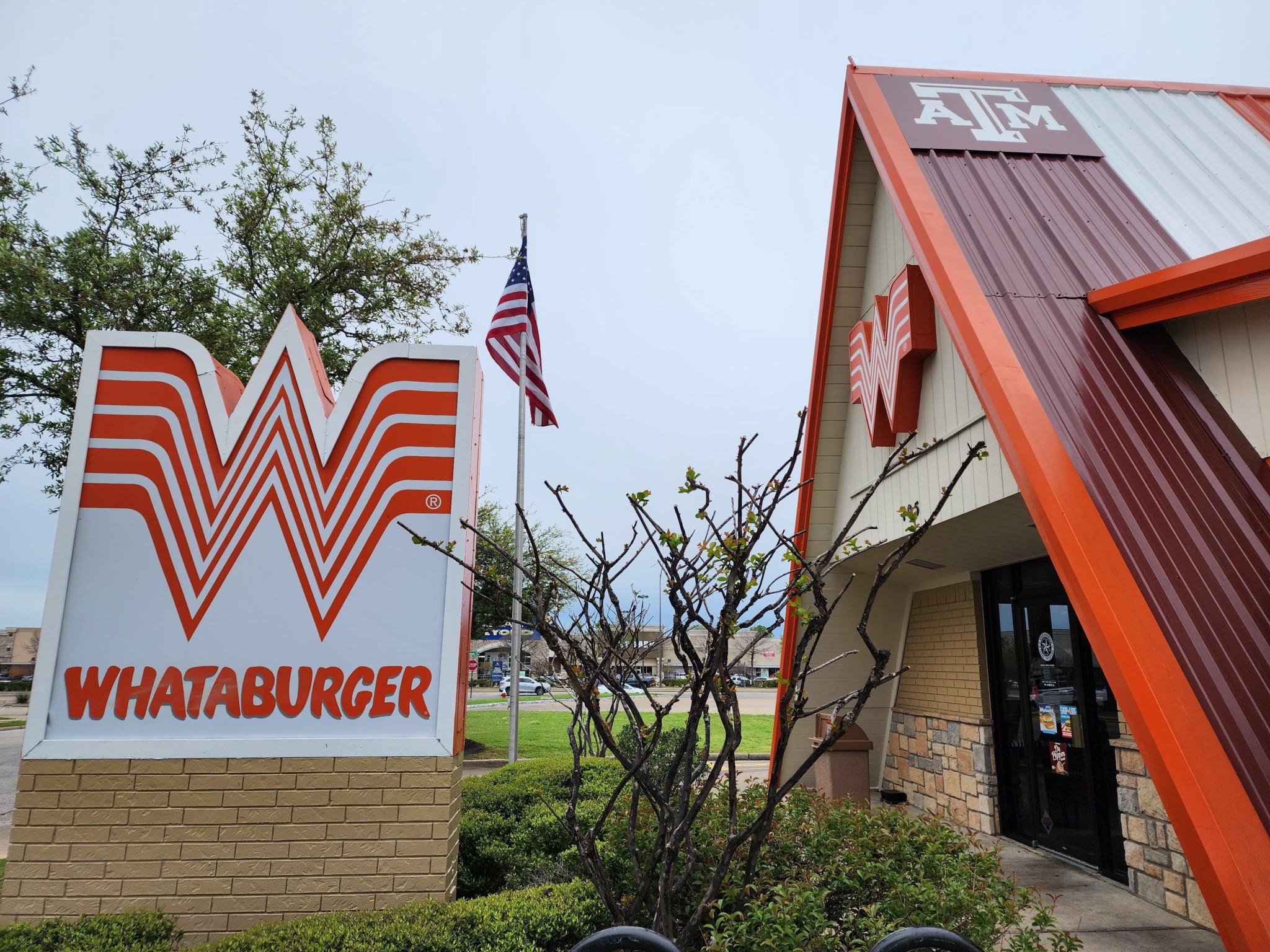 Tried a breakfast taco? Did you know that Texans can eat tacos at all three meals? Texas' favorite hamburger chain, Whataburger, also serves up a breakfast taco called a taquito. The classic taquito comes with a flour tortilla, egg, bacon and cheese, but you can also get yours with egg and sausage or egg and potato. If you're not a fan of breakfast tacos, Whataburger also offers pancake platters, honey butter chicken biscuits, breakfast on a bun and other hot items. But you really should try a breakfast taco to get the full Texas experience.
3. Aggie Park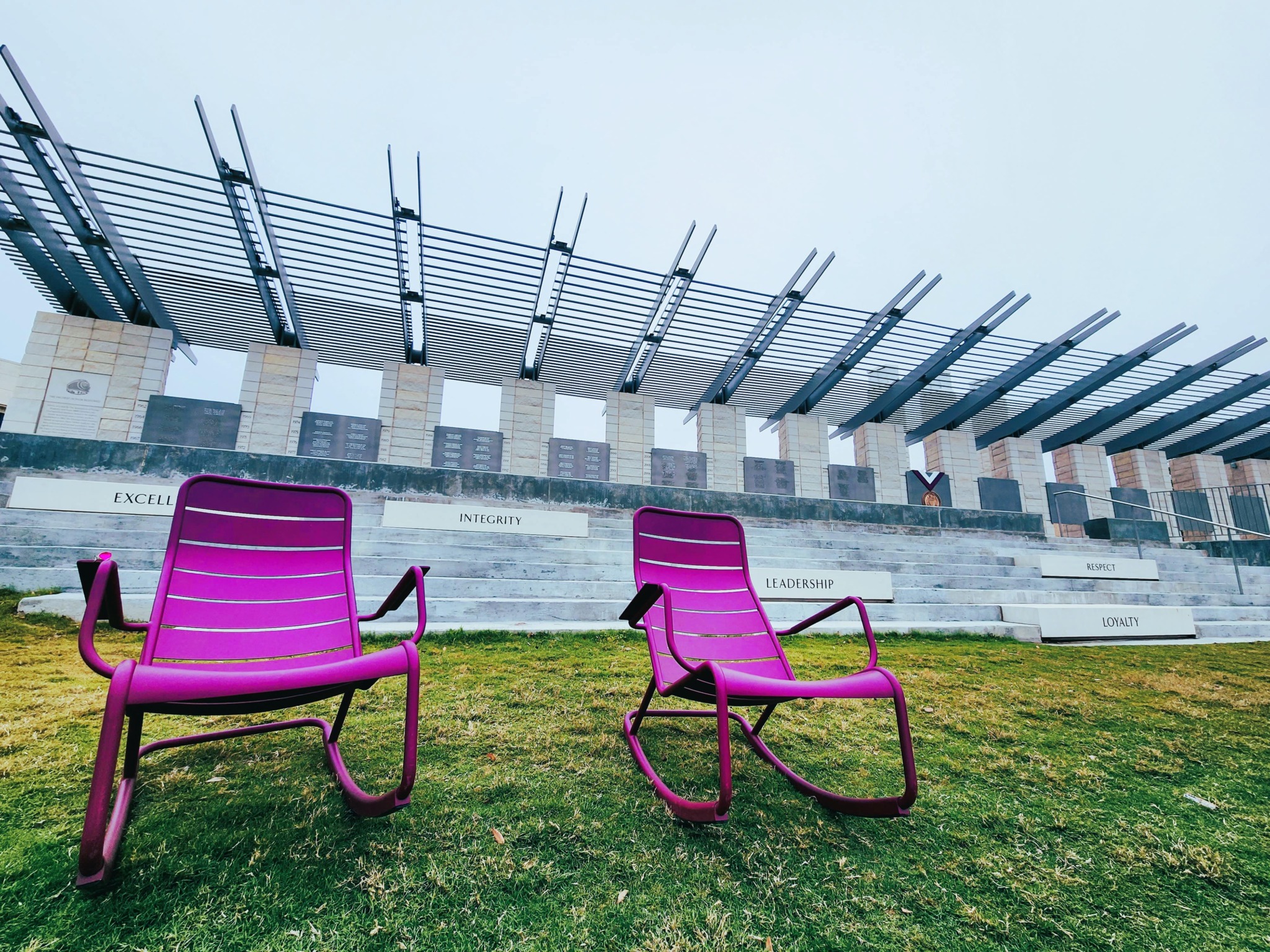 Need to study? Texas A&M carved out 20 acres in the heart of its campus to create a space for study, relaxation, tailgating, recreation and entertainment for both students and visitors. Aggie Park includes walkways, water features and a giant ring that is perfect for Aggie senior ring photos. Plans for Aggie Park include an amphitheater, WiFi, a food service facility and space for food trucks. A&M alum Robert Earl Keen performed a free concert at the park's amphitheater to kick off its 2022 opening.
4. G. Hysmith Skate Park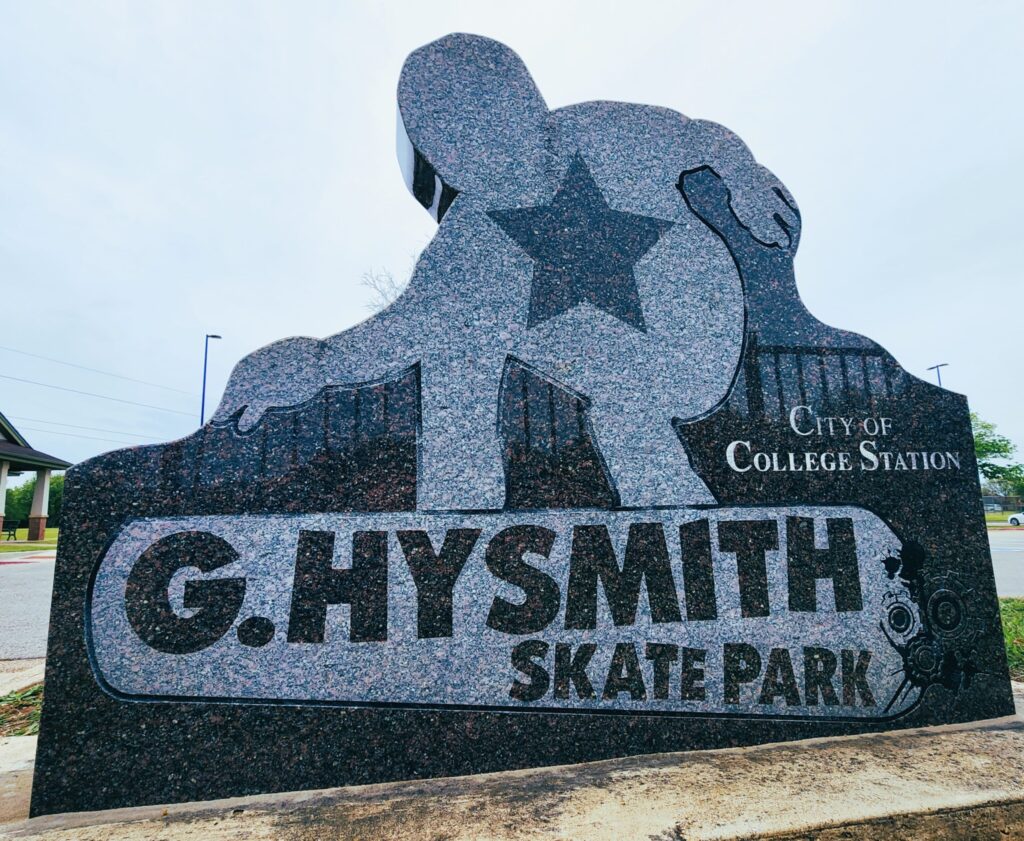 Wanna drop-in? Skateboarders of all levels find room for fun at G. Hysmith Skate Park. Local skateboarders provided input for the design of the park named for a young cancer patient who lost his battle. The park features both street and transitional components. The street path boasts stair sets, banks, handrails, ledges and gaps to challenge all enthusiasts. The park also includes two bowls— one with a large downhill and the other replicating a swimming pool. There's something for spectators too— water fountains, a shaded patio and benches.
5. Spirit Ice Arena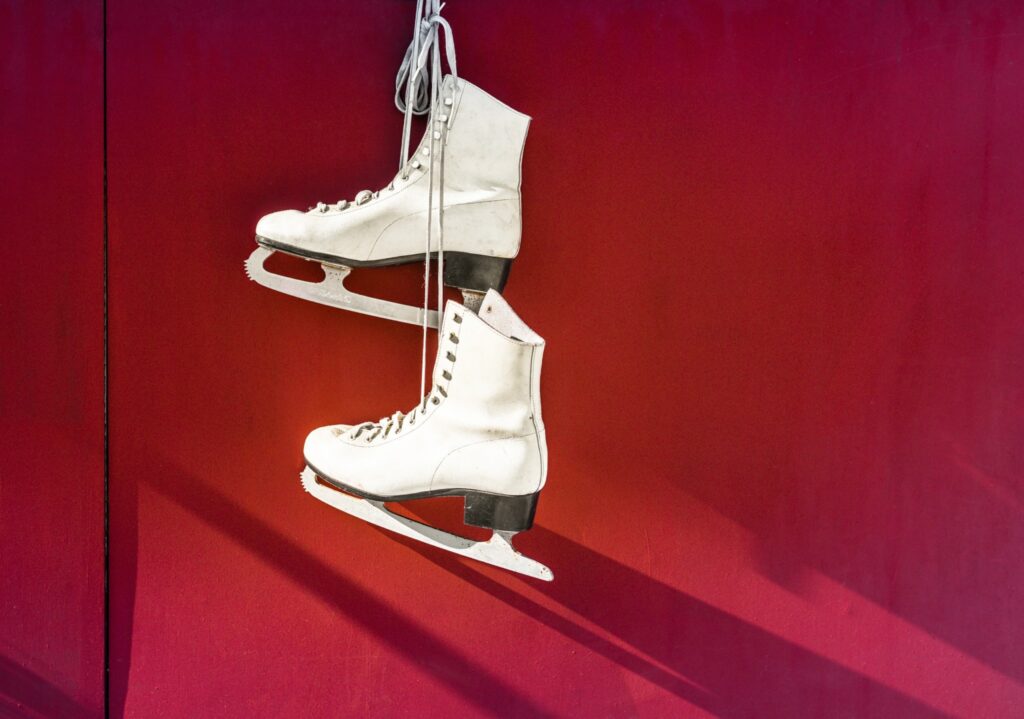 Looking to cool down? Given the heat in central Texas, it's nice to know that places like Spirit Ice Arena exist. Offering a place for ice skating and hockey, this indoor rink provides welcome relief and fun for locals and college students alike. The arena offers ice skating lessons as well as public skating hours, so college students can hit the ice to learn something new, hang out with friends or have a cool date. The Texas A&M hockey team calls Spirit Ice Arena home, and students can also try their hands at league play. For those not quite up to strapping on ice skates, the arena also offers broomball.
6. Stella Southern Café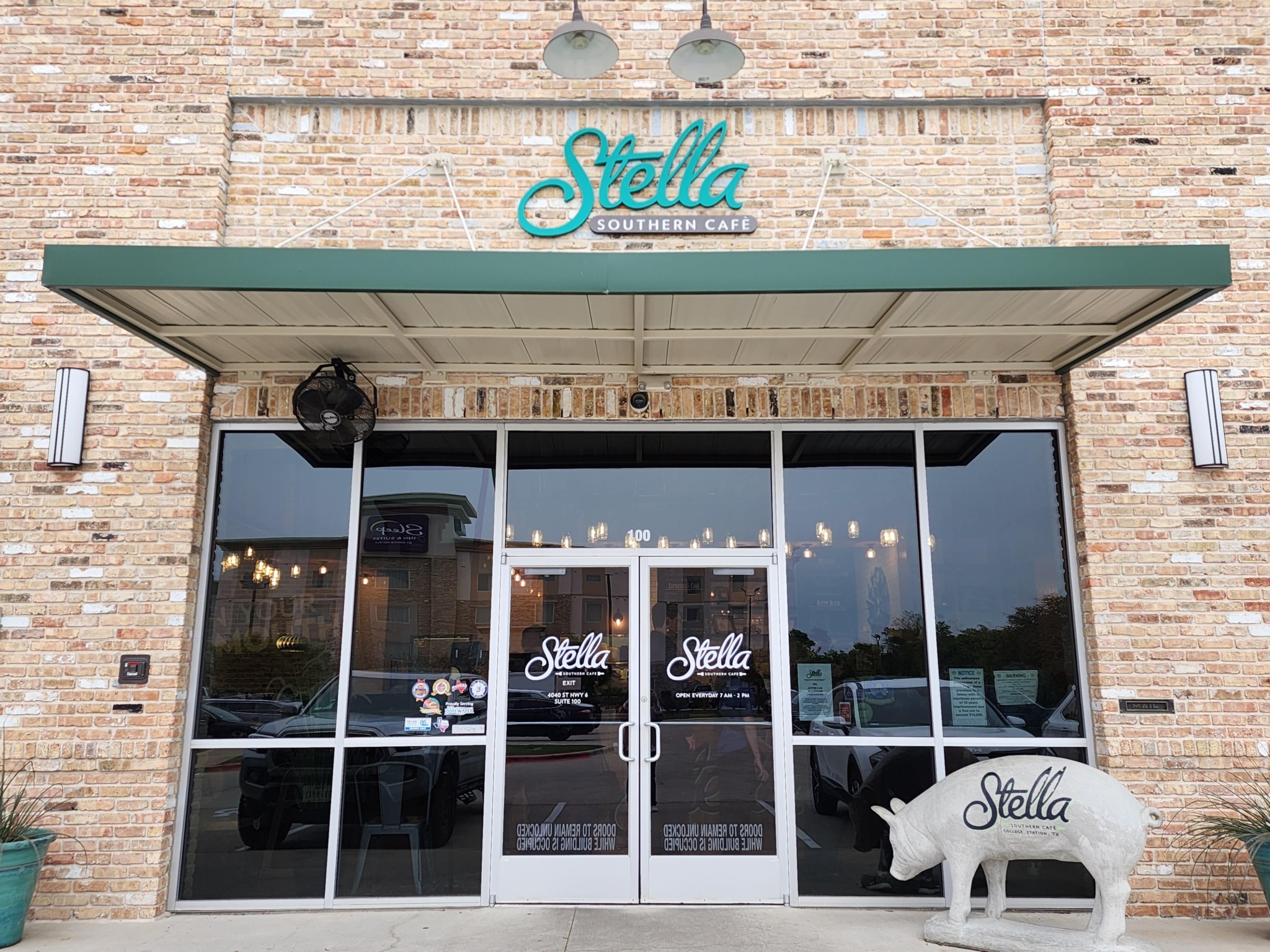 Feeling hungry? Love southern-style food made from scratch using local ingredients? Count us in. Serving breakfast, brunch and lunch, Stella Southern Café proves a great start to any day in College Station. From New Orleans-style beignets to biscuits and gravy, this restaurant built by Texas A&M graduate Michael Lair and his parents scratches the itch for a down-home southern-style breakfast. The wonderful menu and the attention to hospitality make Stella a great place to take your own parents when they come to town for a visit.
7. George H.W. Bush Library and Museum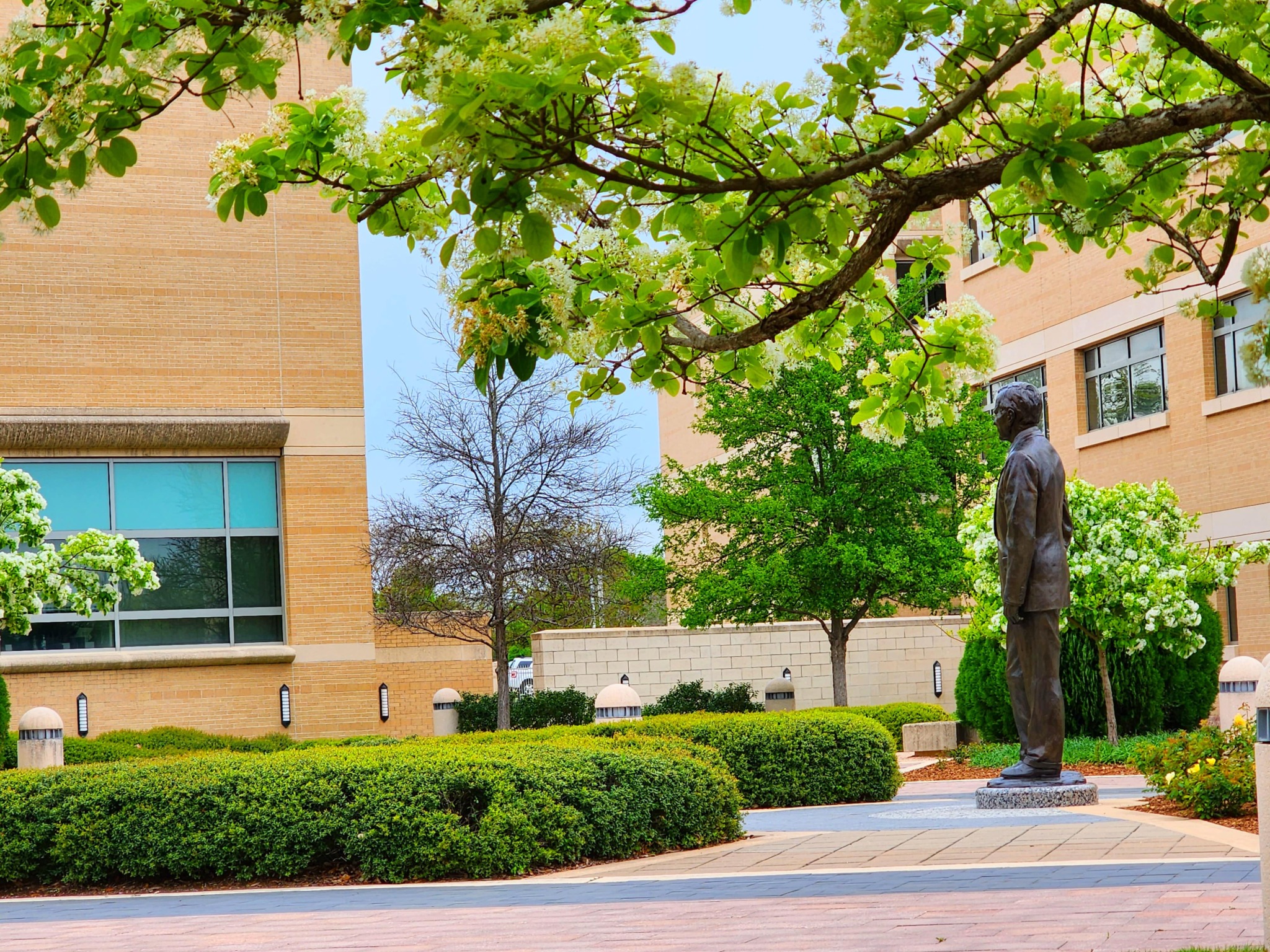 Feeling presidential? The George H.W. Bush Library and Museum houses President George H.W. Bush's records and artifacts. The main exhibit space focuses on the life and times of the 41st President with interactive family-friendly educational exhibits. Highlights include replicas of President Bush's Camp David office and the White House Press Room. A replica Situation Room provides a briefing on the Gulf War. For those looking for something to do outside, the Barbara Bush Rose Garden and Presidential Pond offer lovely spaces for rest, studying, picnics and physical activities. Visitors may fish from the pond but must release anything caught.
8. Museum of the American GI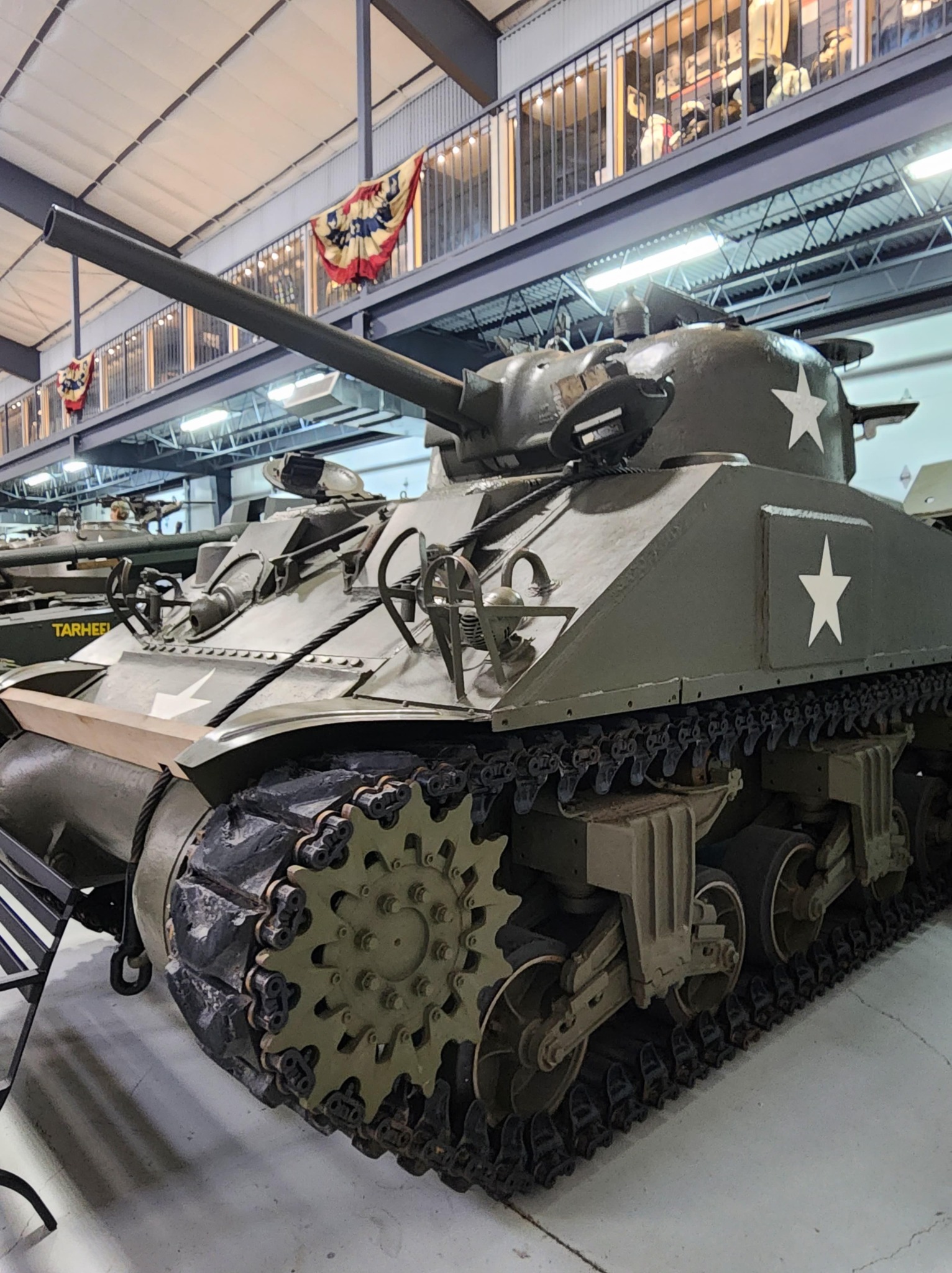 Looking for a bit of history? Just outside of College Station, the Museum of the American GI is dedicated to the preservation of the equipment, uniforms and memories of the men and women who have served in the United States military. The museum restored and made fully functional all the vehicles and equipment on display. This means that guests can see and hear the equipment move under the equipment's own power, including WWII Sherman tanks and M-18 Hellcats. The museum also hosts an amazing collection of original WWII espionage, home front, recruiting, war bond and war effort posters. An annual living weekend brings the museum to life.
9. BonAppe Tea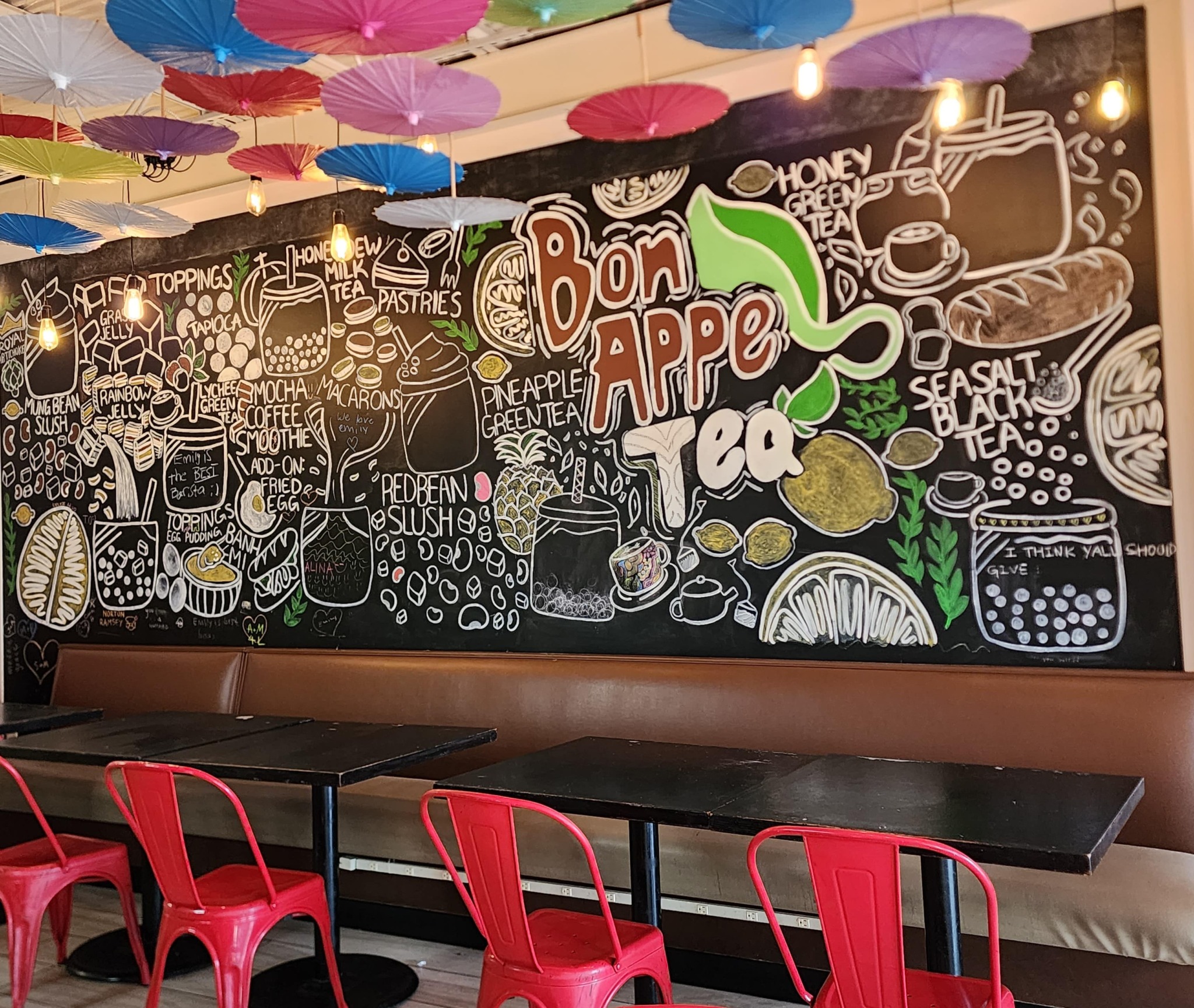 Need a break? Bubble tea, milk tea and bahn mi are just what the doctor ordered for a study break. Whether you need a pick-me-up cup of Thai Tea or a hunger-busting bulgogi beef bahn mi, try cute and quirky BonAppe Tea. BonAppe Tea also offers slushes with fun ingredients like taro and red beans and local favorites such as peach and mango. For those looking for something a little more filling than bubble tea, but less filling than BonAppe Tea's overflowing bahn mi, smoothies make the perfect choice, with options ranging from strawberry to creamy Oreo.
10. Aggie Athletics
Want to cheer? With a collegiate athletic powerhouse like Texas A&M University dominating the local environment, sports enthusiasts have much to choose from. Big-time football? Check. Excellent baseball? Check. How about basketball? Check. What about tennis, soccer or golf? Check, check and check. With over 650 student-athletes competing at the NCAA Division 1-A level varsity level, Texas A&M certainly has enough live sports for even the biggest sports enthusiast. The biggest catch is that you may need to get your tickets early for popular events.
11. Whisky Bridge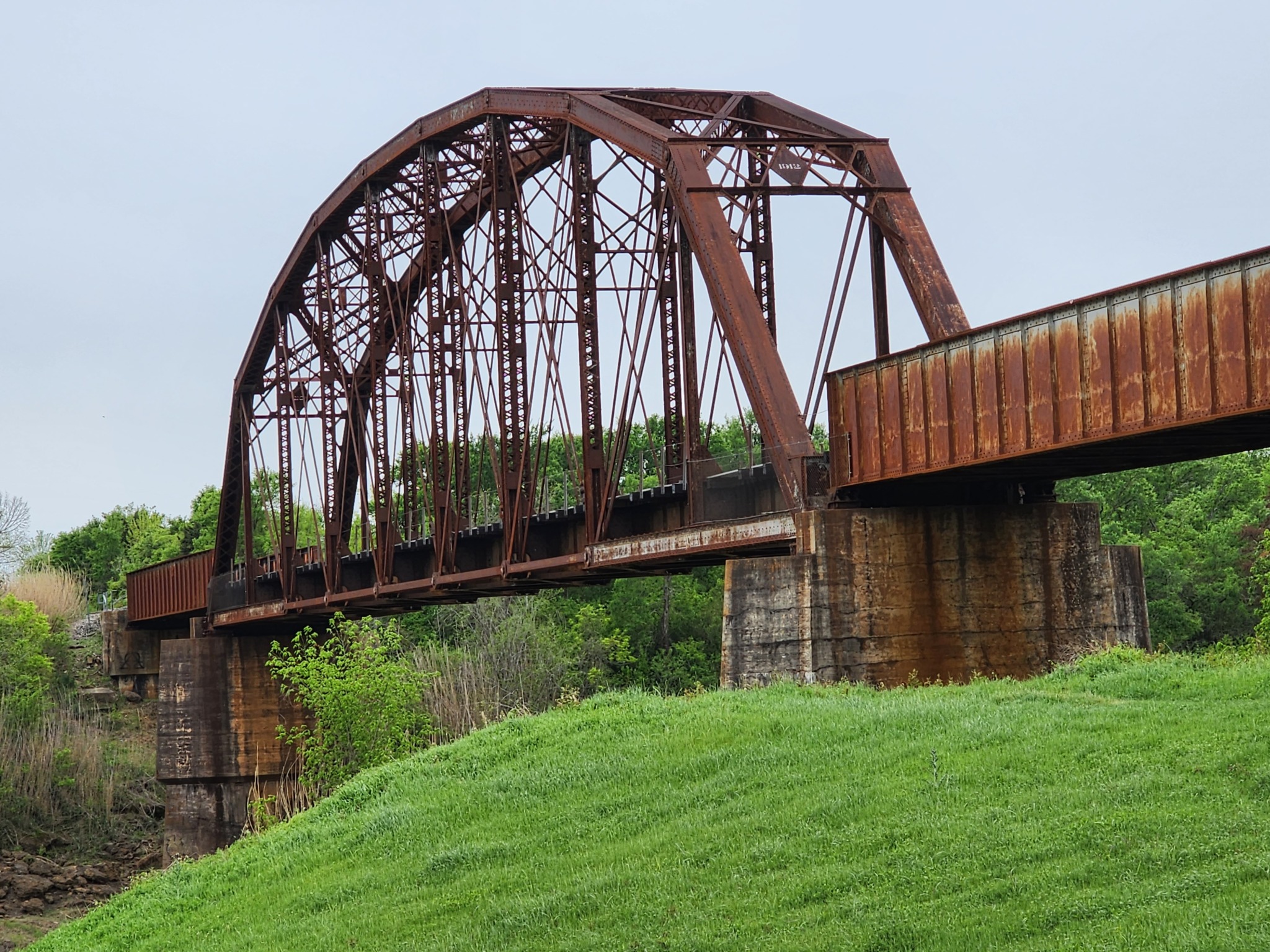 Hunting for something unusual to do? Whisky Bridge, outside of Bryan offers a unique opportunity— fossil hunting. Whisky Bridge sits over part of the Crocket Formation where Eocene-aged rocks are visible. During the Eocene period, a shallow sea covered Texas with an abundance of invertebrates inhabiting the waters. Fossil hunters have easy access to fossilized snails, clams, coral and shark teeth. Visitors should take sturdy shoes (which may get muddy), sunscreen, a trowel or a small shovel and baggies to take home newly found treasures.
12. Century Square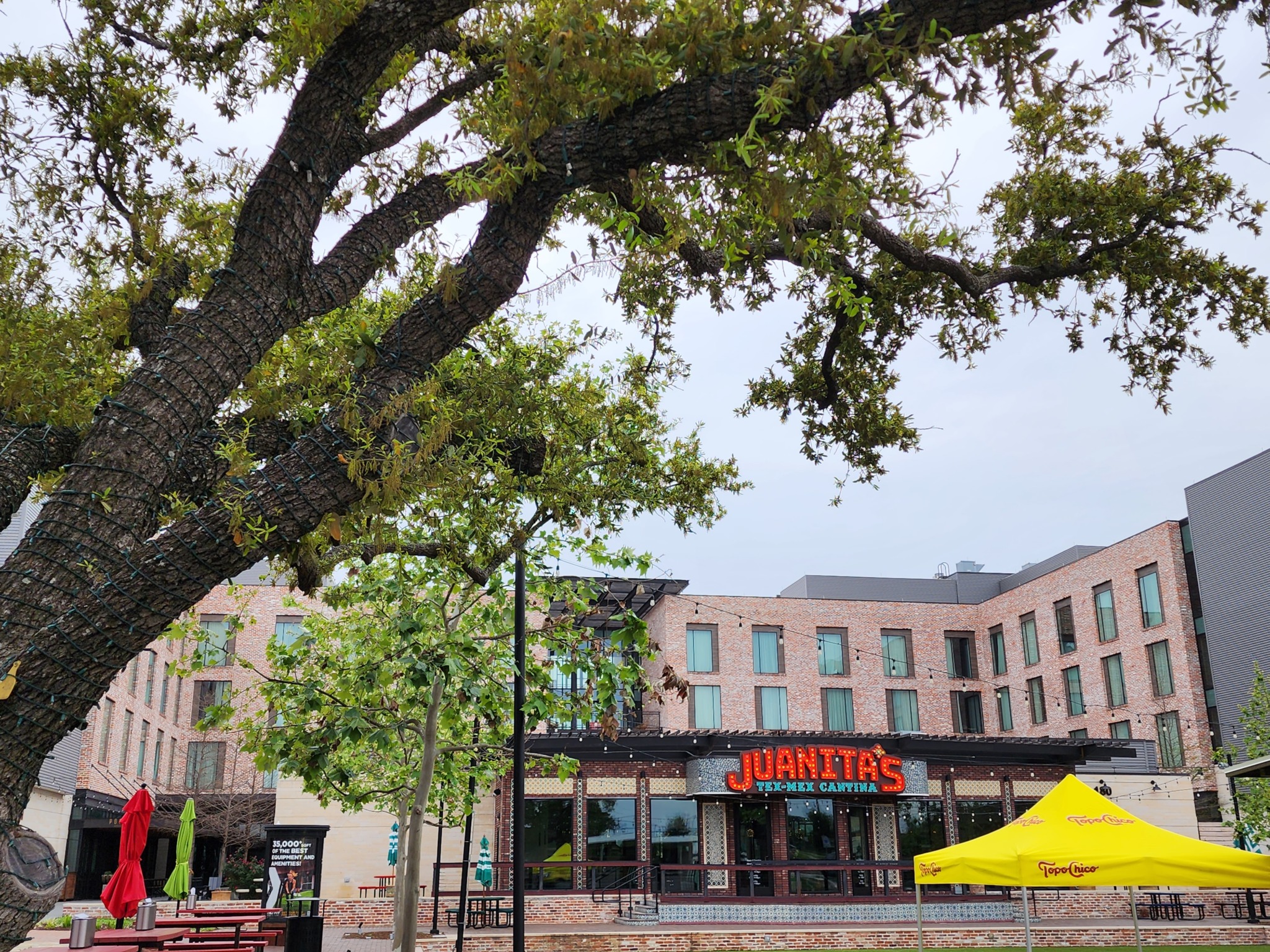 Got a date? Century Square is a multi-use center with abundant places to eat, shop and attend special events. Special events range from trivia nights to yoga time. The Texas A&M car club hosts monthly Cars and Coffee socials during the spring as an opportunity for folks to check out new and old cars and have coffee. Dining options range from Tex-Mex to Italian to burgers and pizza. Folks can also catch a movie or pick up a new pair of cowboy boots.
13. Layne's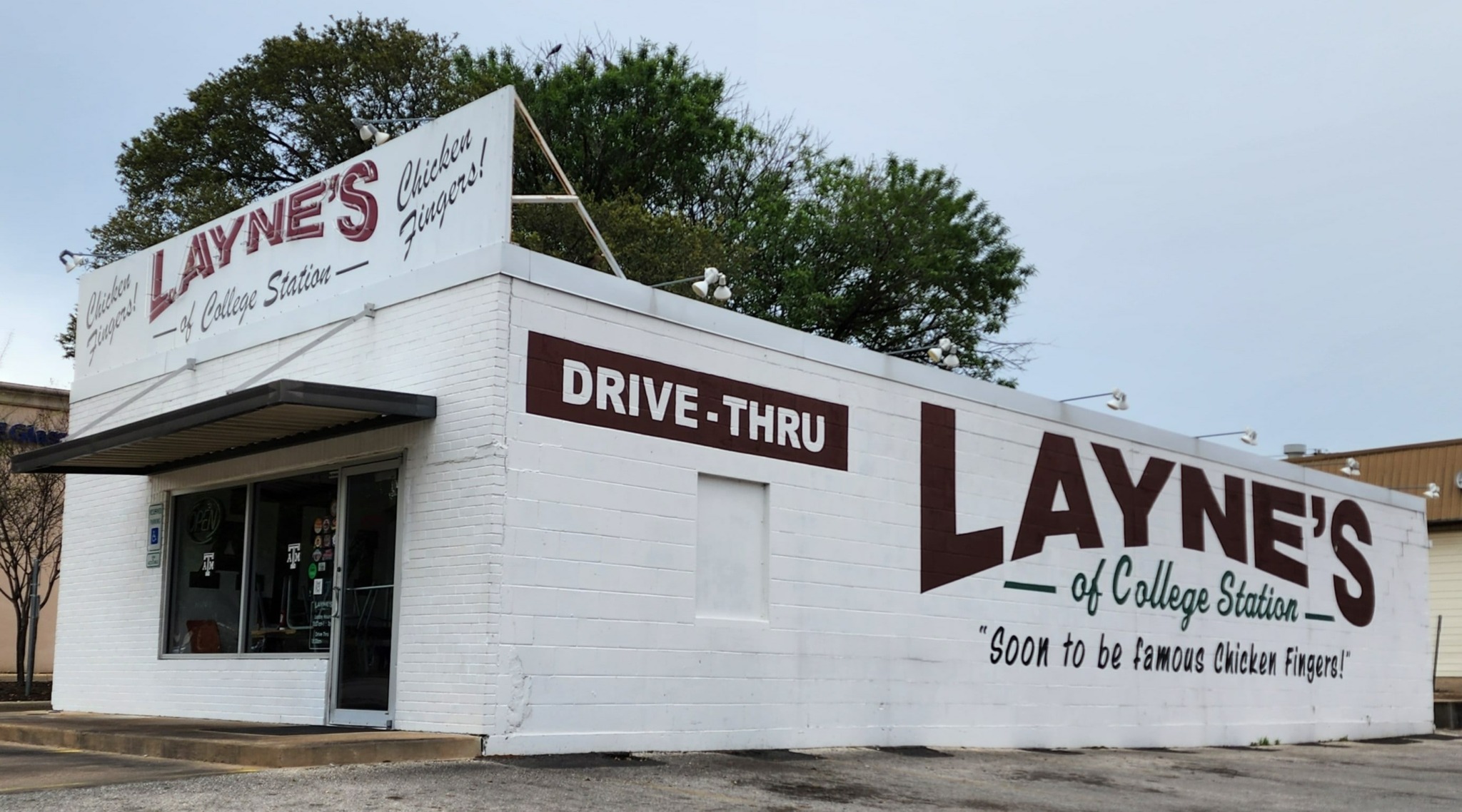 Time for lunch? The original Layne's location opened in College Station in 1994. Well known for its small-town charm and tasty breaded chicken and sauces, Layne's recently expanded beyond College Station with franchises throughout Texas, but there's nothing like checking out the original, which sits at 1301 Wellborn Drive. Diners choose from chicken fingers, chicken sandwiches, grilled cheese sandwiches, fries, Texas toast and potato salad. Be sure that you don't miss the Layne's sauce.
14. Fat Shack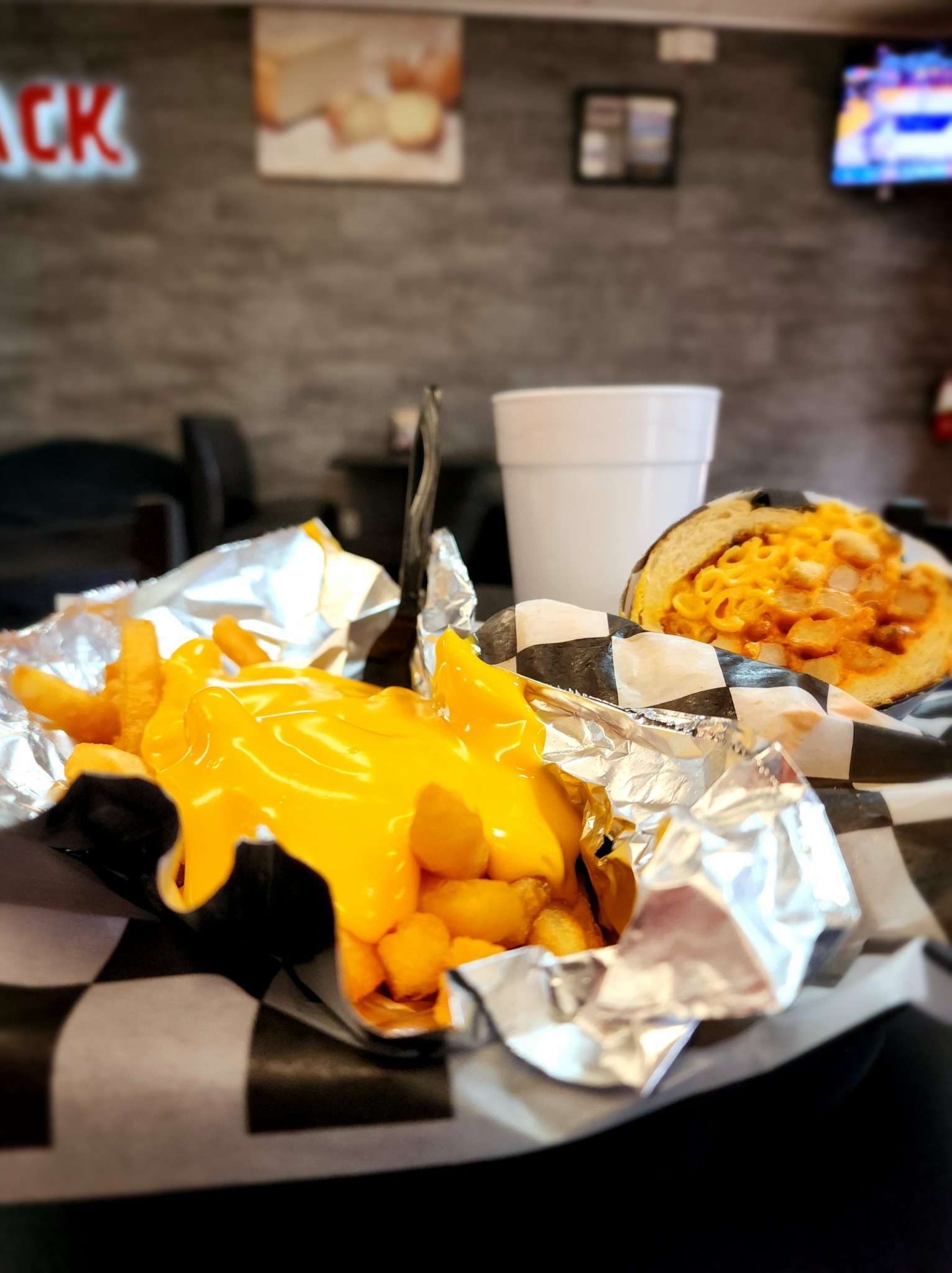 Got the munchies? The motto for the Fat Shack is "Late Night Done Right." If you didn't catch Fat Shack on the Shark Tank or simply haven't been privy to its offerings yet, you may want to take note that some of the menu items exceed the daily recommended caloric intake of 2,000 calories. That concern aside, the famous Fat sandwiches put french fries, jalapeño poppers, mozzarella sticks, onion rings or other toppings of choice onto their sandwiches. Hence the "fat" part of the sandwich. The Fat Cow, for example, includes macaroni and cheese, bacon, french fries, mozzarella sticks and buffalo ranch dressing – all on a bun. In case that isn't filling enough, diners can top off their meals with deep-fried Oreos or deep-fried Twinkies. College students appreciate the 1:00 a.m. weekday closing and 3:00 a.m. weekend closing times.
15. The Ecology and Natural Resource Area (ENTRA)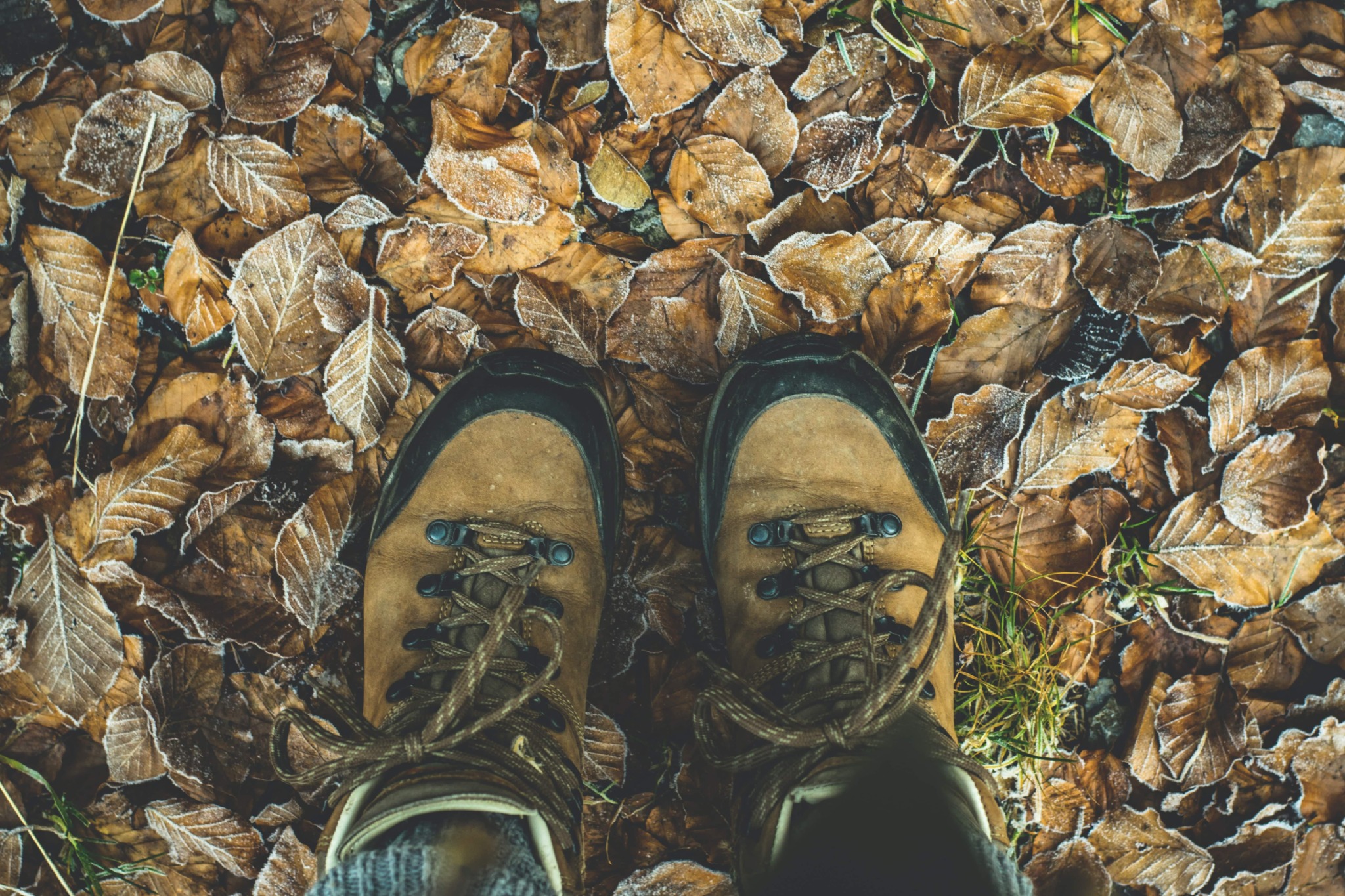 Taking a hike? For students wanting to spend some time outdoors, the Ecology and Natural Resource Area (ENTRA) offers five miles of hiking trails through various habitats. Hikers encounter wildlife such as whitetail deer and racoons and many species of birds, including ring-necked ducks migrating through during the winter and American robins and waxwings during the spring. Flowers, including the Texas state flower, the blue bonnet, enhance the various trails. Lucky hikers may run across farkleberry at the right time of year. Regardless of when, students will find something to enjoy and relax while stretching their legs.
16. The Cove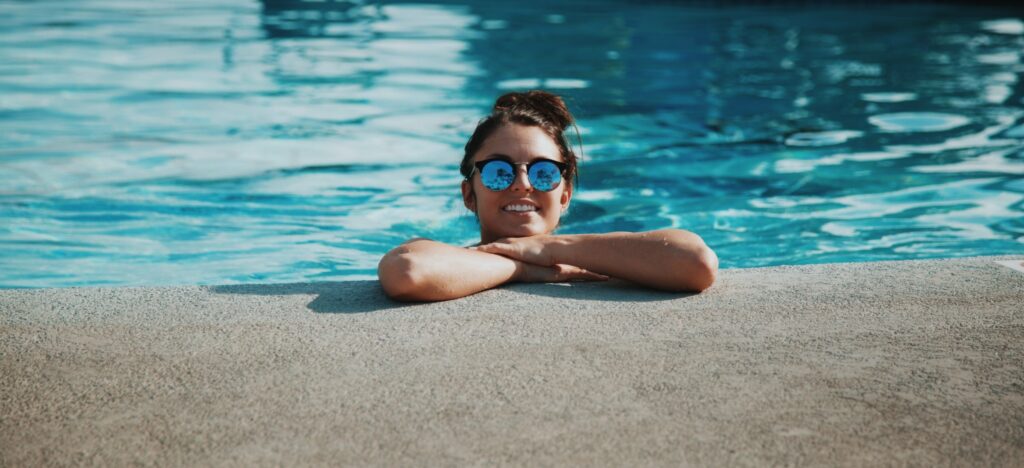 Looking for some vitamin D? The Cove is a grown-up waterpark. That means no admission for humans under the age of eighteen. But don't let that fool you into thinking that the Cove is too adult. Its Ten Commandments intend to keep the atmosphere fun and safe, regardless of age. Folks can kick back on the lazy river, spend some time playing lawn games or hop up to the challenge of wakeboarding. Non-alcoholic drinks are available, and the menu splits itself into "pizza" and "not pizza," so visitors can fill their bellies as well as get their Vitamin D fixes.
17. Grand Station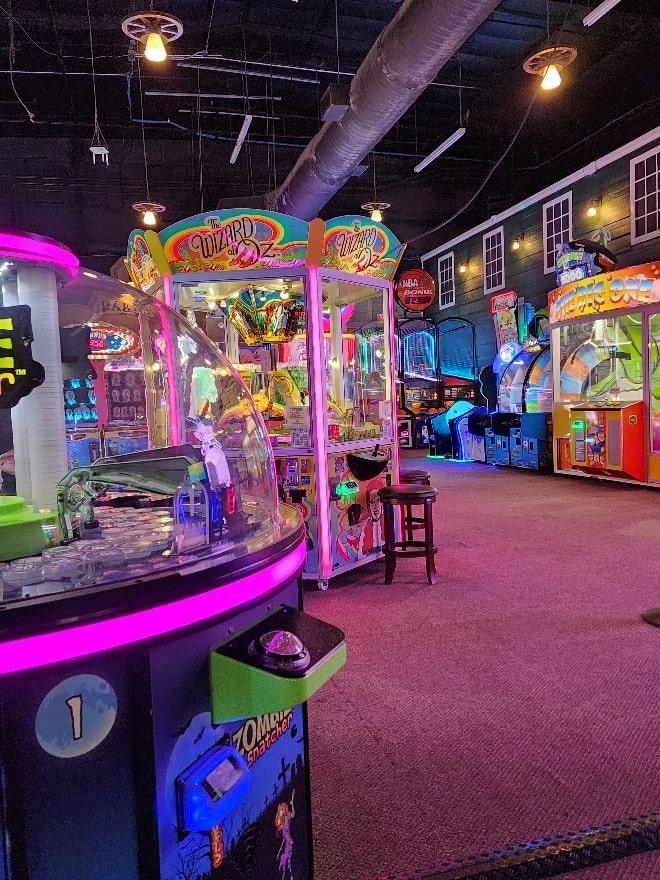 Can't decide what to do? When you and your friends want to go out and don't want to do the same old thing, multi-experience locations can be just the ticket. Maybe you and your friends like to challenge each other to epic air hockey battles or pinball. Or, perhaps you have a birthday to celebrate. Grand Station may be just the place for you.
"When my friends and I can't decide what to do, we go to Grand Station where we can bowl, play arcade games and throw axes," Texas A&M junior Will Buckleair said.
Indeed, Grand Station offers a wide variety of amusements. Guests choose from bowling, axe throwing, laser tag, arcade games, mini golf and more. Menu options for hungry guests range from shareables such as chips and queso and bacon cheese fries to entrees such as wings, nachos and burgers. Open late on the weekends, Grand Station provides a destination for friends or dates.
18. Live Oak Archery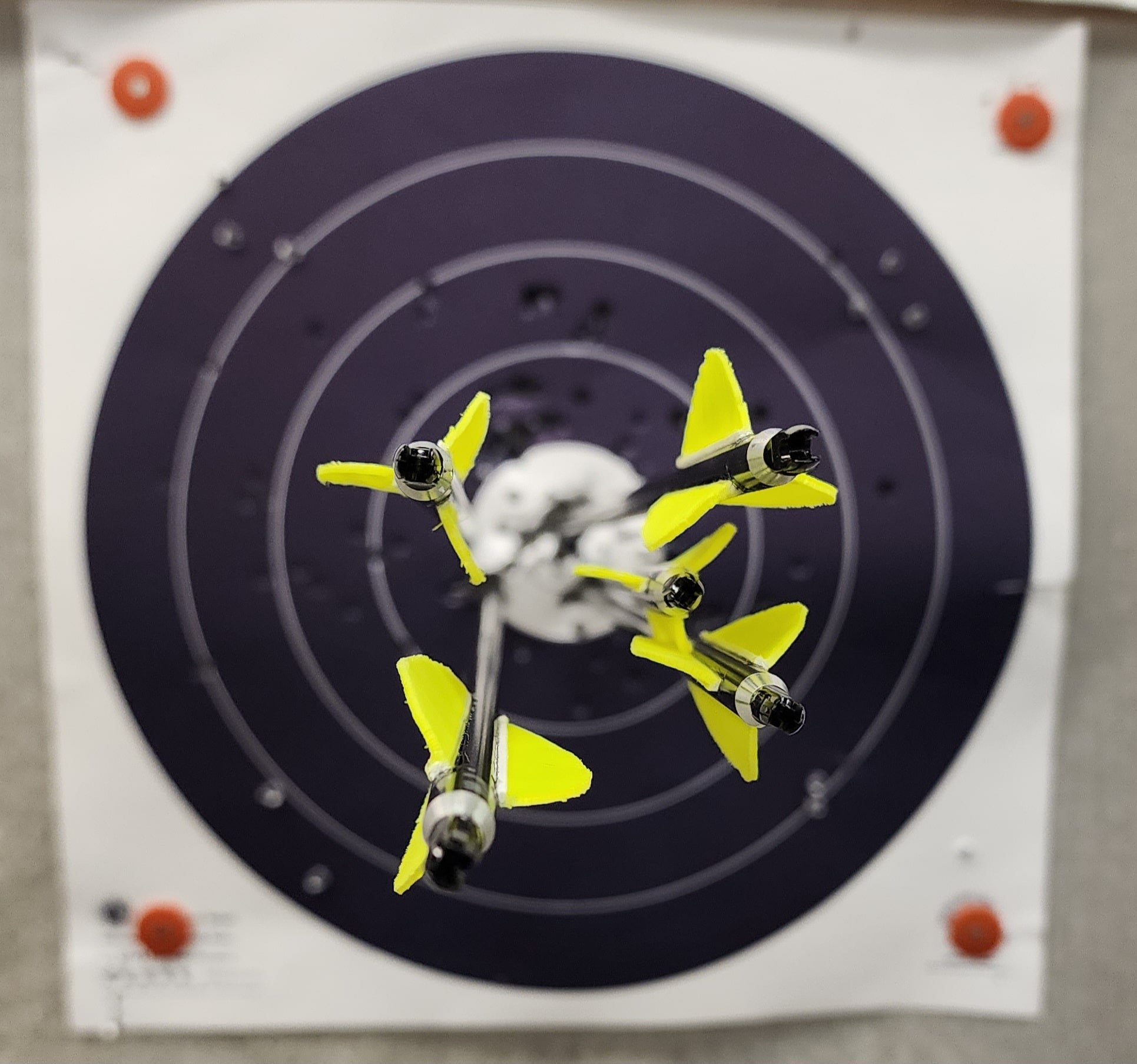 Looking to start a new hobby or get rid of some stress from studying? Live Oak Archery range provides lessons for all levels of archers, including beginners. Newbies can rent bows and arrows. Air conditioned for the warm months and heated for the cold months; this in-door archery range provides a great respite from college life. A&M students who enjoy shooting can also check out A&M's archery club, which boasts one of the best teams in the country.
19. Choi's Restaurant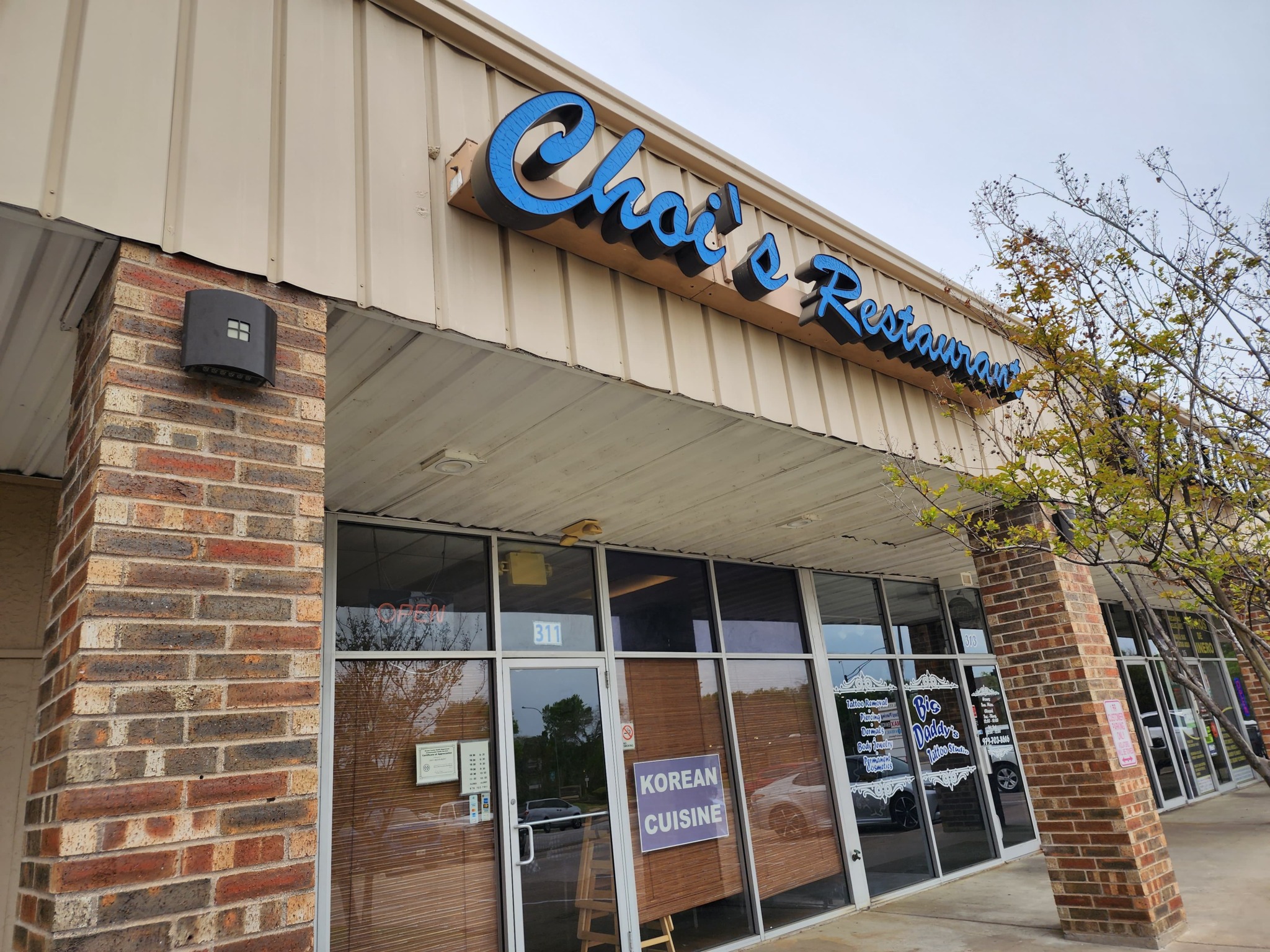 Want to try out new food? Tucked between a gym and a tattoo establishment, Choi's Restaurant offers up authentic Korean food. This family-run eatery serves traditional Korean cuisine in a casual atmosphere. Diners can enjoy bibimbap, bulgogi, jjigae and more. The menu features Aggie Specials and Lunch Specials. Those new to Korean dishes can start out with fried rice dishes or ramen. Regardless, the delicious tastes of Choi's will have you coming back for more.
20. Stage 12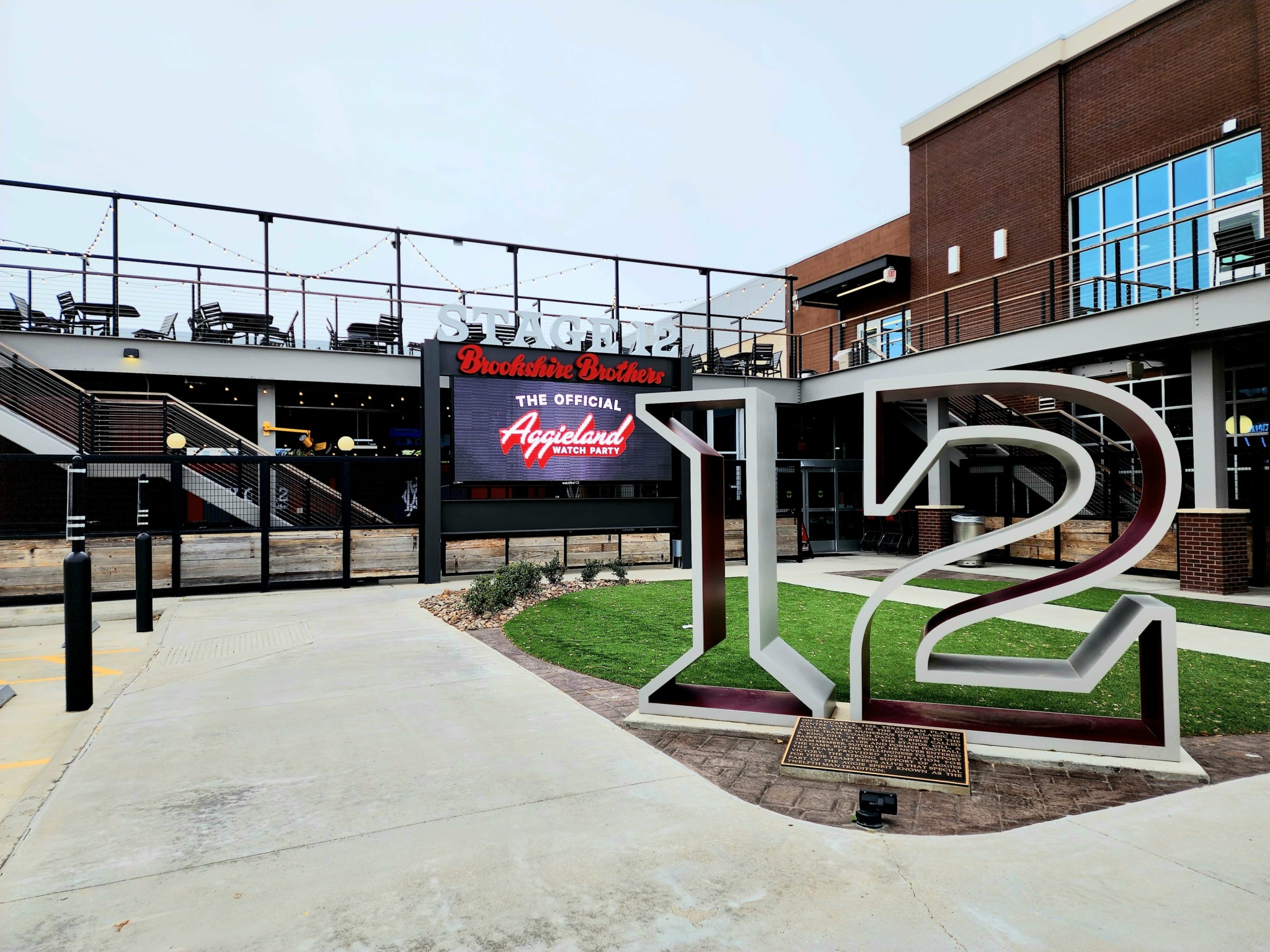 Feeling social? Head over to Stage 12. Located adjacent to the Brookshire Brothers grocery store nearby the Texas A&M football stadium, Stage 12 provides an open-air amphitheater featuring live music, football watch parties and more. Other fun events include movies shown on a 14-foot screen and musical bingo (singo) where participants have chances to win prizes. A deli provides good eats, and the casual atmosphere is warm and welcoming. Stage 12 hosts the Official Aggieland Watch Party for those who can't make it to Kyle Field for big games. Whatever the reason, Stage 12 provides a great place to socialize.
21. Dixie Chicken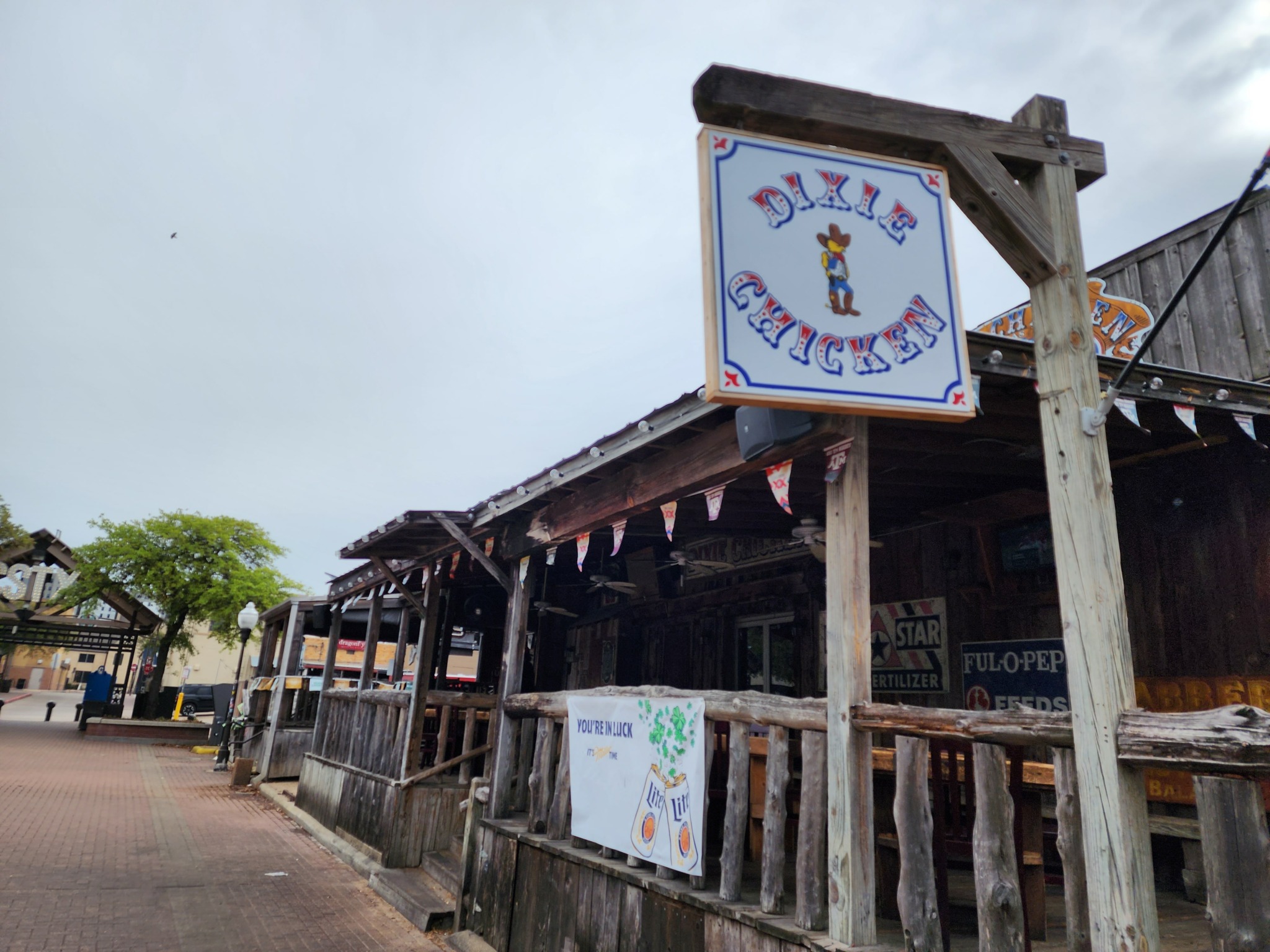 Need a classic? It would not be an authentic trip to College Station without a visit to the Dixie Chicken. The town around it may have changed, but the Dixie Chicken has been constant since 1974. Generations of Aggies and their friends have walked through their doors. Its atmosphere makes it a popular hangout.
"Dixie Chicken is for all Aggies! Big tradition spot for dominos, food and old country music," Texas A&M graduate Kim Harlan West said.
Students, locals and visitors fondly remember The Chicken, as it's affectionately called. Many couples met for the first time or had a first date at The Chicken. Parents bring their children. Children bring their parents. Many carve their initials in the wood. Folks make great memories while hanging out at The Chicken.