The days feel colder; the leaves have started to change colors. And just the other day, our campus Starbucks starting selling Pumpkin Spice Lattes. Now that September arrived, we must say goodbye to summer and tanning on the quad and welcome in fall and all the stress it brings. For students, fall means the start of academic insanity. Cloudy, gray skies seem to match the mood on campuses across the country right now, and you might already find yourself stressed AF from your 30, 40, 50 pages of reading each night.
Here are 15 cute creatures that just want to make you smile.
1. First, let's look at this cute puppy who's so happy to see you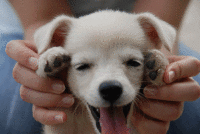 You can't deny dogs will always be there for you.
2. And this dancing deer who is a total dear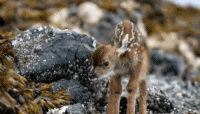 Dance it out, deer. Dance it out.
3. What about this little duckling, that matches all of our moods right now?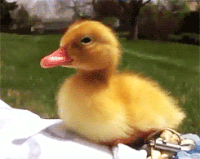 Is it summer yet?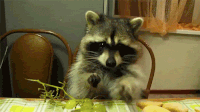 Pass the Cheetos, please.
5. And of course, we can't forget these melodramatic little fluffs, who represent me at the end of every day (or, more accurately, after every class).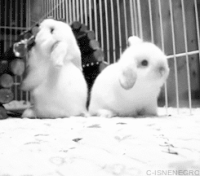 Nothing feels better than a post-class nap.
6. Then there are these cuties, who really get my goat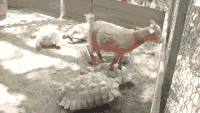 Pun intended.
7. And these love bugs, who show that true friendship transcends all boundaries (and is magic)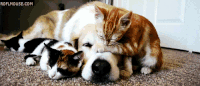 If this doesn't make you squeal, you have a heart of ice.
8. Then there's this lioness, or footage of me trying to avoid my responsibilities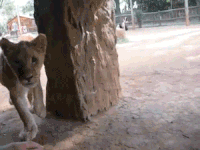 Procrastination is where it's at, guys.
9. And this cat, AKA me trying to do my homework
Yawn, maybe you'll start tomorrow. Or never.
10. And this fox, who shows what classes feel like once syllabus week is over and classes really start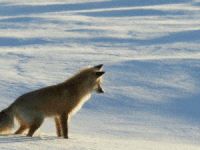 Suddenly your motivation goes right out the window.
11. Okay too much about classes. Let's look at this bear-y cute baby.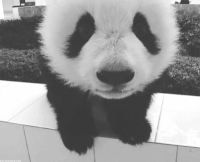 Let this bear melt all that midterm stress away.
12. And this precious turtle… kitty… that can race right into my heart.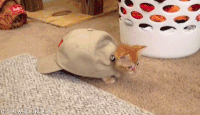 Run kitty, run.
13. Some tiny little hedgehogs that you can't help but want to hold.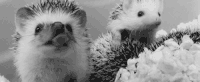 No words necessary for this, am I right?
14. And some irresistibly adorable puppies looking for love.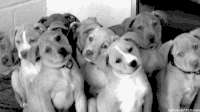 Puppies equal #bae.
15. Finally, this silly one, because who said raccoons can't be cute?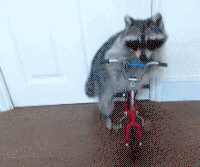 That's right—if this raccoon can learn to ride a bike, you can survive that mind-numbing 8:30 lecture.
Keep reading for more cute animal gifs overload.
Written by Nikki Gallant.
16. Let's take in this momma cat who's always there to lift your spirits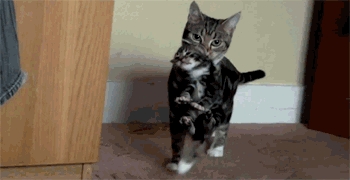 Needless to say, this will pick you up when you're feeling down.
17. And these pups who are just being pals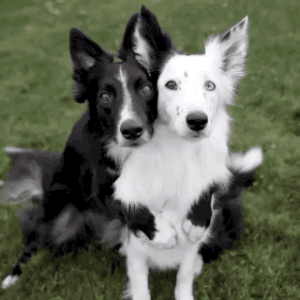 Sometimes all we need is a good hug.
18. Can't forget this fox who will definitely turn your frown upside down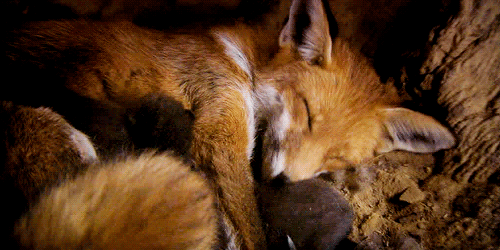 Any college students reaction when they hear class is canceled.
19. Or this penguin that can't seem to sit still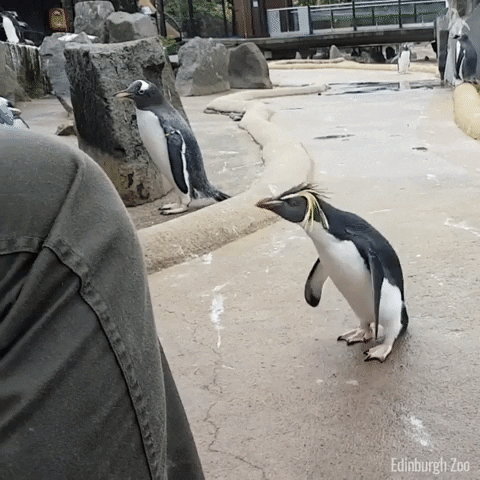 The most common reaction when the Jonas Brothers announced their tour dates.
20. Last but not least, this koala who clearly needs a nap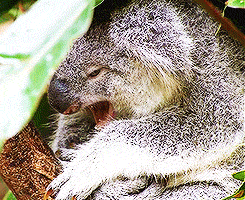 Actual representation of the aftermath of cramming for finals.
Check out these 10 gifts that will definitely get your pets' tails wagging.
A happy pet equals a happy home. Make your pet feel comfortable and more at home with Niya Christine Pet Beds. Think of the designs like Van Gogh for pets. Who needs a picture of their furry companion when you can get them engraved as an abstract piece of art? "Animals don't separate themselves from each other. They move close and cuddle. One in need gets the warmth of another. Seems right to me that where animals sleep would have images of their family on the pillows," said Niya Christine of Niya Christine Pet Beds. You can even custom order a design that's totally authentic to your pet. Be the 'cool cat in town' with these hand-crafted beds.
Price: $45.00
Take Rocky out for a walk and let him flaunt his home team. "Watching football together and cheering for the Eagles is a big part of how close my family is, and I consider my dog a part of the family," York College sophomore Tori Wuensche said. Move aside Tom Brady, there's a new champ in town. As an added bonus, surprise your football-loving pup with a push football, so he too can become the next Nick Foles.
Price: $4.99
Vroom, vroom—that's not the sound of your neighbor revving up the engine to their new car. It's your hamster zipping away on a critter cruiser. Hear something rolling down the stairs? Feel something brushing by your feet? Your happy hamster will keep you running in circles trying to keep up. Needless to say, it'll be a work out for your little pal and you–bonding at its best.
Price: $14.99
This one's for all the folks out there who find themselves snuggling under the blankets on a sub-zero day with their furry companion. After throwing it in the microwave, the Snuggle Safe Heat Pad holds in heat for up 10 hours. Never again will you find your pooch buried in your blankets. Grab yourself a cup of hot chocolate, get that fire going and let all your dog's chills melt away. Who knows, maybe you'll find yourself wanting one.
Price: $26.99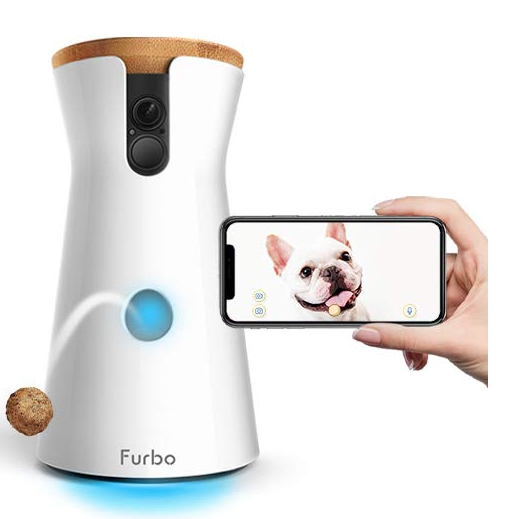 Big Brother is always watching. And in this case, Big Brother is you making sure your pup doesn't get into too much trouble when you leave the house. Keep an eye on your pooch when without needing to hire a dog-sitter. You'll find use for the Furbo even when you're home. Why pause the latest episode of The Bachelorette to give your dog a treat when you can ask Alexa to do it for you? Simply download the app, connect your phone and Amazon Echo to the Furbo and you're good to go—consider it a game of catch without the fuss.
Price: $199.00
Your cat owns the house like a CEO owns the board room. Let your cat think they're the real deal with a cat-scratching laptop. Watching Fluffy look like she's typing more than 100 words per minute will motivate you to get started on that English paper. "If my cat was curious enough, I would definitely get her that. That's a really funny decoy when working from home," Temple University alumna Brianne Bishop said. Just beware—their purring may keep you from getting work done. Your cat definitely needs this gift right meow.
Price: $35.00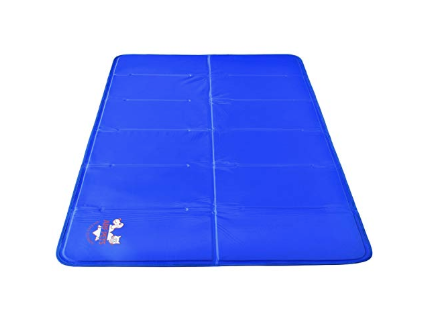 All dog owners know the feeling of returning from an hour-long walk in 100-degree heat. Your hair's a mess, you have sweat stains on your shirt and your legs are as shaky as a twig in the wind. But put yourself in your pup's paws. The 100-degree weather makes their tongues drop out of their mouth like a dog who accidentally ran a marathon. "Both of my dogs run outside during the summer all day long and definitely need something other than the pool to cool off," Bucks County Community College sophomore Mary Mills said. Let your pups sit back and relax while you refresh yourself with a refreshingly cold shower.
Price: $39.99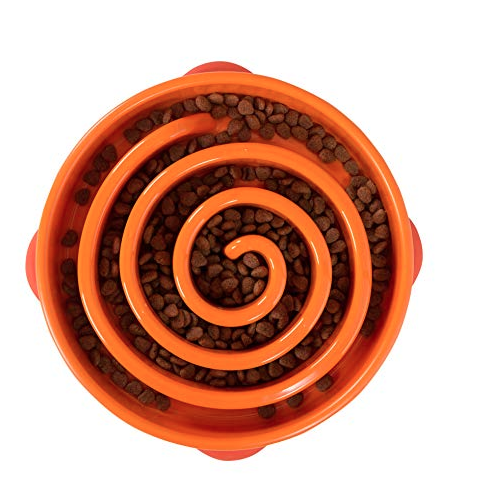 Imagine your dog's snout going in circles trying to inhale as much food as possible. You don't want to break up the food party, but you also don't want poor Fluffy to get a major stomachache. The Fun Feeder promotes healthy eating for dogs, helping them eat up to 10x slower. Keep your phone handy; watching your dog's snout work its way through the food maze makes for the perfect Snapchat or Instagram story. Don't get mad at the gift if you find food all over the place, the Fun Feeder is no easy feat. Do I hear America's Funniest Home Videos calling?
Price: $11.99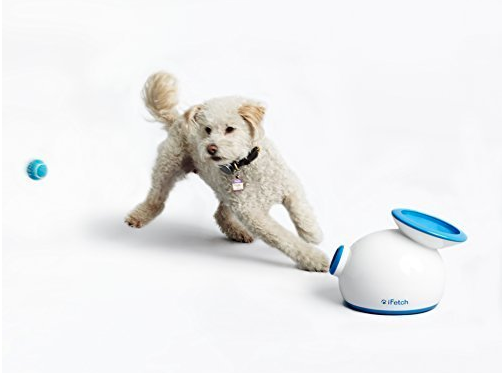 Consider the days of throwing tennis balls until your arm feels like it's gonna fall off a thing of the past. Take a dip in the pool, a walk on the treadmill or treat yourself to a nice glass of wine while your dog goes to town playing fetch. "This is the best gift for my dog because he has a ridiculous amount of energy and loves to run around," Villa Joseph Marie senior Abby Wyatt said. Now you can enjoy the summer sun with your pooch without the sweat stains.
Price: $79.95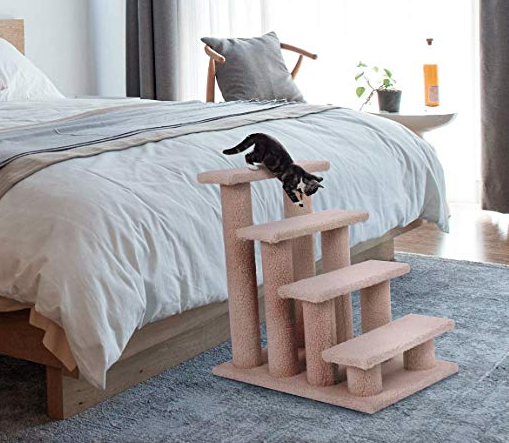 As much as we like to deny it, pets age. They don't run as fast or jump as high. Let your cat know you're thinking of them with steps that give them the independence to curl up on the couch even when they can't make the high jump to the cushions. Have a high bed or couch? No worries. Set these steps next to any hard to reach perch and watch your cut strut her stuff. "Cat steps are perfect for when your cats are too old to jump on couches or beds. They just use the steps to get where they need to go," Bloomsburg University sophomore Mary Brookshaw said. These steps don't have any bells or whistles but show your cat that she's pur-fect just the way she is.
Price: $24.99
Why College Students Say Animals Brighten up Their Days
The start of freshman year, pesky midterms, stressful finals – feelings that all college students experience. When Netflix and chilling doesn't do the trick, just know you always have your furry pal to pick you up when you're feeling down. No, they can't buy you ice cream after a breakup, or talk you down after a fight with your friend or even give you a bear hug in a time of need. But, the love and warmth they provide you trumps all of that.
"A dog's love is the epitome of unconditional love. No matter what mistakes I make or how long I disappear for when I go to school, I'm still given more love each and every day," Wuensche said
"When my dog walks up and just plants himself right next to me it brightens my day," Wyatt said.
"They are both always happy and always want to play, either with me or each other. And, they greet me like crazy when I come home, even if I'm gone for 10 minutes," Mills said.
"The main thing that brightens my day is the fact that I have three cats for every one of my family members, and each one is kind of similar to one of us," Brookshaw said.
"Coming home to a chatty, playful and lovable cat is the best feeling after a long day at work. She's always excited to see me and knows she'll get her way," Bishop said.
*Updated May 29, 2019 by Nikki Gallant to include 5 more cute animal gifs, 10 gifts for pets and student quotes on why pets brighten up their days.