What other show intertwines comic relief and reality as masterfully as Friends? This classic '90s sitcom serves as a simultaneously comforting and disquieting reminder that graduating college doesn't mean leaving behind the ups and downs of figuring out life. Not only do the short 20-minute episodes justify some solid procrastination, but they're also packed with super-relatable moments.
Check out some of the most iconic Friends quotes that will make you see the comic aspects of navigating how to adult.
In case you need a refresher, here's a rundown of the lovable Friends crew:
Ross: A paleontologist and the brainiac of the bunch, hopelessly romantic and quite needy
Rachel: The spoiled, clueless daddy's girl turned driven, yet scatter-brained fashion executive
Joey: The hunky, lady's man actor with an adorably low IQ, unintentionally funny
Monica: An obsessive-compulsive yet endearing clean-freak and bossy; energetic chef
Chandler: Master of dry sarcasm, works an ambiguously dull office job and makes awkward moments more awkward in a comical way
Phoebe: The free-floating masseuse and side musician; zany, spacey, creative and constantly surprising
1. WHEN YOU'RE HIT BY YOUR OWN SHORTCOMINGS
Chandler: "I SAY MORE DUMB THINGS BEFORE 9 A.M. THAN MOST PEOPLE SAY ALL DAY."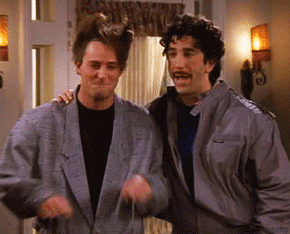 With this line, Chandler pretty much sums himself up. We also have to appreciate the way he finally acknowledges what's glaringly obvious to all Friends watchers since Episode one. Chandler also sums up all those impromptu and often ill-timed moments of self-deprecating self-reflection we've all experienced. And for those of us with a dreaded early morning class, we've definitely been there. The next time you're on a sleep-deprived rant in your eight a.m. seminar, think of Chandler.
2. WHEN YOU'RE HIT BY OTHER PEOPLE'S SHORTCOMINGS
PHOEBE: "ONE REALLY HAS A STICK UP ONE'S ASS, DOESN'T ONE?"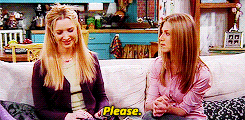 Watching the usually spacy, good-natured Phoebe go passive-aggressive in a fancy restaurant never loses its comic effect. But Phoebe in this moment perfectly captures the feeling we all know of trying to work on a group project with that one over-achieving classmate who thinks way to highly of herself. When you're next in that situation, remember the wise retort of Phoebe Buffay.
3. WHEN YOU'RE TRYING TO SOUND SMART
JOEY: "IT'S A MOO POINT. IT'S LIKE A COW'S OPINION: IT'S MOO."
Not only does recalling Joey's iconic comments like these serve as the perfect pick-me-up, but he also reminds us that the "dumb blonde" phenomenon is not restricted to blondes. You know you've had your own "moo point" situations— remember the class where you tried to make it sound like you'd done the reading and royally failed? As college students staying alive on coffee and power naps in the library, we all have our Joey moments.
4. WHEN YOU'RE ATTEMPTING TO AVOID A PUBLIC MELTDOWN
RACHEL: "ISN'T THAT JUST KICK-YOU-IN-THE-CROTCH, SPIT-ON-YOUR-NECK FANTASTIC?"
This serves as Rachel's go-to reply when trying to act cool with the fact that instead of confessing her feelings for Ross, she winds up driving him and his new girlfriend home from the airport. Rachel's hilarious and also ridiculously real reaction makes this moment so loveable. In college, things almost never go as planned. The trick lies in faking that they do. When you realize your presentation is actually this Monday and not the next like you thought, channel Rachel's iconic pretend-upbeat attitude and shrilly sarcastic "isn't-this-just-lovely' voice.
5. WHEN YOU'LL TAKE ALL THE SYMPATHY YOU CAN GET
PHOEBE: "I HAD A HARD LIFE. MY MOTHER WAS KILLED BY A DRUG DEALER."
MONICA: "YOUR MOTHER KILLED HERSELF."
PHOEBE: "SHE WAS A DRUG DEALER."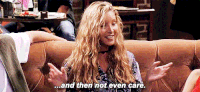 Anyone who's watched even one episode of Friends knows the fate of Phoebe's mother. Phoebe's not about to let anyone forget. While Phoebe's life story might not be the easiest to relate to, her habit of milking her hardships for all their worth certainly is. As college students doing all we can to keep our heads above water, we'll take some sympathy any way we can get it. If Phoebe can utilize her dead mother to get out of obligations, you can certainly use your stubbed toe or nasty paper cut as excuses for not turning that paper in on time.
6. WHEN YOU PAUSE LONG ENOUGH TO WONDER WHAT THE POINT IS
CHANDLER: "ALL RIGHT, KIDS, I GOTTA GET TO WORK. IF I DON'T INPUT THOSE NUMBERS…IT DOESN'T MAKE MUCH OF A DIFFERENCE."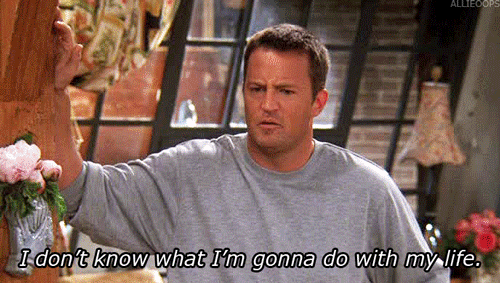 As college students, we spend nine months of the year calculating acid base titrations and writing essays on the presence of absence in Modernist literature. From time to time you'll inevitably have the classic Chandler moment when you realize that in the grand scheme of things, all the information you're cramming into your brain and regurgitating on paper is of no real significance to the world or your life. When you're losing your sanity over cell diagrams, think of good old Chandler and his job whose title no one will ever remember.
7. WHEN YOU'RE REALLY TRYING
PHOEBE: "JE M'APPELLE CLAUDE"
JOEY: "JET APLEE BLOOO."
Not only does it never get old to watch Joey completely butcher the French language, but as college students, the struggle's all too real. Let's not kid ourselves. As much as we like to think we're Phoebe in this instance, we've most definitely all been Joey at one point or another. Those of us taking a language can relate all too well, but when you're trying desperately to say something remotely intelligent in any class that's way over your head, recall Joey and his French-speaking abilities.
8. WHEN YOU'RE STILL DEALING WITH OTHER PEOPLE'S STUPIDITY
ROSS: "WOW, YOU GUYS SURE HAVE A LOT OF BOOKS ABOUT BEING A LESBIAN."
SUSAN: "WELL, YOU KNOW, YOU HAVE TO TAKE A COURSE. OTHERWISE, THEY DON'T LET YOU DO IT."
First of all, Susan's sass never gets old. Like Phoebe, Susan shows us that when confronted by an infuriatingly pompous and ignorant person, give them a taste of their own medicine by throwing them condescending comments. This quote also applies to the feeling that if your school could make you take a class on how to use a stapler properly before they let you use the library's, they would.
9. WHEN YOU'RE KEEPING IT REAL
CHANDLER: "WELL I'M GUESSING HE WANTS TO DO A LITTLE DANCE… YOU KNOW, MAKE A LITTLE LOVE… WELL, PRETTY MUCH GET DOWN TONIGHT."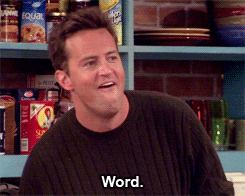 Chandler's answer to why a guy left a message for Rachel adds up to more entertaining proof of his uncanny ability to pull simultaneously clever and stupid remarks out of nowhere. This apt reference to the KC and The Sunshine Band's song and Ross's resulting glower will make you laugh every time. And in the hormonal, hookup-happy universe that equals college, you really can't go wrong with this line of reasoning.
10. WHEN NO WORDS CAN QUITE CAPTURE THE COLLEGE STRUGGLE
ROSS: "YOU KNOW HOW YOU COME HOME AT THE END OF THE DAY AND THROW YOUR JACKET ON A CHAIR?"
JOEY: "YEAH."
ROSS: "WELL, INSTEAD OF A JACKET, IT'S A PILE OF GARBAGE. AND INSTEAD OF A CHAIR, IT'S A PILE OF GARBAGE. AND INSTEAD OF THE END OF THE DAY, IT'S THE END OF TIME AND GARBAGE IS ALL THAT HAS SURVIVED."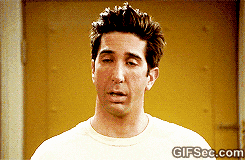 Ross might as well be describing final's week. Sometimes calling a day 'shitty' just doesn't cut it. In this quote, Ross nails the real necessity of employing overused metaphors and aggressive repetition to impress on your friends the immense terribleness of the day you just endured. When things feel like they cannot possibly get any worse, recall mopey Ross and his garbage analogy. Because hey, not only is it accurate, but you're still probably doing better than Ross Gellar.
WHAT WE LOVE ABOUT FRIENDS
"In Social Psychology at UCLA, Professor Shapiro introduced a current debate of whether pure altruism exists or only prosocial behavior with a clip of the episode, "The One Where Phoebe Hates PBS." The fact that the five-minute clip made me laugh and think critically of psychological concepts intrigued me to watch the show. All of the characters have a sense of humor and witty comebacks that have served as a light in my life when my days are not going as great." – Milagro Escobar, University of California, Los Angeles, Class of 2018
"Something I find relatable is how complicated their relationships can get. Their relationships to each other are constantly changing throughout the series, and what happens with two people affects the whole group. For example, Monica and Chandler's relationship changes living situations, who is close with who and ultimately the dynamics of the group. That happens in college a lot. Relationships change and develop and sometimes they go faster with one person than another. That affects everyone." – Acacia Willis, Vassar College, Class of 2019
"I have recently been watching Friends every night before bed because it is pleasant and the plot isn't too complex so it's peaceful to fall asleep to. It's the most vanilla show— its like happy white noise." – Natalie Niles, University of Denver, Class of 2019
"Friends is funny and endearing, and it's something you can watch at any time and during any mood. And there's always a character you can identify with, which makes the show that much better. Having a tightly knit group of friends that they've met between childhood and now also is very relatable. We all have our unique interests and our shared interests, and no matter how different we are, we somehow seem to stick together." – Ian Maltz, Florida State University, Class of 2017
"I feel like I'm watching my ideal daily life while watching Friends, which includes having a close circle that I can stick to everyday." –Leon Wang, Vassar College, Class of 2019
"I feel that Friends is relatable to my life now as a college student because they're just trying to figure out what they're doing with their lives. Especially season one, Rachel leaves the comfort of her rich fiancé and decides to make a life for herself, which is what I think all of us are trying to do as students leaving the comfort of our own homes. Friends also shows how daunting it can be figuring out what we want to do. Like when Phoebe says 'I don't even have a plan.' Right now, that's how I feel, and I feel a sense of comfort watching Friends knowing that things will eventually work out." – Gaby Ortega, Florida International University, Class of 2017
"The quote I always think of is when Phoebe was like 'I have a feeling there's something wrong with the left phalange' because that's in the last episode and when Rachel tells the guy next to her on the plane, he freaks out saying HER FRIEND SAID SHE HAD A FEELING IN HER LEFT PHALANGE. It's hella f–king funny because like who says that about a plane? And then because someone had that 'feeling' the whole plane evacuated." – Justin Williams, University of Washington, Class of 2018
"I love Friends because whenever I was really stressed out from school or anything like that I would watch Friends and it would instantly put me in a good mood. I can't help but laugh at all the jokes on the show. Whenever Joey talks, I find it hilarious." – Tiffany Lopez, University of Florida, Class of 2019
"The best part of the show for me is Chandler. He is very sarcastic and always makes me laugh. Friends is relatable for me because it's a bunch of young people trying to figure their lives out, just like college students. Lots of people feel like you have to have your life all in order by the time you graduate college, and this show reassures you that's not true." – Sarah Laszewski, University of Wisconsin Madison, Class of 2019
"It's the best show to watch when you need to relax and cheer yourself up after a long day. Every time we watch it as a family, my dad always goes, 'This is inappropriate, why do we watch this?' And then he cracks up 30 seconds later. He can't resist, it's just so funny." – Lubna Barakat, University of Maryland College Park, Class of 2019