Thailand awakens new senses: indulgence, adventure and relaxation. In Bangkok my girlfriend and I enjoyed Pad See Ew galore and papayas for days. In Koh Lanta we kayaked through caves and mangrove trees, handing watermelon to friendly monkeys. In Krabi we sipped on fresh mango shakes and relaxed with luxury massages for only $10. It's a good life in Thailand.
Don't stress out with the logistics; plan the best of the best experience with our trip to Thailand guide.
Ready for 10 days in the most stunning country? Check out the 10 best things to do in Thailand.
1. Riva Surya —Bangkok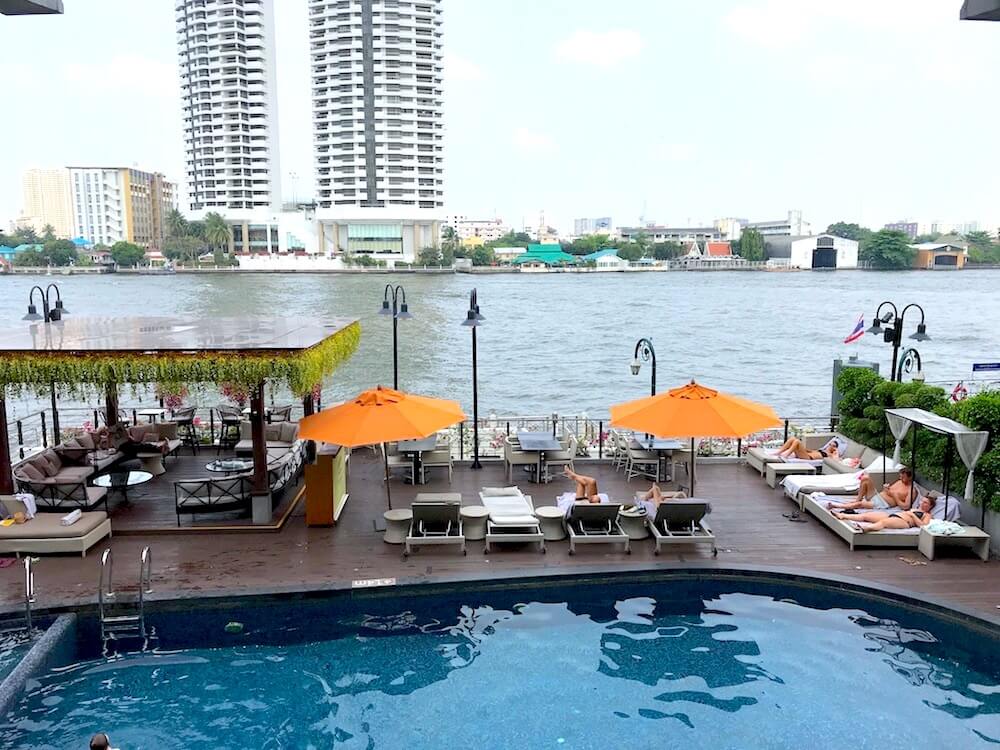 Prepare to be treated like royalty at the Riva Surya Hotel in Bangkok. As soon as we arrived, the staff handed us cold tea in their beautiful lobby as they checked us in. The hotel sits along the Chao Phraya River, with a convenient path that leads you toward two main attractions: The Grand Palace and Wat Pho. This location made exploring easy, especially since Bangkok is home to eight million people and some serious traffic. Our room captured a gorgeous view of the river and bridge, not to mention the lovely pool deck. As soon as we arrived we headed straight to the cabanas and sipped on daiquiris—it's exactly what we needed after 20+ hours of traveling.
2. River Walk to Reclining Buddha—Bangkok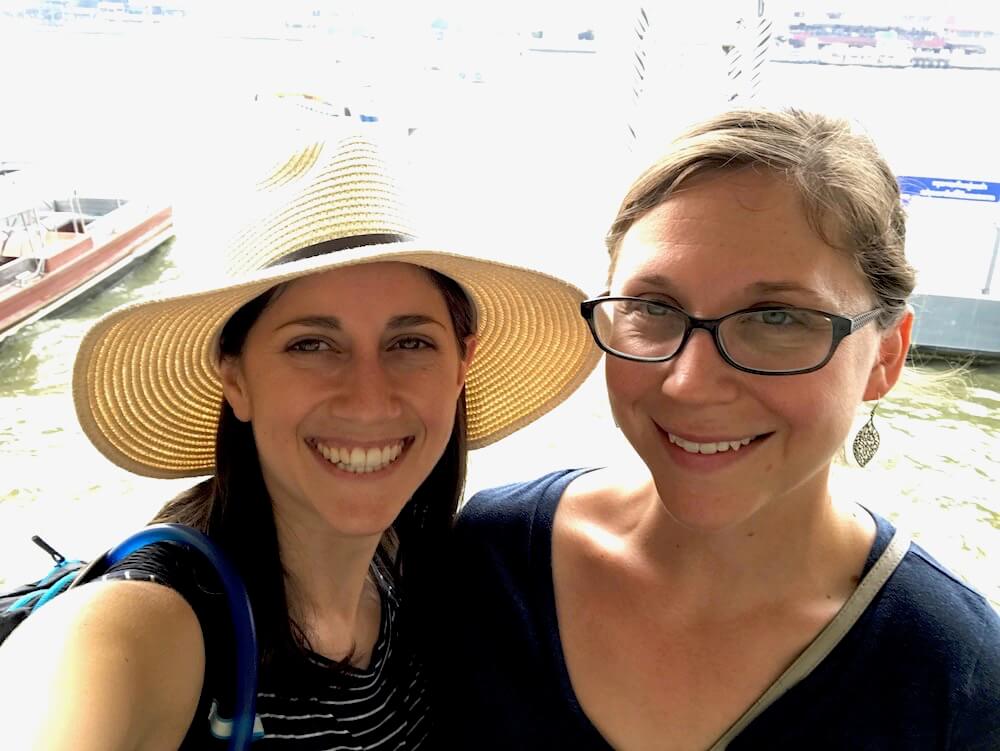 We walked along the river path to both The Grand Palace (the most important Buddhist temple in Thailand) and Wat Pho (home to the massive 150-foot-long reclining Buddha). Packed with hundreds of tourists, The Grand Palace's ornate architecture and murals gave us a glimpse of Bangkok's royalty 150 years ago. Within its walls, the Wat Phra Kaew temple revealed the sacred Emerald Buddha, dating back to the 14th century.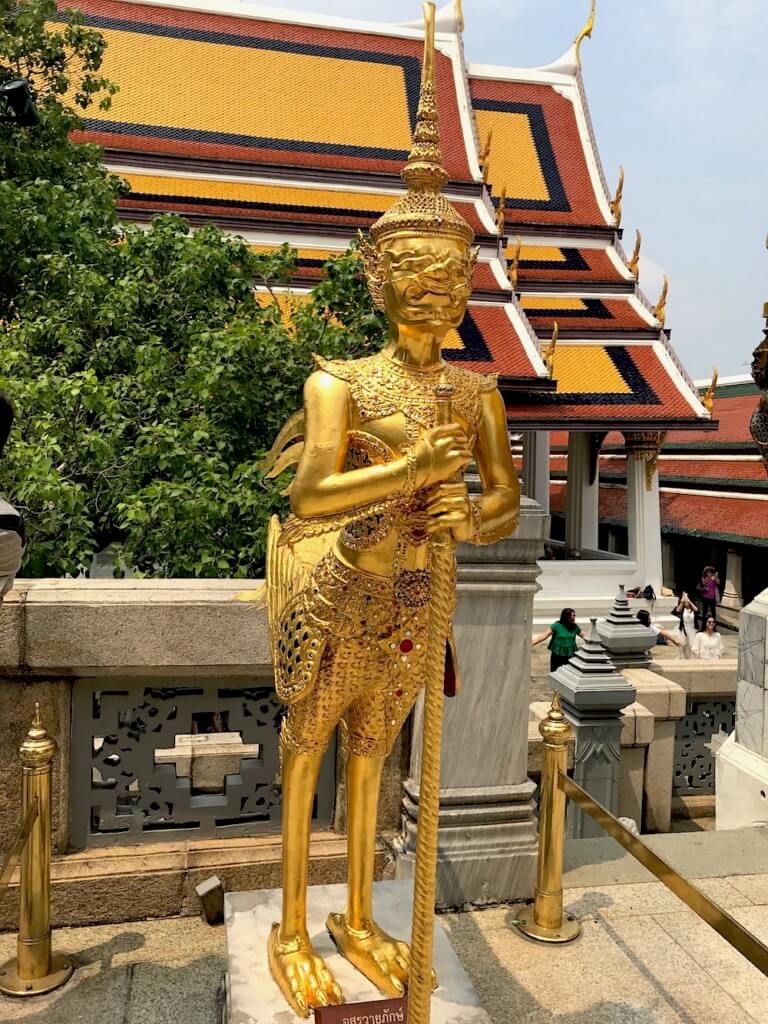 Along our journey to these sites, we stumbled upon Thammasat University's beautiful campus. We delighted in exploring the cafeteria, watching as students ordered and following suit. My delicious and fresh lunch of lightly fried chicken, soup, papaya and fruit smoothie totaled $3—I kid you not.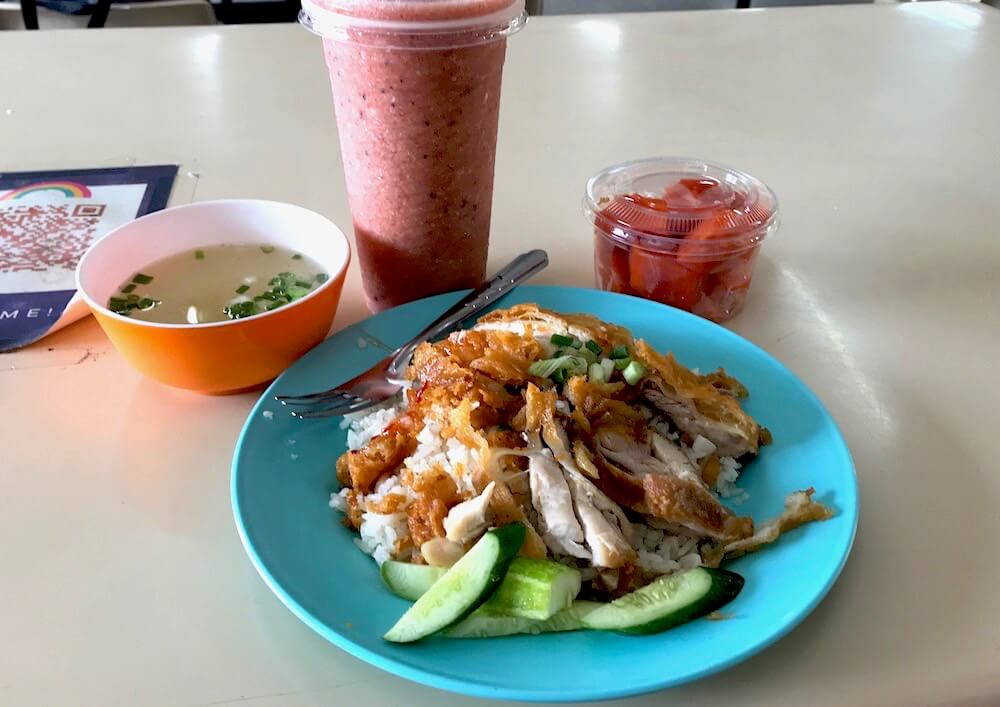 We discovered a campus market where we met a woman hand carving original stamps. She even designed a custom stamp of my dog, Austin. As we continued on, sometimes we were taken off the river path through dozens of markets. We saw shop after shop with restaurants tucked away, their windows overlooking the river taxies.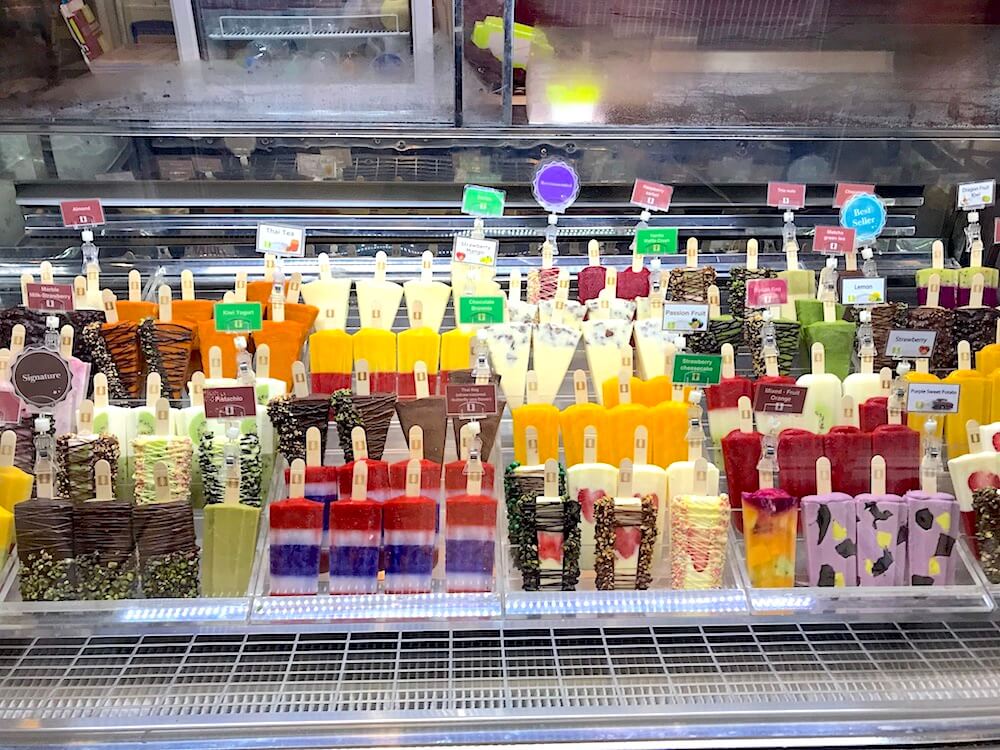 Then we reached a posh part of town featuring gourmet popsicles and fancy lattes. The strawberry, mango, kiwi popsicle made for a much-needed cool treat.
Pro tip: Sarongs are your best friend in Thailand. They offer a lightweight option to cover up your shoulders and knees at the temples in the sweltering humidity. They come in handy again on for boat excursions to cover up from the sun.
3. Local Street Markets Bike Tour —Bangkok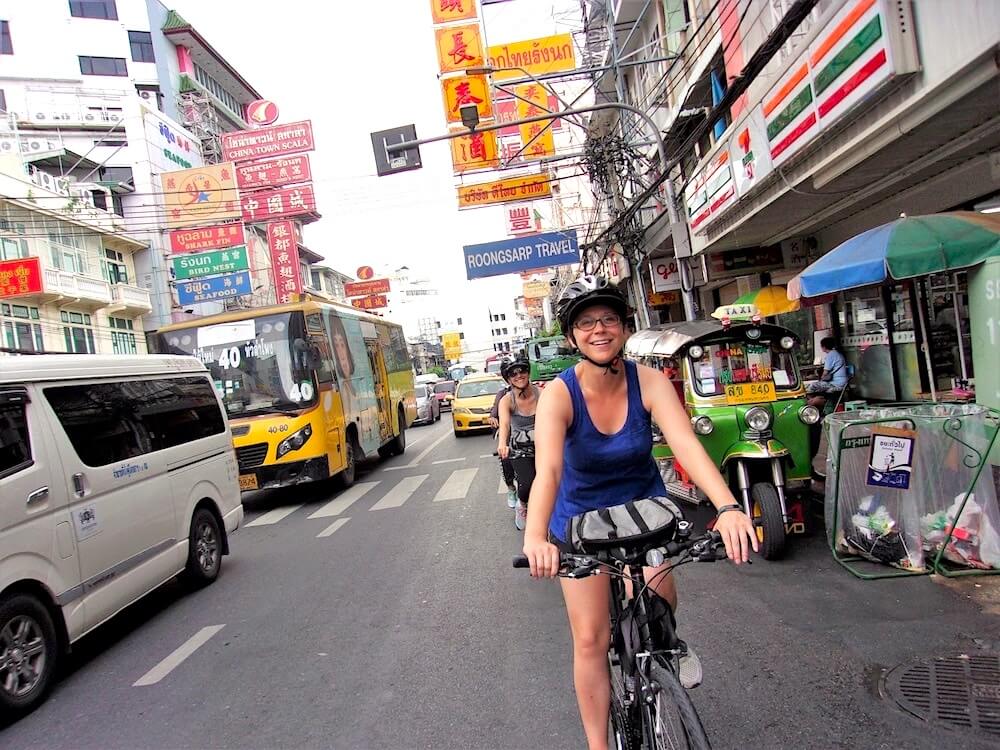 Immerse yourself in Bangkok's culture, tastes, sounds, friendliness, humidity, grime and even rain, only discoverable by bike. After reading Alexa West's Thailand: The Solo Girl's Travel Guide, we booked an excursion with Follow Me Bangkok Bicycle Tours.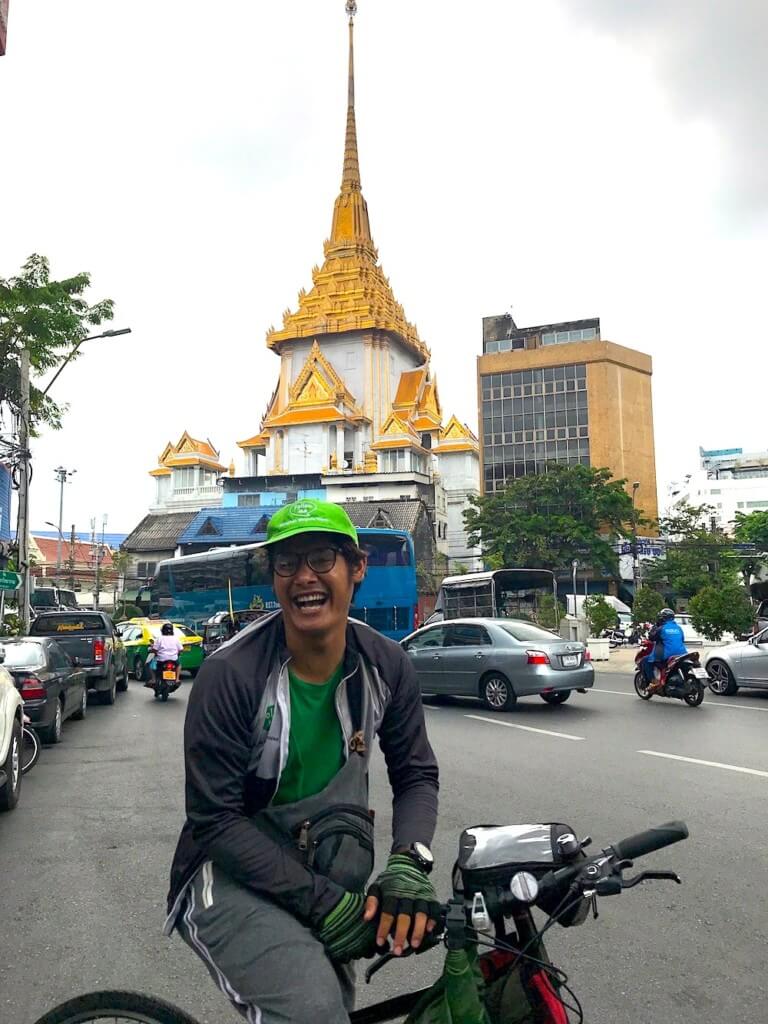 We signed up for the "Siam Boran Culture Tour" and were thrilled with our guide, Teddy. He brought insider information coupled with endless smiles to the four-hour tour. He even captured us mid-bike and emailed us photos at the end.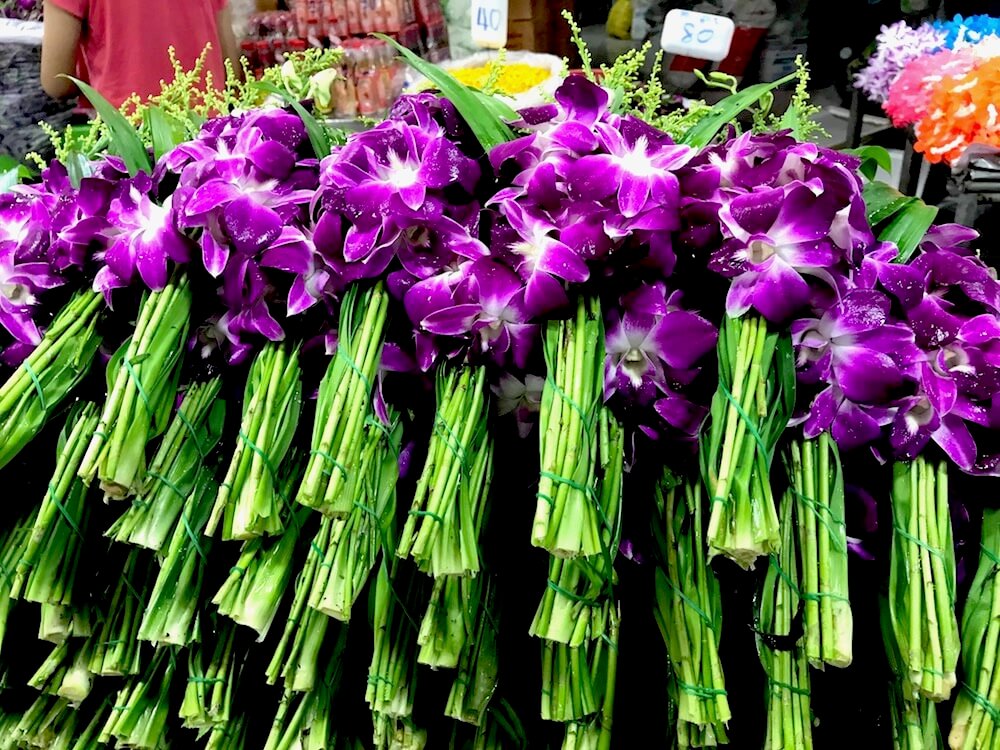 The tour weaved through local alleyways and markets galore. We navigated through Chinatown and stopped to visit one of the most important Chinese Buddhist temples in Bangkok, Wat Mangkon Kamalawat, completed in 1846. We witnessed Buddhist monks chanting at Wat Kalayanamit, delighted in local snacks like coconut fried bananas and visited a flower market overflowing with golden flowers.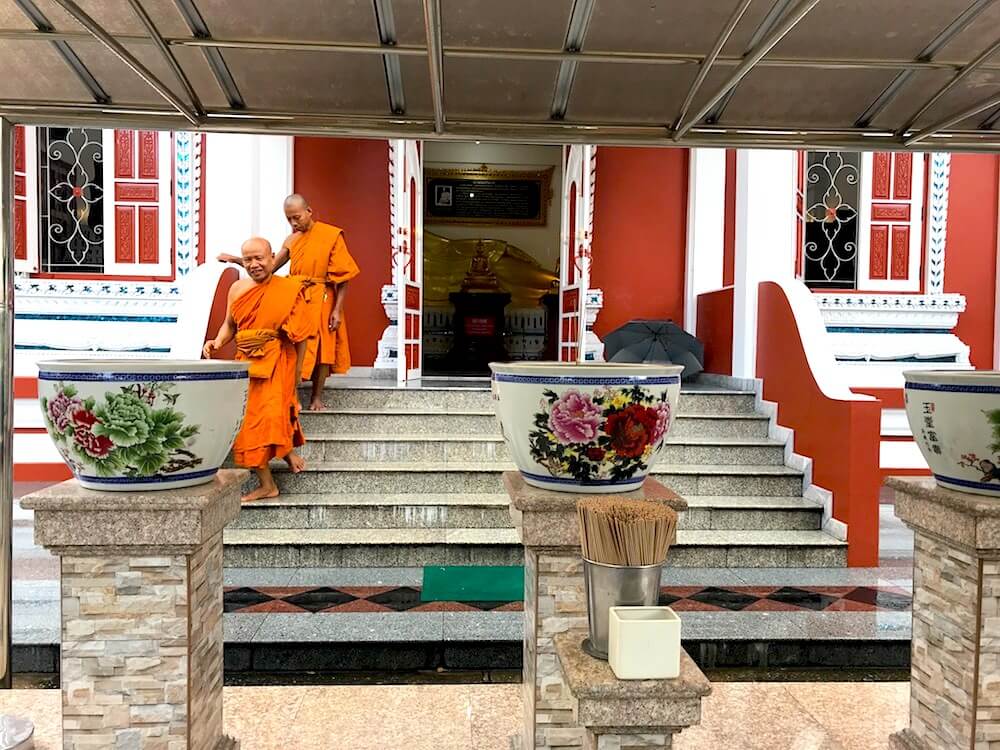 We even took our bikes across the Chao Phraya River by ferry and biked along the River Cycle Path. While exhausted after four hours of exercise and venturing into hectic Bangkok traffic, we relaxed at the headquarters spa before saying goodbye.
Pro Tip: The Follow Me Bangkok Bicycle Tours headquarters is challenging to find. Call in advance to get walking directions from where the taxi will drop you off.
4. Phuket Elephant Sanctuary— Phuket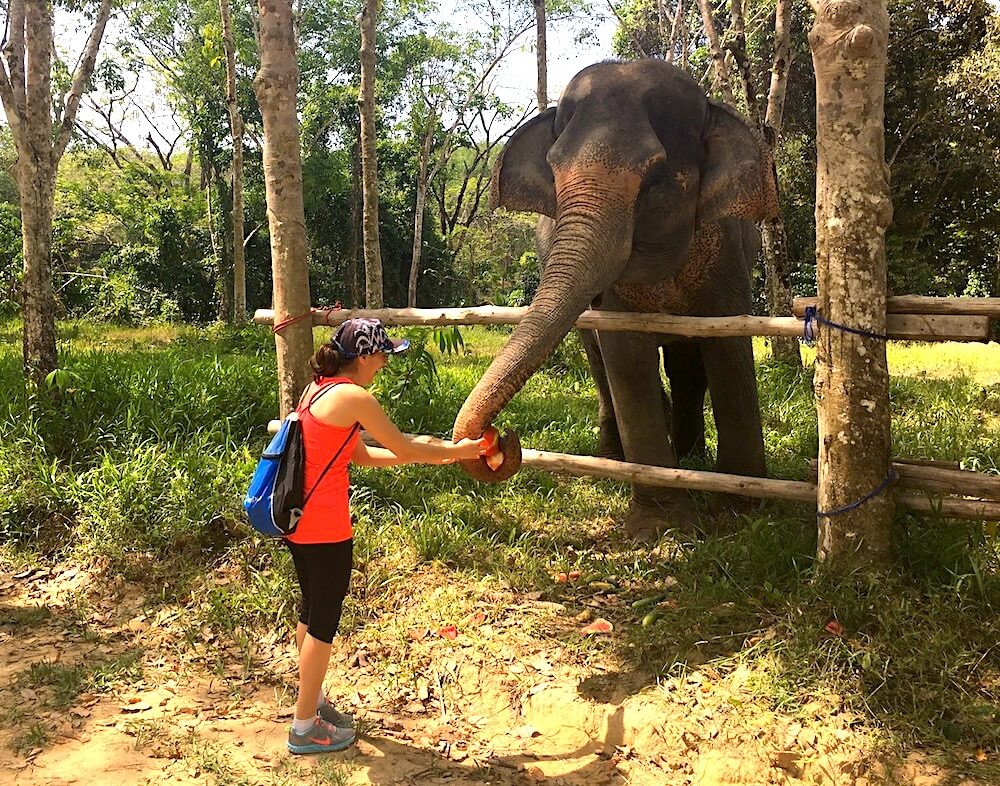 Feed the elephants during their daily routine at this beautiful new sanctuary boarding Khao Phra Thaeo National Park. Delight as these majestic mammals reach out to fit as many watermelons and cucumbers as possible into their trunks. Rescued from the tourism or logging industries, the elephants now get to enjoy their lives like retired Americans in Florida.
Did you know that elephants can live to be 80 years old? It's a sad truth that these brilliant animals suffer a long history of being captured and forced to perform in shows, provide rides and carry heavy equipment. The process to train elephants to execute these tasks ultimately breaks the elephant's spirit. What does that mean exactly? The elephant is tied up and tortured until feeling helpless, left with no other choice but to obey the trainer. Thankfully the Phuket Elephant Sanctuary works incredibly hard to educate tourists and the local community to break the vicious cycle of elephant mistreatment.
Pro Tip: If you can't fit Chiang Mai into your 10 days but want to experience the beauty of Thailand's precious elephants, make a trip to Phuket. Otherwise the island left much to be desired. It's packed with tourists and you're greeted at the airport by car services ready to rip you off with expensive flat fees. Luckily, we thought to ask for a metered taxi.
Where to stay? We loved our super modern hotel, Wabi Sabi in Phuket. The breakfast tasted delicious—watermelon, all the papaya you can ever imagine, potatoes and stir-fried rice. Mmmm.
5. Maya Bay Excursion—Koh Phi Phi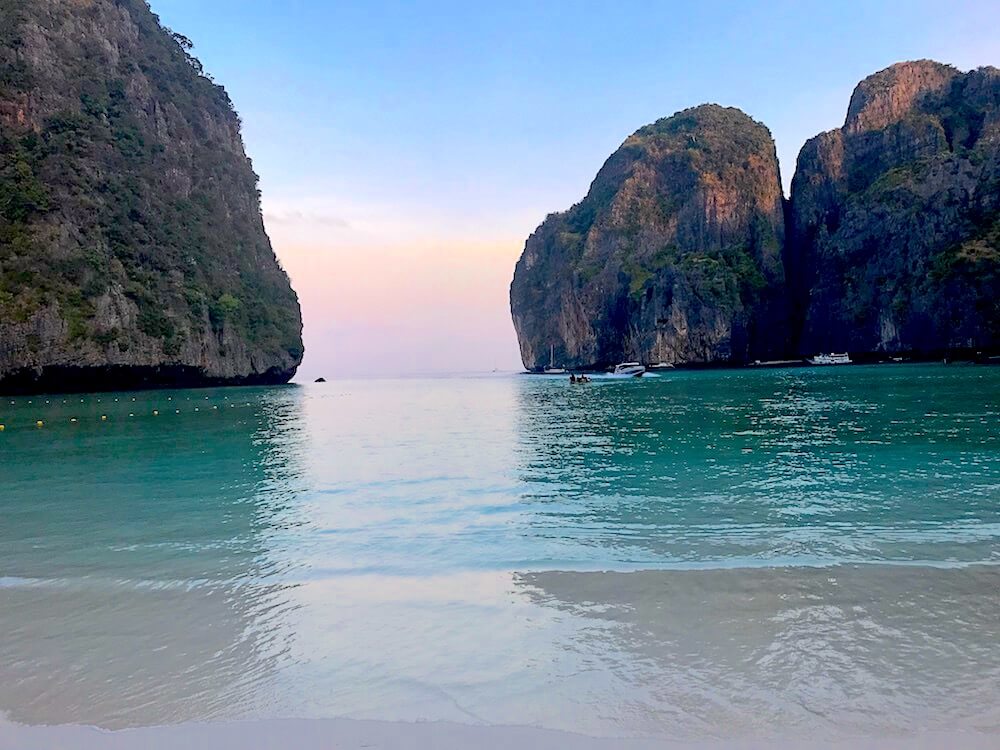 We arrived at Koh Phi Phi, the island with no cars, with just enough time to climb to the view point and catch the sunset. The next day we hopped on a speed boat to the exclusive Maya Bay—home to the set of The Beach with Leonardo DiCaprio. Thankfully we took the early tour to avoid the crowds. Even so, we watched as one group of tourists spent an entire hour taking jumping photos. We managed to carve out a spot on the beach and take a dip in the beautiful warm waters.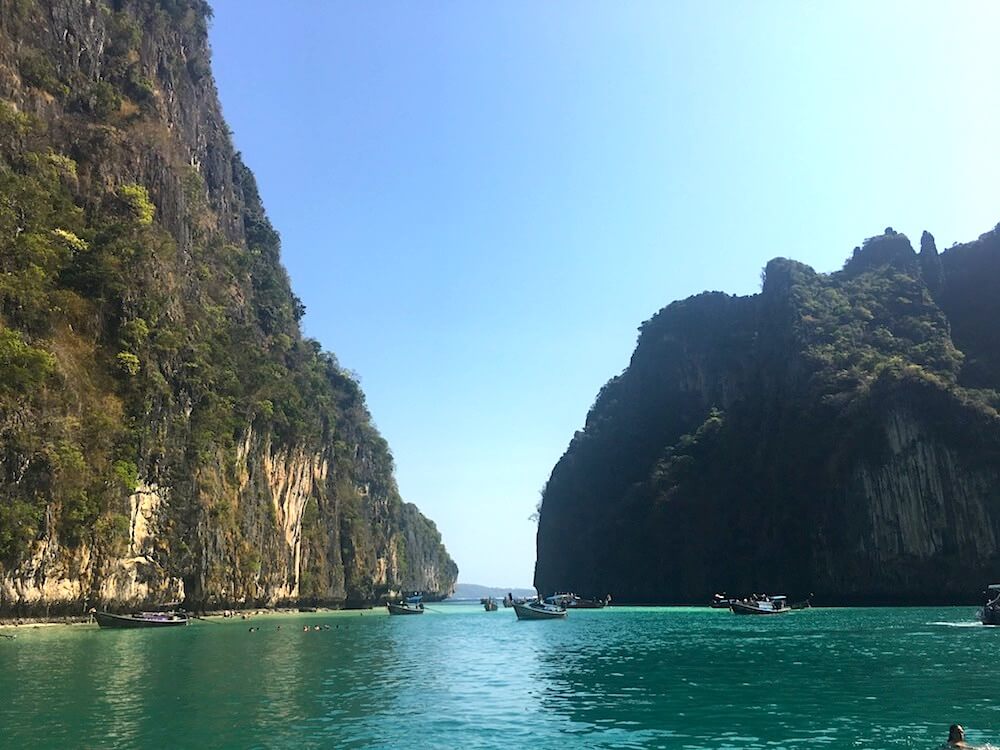 The trip continued with snorkeling featuring Nemo in his anemones and even a harmless baby shark. I couldn't believe my eyes. At one stop we jumped off the boat into a beautiful green lagoon.
Then at Thailand's famous Monkey Beach, we met dozens of Thai macaques. These guys were feisty and quick to jump on anything that looked eatable.
6. Bamboo Beach — Koh Lanta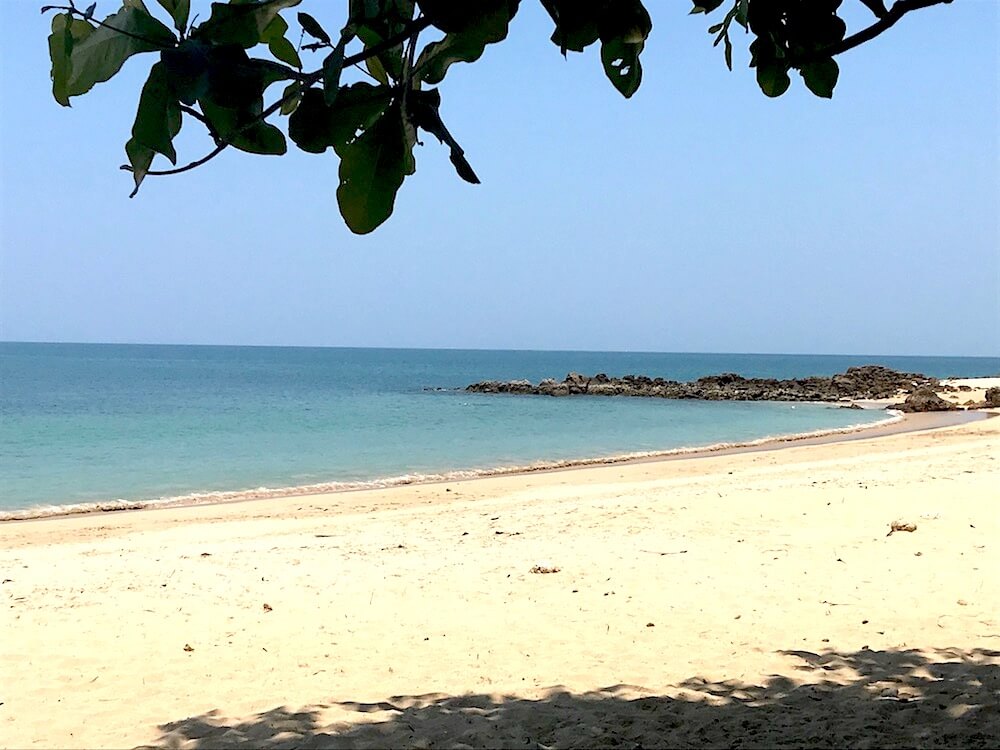 Welcome to heaven. Very few tourists discover this secluded and chill beach. There's just one food stand, but what more could you ask for than the most delectable Southern-style Pad Thai? Straight from the wok, this authentic noodle dish perfectly complemented the cool breeze in the heat. We even indulged in a fruit shake, which all together brought the total to less than $5.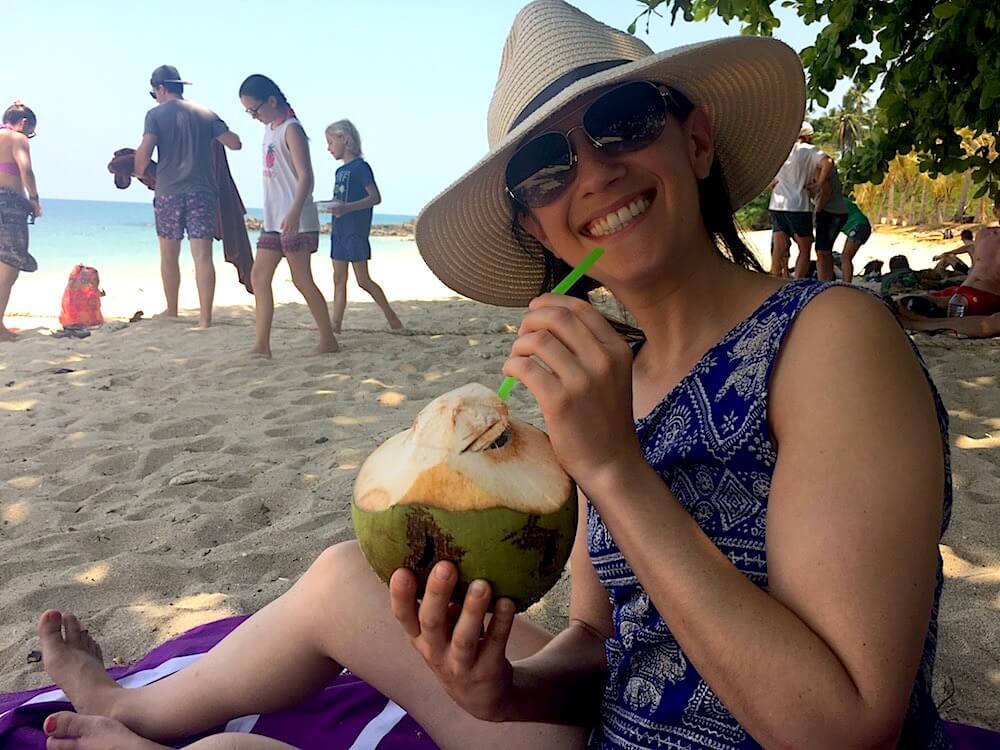 Might as well splurge for the coconut drink—they machete off a coconut top and plug in a straw for a 100 percent coconut water experience. The warm Andaman Sea beckons you to jump in and float away all of life's stressors.
7. Monkeys in the Mangroves— Koh Lanta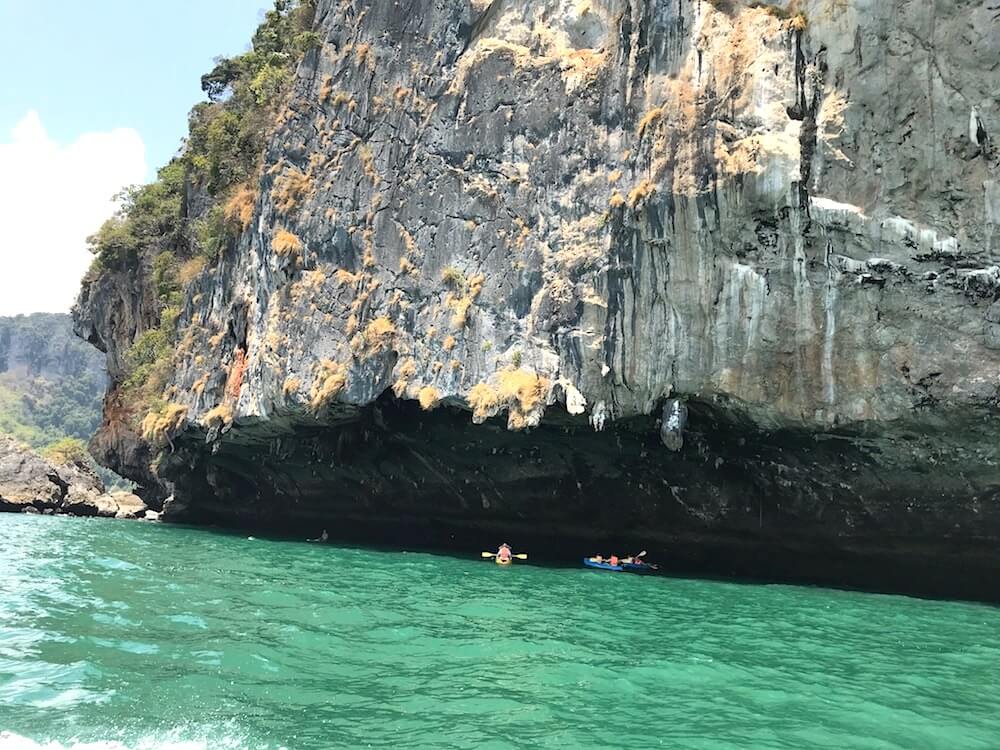 I never imaged interacting so closely with a monkey until one carefully held my hand while accepting a piece of watermelon. On our Koh Lanta trip, we took a long-tail boat excursion through the Thung Yee Pheng Mangrove Forest. First we kayaked by caves and swam along the cliffs, watching as monkeys jumped along branches up above. The parent monkeys carrying babies made our hearts melt. Just a couple feet in front of us, one scrappy monkey jumped into the water to catch a fish.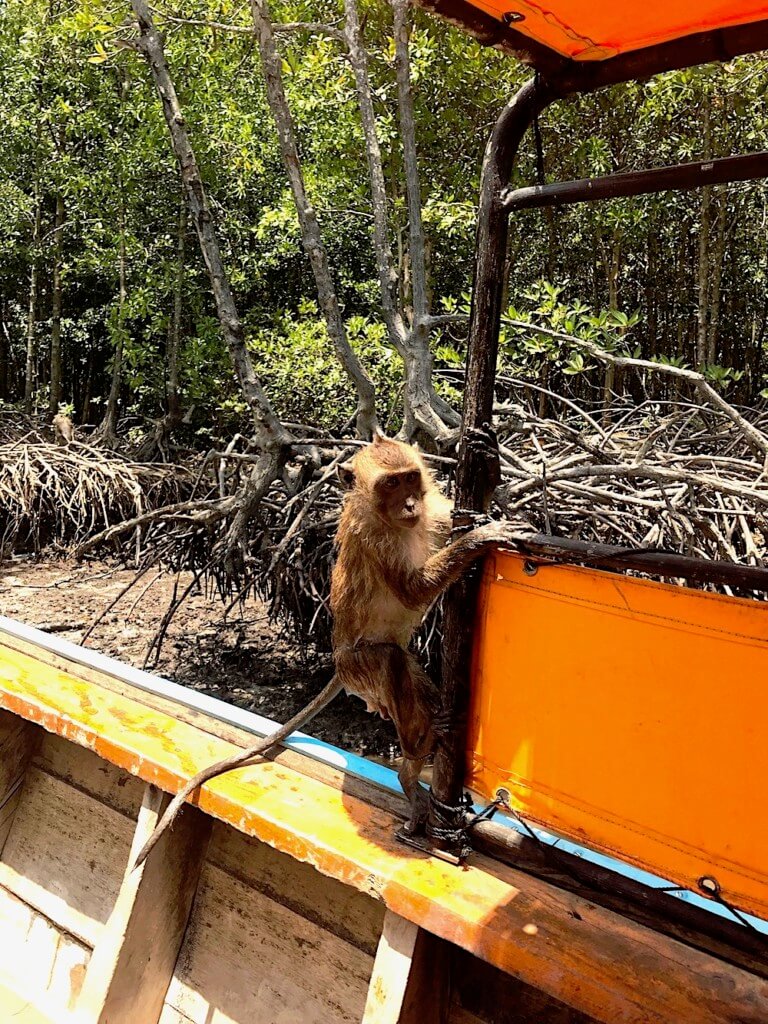 After our swim, we visited the mangrove forest where we met the friendliest monkeys. It goes without saying that these guys have a pretty sweet deal: They greet the tourists with cuteness—in return, they get watermelon and pineapple snacks.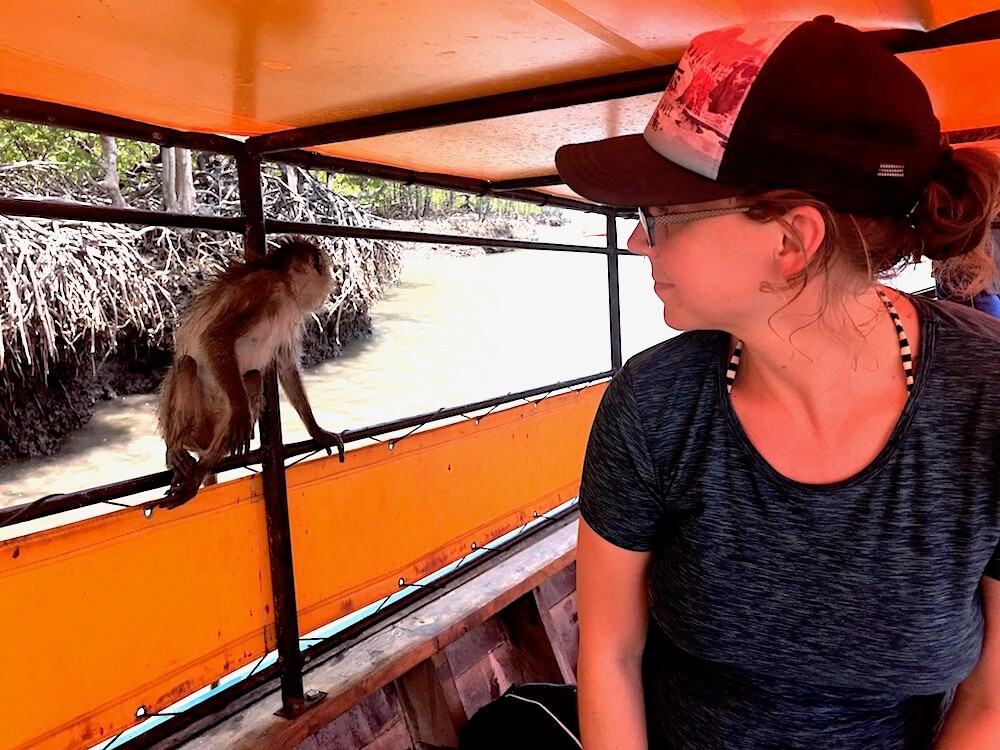 I didn't plan on letting a monkey get too close, but before I knew it, the tiniest little one inched closer to me. The rest is history. A minute later a mischievous monkey on top of the boat attempted to slowly steal my hat which gave us all a good laugh.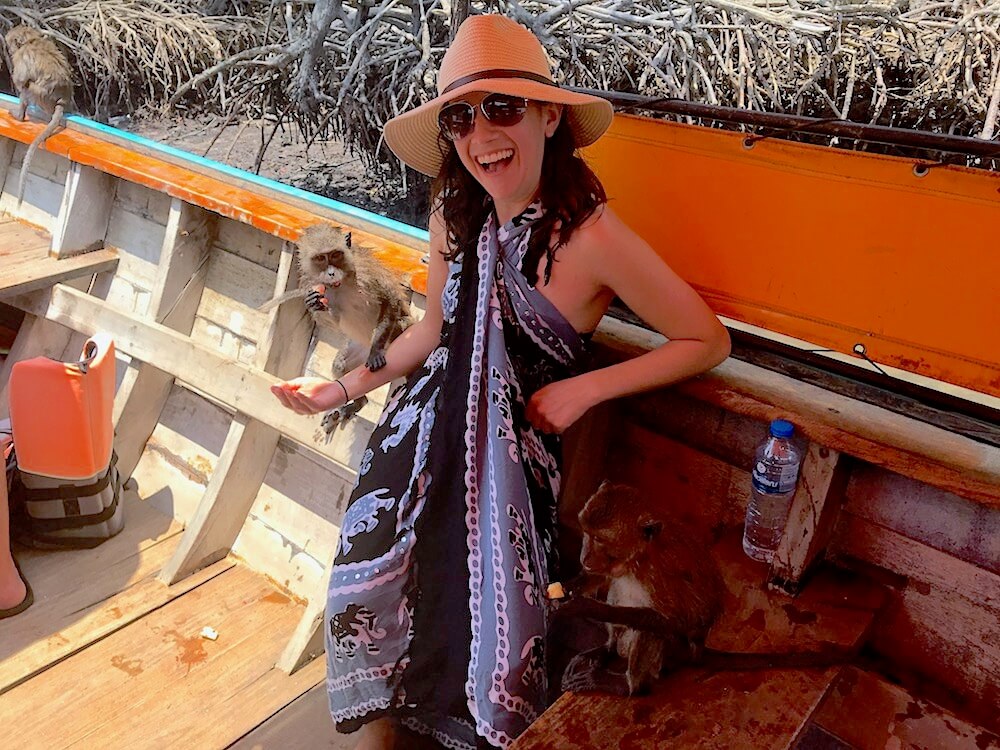 8.Relax Beach— Koh Lanta
Sink your feet into the warm soft sand while enjoying delicious international dishes like gyros and pho. We loved our view of the pristine turquoise waters at Fusion Bar. And the hospitality of the staff plus the ping pong and fire show kept us entertained well after sunset.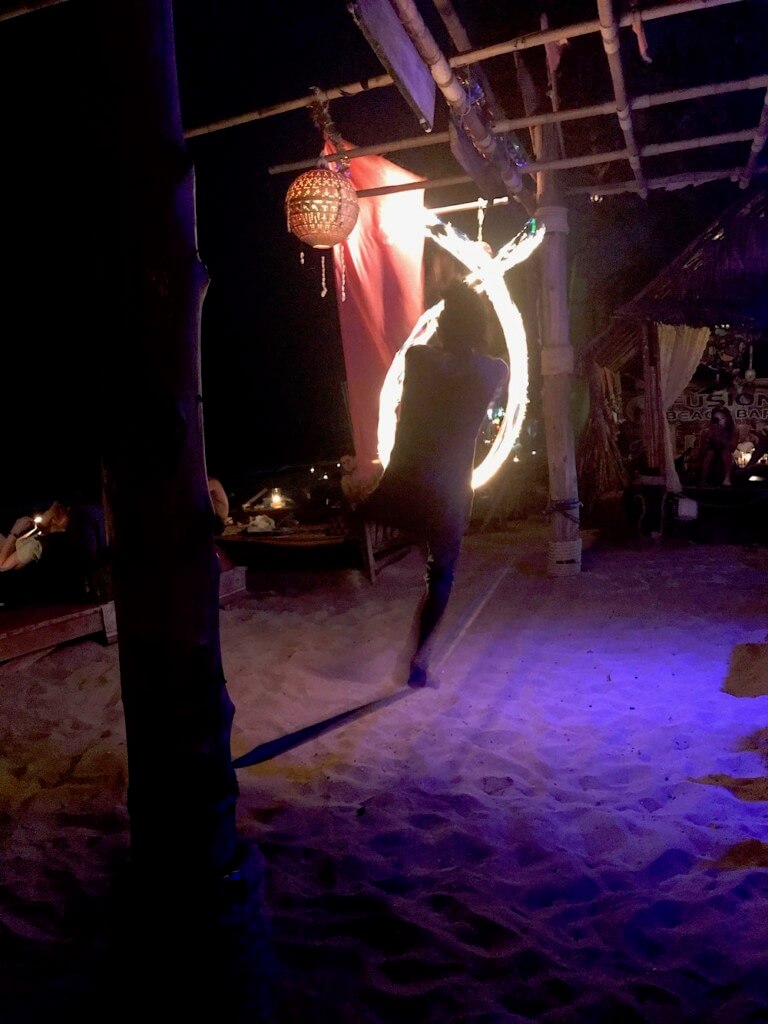 Be sure to stop by Lazy Days Restaurant for their fantastic mango coconut rum drink with tiny pieces of mango floating at the bottom. And the Pad Se Ew at Sea Culture Restaurant ranked in my top five. I even booked one of the most calming massages on a hut by the beach at Relax Bay Hotel (only $15!). True to its name, Relax Beach delivers the most chill vibes.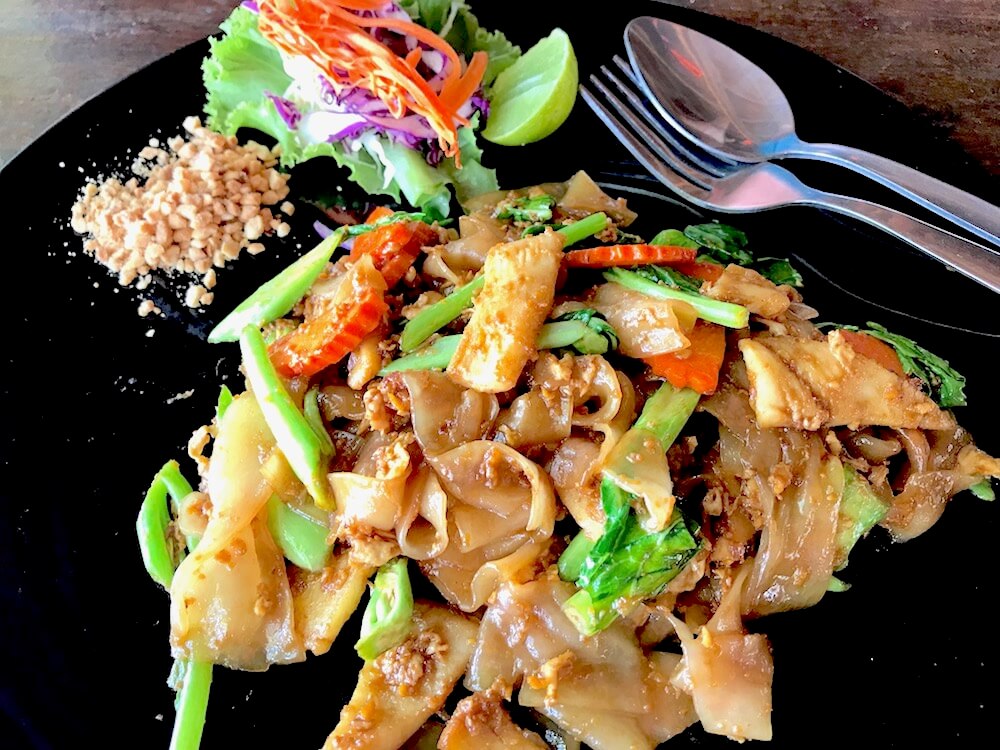 Where to stay? Our incredible hotel, the Chaw-Ka-Cher Tropicana Lanta Resort, was positioned perfectly between Relax and Bamboo beach. The breakfast of watermelon, Pad See Ew and tiny homemade waffles made my morning. The room felt like a vacation dream with an open roof outdoor shower. And the service was top notch.
Pro tip: Always tip your masseuse 20 percent or more.
9. Kayaking and Celebrity Photo Shoots—Railay Beach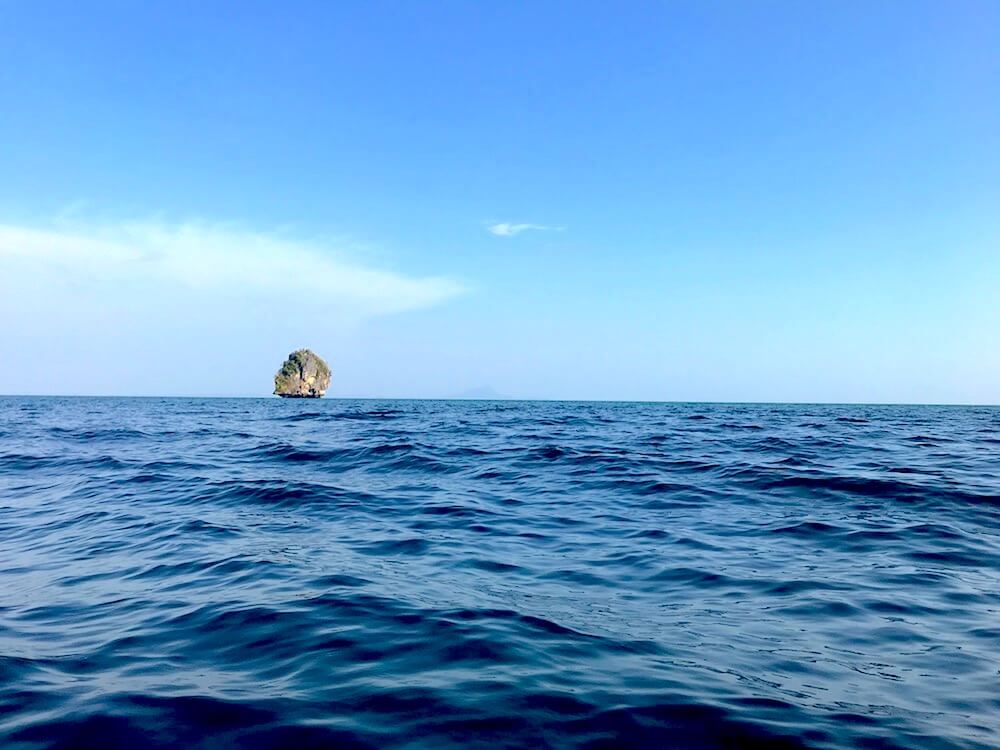 Not everyone can say they've stumbled onto a celebrity photo shoot. But that's just what might happen when you're kayaking to one of the most remote and gorgeous destinations in the world.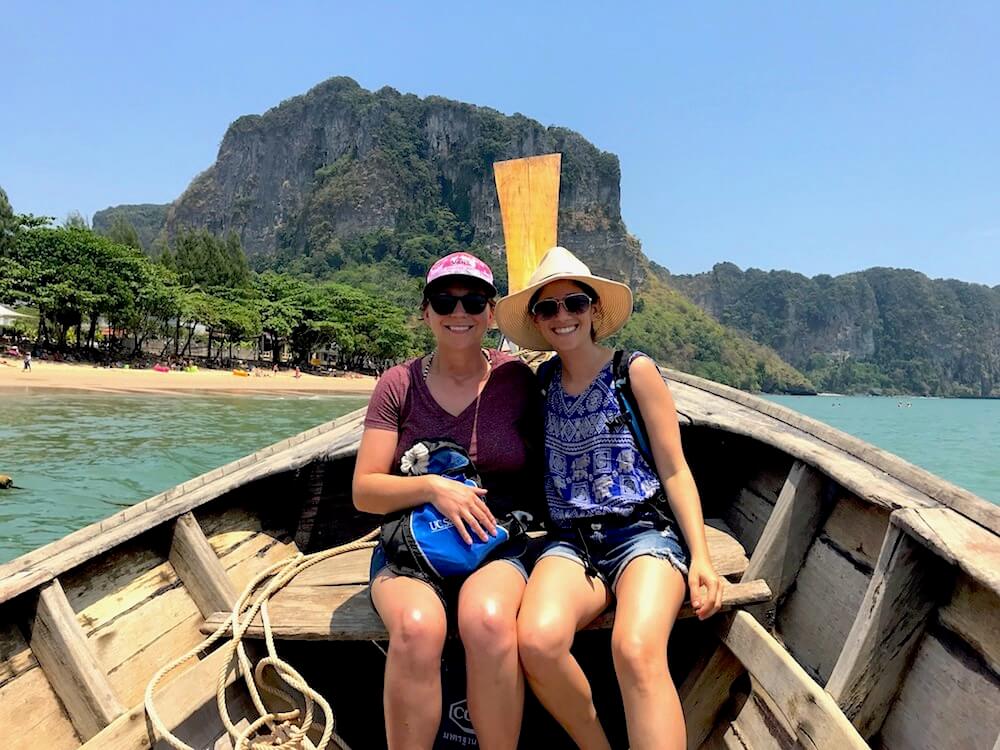 We took a long-tail boat to Railay beach where we lounged under Banyan trees and ate vegan wraps from a local stand.
Then, for only $7, we rented a kayak for a couple hours to visit an even more secluded spot, Phra Nang Cave Beach. Along the way we toured massive limestone formations and discovered a mini cave beach.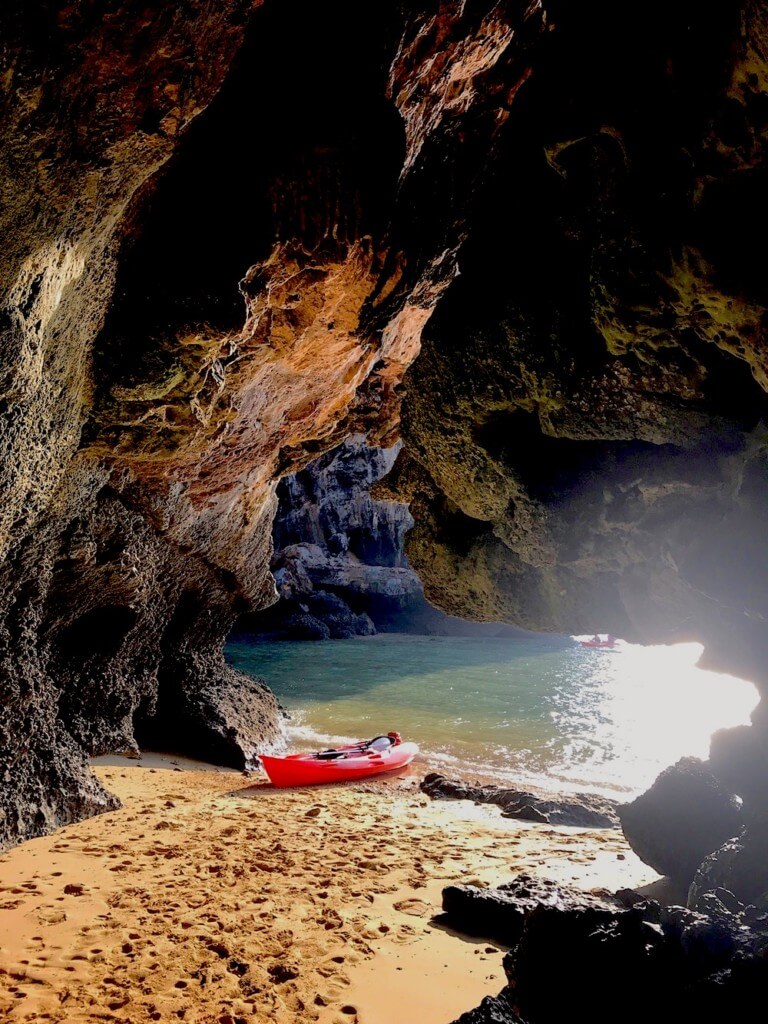 Once we hit the shore and swam in the warm waters for a bit, we asked a guy to take a picture of us. He looked pretty legit with his professional camera on hand. As soon as he said "sure," an entire crew set up around him. We quickly realized that we had randomly become the test subjects for a professional photoshoot.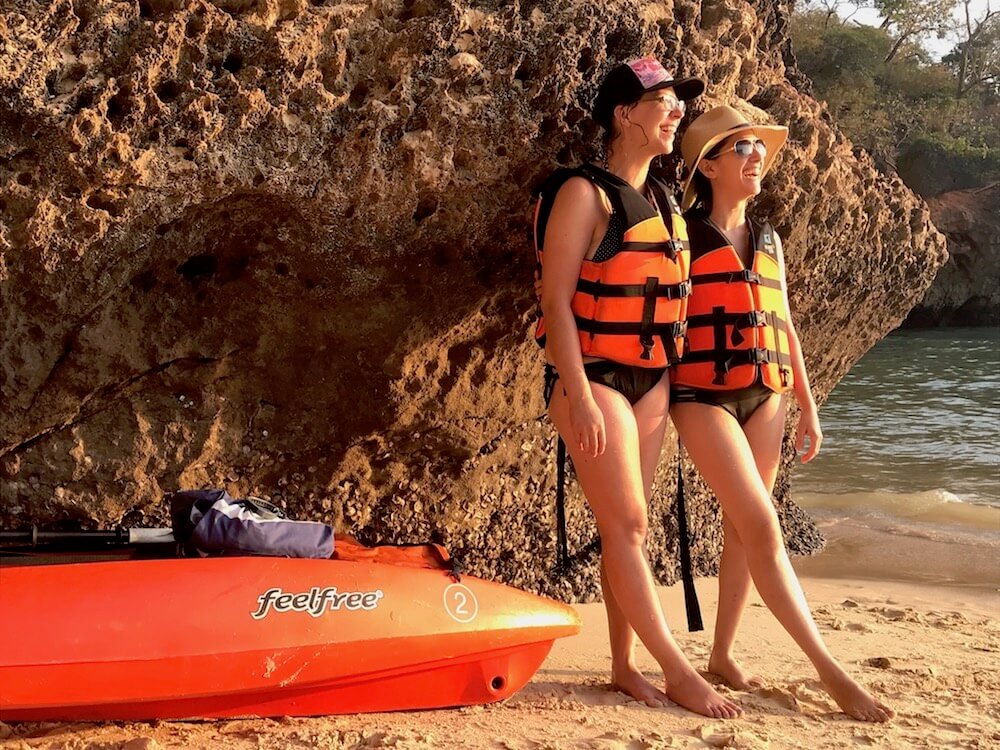 After we gave a gracious thank you, the guy next to him let us know that we had just been photographed by one of the top ten photographers from India. Pretty cool, right? As we kayaked off we watched the photoshoot take place, the models standing exactly where we stood, as the sun began to set.
10. Lion and Shark & Phra Nang Spa— Ao Nang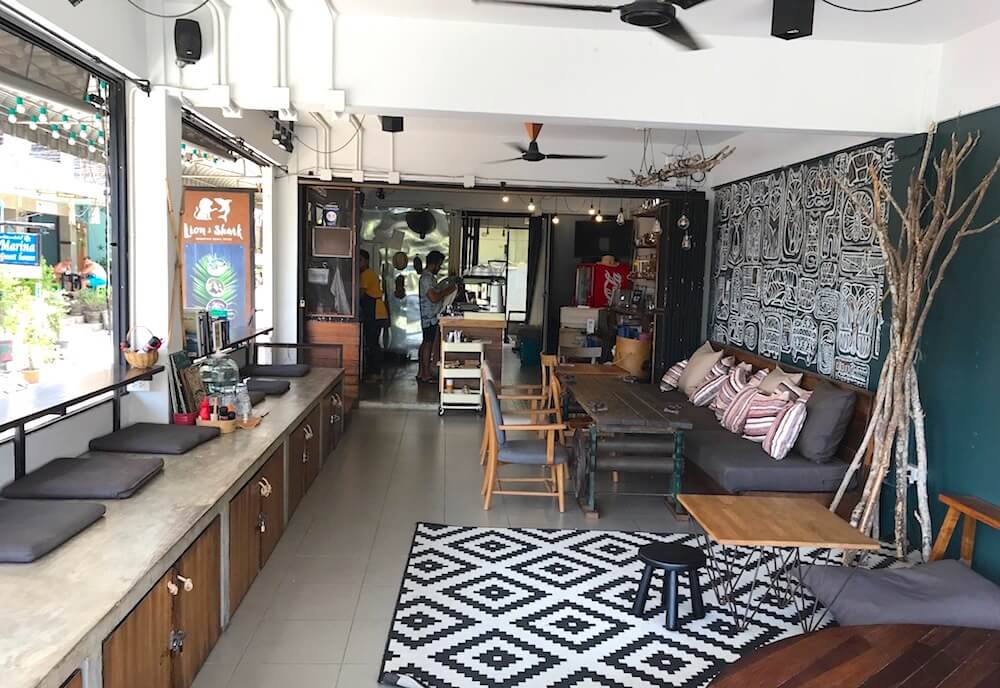 We found one of our favorite brunch spots in Ao Nang, Lion and Shark. It appealed to our SoCal palates with fruit bowls similar to acai and soy matcha green tea lattes. We indulged in the egg toasts too. The best part was the super friendly staff and the delicious breeze in this open-air space.
Be sure to get there for a late breakfast to avoid the wait from the mad rush of hipsters. After your lazy breakfast, head to Phra Nang Spa for the most luscious, clean and calming massage of your life. They even hand you a survey with your cold green tea at the end to ensure that you loved your experience. While slightly more expensive than the basic massages of Thailand, it's still under $20 for an hour massage. In Thailand, life is good.
Super Pro Tip: There's a lot packed into our guide for top 10 things to do in Thailand in just 10 days. My final tip is to pack light.