Need an afternoon to put away your screens and see something with texture, depth and vibrancy? Get away from those How I Met Your Mother reruns and visit art museums and show how high-cultured you are. These art museums range from "must see"s to "often-ignored," but each offers their own student discounts, specialized collections and one-of-a-kind highlights.
These 10 art museums will have you feeling artsy AF.
1. Chrysler Museum of Art-Norfolk
Tucked away near Chesapeake Bay, this art museum's collection has you favorite masters to several new names. The collection features works from basically every continent: Europe, Africa, East Asia and more. The best part? This art museum has an amazing blown glass collection complete with a studio where you can watch artists in residence at work. Plus, general admission is free all day erryday. Art museums like this were made for college students struggling with unpaid internships and student loans.
2. Virginia Museum of Fine Arts-Richmond
The Virginia Museum of Fine Arts attracts big traveling exhibitions and features evening stage performances in history-rich capital city of Richmond. Check out a historical civil war battle field then jolt your senses with the modernist architecture of the museum. While traveling exhibitions are ticketed, admission to the museum is always free. They even have Fridays Art & Wine where the museum café has discounted wine and the museum is open late with free tours every week. There's nothing college students like more than cheap wine and pretending to know art facts.
3. Torpedo Factory Art Center-Alexandria
If you are a studio artist looking to get inspired by living artists rather than feel intimidated by old masters, the Torpedo Factory Art Center will make you want to get to work in your studio ASAP. With 82 working studios, a gallery and almost twice that number of artists in residence, you can pick artists' brains on their process and work. Calling future collectors, this art museums is also free to visit and you can purchase the art, should you feel like you need to treat yourself to a graduation gift or add it to the wish list from mom or dad.
4. National Portrait Gallery-D.C.
Just because you can't afford tickets to Hamilton (or have tickets for summer of 2018) doesn't mean you can't get to know our nation's founding fathers before that. While an entire section of an art museum devoted to presidential busts may sound tedious, the museum's amazing architecture, fascinating subjects (entertainers, Nobel Prize winners and up-and-comers, too) and artistic interpretations will leave you speechless. You might even learn a thing or two.
5. Hirshhorn Museum and Sculpture Garden-D.C.
If you thought the Renwick Gallery was the only art museums to get Insta-worthy art pics, think again. Right now, people are literally lining up outside to get in to see Yayoi Kusama's exhibition called Infinity Mirrors. With bright colors, lights and, you guessed it, mirrors, this exhibition dazzles even the least excited roommate you dragged along with you. While everything is free, this exhibition is so popular it requires a timed pass. Even if you miss the show, the art museum takes you on a journey around its doughnut shaped halls and galleries. This means plenty of light and room for large scale drawings on one side and spectacular views of D.C. and modern masters on the other.
6. The Phillips Collection-D.C.
Check out the first Museum of Modern Art in America. While more traditional (and less contemporary) than the Hirshhorn, this art museum lets you browse past some stunners and familiar names from your Modern Art 101 class. But now the works are in front of you. The museum itself is half "white cube" with monochrome gallery walls, and half a beautiful, wood paneled, house rooms. The setting is so intimate that they even have a Rothko room where four to five visitors can sit, meditate, and reflect in a room, filled with the floating colored canvasses. Don't miss their highlight: Jacob Lawrence's The Great Migration series. The Phillips owns all the odd numbered panels and the Museum of Modern Art (MoMA) in New York owns the evens.
7. National Museum of Women in the Arts-D.C.
For any woman in art, the Guerrilla Girls are idols and she can't wait to see work by clothed women, rather than works of naked ones. For only $8.00, students get introduced to impressionist artworks both of women and by women. Never heard of Magdalena Abakanowicz? By the end of you visit you still might not be able to pronounce her name, but you'll definitely be moved by her works.
8. Freer and Sackler Gallery of Art-D.C.
The big name National Gallery of Art is one of those art museums to visit and be dazzled by a newly renovated East Wing and the classic Rembrandt and Rodin pieces you learned in that AP art history class way back when. Then talk a stroll across the mall to check out galleries devoted to Asian art. The Freer is closed until next October, but the Sackler easily occupies several hours of your time by itself. You access the various portions of the complex via an escalator that leads you into an entire network of high ceilinged, underground halls. Here, you'll find everything from delicate Japanese prints to vibrantly painted Islamic manuscripts.
9. Virginia Museum of Contemporary Art-Virginia Beach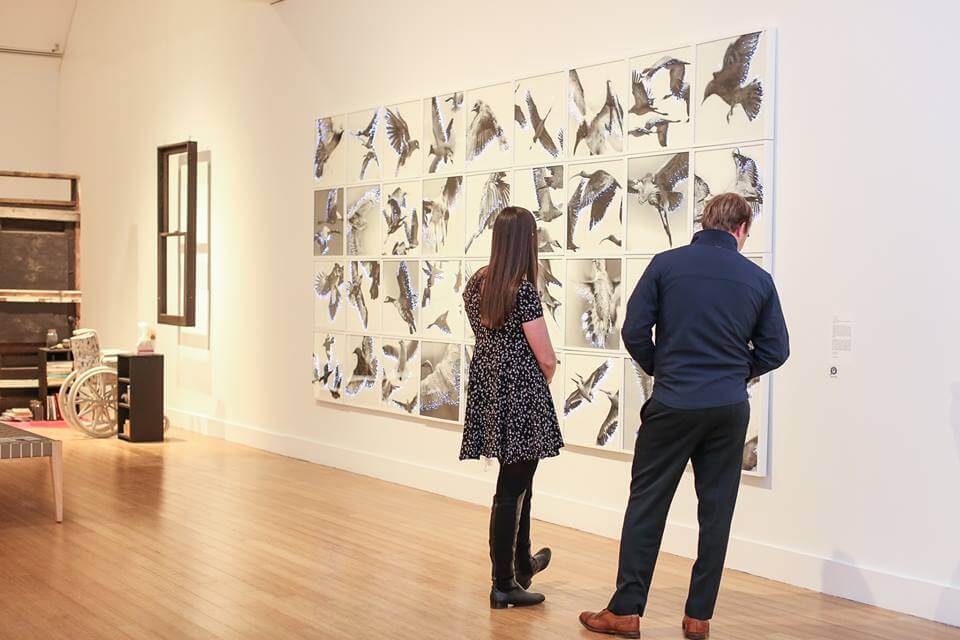 Artist who fight to #stayrelevant often find themselves in contemporary art museums, where artistic comments about Trump, the media and identity are all fair game. Get a chance to see current events reflected in living artists work. Bonus: admission only costs $5.50 for students and you get a free audio guide so you can understand what those abstract canvasses really mean.
10. National Museum of African American History & Culture-D.C.
While going to this art museum takes some planning, you can't miss their collection. Tickets are free but a limited number are released day-of online or at the door. And the monthly in-advance passes sell out in a day. Once you make it in, prepare to spend multiple hours learning and being emerged in culture. The museum's seven floors focus on history, social figures and an entire top floor devoted to music, performing arts, visual arts and a center gallery about fashion and literature. Even if you've never heard of these visual artists, you won't be able to forget their names after seeing these works.