Whether your night out at a bar, dance club, or party led you back to someone's house, apartment, or dorm — the truth is that you've got to wake up in the morning and find a way to get home. Everyone's hookup  is a little bit different, but there's no need to feel ashamed; you can either learn from it or continue to indulge in the same guilty pleasure. Here's how you can make the best of your awkward situation the morning after. 
Lisa Vasquez, an expert dating coach, wrote, "It's best to leave as early as possible, and I highly suggest before sunrise, and especially before he wakes up. Why? Because it's always better to leave your partner wondering 'Where did she go?' instead of 'When is she going to leave?'"
For some people, this first step may be the most difficult if you drank too much the night before. Once you've opened your eyes and have observed the room you're in, roll over slowly to see just who you've shacked up with. Hopefully, you're not too shocked or disappointed, but even if you are, it's best to remain calm and keep quiet.
"I once wanted to scream, but I realized that the last thing I wanted to do was wake this person who was so kind as to invite me back to his place, or his suitemates, the people across the hall, or the upstairs neighbor," Sarah K. from Metropolitan Community College said. "The less people who see you sneaking out, especially after a one-night mistake, the more confident and the less embarrassed you'll feel," Sarah added.
Kristin M. from University of Nebraska explained the next step for the escape. You should attempt to gather your belongings as quietly as possible. "Make sure you grab your essentials — phone, keys, I.D., and as many articles of your clothing as possible. If for some reason your hookup buddy fell asleep clenching onto something of yours, make do with what you've got or take what you need of theirs as stealthily as you can." 
As you're heading toward the door, straighten out your clothes and quickly fix your bedhead. If you see any roommates, don't speak; remember your morning breath and that you owe them no explanation. When you get to the door, you'll have this desire to try to open it slowly. Curt R. from Texas A&M told us why that's not the best idea. "Pull open that door like you're pulling off a bandaid. Don't prolong your hookup, and the earlier you get out of there, the less people you're likely to see."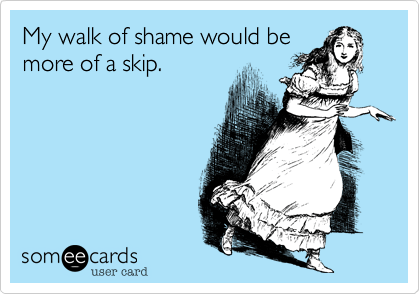 Katherine C. from University of Missouri outlined how to exit from a dorm hookup on a school night. "Class times at my school follow a pattern, and I make sure not to flee when I know large groups of people are making their way back to their dorm rooms. If classes end at :15, I make sure to leave as close to then as possible because, by :30, everyone's back onto the floor and I don't want to see his entire floor especially if I don't want to see him ever again."
Once you're out the door, you can't turn back. You've got to face a new day and every face you just couldn't avoid. Walk out of the building or house like you own the place because there's really no reason to tiptoe around after you've made your way out of your bed buddy's room. Again, don't be ashamed. Whether or not you enjoyed your night or care what people think, it's totally possible to own your stride home. Just avoid glaring into the light, walk as straight as you can, hold tight onto your belongings and don't look back.
Images from charlestoncitypaper.com, ballnroll.com and someecards.com.