Top editors, design staff, photo staff and writers at the University of Georgia's student newspaper the Red & Black resigned on Wednesday afternoon.
According to the non-member's new blog Red and Dead, the staff witnessed increasing control from non-students. The student newspaper, which has existed since 1893, has been independent from the university since 1980.
Former editor-in-chief Polina Marinova wrote a statement for the blog discussing the walkouts. In it, she says that in less than one month the paper hired more than ten people to serve as permanent staff with veto power over students' decisions.
Marinova goes on to describe a draft written by one of the board of directors detailing the differences between "good" and "bad" content. She writes that the draft described "bad" as "Content that catches people or organizations doing bad things. I guess this is 'journalism.' If in question, have more GOOD than BAD." Another issue was that the editorial director, formerly the editorial adviser, would see all online and print content before it was published.
"For years, students have had final approval of the paper followed by a critique of the adviser only after articles were published," she wrote. "However, from now on, that will not be the case. Recently, editors have felt pressure to assign stories they didn't agree with, take 'grip and grin' photos and compromise the design of the paper."
According to the blog, Marinova said the worst part was that the student staff had no input in the changes, despite many of the staff being talented and working there for many semesters, including herself. Because of these changes, the majority of the staff decided to resign.
In an article posted on their website, Marinova explains why she personally left the paper. "I decided to resign as editor-in-chief because I felt it wasn't an environment about learning and training students to do quality journalism anymore," she said in the article. "I loved the Red & Black and did not agree with what it is becoming, so I decided to step down as the student representative of the paper."
According to their twitter account, the former writers do not believe University of Georgia administration is behind these changes.
A website and twitter account have all been posted under variations of the moniker "Red and Dead." For the full statement, visit redanddead.com and follow the former staff at @redanddead815.

At time of print, none of the staff were available for comment.

This is a breaking story; please check back at collegemagazine.com for updates.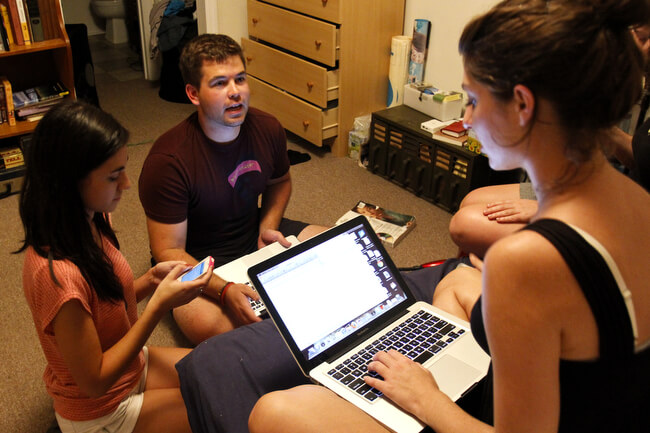 Photo: Polina Marinova, Evan Stichler and Caitlin O'Brien discuss what will be released on Red and Dead concerning the student staff's decisions.