According to a Netflix survey, 45% of TV viewers are more likely to work out if they can do so while watching their favorite show. For college students, summer is binge-watching primetime. But when you don that bathing suit, you might regret spending all of July on the couch with How I Met Your Mother instead of hitting the gym.
It turns out you can have the best of both worlds, thanks to the recent TV show workout trend. We've compiled a list of TV workouts for Netflix's top 12 most-watched shows, at CNET's last report. Choose your favorite, pull on your gym shorts and get to work on those abs without sacrificing time with your best-loved series.
#1 BREAKING BAD
Sure, our time with Walter White has ended, but you know you're dying to go back to the roots of it all. Fortunately, Blood, Sweat and Cheers has created an infographic in honor of the last season for Netflix's most popular series. It's full of enough squats, wall sits, and burpees to completely destroy your thighs.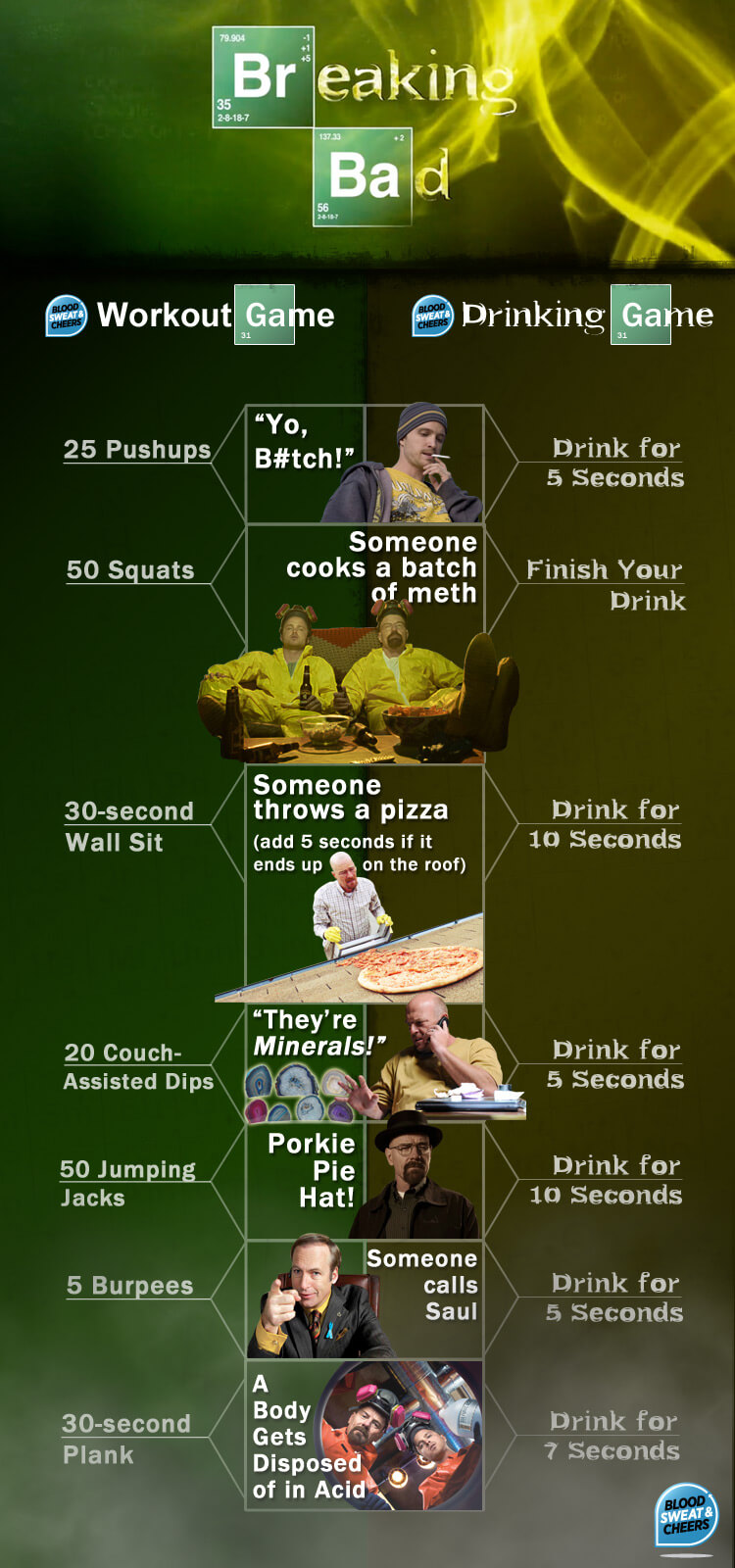 #2 FAMILY GUY
Getting in a good laugh with the Griffins might feel like an ab workout, but don't be naïve enough to think that'll cut it for beach season. Fitbie's infographic workout, however, will target those abs and tone your butt in the process. It's low rep—no more than 15 of any exercise per set—so great for beginners.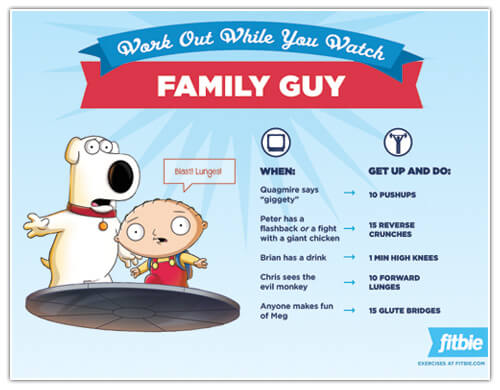 #3 HOW I MET YOUR MOTHER
Okay, okay. None of us want to talk about that finale. But in the sage words of Legally Blonde, "endorphins make you happy," so working your frustrations out while you wallow in earlier episodes could prove surprisingly therapeutic. Blogger WhimsiKel has created her own workout suggestion for your enjoyment—though with the bonus challenge of planking during three commercials, maybe "enjoyment" is the wrong word.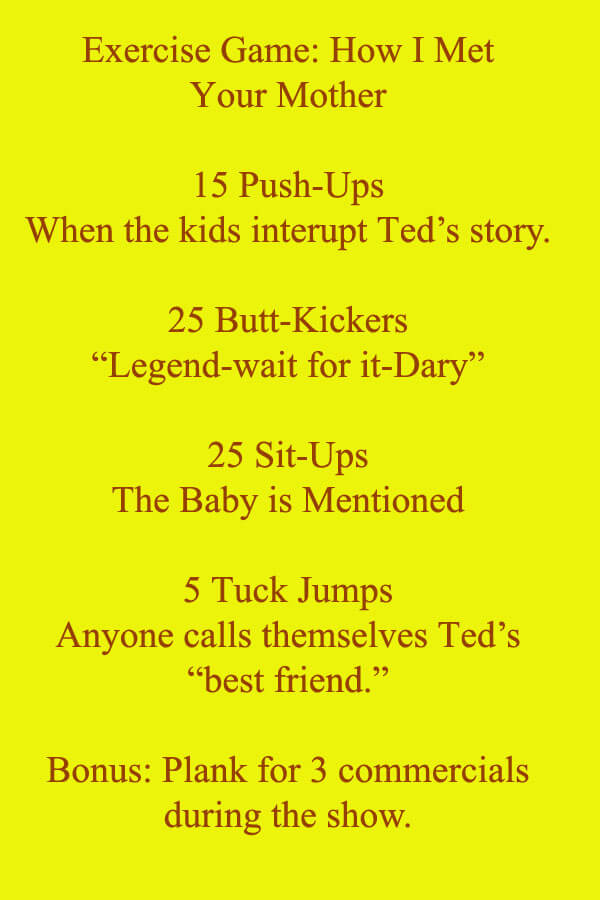 #4 SUPERNATURAL
If a show full of hot guys isn't inspiration to get in shape, what is? Better yet, blogger Emmie Mears includes stills from the episodes in her self-made Supernatural workout, just to make the scrolling worth it. Several exercises can incorporate weights if you're looking to bulk up your own biceps.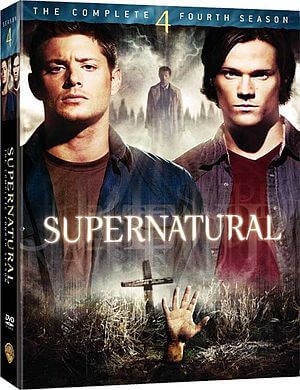 #5 THE WALKING DEAD
I don't know about you, but the thought of being chased by zombies really inspires me to get in shape. On gym Anytime Fitness's blog, you can find a pretty comprehensive workout to help you do just that. There are sets for show buzzwords, like "fence," as well as common scenarios (Woodbury citizen dies), so you're guaranteed to work up a sweat. Tweet at them if you use it!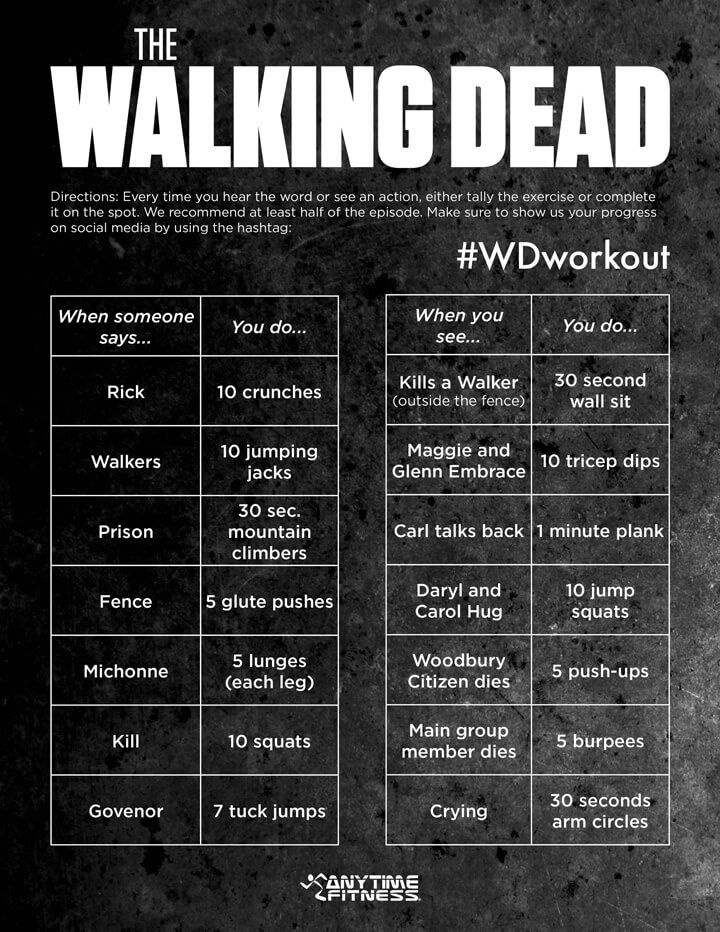 Admit it, you're addicted, but you might not have made it through all five seasons yet. Why not test your physical limits while you spaz about all those texts from A? Peer Fit has pieced together a nice companion workout on their blog. With high knees, jumping jacks, and burpees incorporated, you'll be able to channel your nerves into bouncing all over the living room.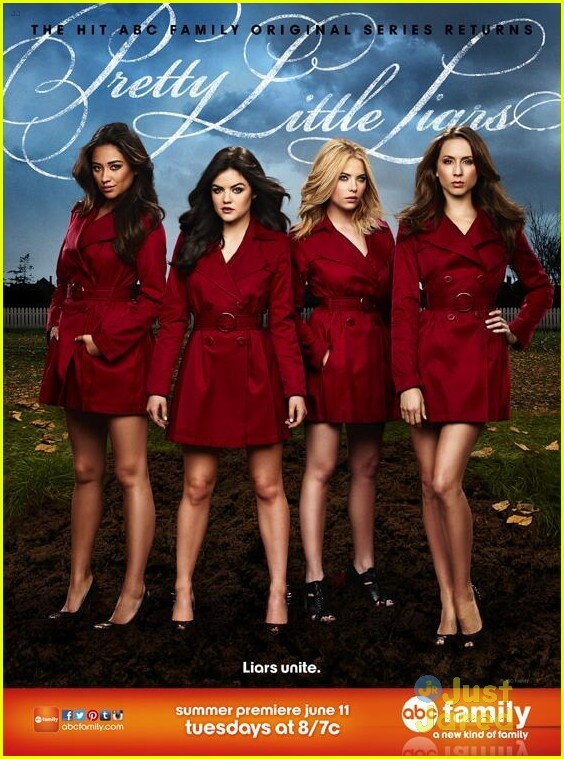 Check out our interview with Pretty Little Liars' Lucy Hale.
#7 ARRESTED DEVELOPMENT
Whether you're getting to that fourth season late or catching up on the original three, this workout from Blood, Sweat and Cheers will have you doing your own chicken dance trying to get in shape. If you know the show well, try to avoid any episodes where somebody gets a hop-on—you're in for 50 squats if they do!

#8 DOCTOR WHO
No need to travel through time, space, or even humid outdoor summer air to break a sweat. Buzzfeed has featured a wicked scheme likely to exterminate you in your own living room, considering that all 7 of the new series are available on Netflix. Your abs are bound to be sore, and not from laughing: this regimen has a wicked number of bicycles, crunches, and leg lifts.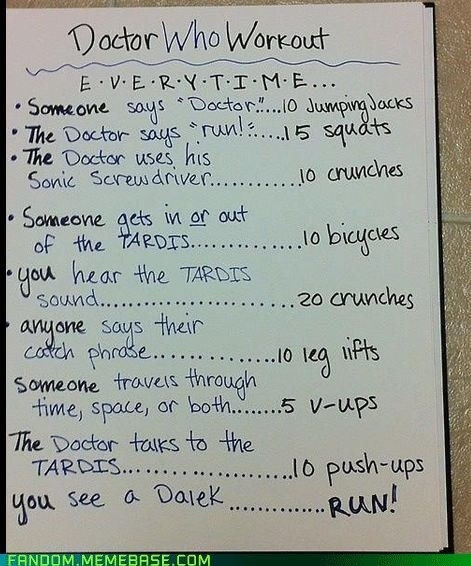 #9 GREY'S ANATOMY
You, too, can be a McDreamy if you use your time with your favorite medical drama to get fit. Watch All the Movies' Tumblr has a great workout for Grey's Anatomy (and archives for many shows not featured here), as well as a sidebar explaining what some of these mysterious exercises are, in case you're unfamiliar with them. But for this workout, it's pretty elementary, with lots of crunches, pushups, and squats
.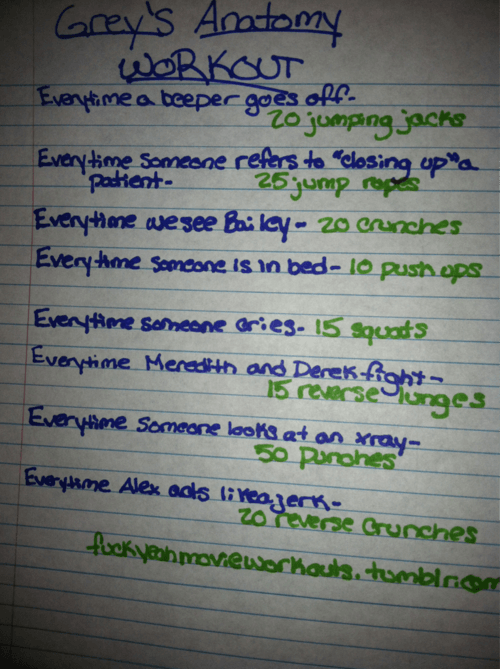 #10 THE VAMPIRE DIARIES
Back On Pointe's almost supernaturally unique fitness moves may feel kind of bloodsucking, but Nina Dobrev herself tweeted about them. Bonus: most of the sets are very low rep, so it's great for beginners. You know the mystery's killing you.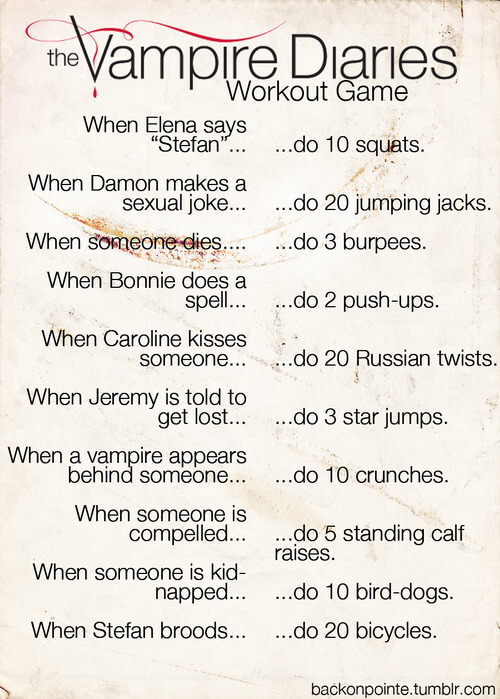 #11 ORANGE IS THE NEW BLACK
You know you've been binge-watching this ever since you got out of your last final, possibly because you're still trying to fill the void Breaking Bad left behind. Here are Watch All the Movies' suggestions for toughening you up right alongside Piper. Be warned: it's a pretty extensive regimen. You'll get to try a lot of new things, like flutter kicks or mountain climbers, but the next morning you might feel the burn in some muscles you didn't know you had.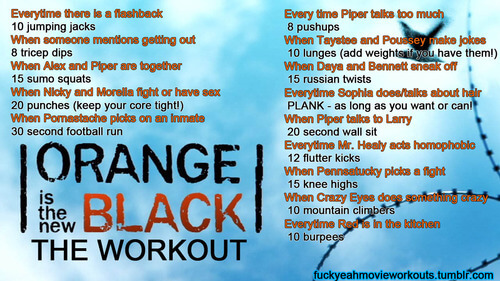 #12 HOUSE OF CARDS
If you missed the second season and are just settling onto the couch to get up to speed, think again. Train Heroic has put together a workout that will have your abs burning more than your curiosity about the latest political intrigues. Fortunately, it includes commercial break stretches to keep cramps at bay. Be warned, though—it will spoil the first season if you haven't finished that yet!
BAKER'S DOZEN: GAME OF THRONES
The violent and incestuous sensation taking the world by storm is not currently available on Netflix Instant, but we know you're watching it anyway. Total Beauty's original workout, a simple list which features jogging, punches, and lunges, will get you into fighting condition in the meantime.