As we near the the Conference Finals, it is important to look back at some of the best moments in NBA playoff history. Here's the top 10 NBA playoff series of the last 10 years.
10) Lakers-Thunder (2010)
Although Kobe's Lakers won this first-round matchup in 2010, it was the start of something great for the Thunder. Kevin Durant had already been established as a perennial threat to win the scoring title, but his supporting cast of Russell Westbrook and Serge Ibaka really stepped up in this series to make it tough on the Lakers. L.A. took the series in six off of a great Pau Gasol put-back.
9) Suns-Mavericks (2005)
Two former teammates, Dirk Nowitzki and Steve Nash, squared off in this second-round series in 2005. Both stars were at the height of their careers (at least before Dirk took home a ring last year). But the style of play made this series really exciting. Mike D'Antoni's eight-second offense became must-watch TV, and it paid off with a six-game series win.
8) Cavaliers-Pistons (2007)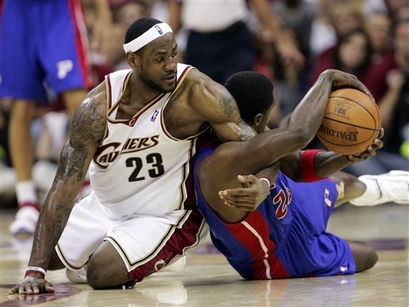 LeBron managed to take down Detroit in six games, but not before he struggled … mightily. James put up only 10 points in the first game, but his Cavs overcame an 0-2 hole to advance out of the Conference Finals and into the first NBA Finals appearance for the franchise.
7) Mavericks-Heat (2011)
In perhaps the most intriguing NBA Finals since Michael Jordan's day, Dirk and the Mavs managed to make a lot of people happy by ousting LeBron, D-Wade and the Miami Heat. Many, including myself, thought that Dallas was too old and too worn down to win this one. Boy, was I wrong. Dirk put his team on his back and carried them to a six-game upset.
6) Spurs-Pistons (2005)
It is rare that an NBA Finals goes to seven games, so when it does, it has to be included. Timmy Duncan was at the peak of his career, but so were Ben Wallace, Chauncey Billups and the rest of the Detroit Pistons squad. Game 5 turned out to be the pivotal moment in series, as the Spurs squeaked out an overtime road win. They would drop Game 6 but go on to take Game 7 and the ring.
5) Lakers-Celtics (2010)
The most classic of NBA rivalries created, once again, an entertaining NBA Finals. This one went to seven games, with the Lakers pulling it out despite a 6-24 shooting performance from Kobe in Game 7. Ron Artest's (not Metta's) 3 sealed the title for L.A., even though most Lakers fans would not have chosen him to take that shot.
4) Lakers-Spurs (2002)
The Lakers seem to be on this list a lot, but that is because they play exciting playoff basketball. In this series, a young (No. 8) Kobe led his team from four fourth-quarter deficits to pick up the series win. It only lasted five games, but those five games had the excitement level of even the best seven-game series.
3) Mavericks-Warriors (2007)
The undisputed biggest upset in NBA playoffs history happened in '07 as the eighth-seeded Warriors dismantled the top-seeded Mavs in the first round. Stephen Jackson hit seven 3s in the decisive Game 6 that had the Warriors advancing and the Mavs shaking their heads in disbelief.
2) Celtics-Bulls (2009)
This matchup in the '09 playoffs pitted the second-seeded Celtics against seventh-seeded Chicago. What is so exciting about that? How about seven overtimes in seven games. No, not every game went to OT, but the three-overtime Game 6 and the two-overtime Game 4 are two of the best and most exciting playoff games in recent memory. In the end, the original Big Three were too much for the young Bulls squad to handle.
1) Lakers-Kings (2002)
Throughout his long NBA career, Robert Horry averaged seven points per game – nothing to write home about. But, they don't call him "Big Shot Bob" for nothing. His buzzer-beater in Game 4 of this Western Conference Finals is one of the most famous shots in NBA playoff history. Every game in this series was close, but in the end, Kobe and Shaq (and Robert) were too much to handle. The Lakers would advance in seven and go on to win it all.