You're sitting at lunch with a friend, phones seated face-up on the table like additional mealtime companions, when a short vibration makes the table quiver. It's your friend's cell, vying for his or her attention. The screen lights up and a notification appears in a banner-style box next to a tiny clip art image of a flame.
"You have one new match!"
Your friend has just received a notification from, Tinder, a popular new social media app that is sweeping the 20-something dating scene. The program allows its users to view other Tinder users within a certain geographical range and "like" those they find attractive. Since the user's profile is comprised of imported Facebook data, other users can see a profile picture as well as mutual friends and shared interests. If two users find each other mutually attractive, they "like" each other and  Tinder notifies both users that they have received a match. Once two users are matched up, they can contact each other via Tinder message. If the attraction is not mutual, the "like" remains anonymous.
In other words, Tinder is online dating without the commitment or pressure, with the added convenience of close proximity and anonymity. This is exactly what makes Tinder so popular among college students and recent graduates. "People are more likely to show interest since there is no risk associated with it," said Serena Lofftus, a senior at Boston College. "You don't need to play it cool since its anonymous."
But few people seem to take Tinder very seriously, which adds to the casual nature of this unique social network. "I just wanted to see what the fun, new app was and who else was using it," said Chelsea Chin, a senior at Boston College. "It's funny to see people I've liked on Tinder around campus."
 The relaxed attitude that permeates the Tinder world certainly enhances its appeal for some, but for others, it can be a major drawback. Yonas Tsegaye, a senior at Boston College, expressed his hesitations about Tinder, saying that the app is "a terrible idea."
"Tinder is cheap," said Tsegaye. "It's used to hook up, not build relationships. Other dating websites try to at least make you feel like you are meeting a real person through their interests." Because Tinder profiles consist of little more than a photo, it can become a simple game of "hot-or-not."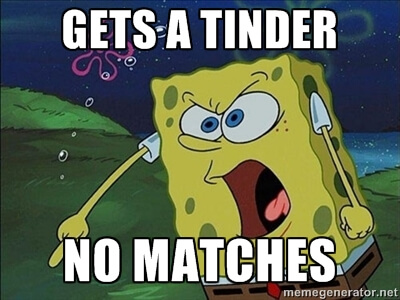 In this way, Tinder may be having a negative effect on the generation that is most infatuated with it. College students are often criticized for having a fear of intimacy, as is evidenced by the prominence of "hookup culture". Tinder only makes instant gratification easier, which could be a movement backwards for those who are looking for something deeper.
Although Tinder can be risky in this respect, there are rare success stories as well. Grace Eire, a graduate of Skidmore College now living in Chicago, claimed, "I joined just to chit chat with guys because it's fun and kind of an ego boost."
Despite this, Eire did, in fact, meet someone.
"I never would've approached him in real life," said Eire, "but when I saw him on Tinder, I thought, he's cute, why not?"
Since their first meeting, Eire and her Sergio have gone on several dates, and have plans to continue seeing each other in the future.
The real problem lies in whether or not true intimacy can be established this way. Stories like Eire's, however, predict a promising future for Tinder as a legitimate dating service.
 "We're waiting for Tinder marriages," said Chin. One can only hope that the weddings themselves won't take place online.  
Photo from servantboy.com