Too busy settling into your dorm room to catch the latest college news? We've got you covered with this nifty wrap up we've compiled just for you.
1. Higher Tuition Costs = Less Student Debt? 
It turns out that g
oing to the Ivy Leagues has some major payoffs… and we aren't talking about the fun of name-dropping your university at high school reunions.
According to the
U.S. News & World Report
the schools sending their students off with huge debts to payback aren't the ones with the six-figure price tags and the name to match. Because big-name universities generally produce the most successful alumni they're the ones raking in money from alumni endowments. What does that mean in layman's terms? Well, for the few who get into those ivy-league-esque schools it means that the price of tuition and housing are offset generously for most all students. For those who decided to go to a "less-expensive" university it means you might be getting gypped – most
colleges with lower tuition give out relatively little to no financial aid,
so footing the bill will rest squarely on your shoulders… possibly for many years to come.
2. Johnny Football Might As Well Just Get His Own Reality TV Show.

With the Johnny Manziel scandal all "cleared up" and "squared away" Saturday's game between Texas A&M and University of Alabama has most football fanatics in a Friday-night frenzy (yes I know the game's actually Saturday, but I love Friday Night Lights and therefore associate all football games with Fridays). To add flame to this fire CBS announced this week that they will feature a "Johnny Manziel Cam" to cover the Heisman Trophy winner's every move during the game. Of course some would argue that giving that much attention to a sophomore player who almost lost everything by being too-eager to sign autographs earlier this year is a bad move, but hey, it's not like his head can get any bigger anyway… right?
3. Concealed Weapons Might Be Coming to a Campus Near You.
In the past year 19 states have tried to pass legislation allowing concealed weapons on college campuses. Despite what this might have you believe, now, more than ever before, college students are standing staunchly opposed to this move.
78% of Midwestern college students said that they were not okay with allowing concealed weapons on campus
, and that they would not feel safer being allowed to carry a handgun. Most students surveyed believed that having
concealed weapons
on campus would actually be a detriment to safety, increasing suicide and homicide rates among their peers. Go figure, give a kid a gun and he just might be tempted to use it.
4. Students Stand for Syria.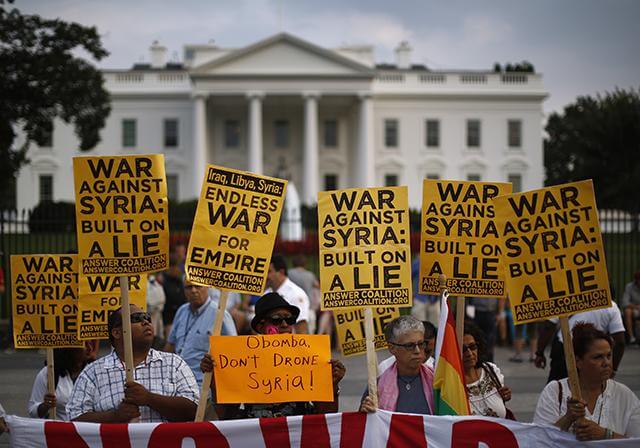 Across the country students are protesting President Obama's call for a military strike against Syria. With thousands of Syrian students studying abroad in the U.S. it's no wonder that college students everywhere are trying to make a stand for peace in our dealings with this Middle Eastern country. At Brown University students, carrying drums and signs, marched through campus and Providence urging the U.S. to rethink military strikes in favor of peace. They're encouraging their peers to contact their representatives to tell them how they feel about this issue, and it may not seem like much, but every vote for peace in Syria means something to the Syrian students among us.
5. Vanderbilt Rape Case Goes Unresolved.  
In a disturbing twist on Friday, four of the football players at Vanderbilt University who are facing five counts of aggravated
rape
and two counts of aggravated sexual battery charges were
given another month before they face their charges in court.
This means they're free to wonder the streets until mid-October. One of them, Jaborian McKenzie, has already returned to Alcorn State to continue playing football there. His coach maintains that he is "100% innocent," but I think we're all holding our breath for October, when
a jury of their peers will decide what happens next.