We all get four years to make some of the wildest, stupidest and most genuine decisions of our lives. But the first three years pass in the blink of an eye, and with every memory you've made at college, you probably still have a lot left to do. Senior year is your last hurrah, so make it count by saying goodbye to college with these 13 activities.
1. Take a road trip
(Via troll.me)
Either going to a friend's house a couple of hours away or driving to a landmark can relieve senior stress and make last-minute memories. "A friend and I went to a Ohio game which was like 7 hours away," Penn State senior Joe Incelli said. "This year we're thinking about doing a Michigan trip."
2. Go to class drunk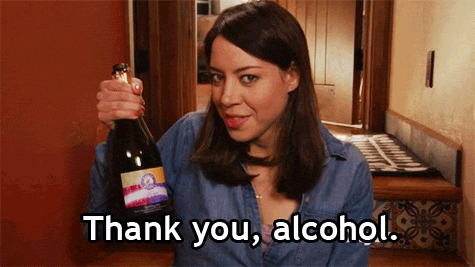 (Via giphy.com)
Whether it is day drinking during spring fling or just a wild idea you and your friend put together, you won't be the first people to do this. If you have a review lecture about an upcoming exam, however, maybe you should hold off until another less important lecture comes along.
3. Unmask your school's mascot
(Via quickmeme.com)
The Nittany Lion remains a bit of a mystery to State College students. "I don't know if it's a guy or a girl to be honest," Incelli said. "I think if people did know, it would spread fast," he said. Virginia Tech senior Kylie Snyder said that her mascot's identity gets unveiled during graduation. "There's a freshman, sophomore, junior and senior mascot," she said. "At graduation, [the students] find out who each one is."
4. Attend a game for each sports team
(Via giphy.com)
"[It would be cool] to see what all the other sports teams have to offer," Incelli said. With 15 varsity sports teams at Penn State, Incelli said he wants to attend as many sporting events as possible while he has the chance. Snyder agrees. "Normally I just go to football games, but I know there are other good sports teams at Virginia Tech," she said.
5. Go to a beer garden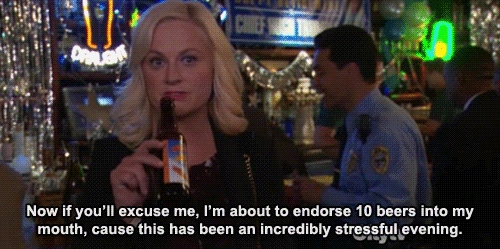 (Via giphy.com)
From permanent locations to pop-ups in local towns, beer gardens enjoy high popularity among college students who crave local food and brews. "We have had a beer garden on campus for graduates but the only time you're allowed to have alcohol on campus is for football games," Snyder explained. "I would probably go to one this year."
6. Host a house party
(Via quickmeme.com)
Once you're out of the dorms, freedom in college becomes a whole new concept. Aim to throw a party at welcome week, at the end of the semester or at the end of the year. A goodbye open house just might put you and your roommates down in rager history.
7. Chat up the bartender or bouncer
(Via imgur.com)
You get all dressed up to go out and party with friends only to get one over-priced, watered-down drink from a grumpy bartender. Talk about a buzz kill. "Definitely [get to know] the bartender or bouncer," Incelli said. "You always know if you can get in or not. I've found that very helpful at a couple bars." "Whether it's getting a drink faster or not having to pay as much, I found this to be pretty helpful," Incelli said.
8. Do something naked
(Via frabz.com)
Go skinny-dipping in the athletic facility's pool, play strip poker with your friends or go completely naked for a day. Try to stay inside though — public exposure is illegal.
9. Befriend your campus officials
(Via quickmeme.com)
If you're ever in a pinch, knowing someone high up could help you get out of it. "You might not be best friends with them, but if you do need them, they're there," Incelli said of the RAs and security guards at Penn State. "The campus police are chill and laid back. They're always out around [the campus]."
10. Successfully start a slow chant/clap
(Via sportsmemes.net)
There are some chants and claps that work like a slow wave, and after a little while, they build bigger and bigger. Most successful chants happen at parties. Try "USA!" for a popular favorite. Slow claps are a little trickier. Wait for the silent aftermath of a groundbreaking event.
11. Shout from the rooftops
(Via memecenter.com)
Every campus has a tallest building. Some have towers or observation rooftops that everyone talks about but never explores. Now is your chance. Climb to the building's rooftop and shout out so all the campus can hear you. Take a photo or two so others will know you didn't chicken out.
12. Darty with your friends
(Via quickmeme.com)
A day party: drinking constantly from dusk till dawn. "It is very popular on Saint Patty's day. Over the past couple years…it was pretty wild," Incelli said. The key to a fun and manageable darty? "Know when you shouldn't be drinking and what you can and can't drink at that time," Incelli said.
13. Love your walk of shame
(Via giphy.com)
This is something that college students are all too familiar with. That embarrassing walk home in last night's party clothes is not a pretty picture. Whether this is your first or hundredth walk of shame, own it. You're a senior, so strut your stuff like you don't have a care in the world.
(Main image via betabridgealmostdaily.com)