Tis the season to be single, fa-la-la-la-la no gift giving, just you and your Sex and the City marathon with some nice cool wine to warm yourself up on those oh-so-snowy nights.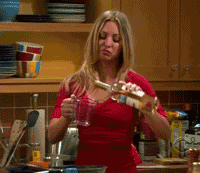 All my single ladies, put your hands up. We know it's the season of love: the holidays are supposedly for finding that one person, or two, to kiss on New Year's Eve as the ball drops, but who says you can't love yourself during these time? Why not be the good ol' independent woman who don't need no man.
As a woman myself, I know what it's like to have no one during these times, but who cares, right?! I don't need a guy to make me who I am, and neither do you, Instead of focusing on your single status focus on yourself and that booty you'll be working in 2014. Get in the gym sweat out that pint (of ice cream) you ate while watching The Notebook, and realize Noah will come along once you have it all together. Take a butts and guts class and get it moving, start focusing on getting the job of your dreams, and remember that men like a woman who knows how to take care of herself. You'll have them lining up out the door in no time with your cool new single-girl attitude, so get ready to take your pick.
It may be cold outside, but at least as a single-gal "you'll be able to wear that onesie pajama set, and not worry about looking sexy or you can cuddle under a blanket without worrying it will be hogged," says Traci Jones, Penn State Alumnus. She has a great point ladies, we all know guys like to steal those covers and don't understand the comfort of a onesie set. Don't knock it till you try it.
So let's get to the point here, yes it may be nice to receive gifts from that special someone, but just think about the money you'll be saving. Because you didn't have to buy anyone any expensive presents this year you saved enough money to treat yourself – go get your nails done, go tanning, and heck, buy yourself that Viva La Juicy Couture set you've been eyeing. In the words of Oksana Smoliniec, East Stroudsburg University, "there's no better cuddle buddy than your girls and a glass of wine." Get it girlfriend.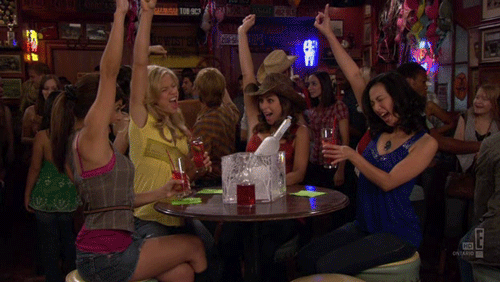 So cheers to the single ladies this New Year's, because despite heartbreak and even being replaced by a girl with a trashy name, you stood up, grabbed a non-shareable throw blanket, did a hair flip to your friends who are stressing about their boyfriends and rung in the New Year with some delicious Yellowtail Moscato. You shared it with your female soul mates and splurged on them because that right there is true love. Your girls are the ones who bring true laughter to your heart and keep pump you up for the year to come.
Whoever says a cuddle buddy needed to be a man was strongly mistaken. It can be anyone or anything that shows you the joy of life. For me that mean my mom and my best friends, but for you it could be anyone or anything (your adorable puppy, for instance) that makes you smile. Those who love you won't leave you, sweat the small stuff, or hurt you (intentionally). Isn't that what unconditional love is about? I don't know about you, but that's who I want to spend the cold nights with.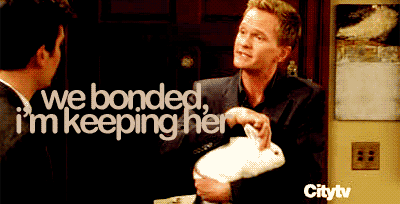 And in case you're still worried about finding your soul mate in 2014, here's a love story to prove that everything is gonna work out. After years of being single for the holidays, consuming way too many pints of ice cream and wine and just feeling sorry for myself I decided to focus and treat myself. Five years later, my cuddle buddy found me, and when he did he found a happy, independent woman who loved herself, which is who he fell for.
Time and patience, and not needing or wanting someone during the cold winter nights can bring the most unexpected rewards. Just wait; you'll get everything you ever wanted. And in the meantime, you might as well enjoy yourself. Because remember, you're awesome.