Firefly just celebrated its third anniversary, but it's already making big waves in the festival scene. Each year, there are more and more vendors, bands and activities to accommodate the mass of music lovers that gather in the picturesque Woodlands of Dover, Delaware.
Firefly Music Festival feels like an alternate, ideal world where the music flows, the food tastes incredible and you're surrounded by new friends. Bored? Try experiencing a new way to listen to music at the Silent Disco? Hungry? Check out what the Marketplace is cooking up. Tired? Lie in a hammock and take a nap in the lush, shaded woods. Firefly can be an exhilarating, yet comfortable experience. It's all about what you make of it.
If you've already been, you may agree that Firefly is known for it's great sense of community and good vibes. It's a great place to hang out with friends and it's really easy to make new ones. This may be review for some, but for the rookies out there who are looking forward to Firefly 2015, here's some advice to take into consideration.
1. Get a Camping Pass

Make the most out of your experience by getting a camping pass. There are RV and "glamping" options, but let's be real here: you probably spent most of your paycheck on the ticket and food alone. College students don't really need the luxury of air-conditioned tents anyway, so save a few bucks and rough it. Premier camping is worth the extra money, as it can save you hours of sitting in traffic outside the Dover speedway. You can get there a day early, have time to set up and get a camping spot closer to the main entrance.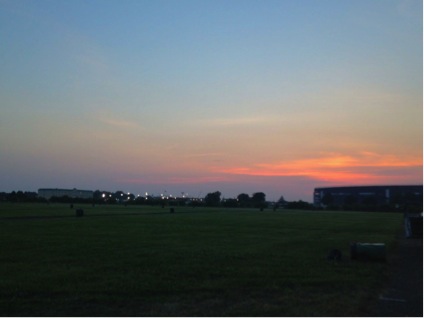 Sun setting behind Dover Speedway

2. Don't Forget Tickets and Camping Passes
This is a really obvious one, but put it on the top of your list. You don't want to be halfway there and have to go back for the tickets you left on the kitchen table. Yes, this advice comes from experience.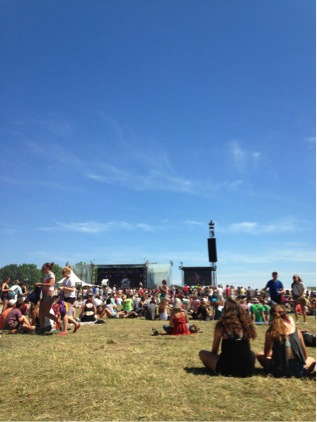 3. Carry Cash

Firefly is a cash-only event; so bring enough for the weekend if you want to avoid ATM fees. When budgeting, you'll want to keep merch and drinks in mind, and expect to pay an average of $10 for a meal.
4. Bring a Cooler
You can't bring munchies into the festival itself, so be sure to eat a good-sized breakfast to last you until your next meal. If you're camping, definitely bring a cooler. The campsite sells ice for $5 a bag.
5. Wear Sunscreen
The trees in The Woodlands offer a lot of shade, but there are a lot of open areas where intense sunburn is inevitable without proper preparation. Your tent is not going to be the ideal hang out spot when the morning sun heats up. Bringing a canopy is essential—you don't want to be burnt and sweaty before the music even starts.
6. Don't Understimate the Bandana
This past year, the crowd kicks up a lot of dirt, and a lot of people tied bandanas around their faces to avoid it. (On that note, If you have asthma, definitely slip your inhaler into your fanny pack in case you're triggered by the dust.) Firefly 2013 offered complimentary bandanas sponsored by Toyota, but FF 2014 didn't, so bring your own just in case. Bandanas are also good for sun protection, wrapping blistered heels, securing water bottles to backpacks if you forgot your carabiner… seriously, they're all-around functional.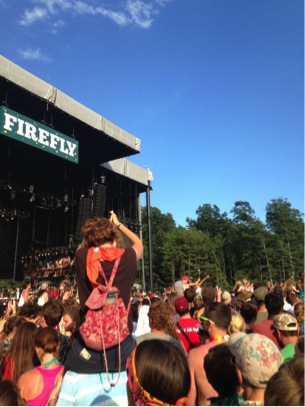 7. UseMeet Points
There are big, white balloons indicating "meet points" near the two entrances and the center of the grounds to make it easier for you to find your friends. Before big shows, it's wise to plan a meeting with the group you're with if you want to see the key shows together. If you don't mind going your own way, then carry on.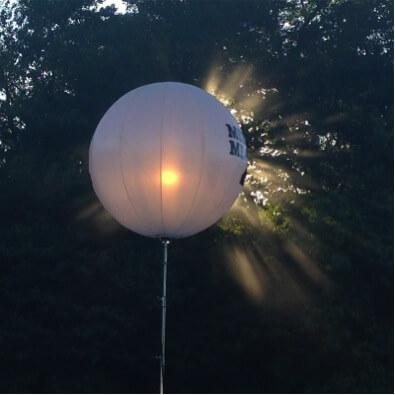 8. BYOH (Bring Your Own Hammock)

Firefly has designated "hammock hangouts" that are very popular for taking breaks in the shade of the woods between bands. You can even hear music playing through the trees, depending on which hangout you're in (some are closer to stages than others). That being said, it's a bit of a wait to get a hammock to lie around in, so BYOH (Bring Your Own Hammock) has become a big trend. Above the main stage there's a little patch of trees where people set up to see big shows from the top of the hill. Get there a little early and keep your spot if you want to avoid the crowd.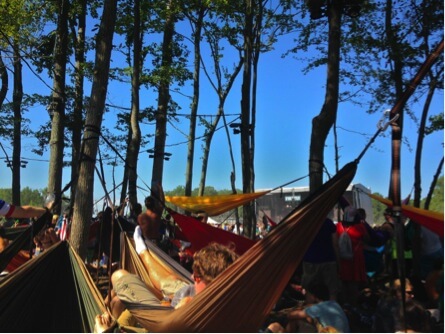 9. Blankets or Tapestries
It's nice to have a place to sit after a long day of walking and dancing. The grounds can get dirty (or muddy, if it rains) so the bare ground isn't ideal for sitting. Blankets are a little bulky, but tapestries fold up well and are fairly lightweight.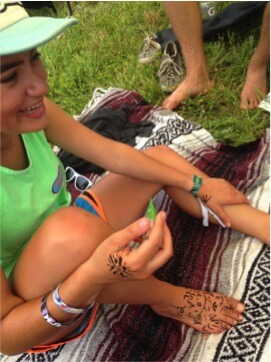 10. Get the App
If you have an Apple device, download the app before getting to Firefly. It sends you notifications about band cancellations and additions, sends weather advisories, and offers an in-app festival map. You can even customize your own schedule and set alerts before your favorite bands play. It's also a good resource for researching bands you're unfamiliar with and deciding who you want to check out.
11. Get Merch Early

Also, look at merchandise early if you plan on buying something. Shirts sell out fast, so if you see something you like, don't hesitate. Do keep in mind that merch is nonrefundable.
12. Bring a Good Attitude  
Don't expect too much personal space beyond your campsite; Firefly is getting bigger every year. Make new friends, keep a positive attitude and ride on the good vibes. It's all about having a good time and enjoying yourself.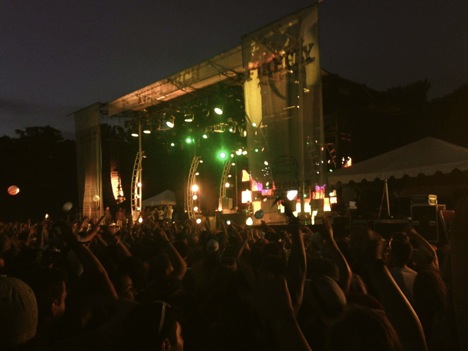 13. Don't Overdo it

Take the fact that you won't see all of the music offered into consideration. Don't expect to follow your schedule tightly, and take advantage of the other entertainment. It's also okay to chill out in a quiet spot for a little while to escape all the excitement. Try not to wear yourself out—the festival experience flies by but you'll have plenty of time to get crazy. 
For more music festival info, check out: 
Top 10 Music Fesvial Essentials

Top 10 University Festivals to Crash