I could wax poetic for a million articles about the greatness of television, but around the holidays, we know what we want most: themed episodes. Christmas themes get a lot of attention, but don't underestimate the power of a good Hallo-themed epi.
Here's my list of episodes that encapsulated the fun of Halloween, were seriously creepy, or otherwise left a mark on this impressionable young TV-viewer.

1. The Office – "Halloween"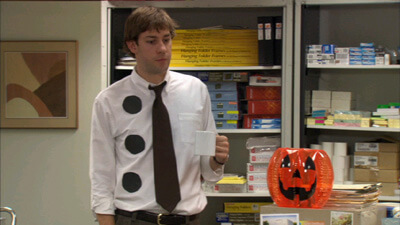 There's nothing quite like the second season of The Office. Everything that made you fall in love with the show was still fresh; Jim and Pam's maddening will-they-won't-they romance, Michael's stupidity, and the strange extras that populated Dunder-Mifflin. All of these elements were there in the inaugural Halloween episode, which is still the show's best. Michael is too self-conscious to handle the simple task of firing someone, and Creed (who had barely ever spoken up to this point) manages to convince Michael that he shouldn't be the one to get the axe. Jim and Pam have their first mini-fight, and we get to see Jim's first silly costume: Three Hole Punch Jim.
 
2. Boy Meets World – "And Then There Was Shawn"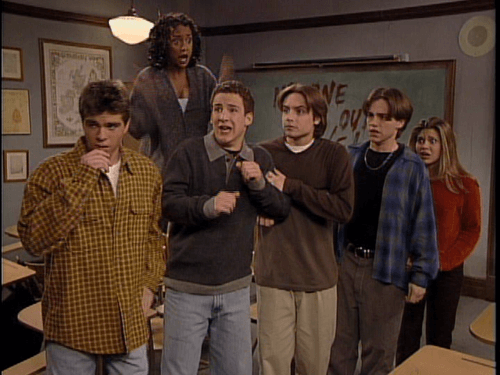 This episode didn't even air during Halloween, but thanks to Disney, we got a healthy dose of it every October in the early 2000s. The discussions about virgins dying ("I'll get as sick as you can without…actually dying.") is classic, as is Kenny getting stabbed through the forehead with one of those 90's jumbo pencils ("Oh my gosh, they killed Kenny!" "We'll always remember he was this tall.") Also, Jennifer Love Hewitt inexplicably shows up. It's basically perfect.
 
3. The Adventures of Pete & Pete – "Halloweenie"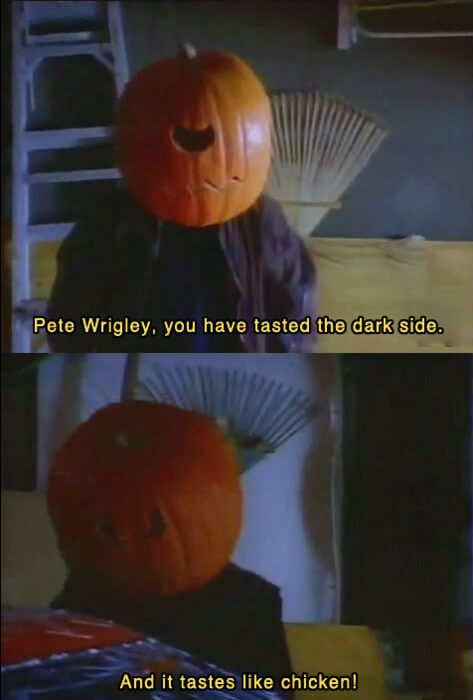 Pete & Pete is a great example of the kind of quality children's shows (like Boy Meets World) that just don't exist anymore. I can't blame you if you've never heard of it because it only aired original episodes between 1993 and 1996. The writing in Pete & Pete was surreal, funny and incredibly poignant. Plus, it featured a killer soundtrack from a post-Kurt Cobain 90s grunge band called Polaris, who you should listen to right now. The quintessential Halloween episode, "Halloweenie" featured Little Pete attempting to visit the most houses on Halloween ever, while Big Pete struggles with simultaneously wanting to trick-or-treat and feeling too old. How can you not relate to that?
 
4. The Simpsons – "Treehouse of Horror V"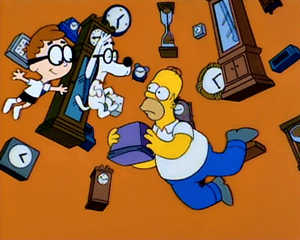 This list is already brimming with sentimentality, so it should be no surprise that my favorite Treehouse of Horror is one of the early incarnations. The episode features a wonderful parody of the Shining ("The Shinning") that is so great, Family Guy refused to attempt their own 15 years later when they spoofed Stephen King stories. The second segment features Homer traveling through time with a radioactive toaster, and the third has Bart and Lisa trying to not get eaten by their teachers. The best part about the episode may be Groundskeeper Willie getting axed in the back in each of the three segments.
 
5. Mad Men – "Mystery Date"
The fifth season of Mad Men played heavily on themes of darkness, filth and death. The fourth episode, "Mystery Date," isn't technically a Halloween episode, but it was inspired by horror movies and features some pretty off-putting scenes that make it the creepiest episode of the series ever. Sally discovers the truth about the real-life July 14th, 1966 torture, rape and murder of 8 nurses in Chicago; meanwhile, Don hallucinates that he strangles one of his old mistresses and shoves her body under his bed. All that's missing from this episode are thunderclaps and lightning. For a glamorous show about wealthy 1960s advertising executives, it was a thrillingly bizzare hour of television to watch.