Although just barely hitting its stride, the 2016 Rio Olympics have fostered a number of surprising events, historical moments and, quite frankly, poor conditions (couldn't help myself). From Ginny Thrasher's acceptance of the first gold medal to Michael Phelps' twenty-second gold medal and even to Ryan Lochte's hair, the United States have made a statement, especially with regards to the presence of women (53% of the United States Olympic athletes are female) and world records. The inspirational, amusing and disappointing moments would be nothing without the many priceless faces of the Olympians showing the world the exact faces we have been making from our couches following along with the Rio 2016 Olympics.
1. So Not Impressed
McKayla Maroney's iconic "not impressed" face from the 2012 Summer London Olympics perfectly depicts the athletes, fans and countries' impression of Brazil's attempts at hosting the 2016 Summer Olympics. Olympians have been complaining about housing in the Olympic Village, competition delays due to lack of communication, security scares with theft and violence, with the most recent blunder being the state of the unnaturally green diving pool. Not impressed is right, Maroney.
2. Dripping with Disdain
The internet sensationalized look of disdain from Michael Phelps prior to his 200-meter butterfly semi-final race perfectly depicts the performances of United States Olympians that fall short of medals and Phelps-caliber achievements. Notable losses that may grant Phelps' queer eye and the dissatisfaction of fans come from the failure of United States men's gymnastics to medal as a team and Missy Franklin's surprisingly lackluster performance. Although Phelps preaches our disappointment, every athlete cannot succeed and medal, so count your blessings that as a nation, the United States always represents.
3. On the Edge of Anticipation
Cassidy Krug's hilariously captured dives channel fans' inner anxiousness during nail-biting events and games, especially during Michael Phelp's race against Chad le Clos. I kid you not, I was practically in the same position as Krug, but on my couch instead of sailing into a swimming pool (same thing, right?).
4. "Six Feet of Sunshine" is Spot On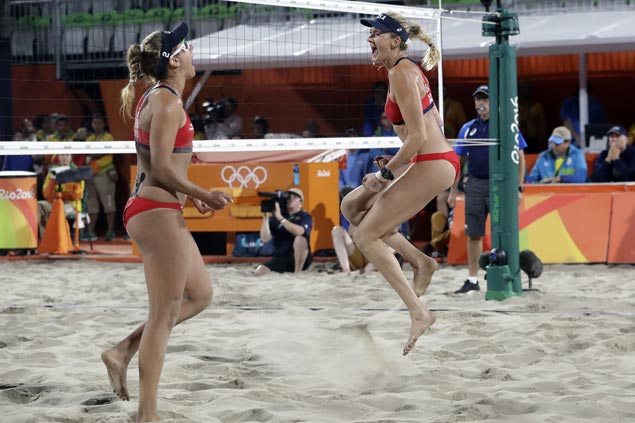 Kerri Walsh-Jennings celebrations are like puppies–they make everyone instantly happy. You know what also makes me happy? When I see a 37-year-old woman killing it in beach volleyball at the Olympics. Keep killing (pun certainly intended) it for the United States, Kerri!
5. Forever in Mourning
Seeping from my emotional wound after witnessing the United States Women's Soccer disappointing loss to Sweden is festering anger and genuine tears of heartbreak. Dramatic? Sure. Understandable? 100 percent. If you need to reach me, I will be in mourning until the football season starts.
P.S. I still love you, Pinoe!
6. Team Work Makes the Dream Work
The Olympics preach connectivity and togetherness between a nation and invoke emotions of support, pride and kinship between the athletes and fans. Nathan Adrian, Ryan Held and Caeleb Dressel perfectly symbolize this idea and emotion through their efforts to help Phelps achieve the ideal retirement and to support a young Held experiencing one of his first gold medals in the 4x100m freestyle relay. The fans offer their support and the athletes show appreciation with hard work and dedication to achieve national pride.
7. Spread as Thin as Allyson Felix's Bod
Sam Mikulak's obvious physical exertion perfectly depicts my mental exertion when trying to navigate and plan what sports I will watch live and what sports I will record. NBC makes it pretty difficult for me to reach my ultimate fan girl status.
8. I am Proud to be an American
Simone Manuel's gold medal performance and expression invokes one powerful emotion: proud. Proud to be a woman, African-American and a United States Olympic athlete.
9. Confidence is Key
Lilly King's initial finger wagging before her 200m breaststroke semi-final at Russian Yulia Efimova, a Russian swimmer involved in the doping scandal, induced a feeling of confidence in King's Olympic performance and her example of fairness and justice resonated with fans across the nation. King iced her cake when she wagged her finger in celebration of her gold in the same event later that night. Sorry, Efimova, even doping can't help you beat the United States.
10. Clear Eyes, Full Hearts, Gold Medals
One of the most impressive and historic performances of the Olympics started and ended early with the Final Five, better known as the United States women's gymnastics Team. Their absolute destruction their competition is inspiring and influential. I hope the remainder of the Olympics provides the United States with inspirational pictures of world-class athletes biting into that elusive gold.