I still hear my muscles groan and my bruises ache from my epic fail of an attempt to surf this past semester. I'm no Bethany Hamilton, guys, but I can say for certain that surfing has been one of the best (and most painful) events of my life so far, in fact more painful that the time I bombed a pop quiz in my Beginning Japanese class. I failed to catch big waves, stand on my board, even to get that cute surfer's number at the end of the day, but you know what? Surprisingly, wiping out on the board might be the best thing that's happened to me. Who knew both college and surfing could be terrifying and awesome at the same time? Sure, I never got to stand on top of my board, but it was my many epic fails that led me to surfing (and college) success.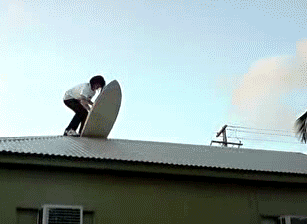 Imagine setting your phone's alarm for 6:05 a.m. (because six feels way too early). I put on my bathing suit and decided to keep on my orange and blue Gator PJ pants, because as a true Floridian, the cold will always bother me. Still, I stayed open to stepping out of my comfy campus and into the unknown.
First year Ph.D. Linguistics student Aleksandra Tomic from University of Florida remembers why she started surfing, too. "I wanted to step out of my comfort zone and challenge myself, and do something I always wanted to try. I was both nervous and excited, interacting with new people and especially physical challenges make me very anxious," Tomic said.
I rushed through breakfast and walked to a parking lot to meet the UF Surf Club, only to find that I was literally the first and only person there. You know, like the time I went to class an hour early as a freshman, and only to find out I was in the wrong, empty classroom the whole time? Epic fail one.
Thankfully, I made friends with a fellow Gator and we allied ourselves with other hopeful would-be surfers who came by later. When the members of the surf club arrived, my friend (and a cool dude with an awesome tan) named Andrew chaperoned us. Andrew personified Crush from Finding Nemo, the laid-back turtle that crooned, "Righteous! Righteous!"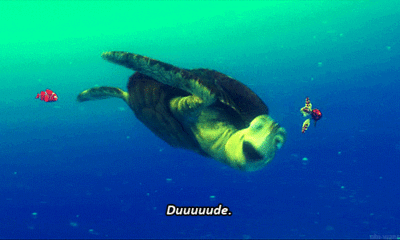 Other wannabe surfers shared my mix of excitement and nerves. "I was very excited, a little bit nervous because I'm not exactly a great swimmer," said UF sophomore and psychology major Genelle Samsom. Nearly two hours of listening to Andrew's laid-back Reggae music and we reached our destination: Da Beach, Florida.
Thank God I kept my PJ pants on. The cold winds buffeted everyone, and the super-fine sand flew into our eyes. The choppy waves looked like they were gearing themselves up for wiping everybody out permanently, with a side of fatality, much like the time I attempted to master Beginning Japanese in the span of six weeks. Yes, that class gave me health problems. Epic fail two.
After everyone else had their chance to brave the waves, I gave it a go. Sure, I had to drag a super heavy long board with me along the way, but I finally waded into the warmer waters and began my glorious surfing career.
I spent the next batch of minutes getting tangled in my leash, yanking my board back when the waves moved it away, getting smacked by my board, falling into the water and desperately trying to catch up to my group as they surfed their merry way on the waves. In my final attempt to stand on my board, instead of riding the sweet waves like a champ, I wiped out—hard. Kind of like the time I tried going back to my dorm in Beaty Towers only to get stuck in the middle of the Cultural Plaza and losing my mind over the horrible bus system at UF. Epic fail three, but at least I made friends with bus driver.
While I was cold, hungry (I came too late for the pizza), got sand in my eyes and ended up with one side of my face redder than the other after hours of napping, I felt the happiest I'd been in quite a while. These failures led to what I considered successes: meeting the club, making new friends, stepping out of my comfort zone and learning how to surf, something I wanted to do for years, but never had a chance to until now.
"I stood up maybe two or three times total, and not for more than a few seconds at a time," recalled Samson. "But I figured that after falling I couldn't just let myself stop there. I've faced failing exams and classes. I've learned that you can't let failure keep you down, and what really matters is how quickly you can rise back up." In college I spent most of my time studying and avoiding studying by lurking Youtube gamer channels. I was failing at college, not in my academics, but in my life.
Making the personal choice to go out to St. Augustine's with the Surf Club and learning/failing to surf at the beach taught me an important lesson: Failures aren't always a dead end, but another means to success. Yeah, I failed to stand on my surfboard, but I learned to stand up for myself.
"In my opinion, failure is generally essential to finding progress. Without it, we don't have the chance to learn from mistakes," said Samson. "After all, the bad decisions and the bad situations make the best stories. The best is when they lead to fantastic comeback stories."
Even though I didn't kill it on the beach, I want to go back.
That's a victory for me, especially with all the challenges that came my way just to get in the water. "I am certain failure can be good, failing at something means there is room for growth and teaches us that not everything will go according to plan or our expectations," Tomic said.
So don't be afraid to slip and fall, trip and stumble, or just flat out-wipe out on the crazy beach we call college. Dive in and enjoy the ride.