For college students who love to cook, nothing is more frustrating than finding an awesome recipe that calls for fifteen ingredients you don't have and can't afford. Making fajitas might sound simple, but you're out of luck if you don't have cumin, chili powder, cilantro, cayenne, bell peppers and sour cream just lying around. That one-pot Italian dinner sounds delicious too — but wait, your pantry lacks red pepper flakes, vegetable broth, oregano, basil and feta cheese.
What's a broke student to do? Luckily, not everything delicious is complex. Here are five of my favorite tried-and-true recipes composed of five or less cheap ingredients.
1. Tomato Spinach Quesadilla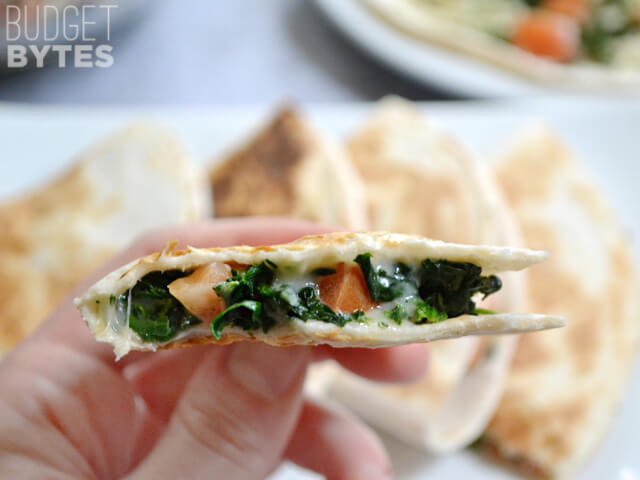 (Photo courtesy of Budget Bytes)

It's the healthy version of whatever processed garbage you bought at Taco Bell last week. These vegetarian quesadillas are tasty, filling and affordable. Like all of Budget Bytes's recipes, it won't break your bank, and you can even omit the dried basil — you aren't missing much. Because this recipe takes 20 minutes to prepare, it's perfect for a lazy mid-afternoon feast. You can also add eggs and freeze overnight for a convenient breakfast variation.
Ingredients
Frozen spinach
Tomatoes
Shredded mozzarella
Garlic powder
Flour tortillas
2. Garlic Parmesan Pull-Apart Bread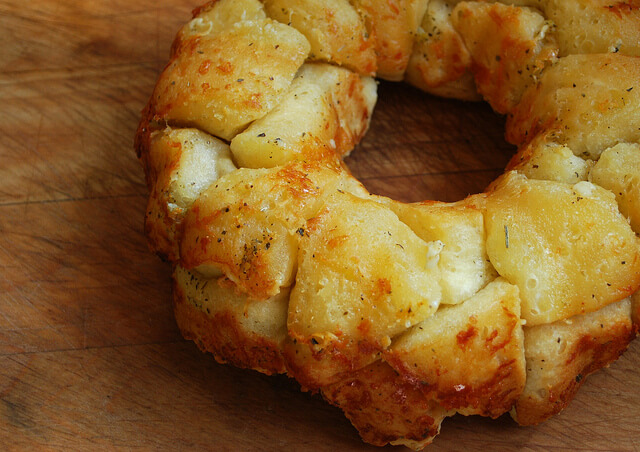 (Photo courtesy of The Cutting Edge of Ordinary)

This recipe is great if you want your apartment to smell like a bakery without having to touch flour. Don't worry if you don't have a bundt pan (although you should; they're extremely useful); a regular foil baking pan works just as well. Slam this puppy down in front of a few of your stoner friends and watch it vanish right before your eyes.
Ingredients:
Pillsbury Grands biscuits
Butter
Garlic
Parmesan cheese
Italian seasoning
3. Twice-Baked Potatoes
Cooking potatoes in a microwave might seem like a cheap shortcut, but once you try it you'll wonder why anyone still bothers using an oven. No burning yourself on metal racks, no waiting a half hour for the oven to preheat — the microwave alternative is fast and easy. This recipe is also flexible enough to add flair. Do you want to add some steamed broccoli? Sure, why not? Chunks of ground beef? Sounds delicious. Crispy bacon bits? Can I get a hell yeah?!
Ingredients:
Russet potatoes
Green onions
Sour cream
Butter
Cheddar cheese
And for dessert…
4. Ice Cream Tacos
If you can't decide whether you like churros or Choco-Tacos more, why not have both? Instead of buying one single freezer-burned dessert from your campus convenience store, spend ten bucks on these ingredients and make twenty of your own. Frugal? Use the leftover tortillas from the spinach-tomato quesadillas mentioned above.
Ingredients:
Flour tortillas
Butter
Sugar
Cinnamon
Ice cream
5. Cookies and Cream Oreo Bark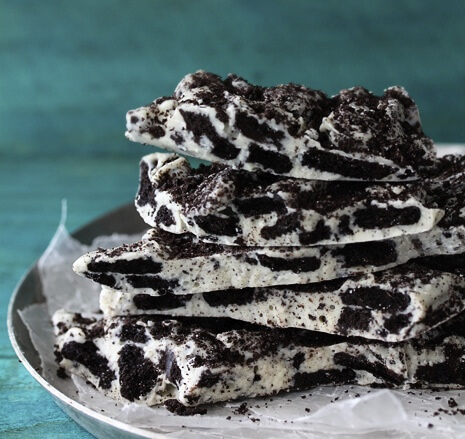 (Photo courtesy of Bakers Royale)

Chances are you already have Oreos in your cabinet (if you don't, what's wrong with you?), so the only thing you'll need for this recipe are some white chocolate chips and parchment paper. The recipe recommends Ghirardelli, but store brand chips are just as good for half the price. Melting chocolate on a stove isn't difficult, either; after one failed attempt you'll know exactly what you did wrong. Pro tips: Stir frequently, melt it slowly over low heat, and watch out for water. Melting chocolate that comes into contact with water will immediately seize up, so make sure all of your utensils and bowls are dry.
Ingredients:
White chocolate chips
Oreos
A lot of students are wary to buy ingredients for just one dish, but everything listed here can be used in other recipes as well. If you want to see what else you can make with what you have on hand, give recipekey.com a try. It'll compile a list of recipes for you based on whatever is in your pantry.
(Main photo courtesy of The Cutting Edge of Ordinary)