The holidays are making us crazy. Whether we're hell bent on getting married, murderous because of finals or completely insensitive because we're tired, poor, and the world is against us the one the that's assured is 2013 is almost over. We just have to make it to the end.
1. Getting Engaged at BYU: Six Months or Bust.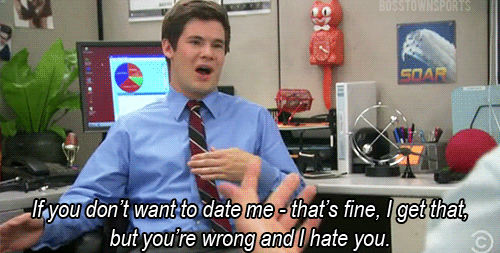 Brigham Young University senior, Stephen Nelson, is making a documentary on his attempts to date, fall in love, and get engaged in less than six months. The documentary will be titled, "6 Til Engaged" and is scheduled to be released (for free) in April. This senior capstone project might sound a bit wacky to those unfamiliar with the university's primary religion, Mormonism, but to members of Nelson's church, The Church of Jesus Christ of Latter Day Saints, it's commonplace to see students engaged within six months (or much fewer) of dating. When asked about his intentions for the film Nelson said, "It's just kind of an attempt to try and figure things out, to see if as far as love goes you can go out and make your dreams or your desires come true, how much control we have in that." All young single adults have a crises at some point where they wonder if they're not finding love because of something they're doing or not doing, and Nelson hopes to shed some light on the issue for Mormons and non-Mormons alike. Watch out 500 Days of Summer this documentary might just give you a run for your money at the Indie festivals next year.
2. Harvard says, "Get the heck outta here," to sexual assault.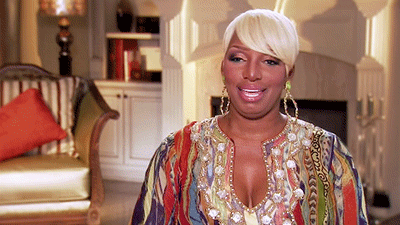 In an almost unheard of move this past week Harvard University dismissed a student facing allegations of sexual assault. The university refused to disclose how many alleged incidents were reported against the student, but Dean Smith did say, "the student had violated the faculty's policy on sexual assault and other sexual misconduct by engaging in multiple incidents of serious and persistent unwanted sexual contact." The last time Harvard dismissed a student was back in 2010, when a student allegedly hacked into his teacher's online accounts. Good to know they rank forcing yourself on others up there with hacking a professor's yahoo account.
3. New Haven University student arrested in attempted school shooting.
Tuesday William Dong, 22, was arrested after prompting a lockdown on campus by carrying two handguns in public, one of which was the same kind of assault rifle used by Adam Lanza in the Newtown school shooting last year only 20 miles away. Later this week police uncovered 2,700 rounds of ammunition in Dong's home alongside newspaper clippings on the 2012 Colorado theater shooting. Though no shots were fired and no one was injured during this week's scare, Dong is facing serious charges for the illegal transportation of an assault weapon, illegal possession of a weapon in a motor vehicle, and breach of peace. This scare was the third at a Connecticut university in the past several weeks. Well, this is as good a time as any to start looking into transferring schools. 
4. Graduating seniors will be slaves to the government forever.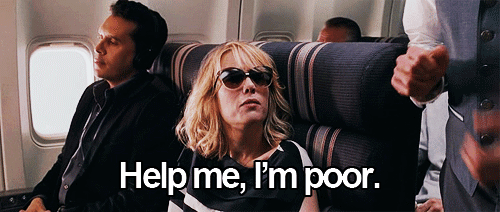 More than 70 percent of college grads in 2012 had student loans, and their average debt surpassed $29,000. South Dakota has the highest percentage of students graduating with debt, at 78%, while Nevada had the lowest at only 41%. But Delaware has the highest student loan average upon graduation, ringing in at $33,649. On the flip side New Mexico had the lowest average, at $17,994. The scary thing is that the average debt load has gone up by at least 10% in the last year alone. And to top things off, the US government is making a killing off student loan interest rates. It's one of the few government-run programs not in the red. That can mean only one thing – "we the students" are royally screwed.
5. Apparently, it's Obama's fault that Alabama lost to Auburn in the Iron Bowl.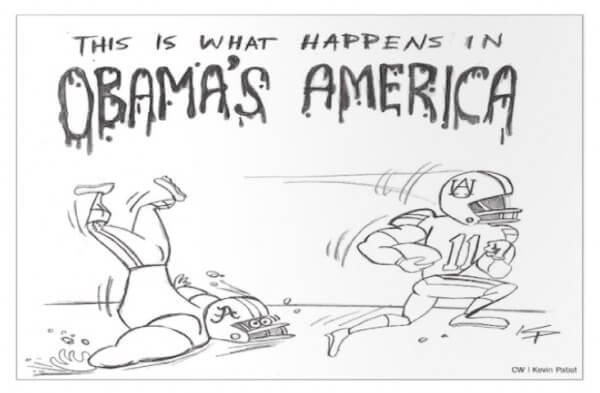 In a stunning display of stupidity The University of Alabama's student newspaper, The Crimson White, ran an editorial cartoon deeming their Saturday loss to Auburn "what happens in Obama's America." Meant as satire the cartoon was deemed racist and demeaning, and in response to the backlash from it the university has announced that from this point on the editorial board of the paper will be approving all cartoons before they are published. Maybe they should just stick to football, oh wait, they're apparently not even good at that.