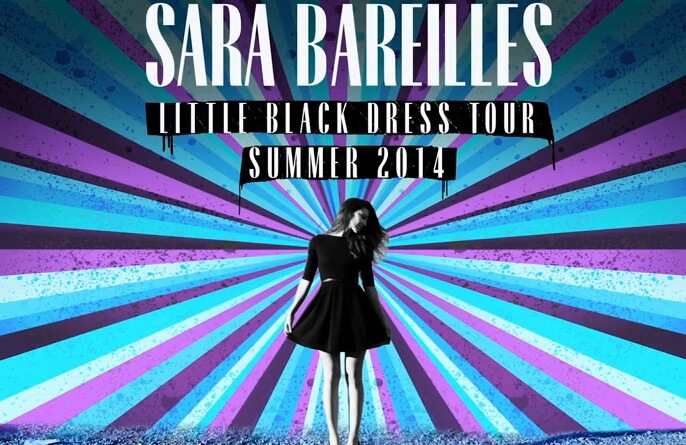 She's not afraid to tell you to "Shut the f–k up." She means it, too. You barely flinch because she's Sara F–king Bareilles. And when Bareilles wants an arena of 1,000 people to hush, they do.
In full disclosure, I listen to Bareilles: writing this article, cooking stir-fry, swiffering my apartment. If I want to belt out tunes while wearing leggings, Bareilles delivers. I've had my eye on her since singing "Love Song," while opening for Maroon 5 and Counting Crows. I've seen her steal the night while sharing the spotlight with One Republic. And this Saturday, she made The Open Air Theater at San Diego State University her bitch.
The dude sitting next to me didn't exactly have the same relationship with Bareilles. He admitted his girlfriend got the tickets for the "Little Black Dress Tour" concert that night. He wasn't alone. This theater was packed with little black dresses—on men, too—and dragged-along boyfriends. Little did they know, they were in for a memorable night.
1. Little Black Dress
Bareilles stood at the piano and hit a passionate single note. The beat immediately kicked in with the tour's namesake song, and the crowd shrieked. Four college girls in little black dresses in the row ahead shot up and bounced along.
(Videos via YouTube user japangelito)
2. I Wanna Be Like Me
Her band performed a couple rock solos, spicing up the album version, while Bareilles' voice continued its recording-studio perfection. She sang each word with a deliberateness that felt empowering. She danced along, waved and revved up the crowd. Afterwards, Bareilles confided that it was a "shit day" getting to San Diego. "It's been a f–king nightmare—but we made it!" she shrieked.
3. Love Song
She let the crowd sing a verse, and then interjected a couple profanities into the song. She said she always messes up on the last verse but the lyrics felt as powerful as if she had written it yesterday.
4. Hercules
What I love most about seeing Bareilles live is her authenticity. Bareilles revealed to the crowd how she recently moved to New York City after ending a long-term relationship, which left her in a depressed emotional state. From here Bareilles swept her fans into a dark, moody trance, following her journey to NYC.
5. She Used to Be Mine ("Waitress")
If you haven't heard, Bareilles is currently writing music for the upcoming Broadway musical "Waitress," based on the film with Keri Russell. "Waitress" captures the story of a woman who works in a bakery and is known for her pies. She's stuck in a destructive relationship and starts to plan her escape when she finds out that she's pregnant. Bareilles' art for sorrowful storytelling, especially about heartbreak, makes this match between story and songwriter kismet. Bareilles carefully delivers sorrow with a creative mix of culinary lingo. "All of this mixed up and baked in a beautiful pie/She is gone but she used to be mine."
6. Chandelier by Sia (cover song)
Bareilles and her ukulele carefully and powerfully reached notes that swept into the crowd's hearts and tugged.
7. Chasing the Sun
Her friend went running through a graveyard and holy shit Sara wrote an amazing song about it. Are you surprised? No. There's something about the high note she hits along with the flashing yellow lights from the stage that makes you feel invincible.
8. I Choose You
Introducing this number, Bareilles told a story about a couple who wanted to play her music at their wedding but complained that her songs were too depressing. This will show 'em.
9. Brave
"You are all perfect, just the way you are," she said before throwing every last ounce of energy and passion into her powerful and latest signature song.
10. Satellite Call
Bareilles brought us into her last musical trance of the night as a disco ball shined through the smoky stage. "Thank you, peace and love," she said before exiting.
Bareilles took us on a rollercoaster of emotion. She threw us into the depths of depression. She lifted us into the sun. And then she left us in Child's Pose complete with a disco ball. I turned to the dude sitting next to me. "She's good," he smiled.
I smiled back and agreed, "she's better than good…she's incredible."
The full set list:

1. Little Black Dress
2. I Wanna Be Like Me
3. Love on the Rocks
4. Love Song
5. Hercules
6. Come Round Soon
7. Manhattan
8. She Used to Be Mine ("Waitress")
9. Chandelier by Sia (cover song)
10. Gravity
11. Gonna Get Over You
12. Chasing the Sun
13. I Choose You
14. King of Anything
15. Brave
16. Bright Lights and City Scapes
17. Satellite Call