Every year I single out a quarterback in the draft I expect to succeed and one I expect to flounder. Last year I chose Ryan Mallett to impress – hey, we've yet to see the guy play, OK – and Cam Newton to fail – so I sort of swung and missed on that one.
This year, however, I'm a bit puzzled. NFL Draft experts are calling the Andrew Luck-Robert Griffin combination the most intriguing 1-2 punch atop the draft since Peyton Manning (ironically) and Ryan Leaf.
Luck is considered a prodigy, a quarterback from the same mold as a John Elway. It's almost written in stone the Indianapolis Colts will draft him with the No. 1 pick. And then it gets interesting.
RGIII, the reigning Heisman Trophy winner, was the talk of the town in Indy after the NFL Combine. The former track and field star who once advanced to the semifinals in the U.S. Olympic trials ran a record-setting 40-yard dash. He wowed coaches, scouts and general managers with his intellect and charm.
Even more so – he's the next in line in an emerging breed of dual-threat quarterbacks. An intriguing combination of size, speed and athleticism, Griffin is a prospect that nearly half the league is clamoring for. Here's the thing: he owes all of this attention to Cam Newton.
If you'll recall, prior to last April's NFL Draft, Pro Football Weekly's Nolan Nawrocki released a scouting report on Newton that opened the eyes of the football world. Nawrocki, a highly regarded draft guru, blasted the former Auburn star for flouring in a simplified college offense, and that his reliance on his legs will not translate to the professional levels.
Oops.
While Nawrocki drew plenty of criticism for calling out Cam, he wasn't too out of line. Consider this: how many dual-threat quarterbacks really succeeded in the NFL? There's Michael Vick, Steve Young, even Donovan McNabb. But for every Vick, I'll give you a Troy Smith, a JaMarcus Russell, a Giovanni Carmazzi, an Akili Smith.
The concept of a quarterback who can pass efficiently and can run when the play breaks down is staggering. It would – and might just – change the landscape of how NFL offenses operate. But what Newton did in 2011, rewriting the record book after each game in his rookie season, is making teams rethink their whole philosophy on quarterbacks. Now it's almost like they've forgotten about the Akili Smiths and JaMarcus Russells because they just watched Newton blow the lid of their defense, and now they want that same sort of dynamic playmaker wearing their jersey.
Add in the desperation factor
When RGIII finishes sending a Hallmark card and a basket of chocolate-covered strawberries to Newton, he should get started on his thank-you notes to the cities of Cleveland, Washington and Miami – thank you for your abysmal quarterback play this last decade.
Sure, RGIII is loaded with potential. But it doesn't hurt that there seems to be a sense of urgency for teams like the Browns, Redskins and Dolphins to finally find their franchise quarterbacks. Peyton Manning is out there, but he's a short-term solution and quite frankly a bit of a question mark. And then there's Matt Flynn, the back-up accustomed to holding a clipboard waiting for a starting gig. He impressed in a Week 17 matchup; so what?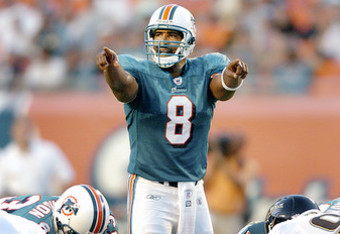 Drafting RGIII represents a whole new era for these three franchises. For the most part, these three teams have been bottom-feeders, playing musical chairs at quarterback, trying to strike rich. For the Browns, their biggest glimpse of hope came when Derek Anderson nearly led them to a .500 record. The Skins thought they found their guy when they acquired McNabb. And the Fins – 16 different quarterbacks have lined up under center since Dan Marino, from a Culpepper to a Lemon.
There hasn't been a cloud of doubt hovering of RGIII like there was over Newton. Because these three cities are so sick and tired of futility, so fed up with not being competitive, so over not knowing who will call plays on Sundays, they have to overlook the possible bust-factor of RGIII and hope they get the next Cam Newton.
The plot thickens
It's been reported that RGIII's potential suitors are willing to trade multiple first-round picks to land the quarterback – essentially, wager their future on him. The benefactor: the St. Louis Rams. But that begs the question: if all these teams are desperate to acquire RGIII, shouldn't the Rams want him, too?
The Rams thought they drafted their franchise quarterback in 2010 when they selected Sam Bradford first overall out of Oklahoma. How'd that work out – he led a mediocre team with little-to-no offensive weapons to a 7-9 record and nearly a spot in the playoffs. A year later, however, the confidence in Bradford seeped as injury plagued the quarterback and the rest of the team, and the Rams notched their fifth straight losing season.
Now it's Jeff Fisher running the show in St. Louis. Bradford isn't his guy. He didn't draft him. If he wants to start a new era of Rams football, why can't he ship Bradford off for some picks and draft RGIII with the No. 2 selection? If he's such an intriguing prospect, his ceiling has got to be higher than Bradford's, right?
Here's my spiel. Bradford piloted the Rams to their best season in years. And he did so with little help. He's a little bit injury-prone. So is Matthew Stafford; that worked out OK. If teams are willing to pay a king's ransom to draft second, let 'em. Collect the picks and surround Bradford with talent – a playmaking wideout, solid offensive linemen, some help on the defensive side of the ball.
I don't think we've seen what Bradford is made of quite yet. Then again, we haven't seen RGIII play a single down on the NFL stage. For your franchise to undergo a second 180-degree turn in the two years is too drastic.