They do exist! And they're actually more common than some may think. Among men aged 15-19 years, 45.1% reported no partners in the last 12 months, while 42.9% of women of the same age group reported no partners in the last 12 months, according to research conducted by WD Mosher, A Chandra and J Jones. ***  Virginity in college is a touchy subject for both those who haven't had sex and those who have. With media influences and peer pressure, it's easy to feel embarrassed when talking about "going all the way".
College students who talk openly about their sex lives often toss around the subject without a second thought, boasting about getting laid or lamenting about their sexless Friday night endeavors. Yet more reserved students sometimes shy away from divulging their sexual past with college friends out of fear of judgment.
"I definitely feel left out and on some levels judged, [but] then when people talk to me and stop judging, they commend me and respect my decisions," said Erika E., a sophomore at Drexel University.
However, Erika sometimes questions her decision and wonders what she's missing by not having sex.
"It's terrible because I want to have sex so bad that it's on my mind all day everyday almost, and when I see other people alluding to [sex] I get jealous," she said. "It's really hard to be a virgin in college. Most who start out virgins cave at the drop of a pin because it's much easier to do in college."  But Erika's religious views are strong enough for her to continue to abstain until marriage.
When it seems like you're surrounded by a campus of sexual activity, double standards do exist.. While guys are often congratulated for having sex with multiple girls, females are usually regarded as 'sluts' if they're doing it with more than one guy.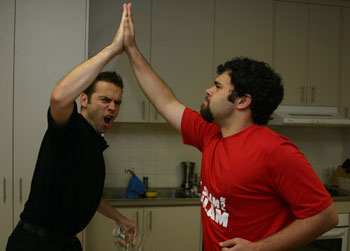 In a study co-conducted by Paula England, a Professor of Sociology at New York University, the sexual double standard is described as something that should be a part of the past but still exists in modern society.
"One might have thought that the emphasis on equal opportunity of the gender revolution would have killed the double standard. While the expectation that women be virgins before marriage is now a thing of the past in most social groups, women are still held to a stricter standard than men when it comes to sex," the study says
However, there are students confident in their decisions who do not fall victim to the double standard and are not shameful about being virgins. Ana K., a sophomore at SUNY Oneonta University,  expressed relief that she has not had to deal with any sex issues. "Being a virgin has been a personal choice that I'm happy with. I've never had any sort of health or pregnancy scares and I think it will mean more when I do lose my virginity," she said. "Sometimes I do get negative feedback for it when I'm hanging out with a guy, but that's a clear indicator that it's time to end things with him and move on."
Moving through your college career branded as a virgin is only as bad – or as good – as you make it. But Ana has the right idea. Wear the title proudly and people will begin to respect you and, sooner or later they'll be calling you "that classy girl" instead of "the virgin."
 ***Mosher WD, Chandra A, Jones J. Sexual behavior and selected health measures: Men and women 15–44 years of age, United States, 2002. Advance data from vital and health statistics; no 362. Hyattsville, MD: National Center for Health Statistics. 2005.
Photos taken from campussqueeze.com and dosomething.org